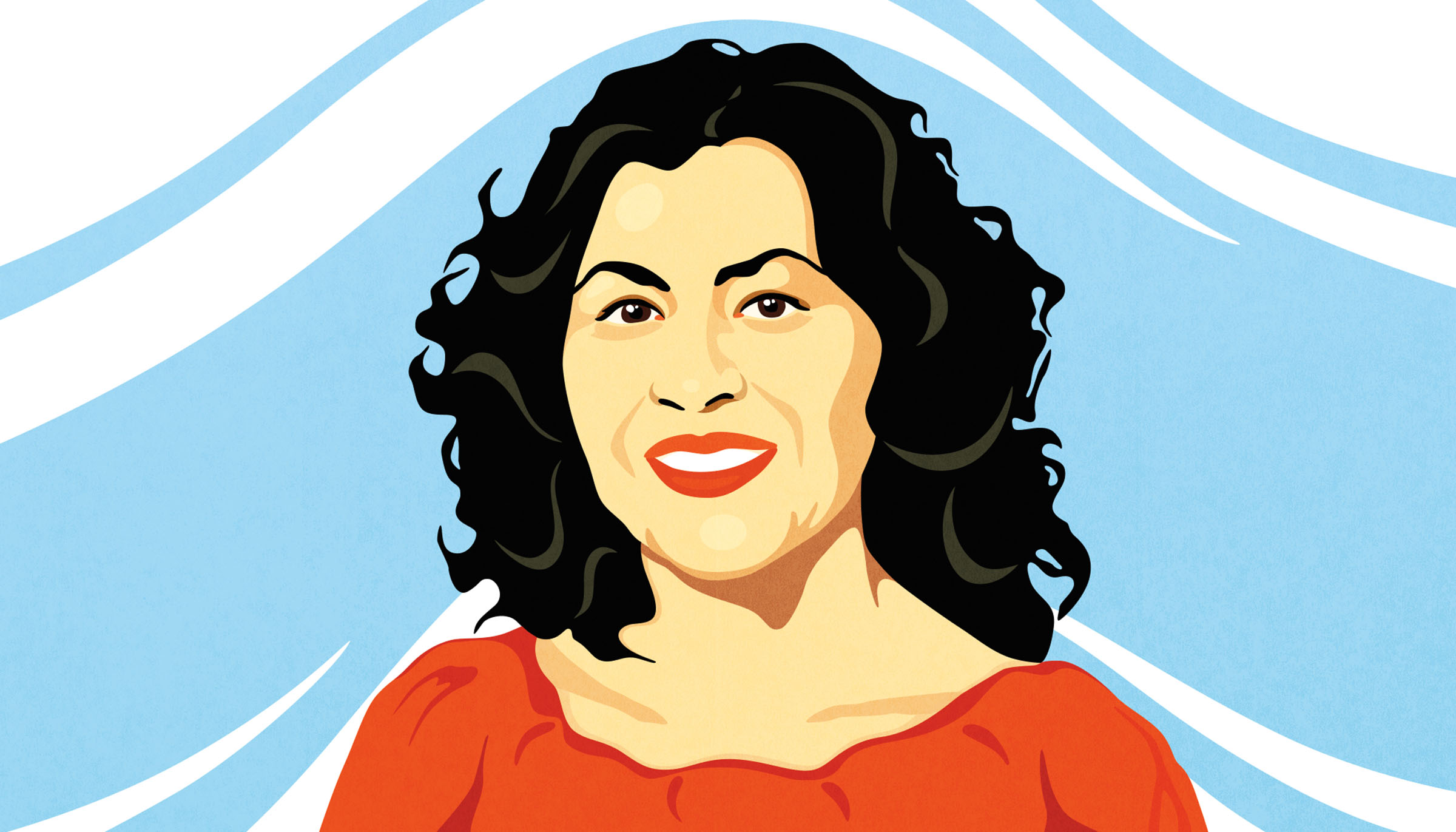 Emmy Pérez, the Texas State Poet Laureate for 2020, creates evocative word-paintings of life along the Rio Grande by distilling impressions and memories to their essence. Throughout the 35 poems in her second book, With the River on Our Face, the McAllen resident delivers vivid imagery—oriole nests that "stretch like woven raindrops," a Boca Chica Beach sand crab "collapsing into bullets bursting out of holes"—that whisks readers across themes as varied as identity, change, love, borders, and nature.
Always, there is nature. Pérez, a professor of creative writing at the University of Texas Rio Grande Valley and associate director for the university's Center for Mexican American Studies, finds much of her inspiration outdoors, in her adopted state's parks, natural areas, wildlife refuges, and gardens. Raised in Santa Ana, California, Pérez studied at Columbia University in New York City and eventually made her way to El Paso in 2000 in search of connection with her family roots. She moved to McAllen in 2006 for the teaching job.
As poet laureate, Pérez balances her work with the activities that come along with the honorary legislative appointment. This spring, she's being inducted into the Texas Institute of Letters, presenting at poetry conferences in San Antonio and Washington, D.C., working on her third volume (due out this fall from TCU Press), and advancing her efforts to spread the art of writing outside of the classroom. She recently served as keynote speaker at a conference of Catch the Next, a national organization that fosters college-readiness for underserved communities. "I love to share my writing," she says. "But I really love teaching, especially to people who don't always have access to the university."
Q: How did your path from California to Texas coincide with your path to become a writer?
A: My mother is from El Paso, specifically the Ysleta area, and she is an amazing storyteller. When I was growing up, she would always tell me stories about her childhood. But while I always enjoyed writing as part of my school activities, I never thought I'd be a writer. As an undergraduate, though, I took a poetry class and found I loved writing poetry. I moved to New York for graduate school, and I kept asking questions about my mom's experiences growing up. Then I moved to work in New Mexico, so I'd drive to El Paso to do research and some writing.
Eventually I was able to move into my mom's old neighborhood in El Paso, near the small adobe house my grandfather built, which still stands. I loved encountering burrowing owls, meeting neighbors, seeing scorpions in the house, and experiencing things you cannot know from only talking to someone else. Originally, I thought I'd write a novel, but the work arrived as poetry. My first collection, Solstice, has some poems about Ysleta, influenced by my mother's stories and my living there. In 2006, I had a job opportunity downriver, and I moved to McAllen. Though I don't have family history in the RGV, living there deepens what I learned in El Paso.
Q: Your poems are full of vivid details that most people wouldn't think of documenting in poetry—leaf-cutting ants, "the ancient tortoise at Laguna Atascosa." What is your writing process like?
A: I'm a very visual person, and I love exploring the natural spaces that remain because there aren't very many left. In writing my latest collection, With the River on Our Face, I wrote a lot outdoors. To name a few places, I went to Santa Ana National Wildlife Refuge often, and I went to Boca Chica Beach, where the Rio Grande ends and flows into the Gulf of Mexico. I spent time at Laguna Atascosa National Wildlife Refuge, and I visited La Sal del Rey [a naturally occurring salt lake], which is a beautiful place.
Q: Do you take notes or photos to help you remember details?
A: I take a lot of pictures and make a ton of videos, but sometimes I never look at them again. Just the act of recording them makes me study something closer. I also take notes. Being outside helps my imagination process and helps me open up to whatever I'm feeling, emotionally or intellectually. I think of poetry as a different language, because it's a type of translation. We are translating and crafting images, emotions, thoughts into words—interacting with the world and ourselves through language.
Q: How do you encourage your students to be better writers?
A: First, I encourage them to write about what matters to them. If they are writing about or from their lives, I say, "Try to find out something about your life you don't know right now; what is your research question about your life?" That goes for both prose and poetry. And I believe in getting that first draft down, even if it's filled with clichés. Once you have a good draft, identify the clichés and then try to express those thoughts in ways that sound fresh. To me, that's what poetry is—something we haven't heard before quite like that.
Q: What do you tell your students about conquering writer's block?
A: Lately, I've been hearing people say there's no such thing as writer's block. Maybe that's true. But I agree with something I heard from Sandra Cisneros. When I encounter writer's block, it's usually because I'm afraid to write about what I need to write about. We all have little self-censors; maybe we're afraid of what our family or friends or community will think. So to get rid of that fear, I'm a big fan of initially making a mess, writing fast, not worrying if it sounds good, just getting it out. You can revise later; you've got to make peace with your revision. But for me, my biggest obstacle right now isn't writer's block, but rather time. I'm so busy. So I'm part of a writer's group. That keeps me accountable.
Q: The Rio Grande figures in much of your work. You've traveled to Colorado to see the beginning of the river and to Boca Chica to see its end. What does the river symbolize for you?
A: A friend once said that since I moved from California, I've been following the river. It wasn't my original intent. I did intend to write about my family history before I lived in El Paso, but living there helped me deepen connections. My mother's childhood home in Ysleta was about 2 miles from the river, and they lived in poverty. There is still an irrigation canal right next to the house; it was a big part of her life. Her father grew vegetables in their yard, so the river helped my mom live and me to exist. The river connects many of us. We need to take care of it for generations to come, and collaborate with native people along the borderlands and farther upriver in doing so.
"The benefit of travel is that our senses are in disarray, and we're more open to new impressions. Travel helps me think."
Q: Your writing is tightly tied to place. How does travel impact your writing?
A: I want to first emphasize that I am so privileged to have traveled in this way. And now that I don't have as much time, each time I go outside is a type of travel because there's something new—a different bird, butterfly, the unexpected. The benefit of travel is that our senses are in disarray, and we're more open to new impressions. Travel helps me think. I love Big Bend National Park and experiencing the river; each time is different. Or Hueco Tanks State Park and Seminole Canyon State Park, where you can see beautiful rock art and imagine what life was like for native people of the region thousands of years before the founding of this country. It's like the past, present, and future come together in these places for me.
Information about Emmy Pérez's work and upcoming conferences and festivals—including the Association of Writers and Writing Programs Conference, March 4-7 in San Antonio—is available at emmyperez.com.
From the March 2020 issue