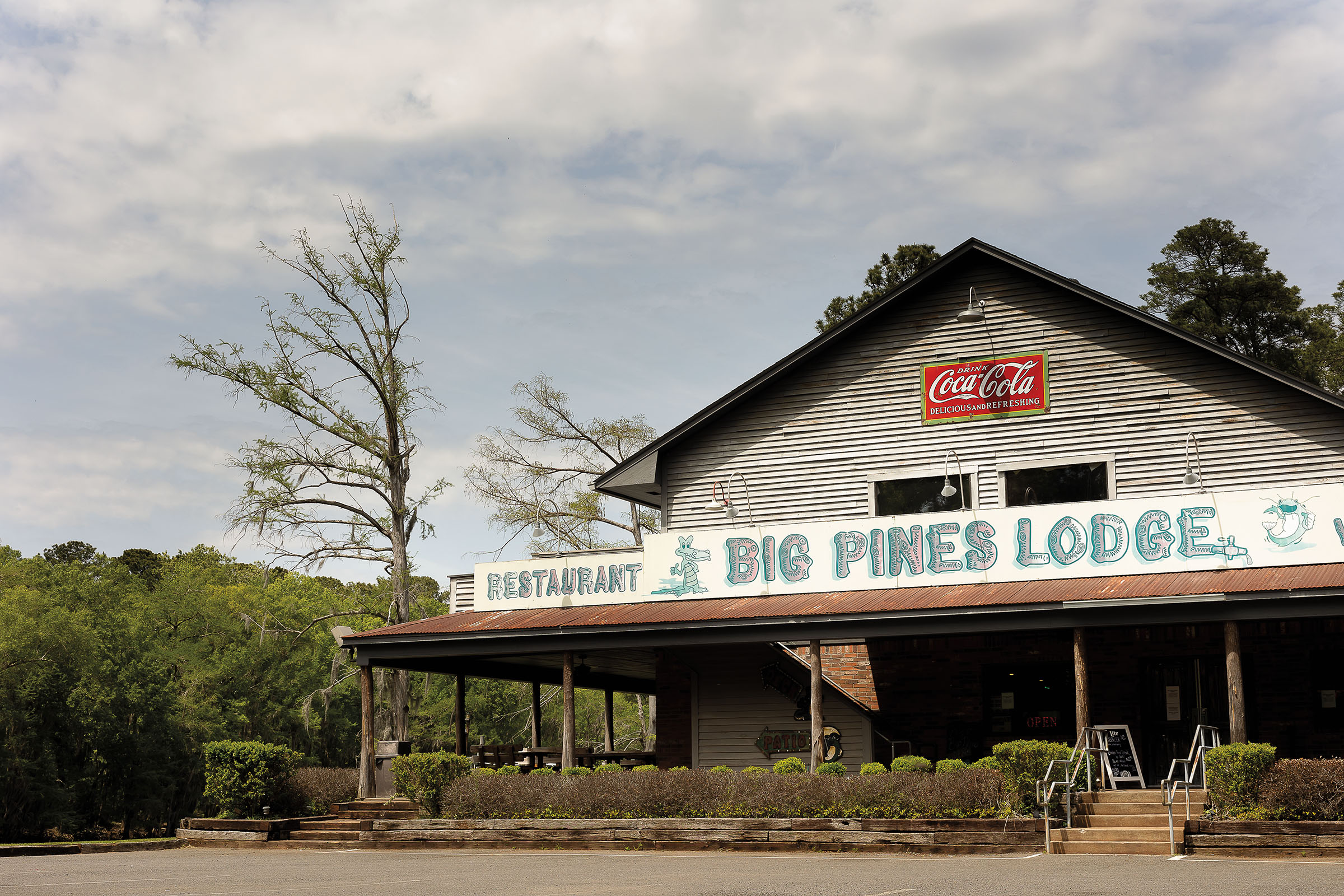 Those who grew up making family trips to Caddo Lake tend to share a few indelible memories: looking for alligators on boat tours, paddling canoes into beautifully spooky cypress-shadowed sloughs, listening to campfire stories about Bigfoot living in the Piney Woods, and piling into the car for feasts at Big Pines Lodge.
Open since the 1950s, Big Pines Lodge has always been a humble eatery. Historically, the restaurant's hallmarks included mismatched tables and chairs, a jukebox, and a paddlewheel steamboat. The Karnack restaurant sits on Big Cypress Bayou, which flows into Caddo Lake, so many customers arrive by boat and tie up to the attached dock.
Half a century ago, patrons came in droves for family-style catfish dinners, pint jars of Michelob on draft ($0.65), and small bottles of Lancer's rosé ($1.30). A framed 1970s menu hanging on the wall offers a peek at the low prices of the time. For example, the all-you-can-eat spread—an endless supply of fried catfish, coleslaw, hush puppies, and french fries delivered to the table—was $4.95 per person then.
The fact that it has survived as a go-to destination in a much-changed world is a small miracle. It's been nearly erased by multiple floods—photos in the restaurant show the water up to the roofline in 1958 and in 1966. As ruinous as those floods were, Big Pines always persisted.
In 2009, Kevin and Kim Allen heard the place was for sale. The Williamson family, who'd owned it since the 1970s, wanted to sell the restaurant to someone who would keep it going and offered a good deal for the purchase. Kevin, who grew up in the area, had a sentimental attachment.
"I don't know what we were thinking," said Kevin, the president of an oil and gas industry supply company and a first-time restaurateur. "It was an eye-opening experience." But the Allens had big plans and brought in partners Brian and Jill Laing to help.
Almost immediately after the purchase, the restaurant burned to the ground. The new owners had been renovating the place when an old electrical outlet sparked upstairs, igniting a flame that spread rapidly, burning through the mostly wooden structure. Though the emergency occurred in the middle of Saturday meal service, no one was hurt. Kim said the place burned before firefighters arrived from the two nearest towns, Jefferson and Marshall, 20 and 25 minutes away, respectively.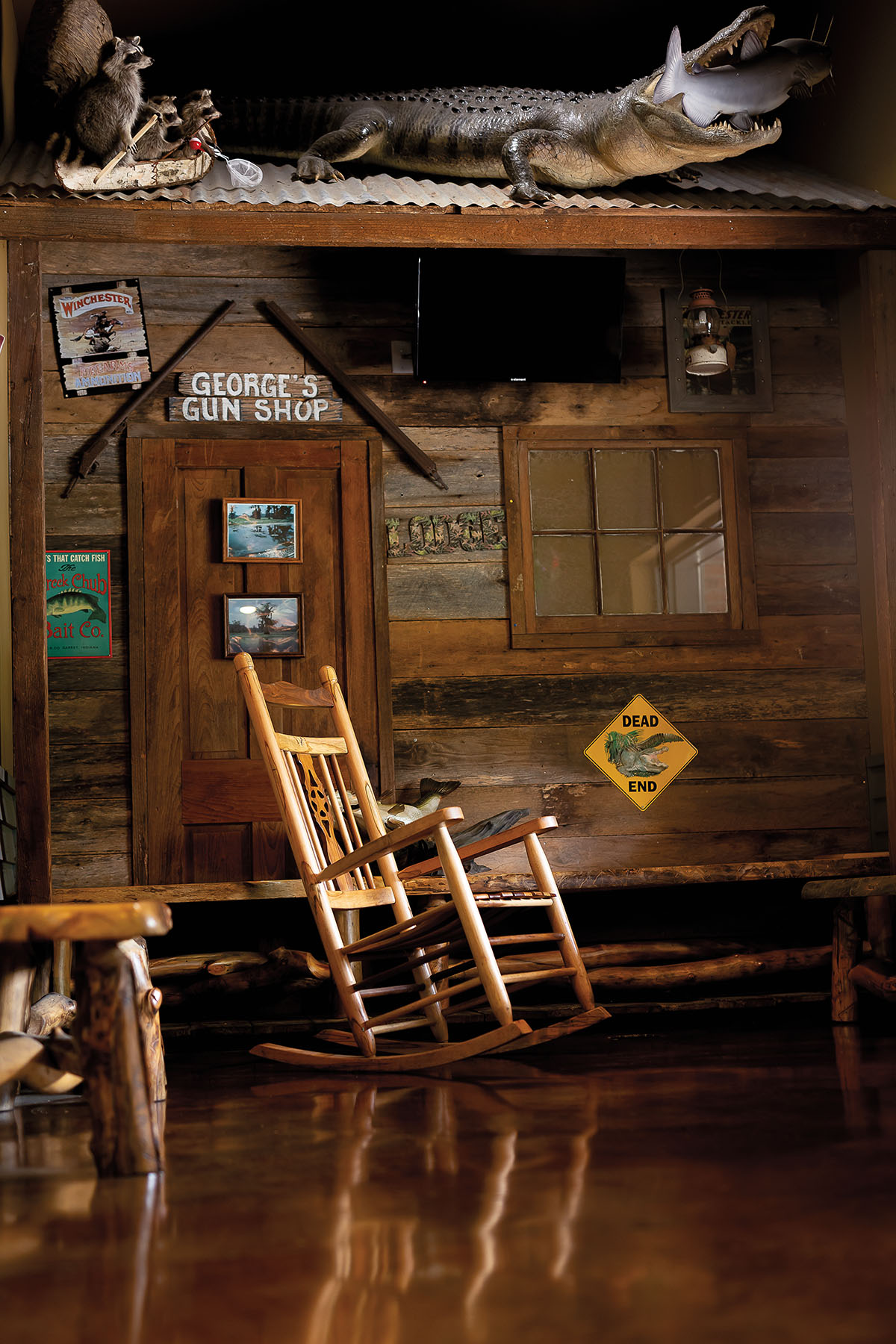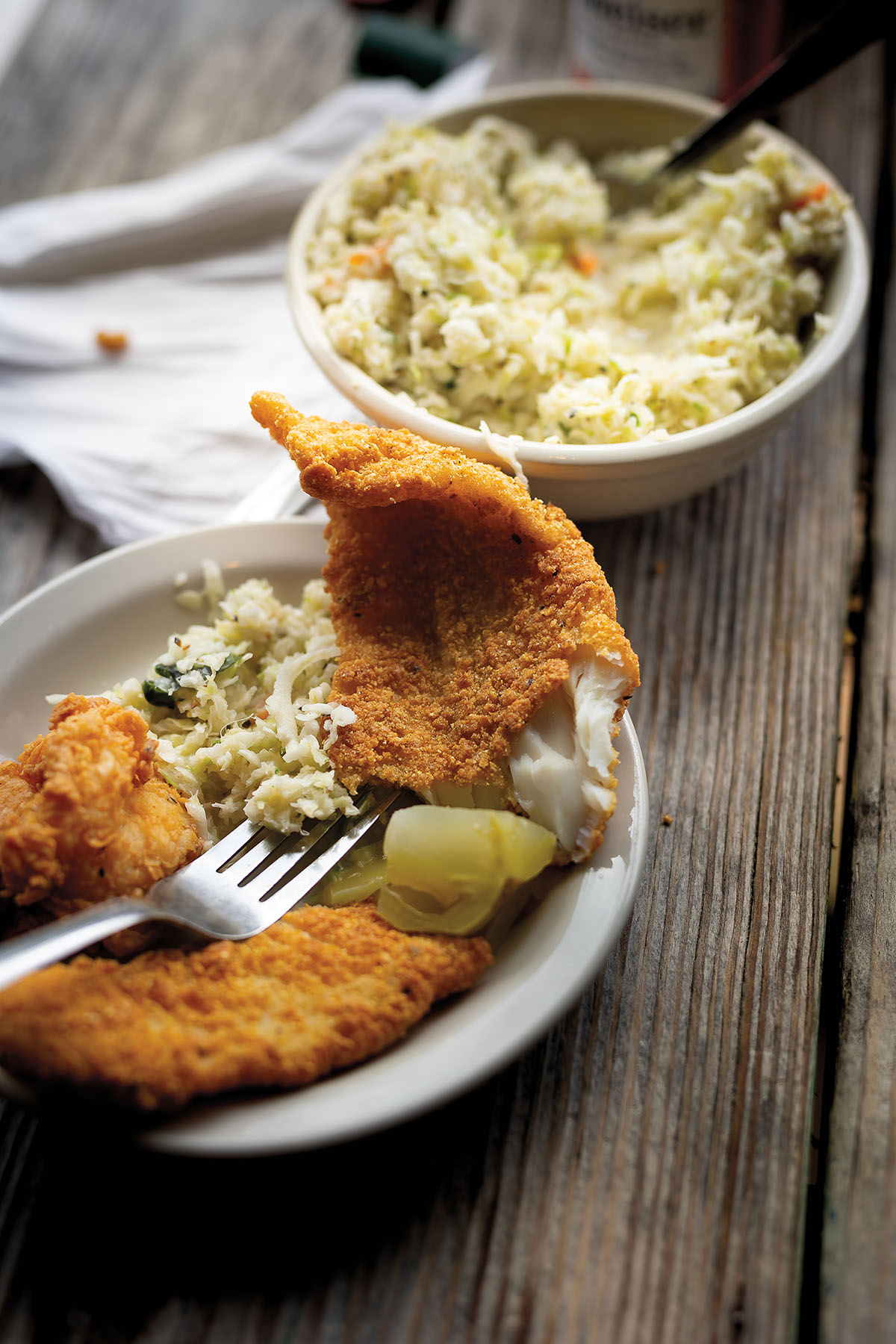 The Allens, who live north of Houston in Montgomery, were determined to rebuild the restaurant and give it the same laid-back vibe as the old days. In 2011, Big Pines Lodge reopened, offering guests a sprawling indoor area with cement floors and big tables, along with an expansive dog-friendly patio facing the water and giant picnic tables for large groups. The local affinity for alligators plays out in the décor, with a giant neon gator attached to the dining room ceiling and lifelike gator casts embedded in the patio concrete. As in the days of yore, it's the place to unwind over massive platters of food and cold brews in a come-as-you-are atmosphere.
"Diners come in right off their boats in swimsuits, T-shirts, and bare feet, sometimes," said manager Marcy Booth, who started working at the restaurant as a hostess nearly a decade ago. "Most tourists come in spring and summer, including families who've been coming here as a tradition forever. Lots of people bring their grandkids because they've been regulars here since they were little kids coming with their grandparents."
As soon as customers are seated, they're served a complimentary appetizer of coleslaw, hush puppies, and relish, a ritual started by the Williamsons that regulars have come to expect and love. "Kevin wanted it just like it's always been," Kim explained. "He knew what the food should taste like, so we use all the old recipes."
The signature hush puppies are unusual: Punctuated by jalapeño slices, the cornmeal and flour batter is pushed through a pastry bag into the fryer resulting in churro-shaped fritters rather than the typical rounds. Finely chopped cabbage and carrots mingle with a generous sprinkling of black pepper in the coleslaw. And the relish tray—an old-fashioned meal accompaniment—includes sliced dill pickles, coarsely chopped white onion, and the distinctly Southern condiment known as green tomato relish.
The green tomato relish defines Big Pines Lodge for many patrons. Tangy and infused with a little sugar and blend of spices, the chunks of green tomato perfectly complement sizzling-hot, crackling-crisp catfish. That first bite can send longtime guests into nostalgic reverie.
Kevin is considering adding a banquet hall or retail store to the restaurant's second floor to create more fond memories for future generations.
"We will have to see what makes sense," he said. "Maybe someone smarter than me—and there are lots out there—will come by and convince me of something."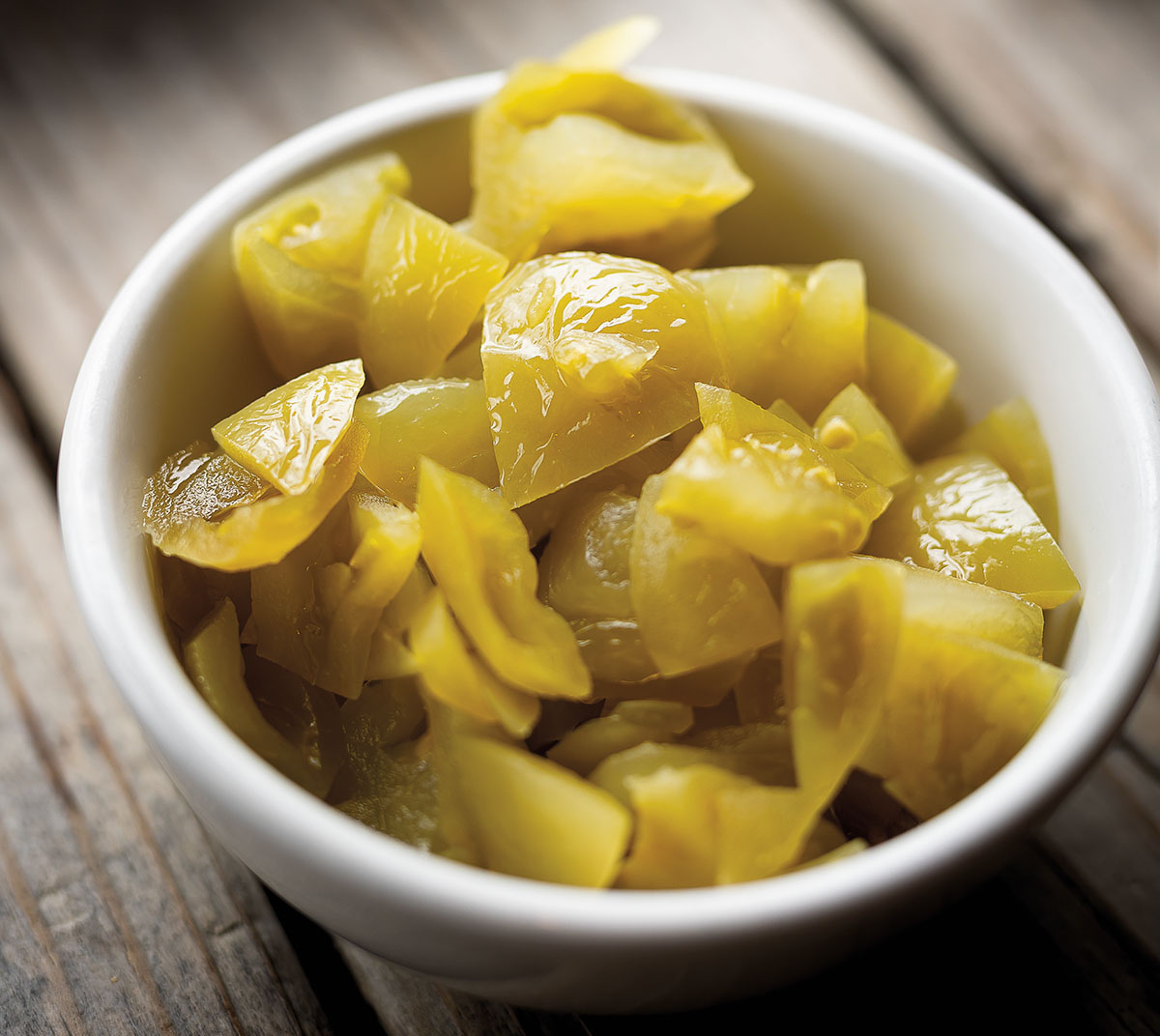 Recipe:
Green Tomato Relish
The green tomato relish now served at the restaurant is made by Cajun Chef, a company in Martinville, Louisiana, so I decided to recreate the original recipe on my own.
From the July 2021 issue