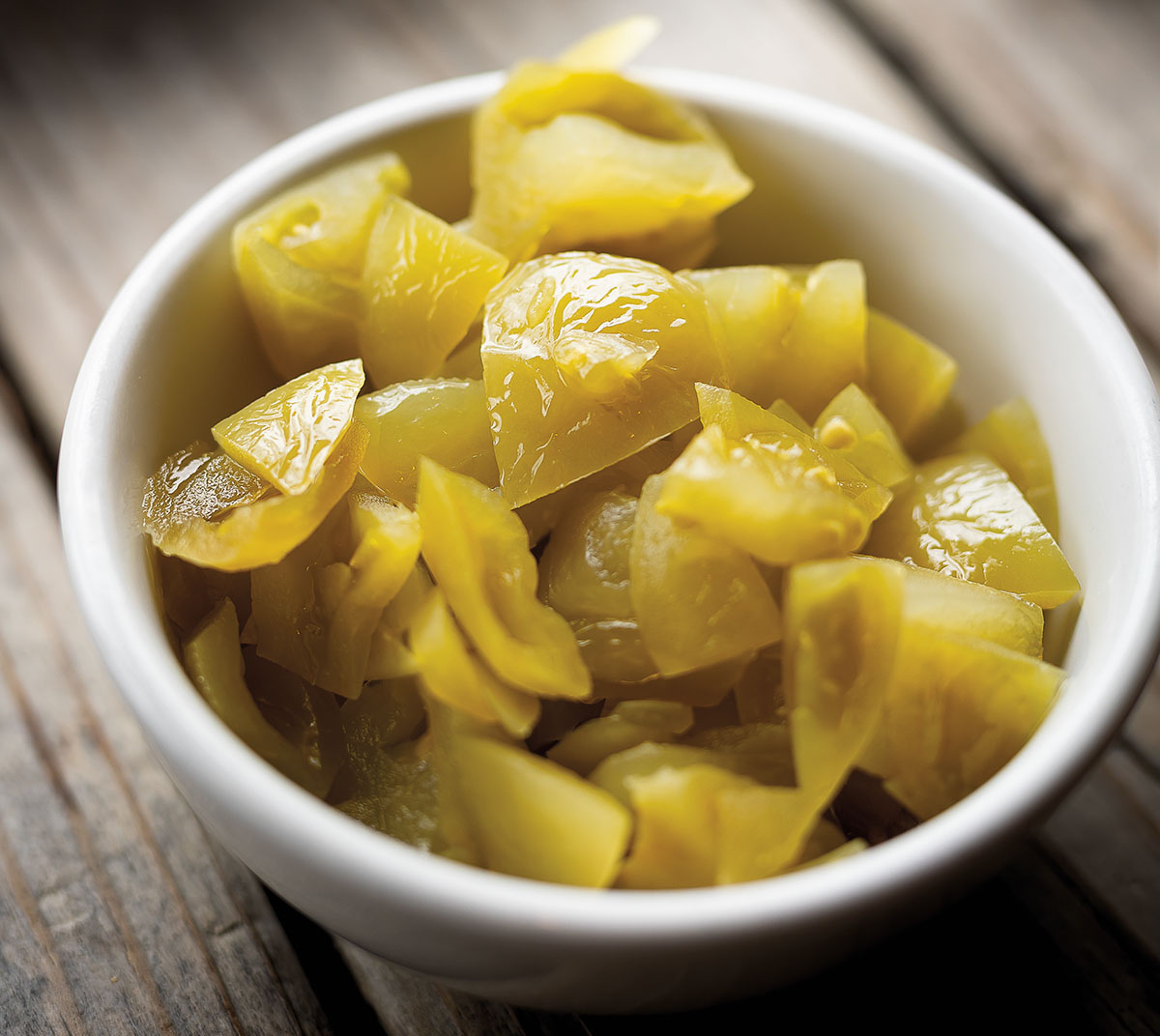 Recipe: Green Tomato Relish
When I asked the co-owners of Big Pines Lodge for the restaurant's original green tomato relish recipe, I was disappointed to learn it had been lost to history. The green tomato relish now served at the restaurant is made by Cajun Chef, a company in Martinville, Louisiana, so I decided to recreate the original recipe on my own. My quest for fresh green tomatoes led me to chef Mike DeHart at Tributary Café in Fort Worth, who generously shared his supply and recipe. The taste is just what I remembered from going to Big Pines Lodge as a kid, and it's a dead ringer for my grandmother's recipe. It's an easy, quick-pickling recipe, and the resulting bowlful of goodness marries well with fried or blackened fish, smoked pork chops or ham, or even a bowl of red beans and rice.
Ingredients (makes 1 quart):
8 green tomatoes, cut into 1-inch chunks
1 tablespoon sea salt
¼ cup vegetable oil
1 tablespoon grated fresh ginger
1 tablespoon mustard seed
1 teaspoon black pepper
1 teaspoon whole coriander seeds
1 teaspoon crushed red pepper flakes (optional)
3 sweet onions, thinly sliced
1 ½ cups white vinegar
¾ cup sugar
Directions:
Toss green tomato chunks with salt in a bowl and let sit 1 hour. Drain and discard liquid from tomatoes and set aside.
Warm oil over medium heat in a heavy-bottom pot until hot.
Add ginger, mustard seed, pepper, and coriander seed (and red pepper if you like it spicy), stirring until fragrant.
Add onion and sauté until soft, about 3 to 5 minutes.
Add drained tomatoes to pot along with vinegar and sugar. Bring to a slow boil and cook for 20 minutes.
Cool, then refrigerate in a glass container with tight-fitting lid for 24 hours before serving. Enjoy chilled or at room temperature. Keeps in fridge for three weeks.
Read more: Big Pines Lodge Has Been a Caddo Lake Staple Since the 1950s