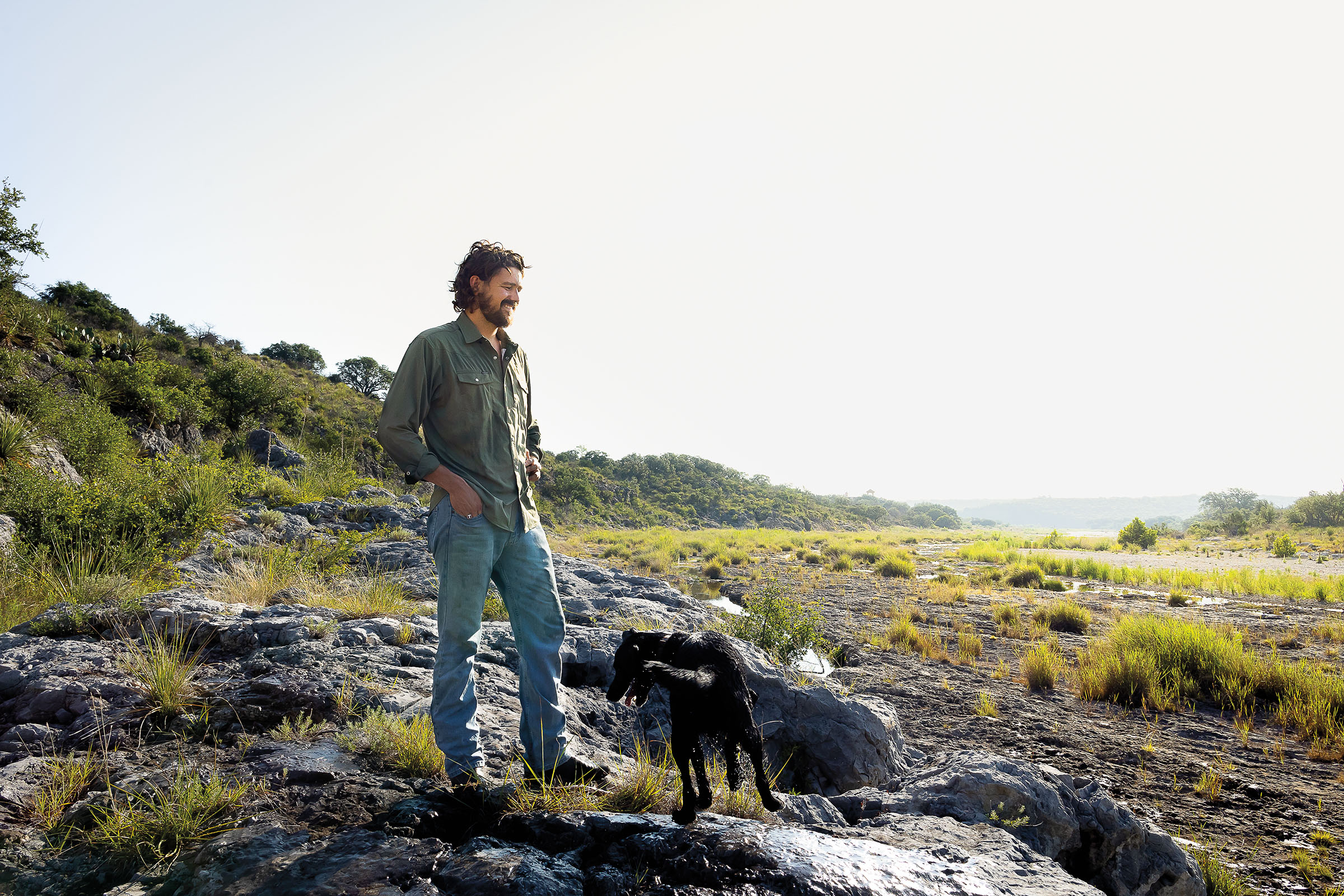 Will Glass scrambles down an embankment at Bar None Ranch in rural Mason County. There, he feeds a hose connected to a 250-gallon container toward a narrow stream. With one hand, he plunges the end of the hose into a rock-lined crevice where a spring bubbles up. With the other, he tosses a stick to his springy black lab, Hondo, who's come along for the excursion.
It takes about 20 minutes to fill the container. When he's done, Glass sprawls on his belly, dips his cupped hands into the stream, and takes a few gulps of limestone-filtered water before loading his pup and equipment back into the truck for the drive home.
Glass repeats this ritual once a month in order to gather water to make whiskey for Austin-based brand Nine Banded Whiskey. It's the clear spring water that makes the bourbon uniquely Texan. "It's fresh, right out of the ground," says Glass, distillery manager for the company.
One 250-gallon container of water will make about 6,000 bottles of bourbon, which is aged in American charred white oak barrels inside a warehouse on the outskirts of Austin. A chemical analysis shows levels of calcium in the spring water are seven times higher than city of Austin tap water, and magnesium levels are more than three times as high. That minerality raises the pH level and gives the bourbon a smoother, softer taste. "It's real minerals as opposed to [tap water that's been] sitting in an aluminum tank," says Sean Foley, co-founder of Nine Banded Whiskey.
Foley, who was a member of three national-champion swim teams at the University of Texas, first met Chris Ogden, a former forward on the Longhorn basketball team, when they were both freshmen. They became friends and later came up with the idea for Nine Banded together. Neither had experience making spirits, but both saw an untapped niche for an affordable premium whiskey with strong Texas roots. They teamed up with film producer and philanthropist Whitney Kroenke Silverstein to create Nine Banded in 2014.
"We're trying to keep the spirit of [Austin] going through whiskey," says Foley, who once managed Olympic swimmer Michael Phelps.
Foley says he and Ogden bring an athlete's mentality to their business. That's why they hired Glass, another former UT swimmer. "You want to finish what you start," Foley says. "You quit, you're gone. And team—team is huge."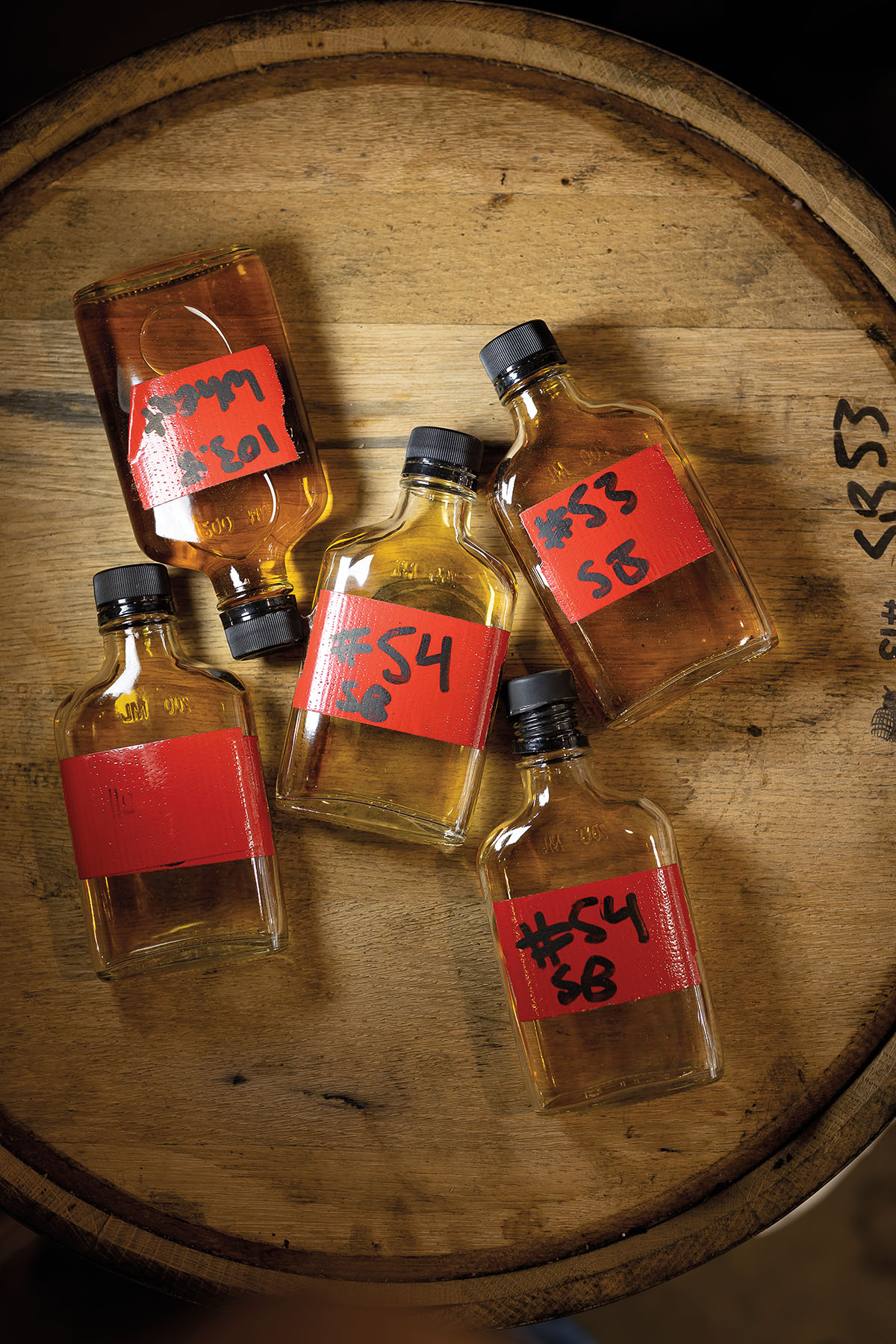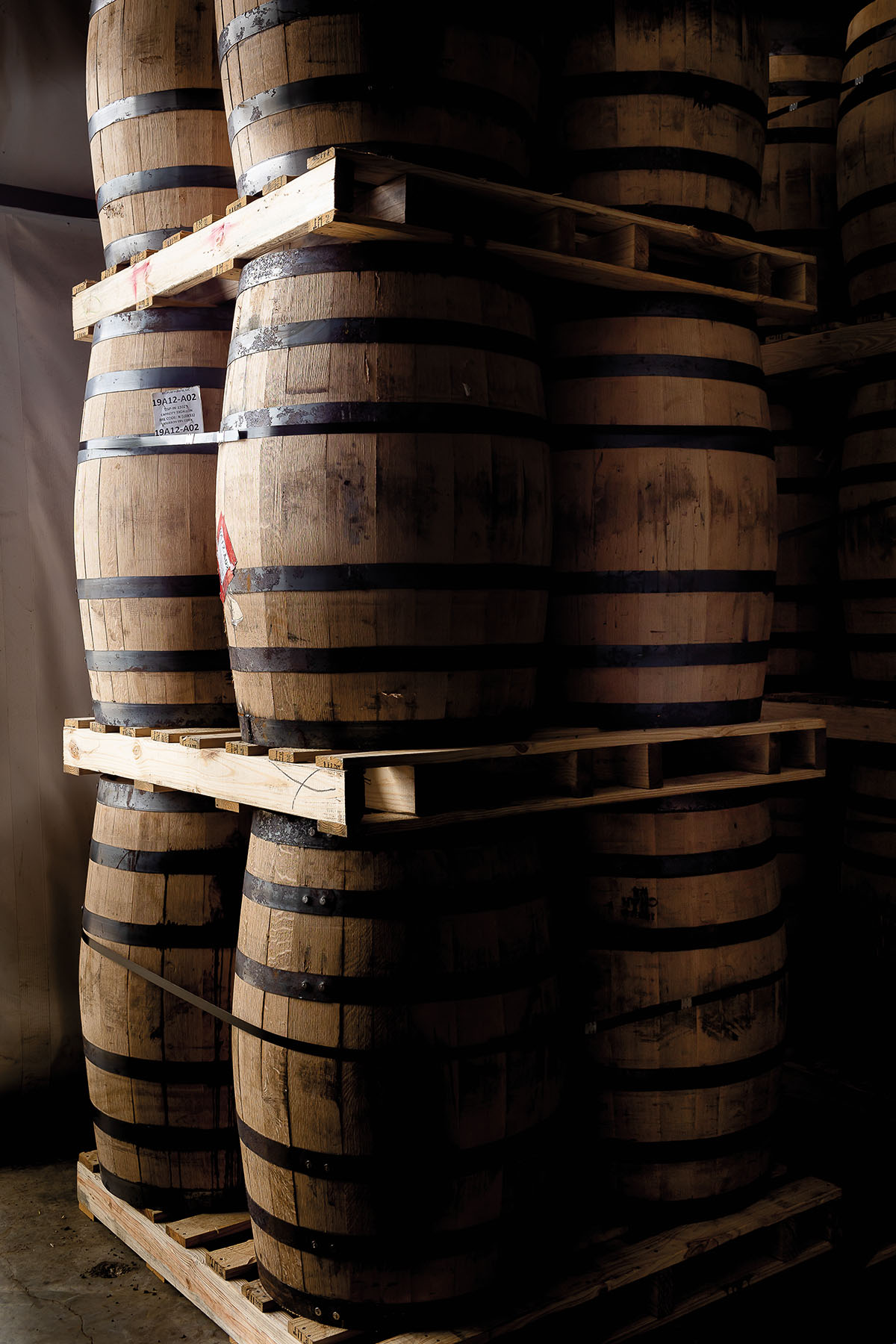 Tim Osburn, part owner of Bar None Ranch and co-founder of Goodnight Loving Vodka, offered up the private Hill Country spring. The owners settled on a name inspired by the official small mammal of Texas, the armadillo, which has nine bands across its shell. In 2016, they produced their first blended whiskey.
Foley sips a small glass of his amber-colored bourbon with hints of vanilla, oak, caramel, and spice in his office one warm spring afternoon. Vintage concert posters by acclaimed Austin artist Jim Franklin, a friend of the Nine Banded founders, hang on the wall. "Bourbon is the most intimate of all the spirits," Foley says. "Bourbon is along for the ride for a lot of important moments in people's lives, certainly here in Texas."
Although most of the world's supply of bourbon comes from Kentucky, it doesn't have to be produced there to qualify as bourbon. It must be distilled from at least 51% corn mash, then aged at least two years in American charred white oak barrels.
From a national perspective, Texas whiskey is still in its infancy. Garrison Brothers in Hye, west of Austin, landed its permit in 2006, making it the first legal whiskey distillery in the state. Nine Banded, like some new whiskey makers, buys already distilled liquor from out of state. Once that alcohol gets to Texas, Nine Banded blends it—mixing different barrels of bourbon together and stirring in the spring water to cut the proof—and ages it some more. The summer heat here speeds up the process, causing the barrels to expand and absorb some of the liquid they hold, according to the distillery's master blender, Amir Arad. "Whiskey is soaking up everything from wood, just absorbing all this age. What you're really drinking is all that flavor from the barrel. You're drinking the essence of oak," Arad says.
Nine Banded is setting itself apart in another way, too. In addition to blending straight bourbon, it's focusing on wheated bourbon, a fast-growing subcategory made partly with wheat mash that tastes somewhat like whole wheat bread sweetened with honey. It's particularly popular in Texas.
Not only does the limestone-filtered spring water impart a distinctive taste to the company's whiskeys, it also brings a sense of attachment to the legacy of the land.
"When I drink a glass of our bourbon, it brings me back to going out there with our crew," Glass says. "It connects you to all those Texans who explored the Hill Country."
Nine Banded Whiskey is available in liquor stores around Texas, including Spec's, Total Wine & More, Twin Liquors, and Goody Goody Liquor. ninebandedwhiskey.com.
From the October 2021 issue