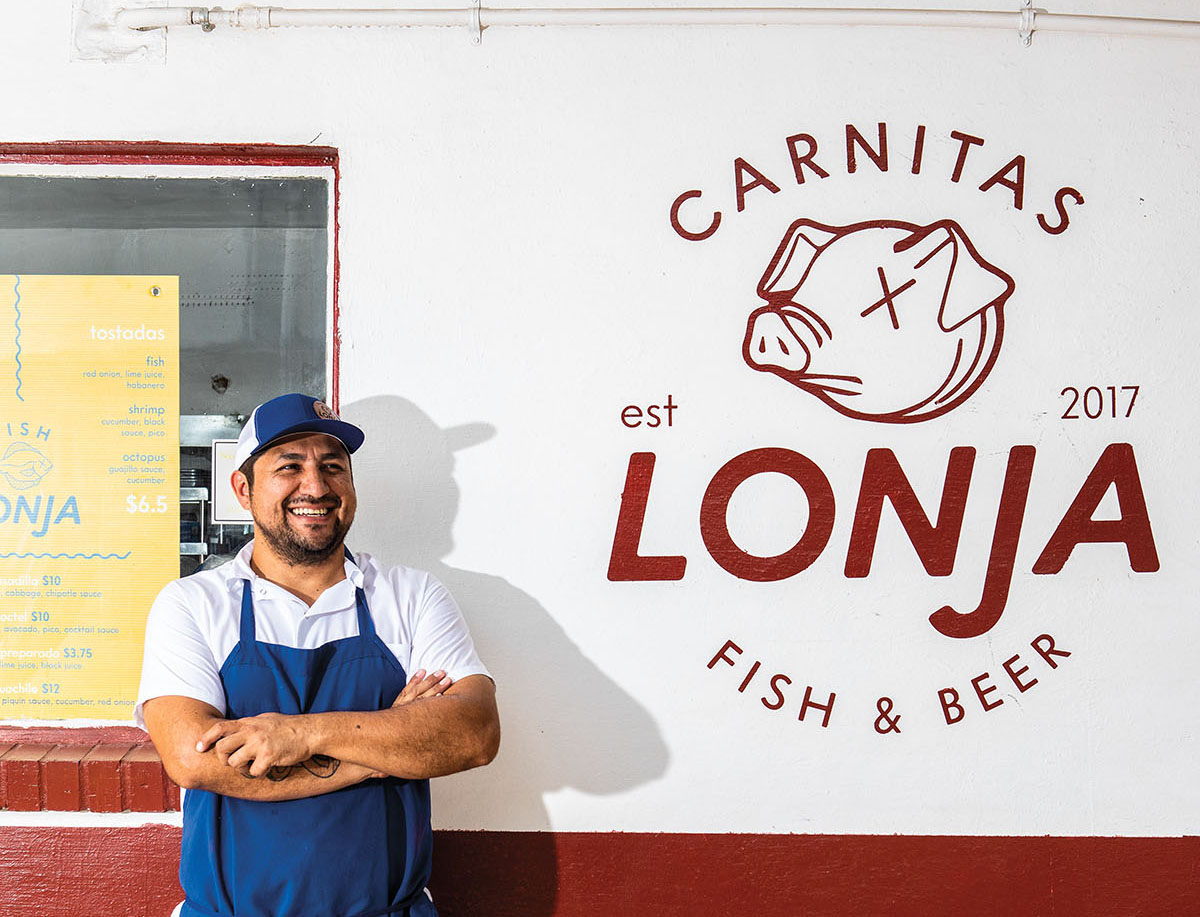 The first time I visited Carnitas Lonja in 2019, I sped past the old service station exterior on San Antonio's South Side. I checked my GPS, doubled back, and parked on the gravel drive. A warm, savory aroma greeted me when I walked into the tiny space. It felt like entering a family member's house for a special meal that had been cooking on the stove all day long.
Owner Alex Paredes greeted me from behind a steel counter. I knew I needed to order whatever I was smelling. "We have carnitas," he said, placing a small cup of chopped pork into my hand and smiling. I can't think of a better—or more Texan—greeting than that.
In 2020, Paredes earned a James Beard Award nomination in the "Best Chef: Texas" category. That same year, Carnitas Lonja survived COVID-19's brutal blow, and Paredes even managed to open a new sister restaurant called Fish Lonja on the same property. (Lonja is an affectionate word for "love handles" in Spanish.) Paredes achieved it all by never wavering from his vision. "What we do is very simple," he says. "Our spice rack is one spice. Everything else is just freshness."
Paredes was born in Morelia, Michoacán, Mexico. He spent a few years of his childhood in Boston before moving back to Mexico, and in 2004 he landed in San Antonio at age 19. In the region of Mexico where he grew up, he ate vegetable dishes like rajas con queso (creamy peppers with corn and cheese), calabacitas (sautéed squash), beans, and rice for a late afternoon meal. "The house, after school, it always smelled like food: the smell of chili and onion, fresh tomatoes," he says.
In his years in Boston, from ages 4 to 9, dishes like Philly cheesesteak and pizza romanced his palate. In his teen years in Mexico, Paredes tried to create his own brick oven, placing bricks inside the family oven to make pizza, much to the bewilderment of relatives. In later years, after moving to Texas, his love for cooking led to jobs in the restaurant industry, most notably as sous chef at the now-shuttered brasserie Lüke on the River Walk.
While he was sous chef, Paredes and his cousin and fellow chef Sergio Ortega created some local buzz with a series of pop-up dining experiences called Gallo/Toro Cocina in 2016 and 2017. These were often fancy, multicourse affairs that fueled Paredes' dreams of opening a fine-dining restaurant with traditional Mexican cuisine. He began hunting for the perfect brick-and-mortar location.
In the meantime, Paredes decided to take a pilgrimage to Mexico. He traveled throughout the country, north to south by bus, with the idea that he'd sample regional cuisines and reimagine the recipes for his customers in the U.S. But something changed along the way for the then-31-year-old. He went to Mexico thinking he could inject his own point of view, but the country had its own lessons in store.
"I was going to make it 'refined'—learn how to make fish tacos or aguachile—and make it a fine-dining experience," Paredes says. But he learned there was no way to improve upon the beauty of the food he experienced there.
Back in San Antonio, a real estate agent showed him a junkyard property on Roosevelt Avenue that had been vacant for nearly a decade. It was a far cry from his upscale dreams, and his mother and wife tried to dissuade him from the location. But it sparked a memory of the places he'd visited in Mexico, where nothing is fancy or overworked. He was sold.
Paredes opened Carnitas Lonja in that location in April 2017, serving his Michoacán-style carnitas prepared with lard, water, and salt. Paredes sears chunks of "butt, picnic, and buche, which is the stomach of the pig," and then puts it into big pots to boil. His team of three cooks prepares the salsas and guacamole daily, cooking the corn tortillas over a comal brought 1,000 miles from Michoacán.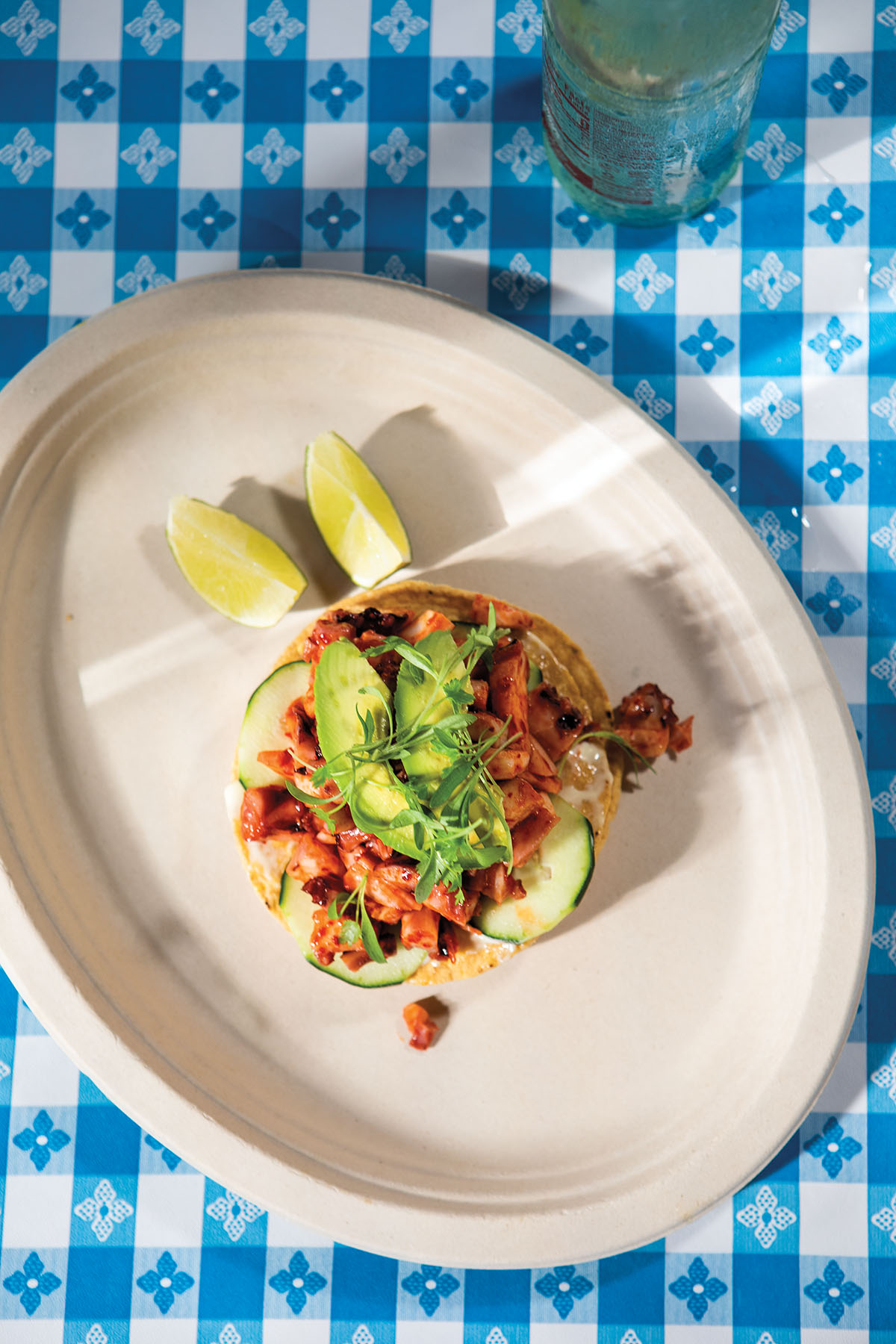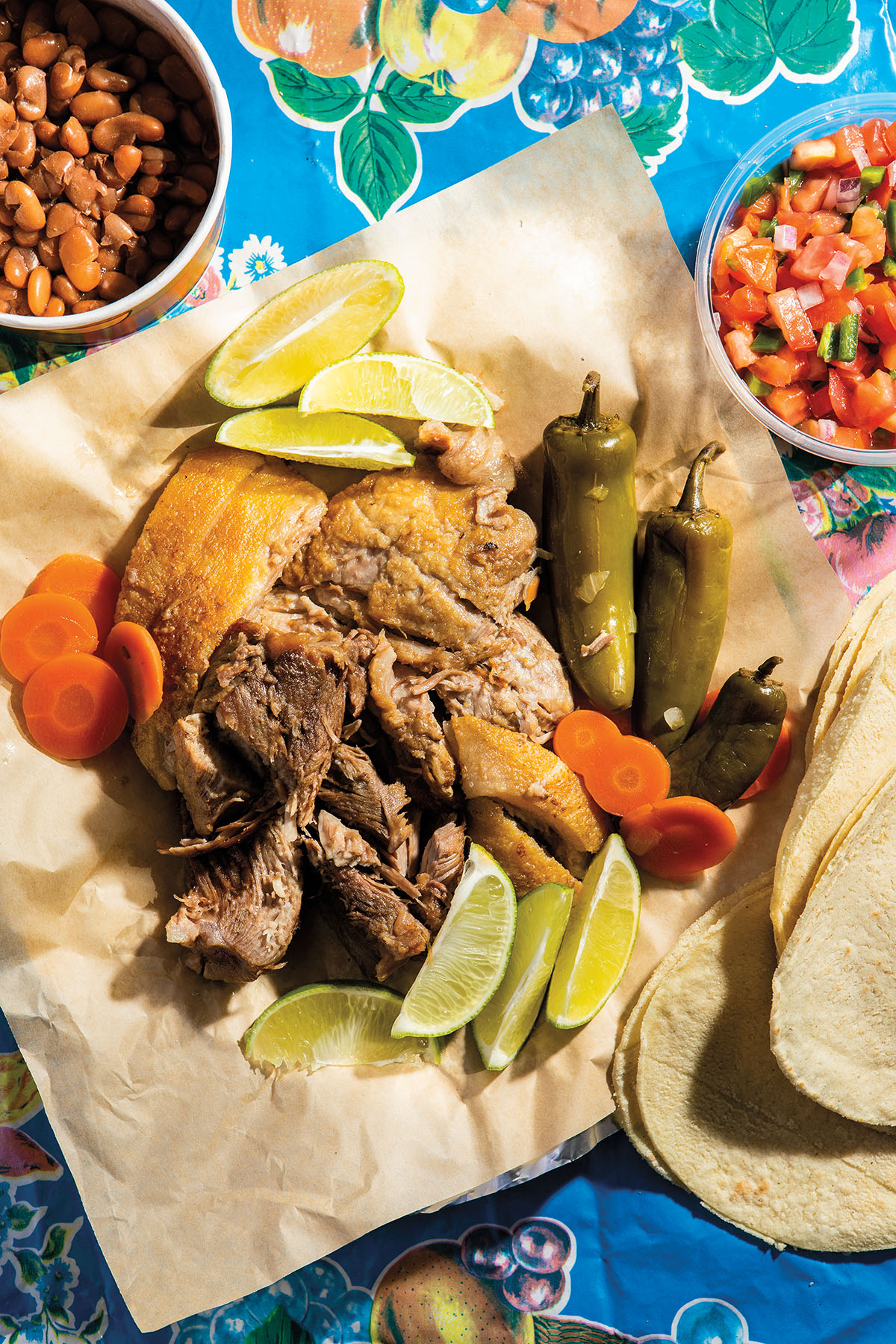 Customers order by the pound or half-pound, and some purchase even more meat on weekends for family gatherings. At the shaded picnic tables outside, a server brings a tray with charred homemade corn tortillas topped with carnitas and cups of pico de gallo, pickled onion, verde and roja salsas, and lime wedges.
"I think we were all hungry to see what he was going to do," says Jess Elizarraras, a former food writer and the executive producer of San Antonio Express-News' website, mysa.com. "He had great mentorship, he has a great palate, and then he goes and opens this tiny little shack that just has the best carnitas, the best tortillas, the best salsas. It wasn't this sit-down, stuffy kind of place. It was just good solid food."
Of the James Beard nomination, Elizarraras says Paredes' "insane amount of care" for his food helped to put San Antonio on the national dining map, alongside famed food cities like New York City and San Francisco. "I think it gave San Antonio a little bit of a lift, like we can be part of that circle, too," she says.
It's easy to see why this hole-in-the-wall restaurant has received national acclaim, and more importantly, why it's beloved by the community.
Roland Perez lives about a half-mile from Carnitas Lonja on the South Side, where he grew up and returned to live four years ago. He frequently dines there, where his conversation might be interrupted by the blast of a train whistling past on the nearby tracks. That's just part of the appeal, he says.
"What we have enjoyed most is the unpretentious nature of Carnitas Lonja—the plainish sign at the street, the welcoming employees, the picnic tables for seating," Perez says. "[Paredes] could have done this totally different, but he leads with the food, lets the food do all the talking."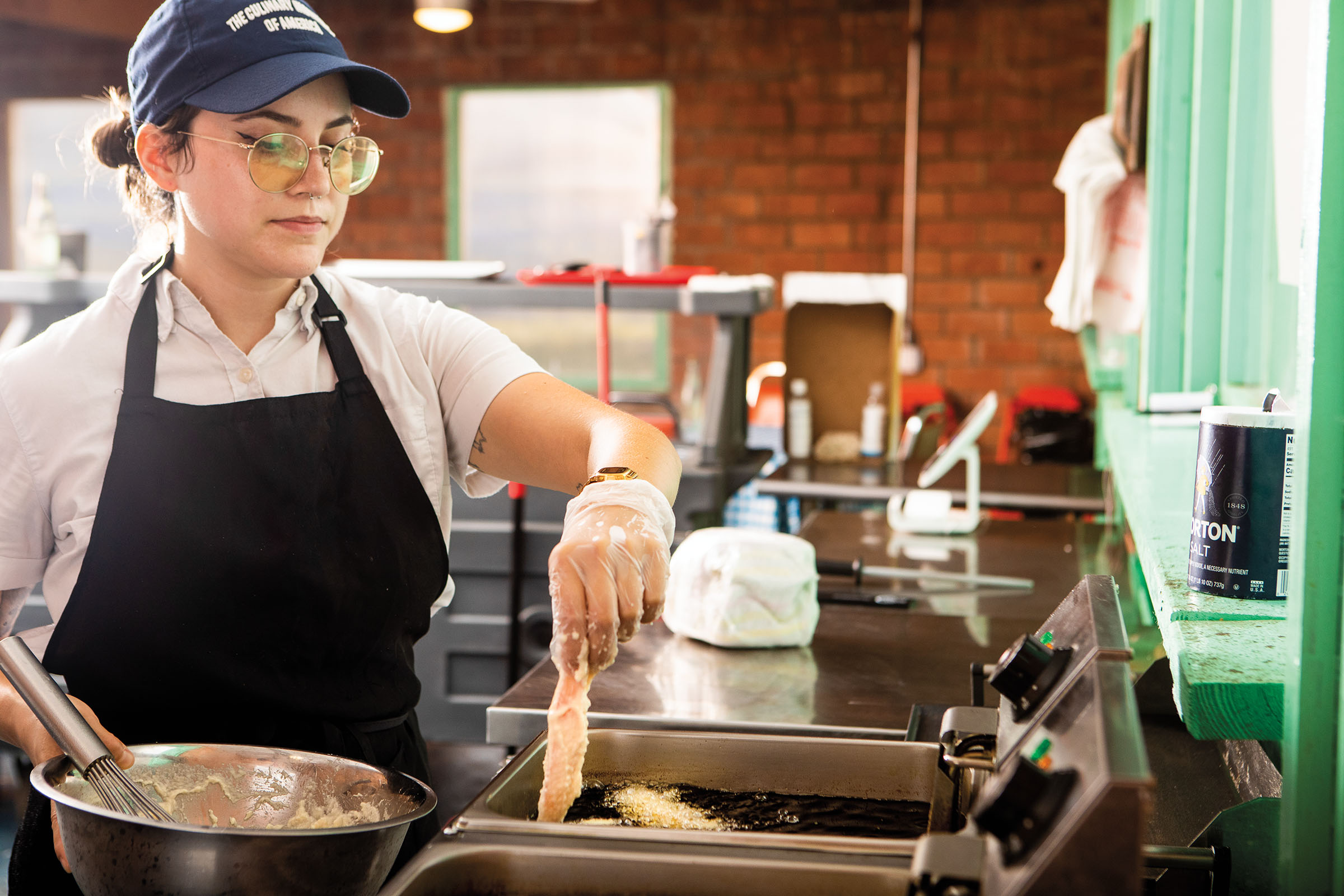 With Fish Lonja, Paredes showcases the coastal flavors of Veracruz, Sinaloa, and Baja California, with shrimp and fish served ceviche-style. The octopus tostada starts with octopus that is chopped and drenched with lime juice and chili seasoning. The dense, crunchy tostada provides a canvas for a thick squeeze of mayonnaise with layers of sliced cucumber, avocado, octopus, and fresh cilantro.
"That's why I do these types of restaurants, because I really want people to understand the flavors of Mexico," Paredes says. The biggest compliment he gets is when people say the food reminds them of special places they've lived or visited. During his fine-dining days of Gallo/Toro Cocina, there was no cultural touch point. "It was a pretty dish, it was a delicious dish, but it brought no memories," he says. "And with the food that we make now, people say, 'This reminds me of a place I used to go to back in the day. The corn tortilla, the salsa, it brought me to that place.'"
From the October 2021 issue