Chef Sonya Coté lives just minutes from her two Austin restaurants, Hillside Farmacy and Eden East. 
Sinclair

215 W. 3rd St., Clifton
Call 254-675-8888
sinclairrestaurant.com
But Coté's latest restaurant venture comes with a far lengthier commute: After opening her farm-to- table restaurant Sinclair last spring, she regularly makes the drive two hours north of Austin to the historic railroad town of Clifton.
"I don't mind it at all really; I kind of like driving," says Coté from behind the wheel. "It gives you a sense of freedom."
Today, I'm accompanying Coté on a trip to learn more about the town that has managed to steal her away from Austin part-time. An hour north of the capital city, we exit I-35 at Belton and begin a scenic drive northwest on State Highway 317.
En route to Clifton, we marvel at the largely undiscovered small towns just outside our state's biggest cities.
"Here comes the best part—I'll show you all my landmarks," says Coté as we enter Moody. She points out the sweeping triangular house on the right, followed by a drive-through beer barn painted with a tipsy goat and the words "Stay thirsty, my goat." Then we pass a curious decorative cement pig housed in a tiny cage and a restaurant called Lucy's Cafe. As we pass through towns like Moody, McGregor, and Valley Mills en route to Clifton, we marvel at the largely undiscovered small towns just outside of our state's biggest cities.
"But Clifton is the cutest," Coté says. "I'm going to give you the grand tour, which should take all of about 35 minutes!"
Located 33 miles northwest of Waco, with a population of just over 3,000, Clifton is the largest municipality in Bosque County, and these days it's known more for its budding arts scene than its railroad history. The downtown was even designated a Texas Cultural District by the Texas Commission on the Arts in 2011.
Clifton is home to one of the state's oldest movie theaters; the Cliftex, established in 1916, still screens first-run films. Nearby, the Bosque Arts Center hosts changing exhibits, and both Treaty Oak Art Gallery and the LA Thompson Gallery of Fine Arts show rotating works by local artists. And then there's the Clifton Art Alley, a colorful mural project that enlivens an alleyway near Coté's restaurant. The Art Alley is a collaboration between local street artists and local mover-and-shaker Kaye Robinson Callaway, who relocated to Clifton in 1986 after she inherited her grand- father's land here.
"I've always loved cities but now I've become a hick—and I love it!" admits the energetic Callaway, who spent most of her adult years in Houston and Austin. In Clifton, she taught high school English, earned a law degree, and eventually converted a 1930s jail into a boutique accommodation called The Cell Block. In another visionary move, in 2011 Callaway turned the town's old Sinclair gas station into an upscale restaurant called Mitchell's Grille.
"But as time goes on, things need to change," says Callaway, who closed the restaurant last year to focus on reviving her family's land as a working farm. She and her husband, photographer Curtis Callaway, invited some friends—Coté and her partner, photographer David Barrow—to one of the Grille's last dinner services. As conversation turned to Callaway's family farm, they began to visualize transforming the restaurant space into Clifton's first farm-to-table eatery.
"Sonya gave us so much advice that night, and she was already helping," Callaway says. "I want people who have the passion I have, but she also has the knowledge I would never have. So within days, I asked her to be a partner."
In the three months the restaurant was closed, the team added a patio to the side of the former gas station, and a local woodworker built a proper bar using barn wood from the Callaways' Kayeote Farms. The 90-seat restaurant, which is nestled against a former grain silo, boasts the old gas station's original concrete-tile floors and brick walls, and railroad tie hooks offer a place to hang a coat or hat. When the train barrels by each day, diners are encouraged to toast as the train horn sounds. A garage door opens onto the sidewalk to let in sunlight and breezes, while the new side patio offers a view of Avenue D's historic storefronts. And black-and-white prints of Bosque County farmers (many of them Norwegian immigrants) hang on the walls, connecting the local community's past and present.
"It means so much for people now to see how things used to be; that is why farm-to-table is so important to me," Callaway says.
Coté got to work making arrangements for farm deliveries and discovering new vendors at local farmers markets. Pretty soon, farmers and ranchers in the area were stopping by the restaurant with their offerings of produce and meat.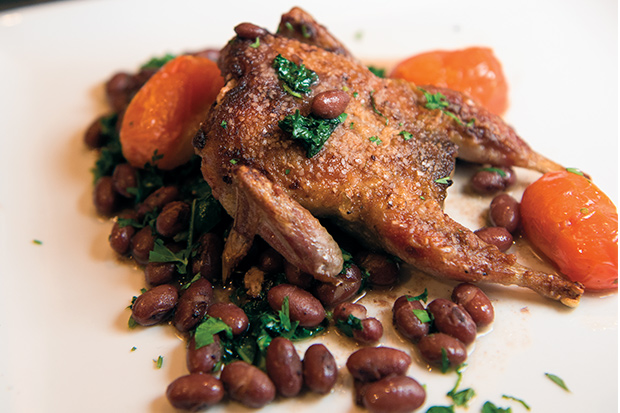 Guests soon flocked to Sinclair for elegant Lone Star-inspired comfort dishes like crunchy chicken-fried quail legs with silky buttermilk aioli, crispy Gulf drum with Texas caviar, and creamy jalapeño cheesecake. A few months after opening, former President George W. Bush paid a visit from his nearby ranch in Crawford; Coté says he's a fan of the burger, which is made with freshly ground 44 Farm beef, local jack cheese, pickled green tomato relish, caramelized onions, and roasted garlic aioli.
"There are some fundamentals that I figured would be difficult—farm-to-table deliveries, staffing, wine education," Coté says. "But we seem to be well received by the community, and the people who work here are ecstatic. They love their jobs, and they are so thankful there is something like this for them to do in the area."
Coté had members of her Austin teams commute to Clifton to train the Sinclair staff, and inventive chef Kim Mullins recently took over as chef de cuisine after training with Coté. And of course, local diners have required a bit of education as well, since Clifton had never seen the likes of a farm- to-table restaurant with a constantly changing menu limited to Texas-sourced ingredients.
And so now, for the first time ever, the residents of Clifton can spend weekends lingering over brunch dishes like Black Angus beef chili over poblano grits with a poached egg, all the while sipping craft cocktails. And the energy is contagious: Since Sinclair opened last April, Corner Drug Café opened its doors on the corner, serving breakfast and lunch, and Breaking Bread Bakery—which will soon bake fresh rolls and bread for Sinclair—opened across the street.
Meanwhile at Kayeote Farms, the Callaways are installing rainwater and aquaponic systems while they raise bees and Black Angus cattle. This year, they'll add chickens, goats, sheep, fruit trees, and an organic garden to their land, with the intention of supplying the restaurant with as much as possible.
"We want my grandparents' farm to become a true homestead again," Callaway says, "and we want Sinclair to benefit as much as possible."
From the March 2018 issue