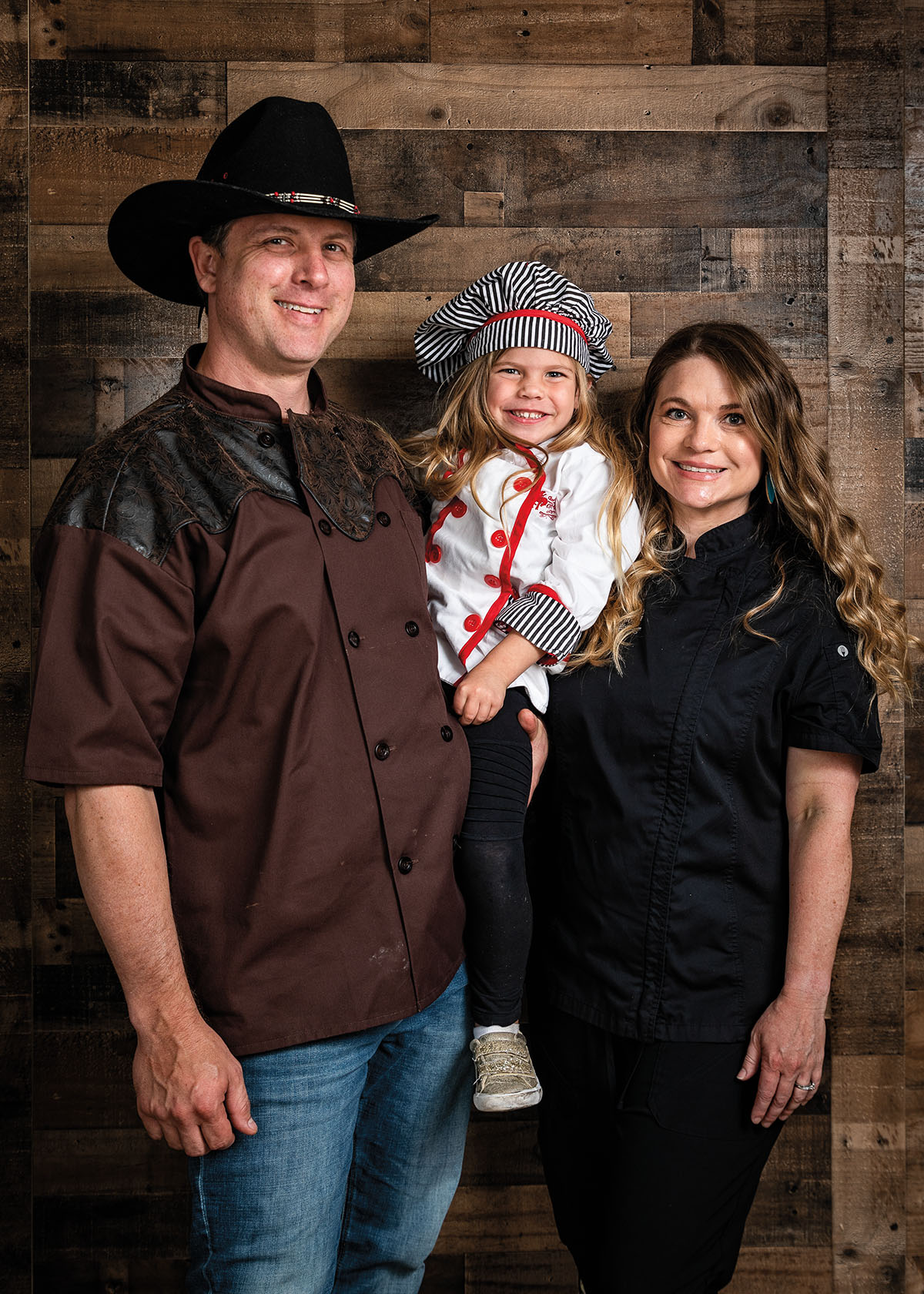 At Cowboy-Up Chocolates in San Angelo, Charles Mullin greets customers as "Wild West Charlie," a character who always wears boots and a cowboy hat. Mullin's alter ego is part of the charm of this quaint shop that has been open since 2008.
In 2019, Charles' wife, Misty Mullin, purchased Cowboy-Up Chocolates from its founder, James Crowder. A larger-than-life personality, Crowder gave wooden roses to each customer, along with a business card with Western axioms inscribed on the back. "Today I will do what others won't, so tomorrow I can accomplish what others can't," reads Charles' favorite.
Not only is the store's name fitting of the kitschy salesmanship and signature yellow rose- and Lone Star State-shape truffles inherited from Crowder, but it also pays homage to San Angelo's frontier history and the Mullins' can-do nature.
The Mullins are not new to acquiring businesses. In 2015, a local beekeeper of four-plus decades asked them to take over his hives with the promise he'd teach them the ropes. "I see these as bird nests on the ground," Charles says of the opportunities. "Who doesn't like honey, and who doesn't like chocolate?"
Misty wasn't surprised at the enthusiasm with which Charles dove into the honey and chocolate businesses. "I'm kind of used to it," she says with a laugh. "I feel like he's always coming up with random ideas."
Charles has worked in the food industry for many years, including serving in local restaurants during college. But making chocolate presented a different challenge. "Chocolate is something beautiful, but it's scientific—calculations, formulations, and temperature," he says. "It's a delicate dance."
Gesturing to a shelf lined with bottles, Charles says, "We use Amoretti [a gourmet line of food oils] as our flavoring. We use high-quality heavy creams, high-quality chocolate. We're pretty much using the best of the best for all of our chocolate."
The spark for Cowboy-Up Chocolates started 30 years ago when Crowder made his Concho Caramel truffles as gifts for his clients when he was a realtor. He was in his 60s when he decided to open the business. In 2015, he won first place for new flavors at the International Chocolatiers Convention in New York City with his signature Almonds De Leche, a Southern-inspired white chocolate candy with roasted almonds and dulce de leche filling, sprinkled with cinnamon and sugar. The Mullins trained with Crowder for about a year and still use most of his recipes, which burst from a binder they refer to as "the business bible."
Cowboy-Up's alcohol-infused Saloon Selection, which includes Irish cream and rum flavors, is Charles' brainchild. "When I thought of cowboys, I thought of the saloons, trail riding, and coming into town and having a whiskey," he says. "It's the heritage of the cowboys."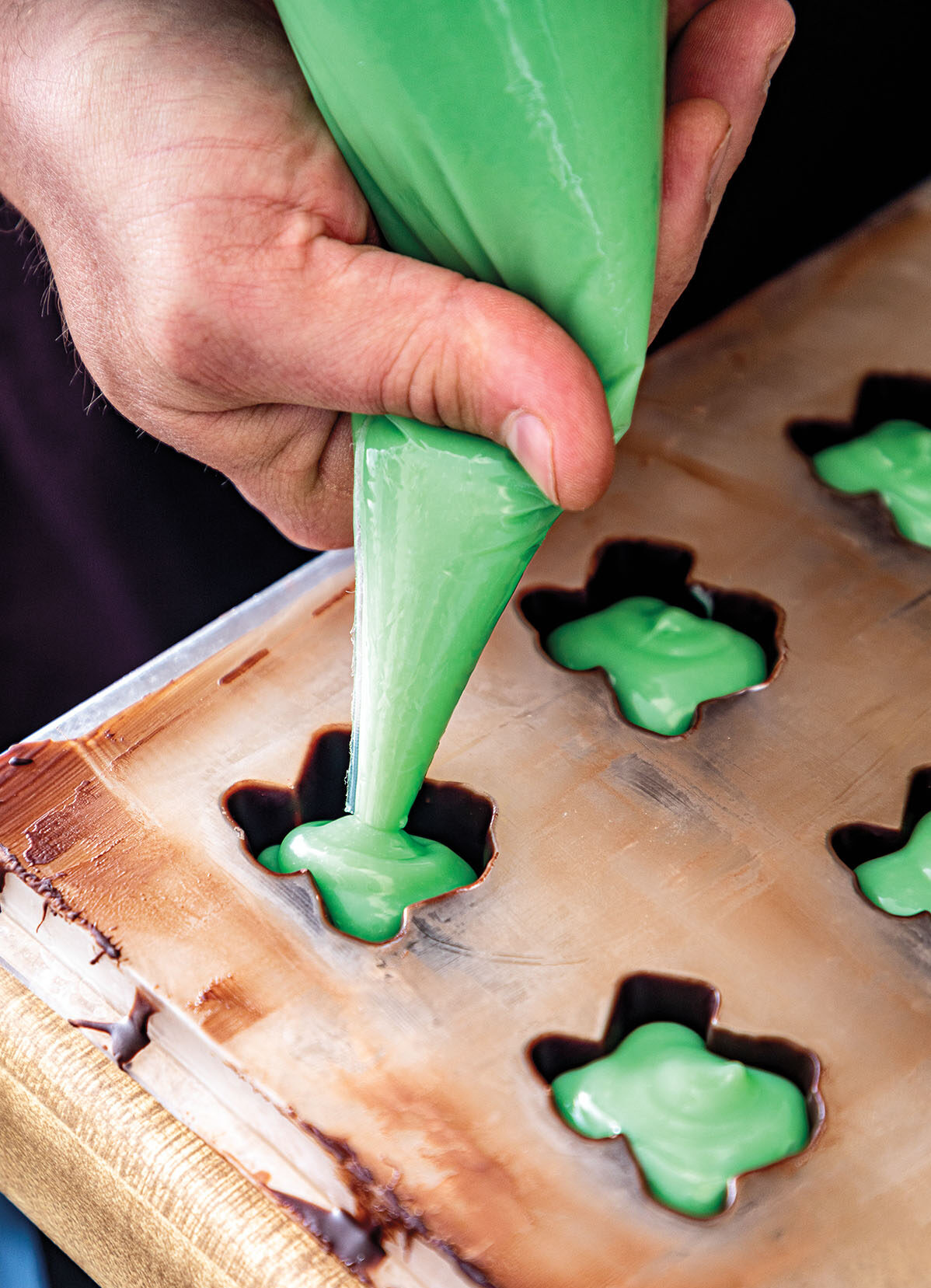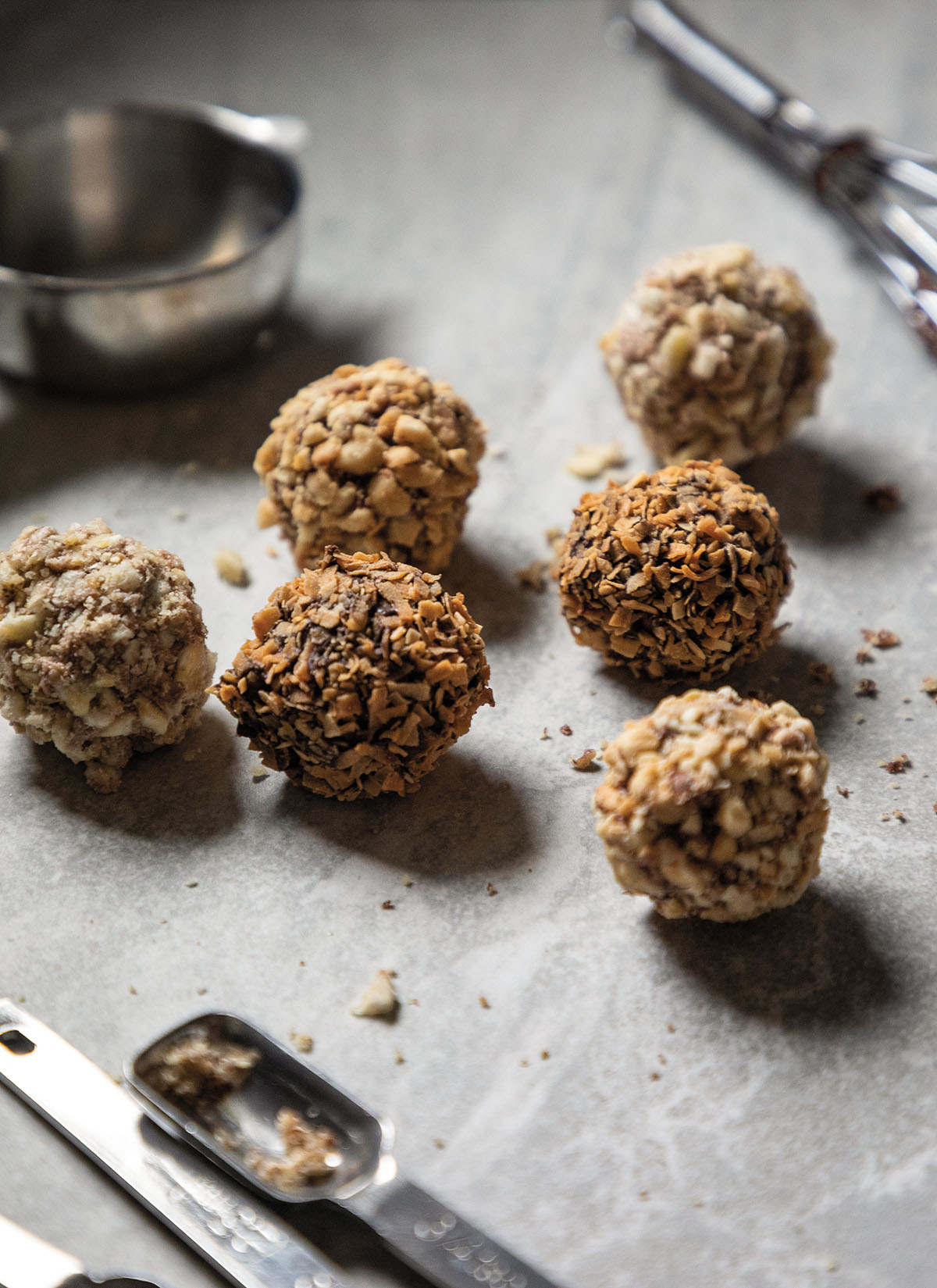 The establishment of Fort Concho in 1867 at the confluence of the North, Middle, and South Concho rivers first brought settlers to San Angelo, which was inhabited by the Comanche people at the time. In its early days, San Angelo could have been the setting for a Western movie. What is now the downtown area was once a rowdy center for gambling, bordellos, and saloons. A legend persists of underground tunnels spanning from building to building, secret passageways for townsmen to discreetly visit brothels, including the infamous Miss Hattie's Bordello.
"It was not a quality community in the late 1870s, early 1880s," says Bob Bluthardt, site manager of Fort Concho National Historic Landmark. "Before 1882, the city was primarily serving the needs of the fort soldiers and the Buffalo soldiers. Ben Ficklin, to the south, was the community of the upstanding. In August of 1882, a flood wiped out Ben Ficklin. The county seat in Ben Ficklin moved here and the railroad came in 1888, securing the city's future, and the rest is history."
Even though selling chocolate is a much tamer affair than running an Old West saloon, Cowboy-Up still aims to give an impression of those freewheeling days with its sweets. "Tumbleweeds," for example, are white chocolate balls blended with coconut flakes; "Bronco Brittle" is peanut brittle with red pepper flakes; and "Texas Truffles" come in flavors like mesquite bean, chipotle pecan, and margarita.
Around the holidays, it's not unusual for Charles to make chocolate at the shop until the wee hours of the morning. "It's a love," he says. "It's a passion."
While the Mullins took a risk delving into an industry unfamiliar to them, they were always certain about their mission. "What made it easy for me to walk into this business was the ideology I have: pride in our state and our customers leaving happy," Charles says. "Chocolate is cheaper than a counselor, too."
From the September 2021 issue