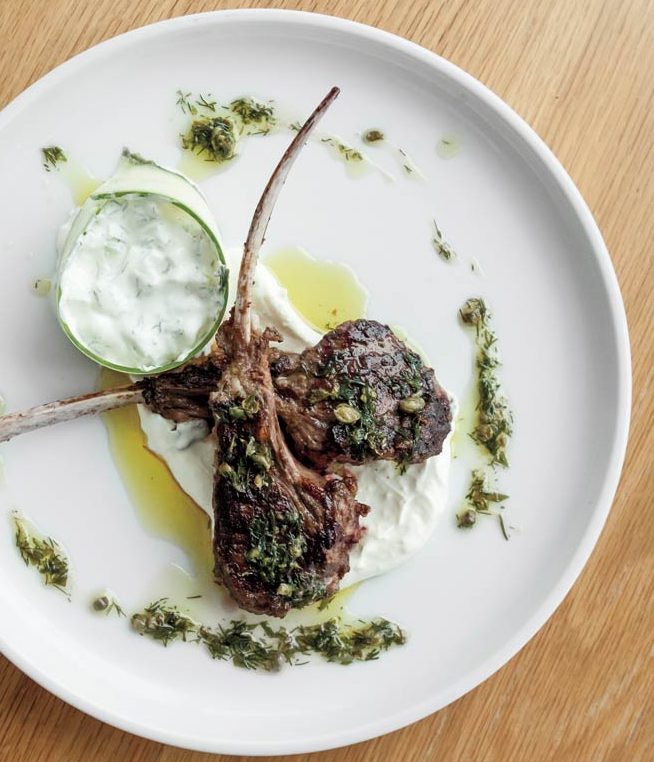 Frisco's entertainment complex at the Dallas Cowboys' headquarters, The Star, exudes all the glitz one expects from a Jerry Jones-adjacent operation. One boutique, for instance, sells a kid-size sparkly blue Ford F-150 emblazoned with a silver star for $15,000. But Zaytinya, the Mediterranean restaurant from chef José Andrés, shines in a different way.
Andrés, a Spaniard who's credited with bringing the concept of small plates to the United States, might as well be an honorary Texan. He shopped for groceries and organized professional chefs to cook thousands of meals to feed Hurricane Harvey victims through his nonprofit World Central Kitchen, which provides support and supplies to areas struck by natural disasters across the globe. Because of his efforts in Houston and post-Hurricane Maria Puerto Rico, Andrés has been nominated for a 2019 Nobel Peace Prize. But his hands-on work to help the hungry hasn't slowed the growth of his restaurant empire.
Zaytinya Frisco, which opened in February, is the 29th restaurant from ThinkFoodGroup, Andrés' international hospitality company, and is the second Zaytinya location after the original in D.C., which opened in 2002. That he'd select a suburb of Dallas before more cosmopolitan locations like Los Angeles or Las Vegas seemed curious, but Andrés says it was an easy choice.
"We wanted to try the concept in a different place than we've been before. This is a growing area, and we appreciate the brand-new-world feel about Frisco," he says, adding, "This is not a one-year investment. We are looking down the road; we know this will be one of the hottest areas in time."
Indeed, Frisco is now the fastest-growing city in the U.S., according to recent census bureau numbers, and nearly two dozen restaurants opened in just under a year at The Star. Zaytinya fits into the overall dining zeitgeist, too, as its Greek, Turkish, and Lebanese dishes are perfect for grazing and sharing.
On a Friday evening, the space is abuzz with happy couples, groups, and a few families filling tables, as well as pillow-strewn banquettes and booths. By 7 p.m., nearly all the seating throughout the airy, expansive space—the restaurant and lounge can accommodate 250—is taken. The modern design features whitewashed walls and a series of curved ceiling elements shadowed by blue light, bringing to mind colors of the Greek isles. Pendant light fixtures add to the contemporary feel, while a wood-fired oven delivers both literal and figurative warmth to the tableau. Details matter, too: Dishes in lovely blue-and-white designs come from Kütahya Porselen in Turkey, and pre-dinner aperitifs arrive on ornately patterned silver trays.
Noteworthy among the drinks is the Turkish Pickleback. A trio of glasses hold the traditional serving of chilled raki, a clear brandy pungent with anise; a single square cube of ice; and magenta-hued pickled turnip juice, the perfect sour foil for the herbaceous and sharp raki. A sip of raki, mixed with a sip of the bright pink juice, swirled over the ice, prepares the palate for a series of savory flavors to follow.
Diners accustomed to Greek food will easily find favorites, but items that originate in Turkey or Lebanon may be less familiar. In nearly every instance, dishes are easily split between fellow guests and hover around $15 for appetizers and $40-$90 for family-style entrées.
One standout appetizer is h'tipiti, a tart dip of bright red roasted peppers, mingled with crumbled feta and thyme, served with an oversized lavash chip broken into pieces for scooping. The Turkish-style pastirma features a salad of crunchy radish, sweet minced apricot, and mint to roll up inside paper-thin beef loin strips spiced with cumin and paprika. The satisfying vegetarian bantijan bil laban, with roots in Lebanon and Morocco, includes lightly battered and fried eggplant rounds served warm with creamy roasted garlic yogurt, crushed pistachios, barberries, and cardamom-dusted mint. The magnificent showpiece entrée is a spit-roasted lamb shoulder presented on a platter with lettuce leaves and cucumber tzatziki.
Though the menu is almost a duplicate of the D.C. original, Andrés entrusted Frisco-based executive chef Jon Thompson—a veteran of noted Dallas restaurants such as Stampede 66 and Samar—to create a few items particularly for his Texas audience. Among these are the wagyu kibbeh nayeh, a Lebanese-style beef tartare; and wood-grilled rib-eye steak, both of which utilize meat from Bar N Ranch in nearby Celina. "A large part of dish creation [here] depends on the local market and sourcing," Thompson says. "When given the chance to create dishes for [this] location, I had the opportunity to incorporate Texas beef." Such dishes suit Cowboys fans just fine.
With the culinary genius of Andrés at the helm, Zaytinya promises to deliver winning plates for years to come. And with the lure of a such a big fish in this expanding pond, Frisco promises to become a significant culinary destination—sooner rather than later.
Four Things to Do at The Star
Take the VIP Guided Tour of the Dallas Cowboys World Corporate Headquarters, which includes access to the Ford Center, an indoor stadium; the War Room, where the Cowboys conduct their NFL draft; Nike Star Walk, following the team's top 10 milestones, with a look at the team's uniform evolution since 1960; and a Super Bowl memorabilia display. $27.50 for kids and seniors; $32.50 for adults.
Stay at the 16-story Omni Frisco, decorated with photos and illustrations of star Cowboys players.
Check out the Lucchese boutique, which features boots ranging from humble brown leather to knee-high ostrich.
Work out at Cowboys Fit, a 60,000-square-foot gym that includes yoga, barre, cycling, and other fitness classes.
From the January 2019 issue