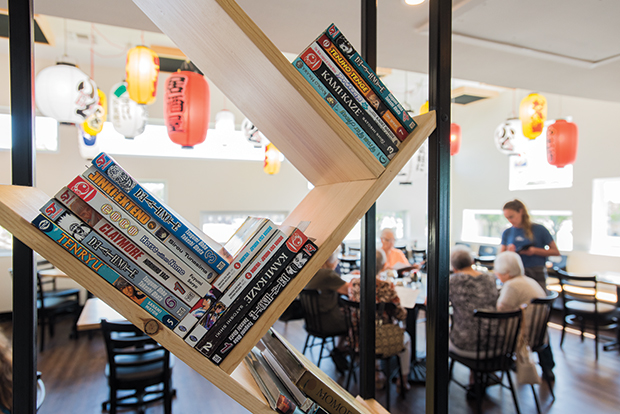 Working as a dining critic and food writer for most of my career, I've been asked hundreds of times to name my favorite restaurant—an impossible task. But I can tell you where I go most often when I'm not working, the places that feel like home. High on the list of such restaurants in Fort Worth is a little place called Tokyo Cafe.
Tokyo Plus Two

Tokyo Cafe is at 5121 Pershing Ave. in Fort Worth. Call 817-737-8568.

Shinjuku Station is at 711 W. Magnolia Ave. in Fort Worth. Call 817-923-2695.

Cannon Chinese Kitchen is at 304 W. Cannon St. in Fort Worth. Call 817-238-3726.
Open since 1997, Tokyo (as we regulars call it) wasn't always the wildly popular lunch-and-dinner spot it is today. But over the years, it's become a destination dining spot with a steady crowd, every day of the week. Though a devastating 2014 fire closed the restaurant for two years, the public's passion for Tokyo wouldn't be deterred. Thanks to its dedicated owners and chef, the restaurant is stronger than ever today.
Jarry Ho inherited the small Japanese restaurant in 2003 when his parents, longtime restaurateurs in Fort Worth, wanted to retire. Jarry had just graduated from Texas A&M University but hadn't yet found a job.
"I knew I didn't want to sit behind a computer, working for someone else and trying to climb the corporate ladder, and I knew I wanted to own a restaurant—I love the whole dining experience," says Jarry, who'd helped his folks by washing dishes over the years. "Before I knew it, I got sucked into running their restaurant."
Meanwhile, his college girlfriend Mary Kha was finishing her business degree at Texas A&M. She was working as a sales analyst when she married Jarry in 2006 and suddenly found herself working alongside him at Tokyo Cafe.
"There was no honeymoon," she says with a laugh. "We went from our wedding to work at Tokyo Cafe. I figured I'd pursue my own career, but then I realized I was having fun doing this with Jarry."
The ambitious couple shaped it into their own place, updating the interior and menu with fresh ideas. Soon, it became the go-to hot spot in the Arlington Heights neighborhood, one of Fort Worth's oldest quarters, adjacent to the Cultural District and its numerous museums and pretty parks. Many parents introduce their kids to sushi here (the ceviche sushi roll is delicious for all ages), and Tokyo Cafe is also an affordable date-night place with its solid selection of rice bowls ($8-9) and a small but smart wine list.
Chef Kevin Martinez came aboard in 2009, introducing new items to entice Fort Worth diners hungry for equal doses of comfort and sophistication. Greatest hits at Tokyo? The baked avocado half, stuffed with crab and shrimp and drizzled with cilantro oil ($7), ranks high. Salmon and Brussels sprouts topped with rice pearls ($15) is divine. Bao buns, golden-toasty outside and filled with pulled pork, may be what is served in heaven. My favorite is probably fish and chips ($13), featuring tempura-fried red snapper with perky yuzu-spiked tartar sauce and a side of the signature Tok Fries, purely addictive freshly cut french fries sprinkled with Japanese spices.
When the ramen craze hit in Texas, Kevin was already all over it. He has a dedicated following for his brand of Japanese noodle soup, noted for either tender roasted pork belly or smoked pork loin from a nearby barbecue joint, plus a soft-boiled egg that cooks for exactly five minutes and forty-five seconds in a broth simmered for 24-30 hours.
Jarry and Mary expanded their team when baby Madelyn (aka Madee) arrived in 2010. By the time Madee could walk, she was clutching menus in her little hands as she escorted guests to their tables. It wasn't long before she helped Mary fill out the seating charts, organizing the servers.
Although they'd made Tokyo Cafe a bonafide success, Jarry and Mary weren't content to rest on their laurels. They enlisted Mary's brother, Casey Kha—a financial planner who wanted to change his line of work—and his wife, Elyssa, to open Shinjuku Station together in 2011. A great shotgun space in a 1920s building on booming Magnolia Avenue on Fort Worth's Near Southside proved perfect; the group opened an izakaya bar to mirror the fashionable after-work drinking-and-dining "taverns" that have become trendy in Japan. The small-plates menu, chic sushi-bar seating, and Japanese-inspired libations, along with a patio under the stars, added up to an instant hit.
Soon after, Mary, Jarry, and Madee welcomed baby Sophie to the family, making life busier than ever. Yet the Hos were ready to create another restaurant that reflected their heritage, which, interestingly, is Chinese. A research trip to New York emboldened them to make the next move.
"Whenever we'd take a night off to dine out, we couldn't find the kind of authentic Chinese food we crave," Mary recalls, noting that though they're surrounded by Japanese food culture, they keep their Chinese legacy vibrant at home, cooking Chinese food and speaking Chinese to their daughters. "Inspired by places in New York like Mission Chinese and Café China, we knew we wanted to do something unusual for Fort Worth."
Jarry and Mary continued keeping Tokyo at the top of its game while opening Cannon Chinese Kitchen in a 1930s cottage just south of downtown Fort Worth in 2015. Mary brought some of her own home-cooking recipes to the menu, including noodle soups and an eggplant-meat-and-leek dish, while also employing recipes shared by Jarry's and Mary's mothers.
While busy remodeling the bungalow that would house Cannon, however, an electrical fire destroyed much of Tokyo Cafe during an overnight rainstorm in June 2014. Jarry served as general contractor for the painstaking reconstruction, during which the restaurant was forced to shutter for more than two years. He added a small cocktail bar and relocated the sushi bar to create better flow between dining spaces. Smooth wood accents are new, and comfortable, cozy banquette seating lines the wall in one corner. In the end, it's still the cheery, convivial café everyone loves, with new paint and small pieces of Japanese artwork brightening the decor.
"We didn't want to change it too much; we wanted people to feel it was the same place but with new clothes," Mary says. Jarry adds, "We wanted it to feel like coming home again."
Most of the staff returned, including chef Kevin, who bided his time during the interim building an audience for the roving ramen food cart pulled via trailer behind his pickup truck.
"I got to bring my old kitchen family together," says Kevin, who still operates his ramen cart at special events. "I wanted to return to work with Mary and Jarry because we push each other to be better together."
On reopening day in the fall of 2016, guests poured in the door. For months on end, dinner patrons learned to show up at 5 p.m. or wait 90 minutes or more for a table—a situation the Hos had never experienced nor anticipated. Former patrons came back in droves, bringing newbies along. And just as the neighborhood embraced the return, so did colleagues in the local food world.
"There may be fancier food in town, but when I'm hungry for delicious, honest food, I think of Kevin's cooking. Chefs really crave comfort and community when they're off-duty, and you get both with Kevin and Tokyo," says Hans Peter Muller, owner and chef at the nearby Swiss Pastry Shop.
Like Hans Peter, I'm drawn to Tokyo when I have a hankering for something simple, real, and immensely gratifying. And I get a big dose of feeling at home with the Hos, too. That's my favorite kind of dining out, with a side of Tok Fries, of course.
From the October 2017 issue