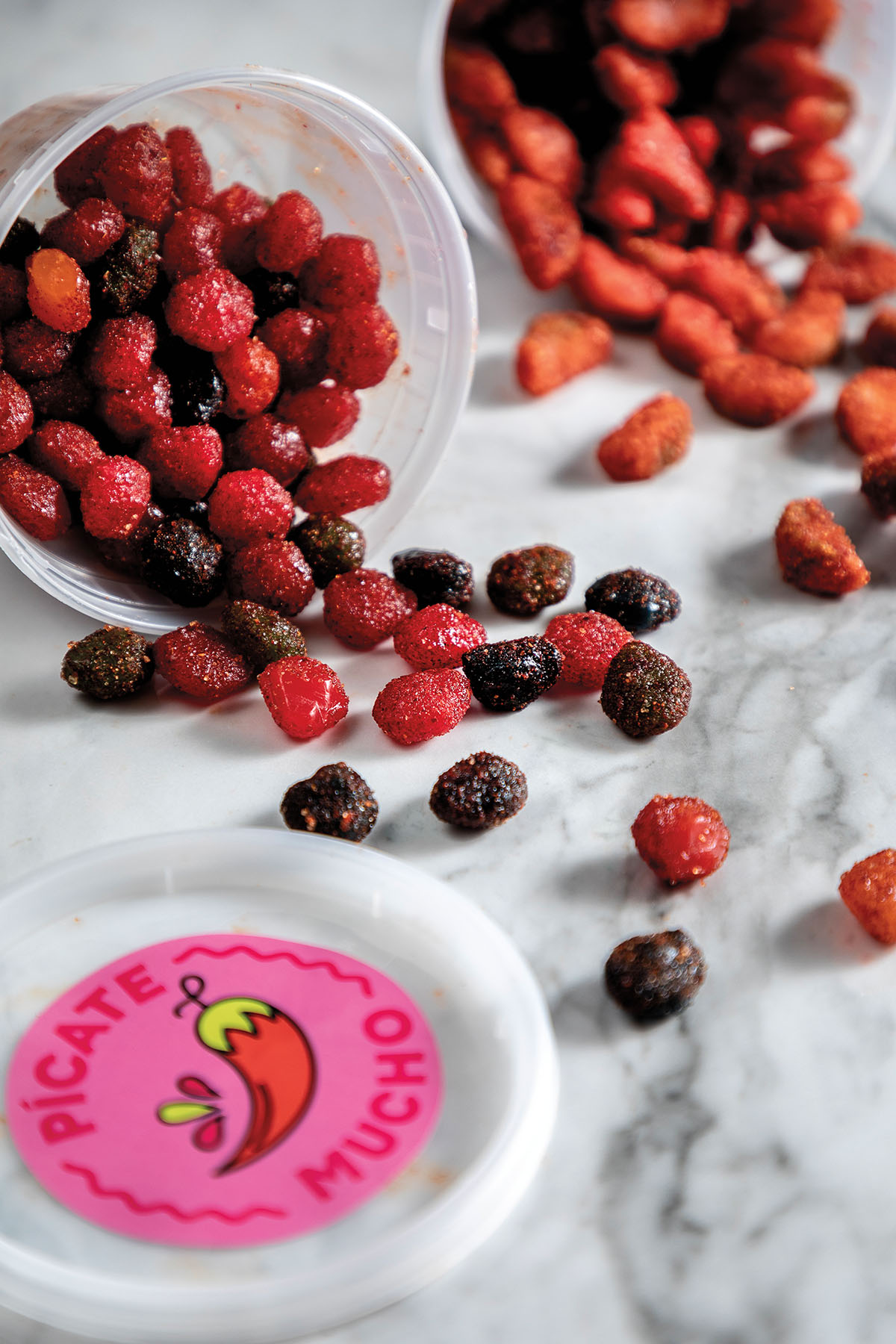 Tucked inside Laredo's rancho-inspired hangout Golondrina Food Park, Pícate Mucho's taste-bud-melting shop is raising the bar for Tex-Mex candies and snacks known as chilitos. Catharine Cortez, the owner of Pícate Mucho, or "get spicy," has guided her operation from a part-time, online-only home business to a full-time brick-and-mortar enterprise in 19 months—all during the pandemic. Harried but undaunted, she watches as a line of customers in front of her stall grows in anticipation of creations that blend the old school with a millennial Mexican American twist.
Pícate Mucho
10211 Golondrina Drive, Laredo.
956-415-1408
Open Wed-Thu
5:30-10 p.m.,
Fri 5:30-11 p.m.,
Sat 1-11 p.m.,
Sun 1-9 p.m.
Closed Mon-Tue
picatemucho.com
One Thursday night, a customer orders 10 8-ounce tubs of peach rings, gushers, and Sour Patch Kids coated in chamoy—a Mexican condiment made from pickled fruits and spiced with chiles—and dusted with Cortez's signature chilito powder. (Chilito is interchangeable for the treat and the chile powder.) The customer's having trouble taking her towering haul back to her car. "Mom, can you help?" Cortez, a Laredo native, calls out to Michelle Garza, who is enjoying dinner and catching up with family nearby but dutifully aids in wrangling the order.
"I told you my mom wasn't helping me anymore, and of course, here she is, helping me again," Cortez says.
In April 2020, Cortez was homebound on maternity leave from her job as a legal assistant right as the pandemic hit South Texas. Bored and swiping through TikTok and Instagram, she noticed a trend of young Latinos making their own chilito powders and chamoy. Folks were combining them to make their favorite classic snacks doused in the spicy stuff, like chips, fruit, and snow cones known as raspas. But Cortez was more intrigued by the combinations she hadn't seen before—classic American candies like gummy bears drowning in chamoy and chilito. Cortez, like so many other Tejanos, grew up with traditional Mexican chilitos. "I'd literally beg my mom, eating them until I'd make myself sick," she says.
She saw the opportunity to create her own version of the sweet, sour, and spicy staple. Blending her own Mexican spices and sauces with American candies seemed an antidote to her isolation. Inspired, she ran to the corner store, grabbed some chile powder, chamoy, and gummies, and started experimenting. That's when her water broke.
"It's like I gave birth to two babies that day," she says, laughing. While she recovered from an emergency C-section, she plotted her next steps. "I told my husband, 'OK, go get me more stuff.'" She kept tweaking her recipe, testing blends on friends and family for weeks until she was satisfied. Cortez says she experimented with 20-odd ingredients, and six made the cut. "We have customers who ask us what's in it, but I'm like, 'Well, I can't say!'"
During the pandemic, Tejano millennials have flocked to the internet to show off their chilito mashups. And brands like Chilito Loco in the Rio Grande Valley and Enchilositos Treats in Brenham have found success online. But only Pícate Mucho has made the jump from virtual to in person. "Anyone can make chilito," Cortez says, "but our taste is what sets us apart."
Open Wednesday through Sunday, Cortez and her sisters, Anali and Ale Garza, spend Monday and Tuesday making their various blends—dry rubs for watermelon bits, wet paste for gummy bears, and a liquid condiment for squirting on top of snacks. "I don't know what she puts in them, but they're the best chilito candies I've tried," says local beauty queen and chilito fiend Chelsea Morgensen, whose championing of Pícate Mucho on social media has added to its word-of-mouth appeal.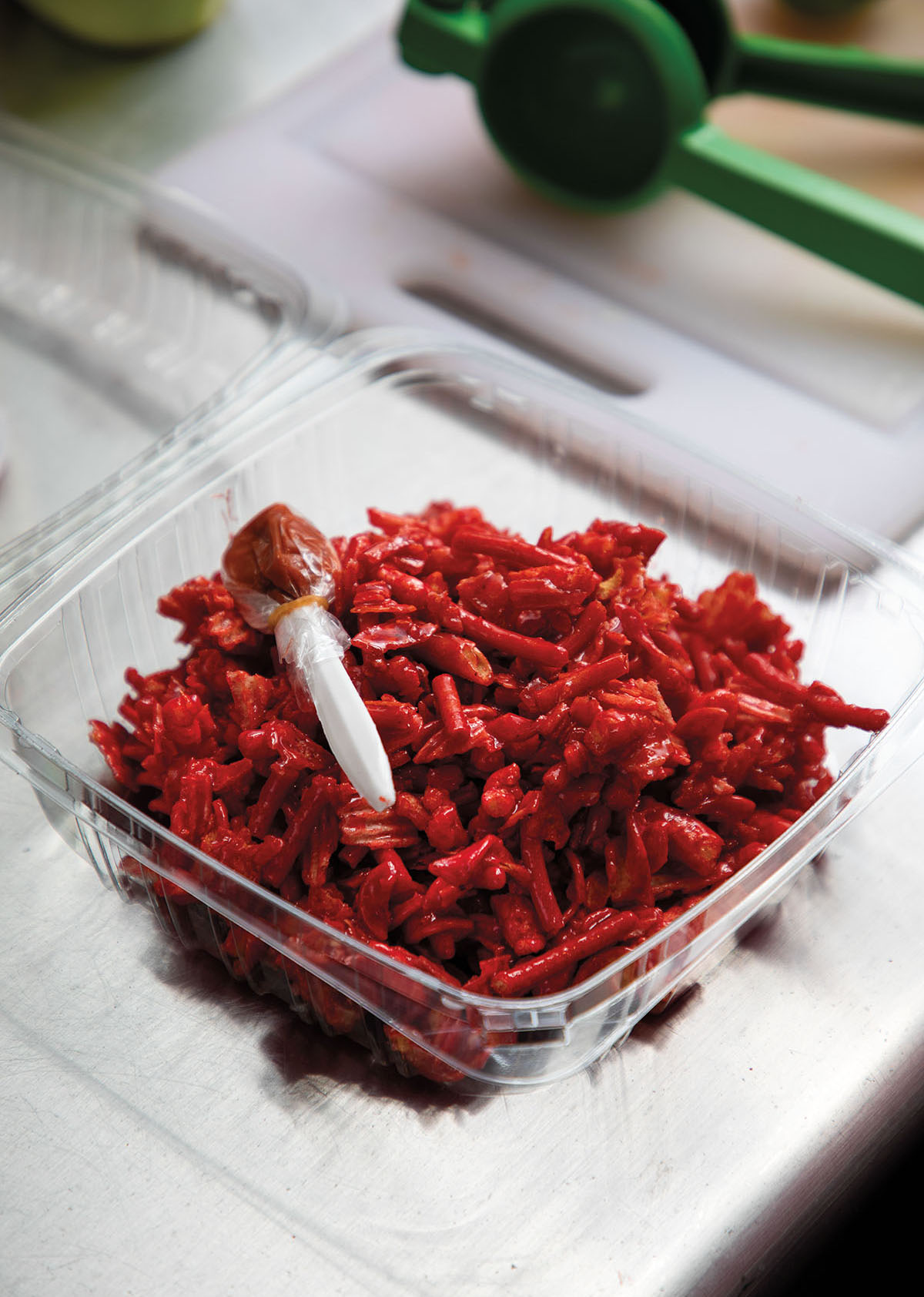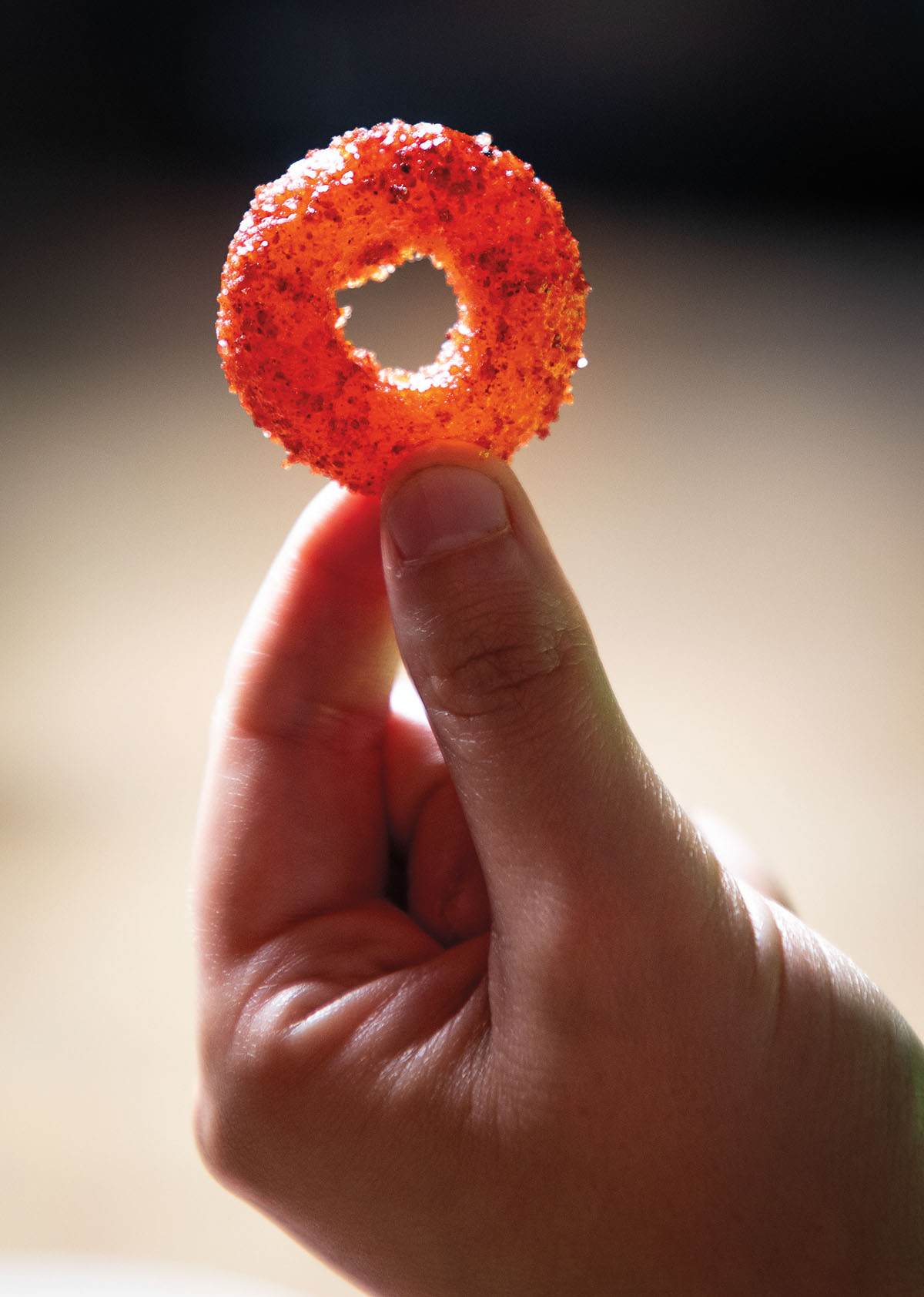 Michelle, who has been working in a dental office for 25 years, initially had a tough time seeing her daughter's vision. "When she told me she wanted to sell chilito candies," Michelle says, "I thought, 'Who'd want to buy this stuff?'" Nevertheless, she helped run the business while Cortez juggled her return to her day job. When it became clear the side hustle was outgrowing its confines in Cortez's home, she knew her career needed to change. "It was too much," she says. "We had hundreds of cars coming by every day, and our house looked like a candy store."
Cortez quit her job in June and in September of 2021 opened shop at Golondrina Park. She was an instant hit, selling out in two days. Michelle now laughs: "The joke is on me, I guess."
Since moving to a physical location, Cortez has expanded Pícate Mucho's menu, pushing the creative limits of chilito with freshly prepared snacks. Think strawberries stuffed with pickles, wrapped in Fruit Roll-Ups, and doused in chamoy ("Strawberry Bombs"). Or corn chips tossed with Japanese peanuts, cucumber slices, jicama, corn nuts, and chamoy ("Tostitos Locos").
But the bestselling item remains the chilito gusher, a Betty Crocker fruit chew with a liquid center. Cortez's sisters estimate they go through at least 1,000 pouches of gushers a week—around 10,000 pieces. "It's crazy," says customer-turned-employee Emily Martinez, noting devotees who drive in from as far as Austin and Corpus Christi, even though shipping is available.
Looking back, Cortez is agog that her childhood obsession has turned into a career. "I literally have gastritis now," she says. "But I'll never stop eating it. Chilito is my whole life."
From the March 2022 issue