The spectacular cooks featured in our coverage of Texas holiday meal traditions also shared the secrets of their favorite dishes. Find inspiration in recipes ranging from Lou Lambert's grilled beef tenderloin to Larry Delgado's tamale tips and Ross Coleman's black-eyed peas.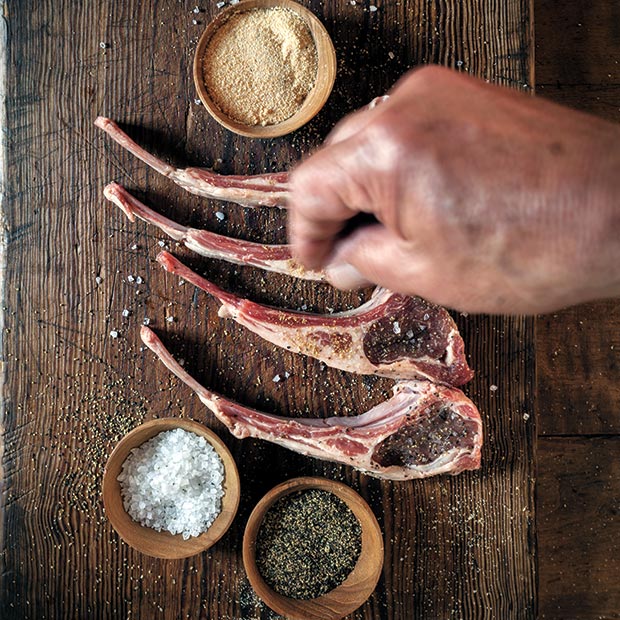 Tom Perini's Ranch Steak Rub
(makes 1/2 cup)
1 T. flour
1 T. coarsely ground sea salt
4 tsp. coarsely ground black pepper
1 tsp. dried oregano
4 tsp. granulated garlic
1 tsp. paprika
1 tsp. granulated beef stock base
Mix ingredients together; sprinkle or rub into meat. Store in an airtight container.
Return to storySeasoned Lamb Chops at Perini Ranch – Buffalo Gap, TX. Seasoned with Perini Ranch Steak Rub. (Photo by Eric W. Pohl).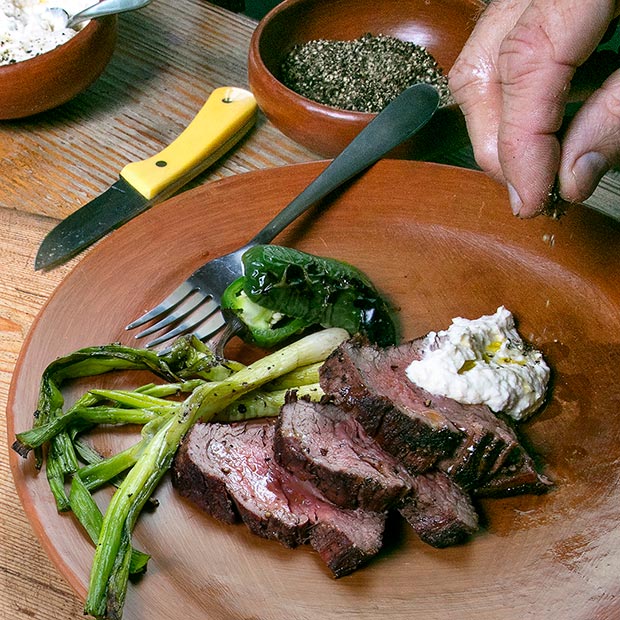 Lou Lambert's Beef Tenderloin
Serves 10
1 beef tenderloin, approximately 4 pounds, trimmed and tied
1/4 c. olive oil
3 T. coarsely ground black pepper
2 T. coarsely chopped fresh thyme
kosher salt, to taste
Remove beef from refrigerator and coat with olive oil. Season evenly with pepper and fresh thyme and allow tenderloin to come to room temperature for about 30 minutes while you are preparing your grill. Light a fire in your grill with charcoal or wood and allow to burn down to medium high. Arrange some of the coals on one side of the grill to make a hot zone and some coals on the other side to make a cooler indirect heat zone.
Generously season the beef with salt and place directly over the hot fire, searing on each side for about 5 minutes until the tenderloin is caramelized and crusted. Move the beef to the cooler indirect heat section of the grill and close the lid, allowing the tenderloin to roast, turning occasionally. Continue cooking the tenderloin until a thermometer inserted into the thickest part of the beef reaches 125 degrees for medium-rare, about 20 minutes. Allow the beef to rest for at least 15 minutes before slicing.
Return to storyLambert's Beef Tenderloin (Photo ©E. Dan Klepper).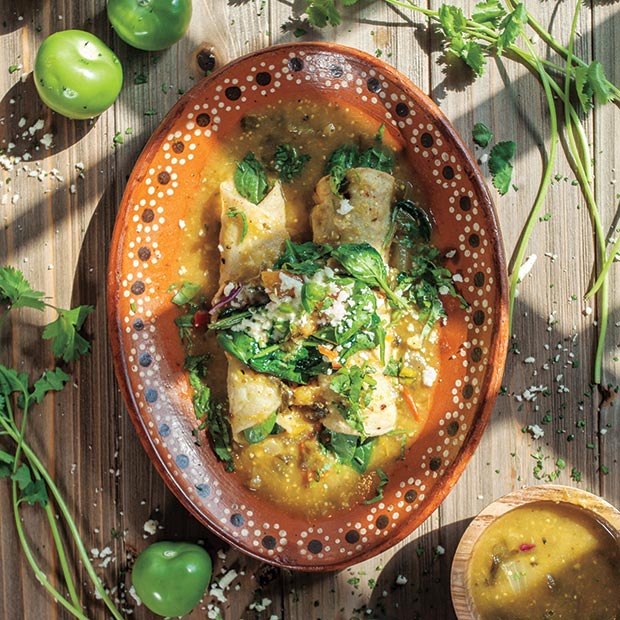 Irma's Original Spinach Enchiladas
For the tomatillo sauce:
15 medium-sized (3-inch diameter) tomatillos, peeled
1 onion, cut into wedges
6 whole garlic cloves
1/4 tsp. cumin
2 c. water
1/2 c. cilantro
2 T. extra-virgin olive oil
Salt to taste (about 1/2 tsp.)
For the enchiladas:
12 5-inch corn tortillas
2 T. diced tomatoes
2 T. diced yellow onion
2 T. diced garlic
2 tsp. chopped chives
4 T. extra-virgin olive oil
2 bunches of spinach (or 2 16-ounce bags of pre-washed spinach)
3/4 c. grated mozzarella cheese
1/2 c. cotija cheese
Sea salt and cracked black pepper
Preparing the tomatillo sauce:
Place tomatillos, onion, garlic cloves, and cumin in a large saucepan. Add water to cover the tomatillos. Bring to a boil, reduce heat, then simmer uncovered about 10-15 minutes. Remove from heat and cool.
Pour the cooled, boiled tomatillos into a blender and pulse on slow to achieve a chunky texture.
In a skillet, heat the oil on medium-high, then pour in the blended tomatillos. The sauce should pop and sizzle from the heat. Add water if the sauce is too thick; the consistency should be like chunky gravy. Set aside. (Sauce can be prepared a couple of days in advance.)
Preparing the enchiladas:
In a large skillet over medium heat, sauté half of the tomatoes, onions, chives, and garlic with 2 T. oil until fragrant. Slowly add spinach, sprinkle with sea salt and cracked black pepper, and toss until wilted but still bright green. Set aside.
In another skillet, heat 2 T. oil over medium heat. When the oil is hot, dip tortillas into the hot oil until soft.
Place the softened tortillas flat on a plate, then place a dollop of spinach in the centers. Roll the tortillas to make enchiladas. Arrange in a 9 x 13-inch baking dish, and top the enchiladas with mozzarella cheese. Bake uncovered in a 350-degree oven until cheese is melted. To serve, top each enchilada or enchilada plate with tomatillo sauce. Garnish with sprigs of fresh spinach, diced tomatoes, and a sprinkling of cotija cheese.
Return to storySpinach Enchiladas at Irma's Original – Houston, TX (Photo by Eric W. Pohl).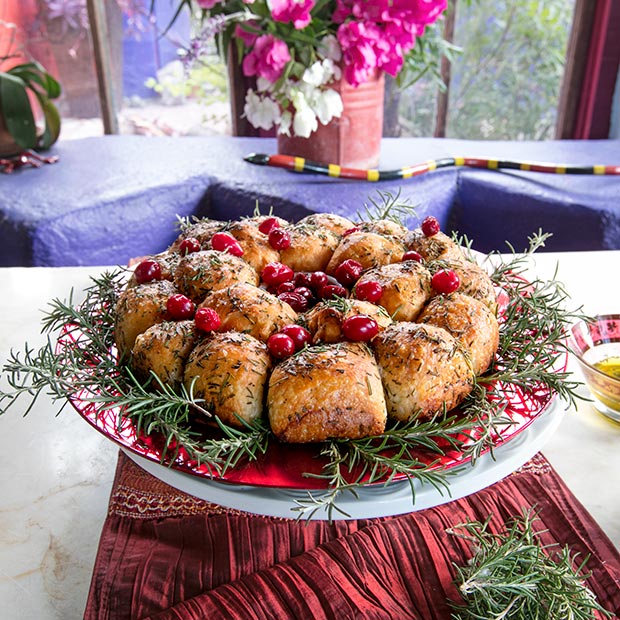 Eve's Garden Noble Bread
(makes 4 1-pound loaves)
6 1/2 c. unbleached all-purpose flour or bread flour
2 1/2 c. warm (100-degree) water
1 1/2 T. kosher salt
1 1/2 T. yeast
1/4 c. olive oil
Kosher salt, rosemary leaves, and cranberries for garnish
Combine all ingredients in a plastic, 4-quart container with a lid and place in the refrigerator. Let rise for 90 minutes with the lid loosely closed. Remove dough, punch it down, and return to the fridge for at least 2 hours (and up to 2 weeks) until ready to bake.
Divide dough into 4 pieces, and divide each piece into about 20 balls. For each loaf, place the balls in a 12-inch cake pan. Bake at 450 degrees for 25-30 minutes or until golden brown. Cool on a serving platter spread with olive oil, then garnish with flaked kosher salt, freshly chopped rosemary leaves, sprigs of rosemary, and fresh cranberries.
Return to storyEve's Garden Noble Bread (Photo ©E. Dan Klepper).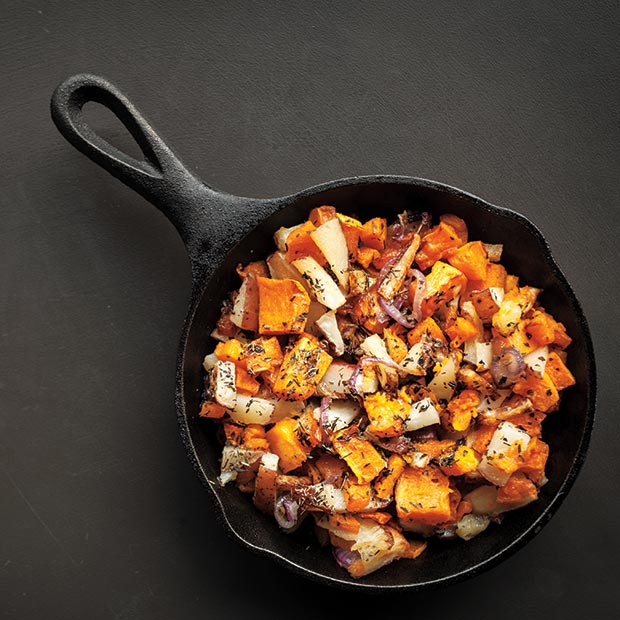 Jack Allen's Butternut Squash Hash
Serves 6-8
2 medium butternut squash, peeled, seeded, and chopped in 1/4-inch dice
4 red potatoes, chopped in 1/4-inch dice
1 medium red onion, chopped in 1/4-inch dice
2 garlic cloves, chopped
1 T. rosemary, chopped
1 T. thyme, chopped
1 T. sage, chopped
Salt and pepper, to taste
1/4 c. plus 2 T. olive oil
Preheat oven to 400 degrees. In mixing bowl, combine all ingredients, except 2 T. olive oil. Coat pan with remaining oil and place in oven, stirring occasionally until almost done, approximately 30 minutes.
Allow to cool and refrigerate; when ready to eat, heat 2 T. olive oil in cast-iron skillet on medium heat and brown the hash, stirring every few minutes, for approximately 20 minutes.
Return to storyButternut Squash Hash at Jack Allen's Kitchen – Austin, TX. Prepared by Chef Jack Gilmore. (Photo by Eric W. Pohl).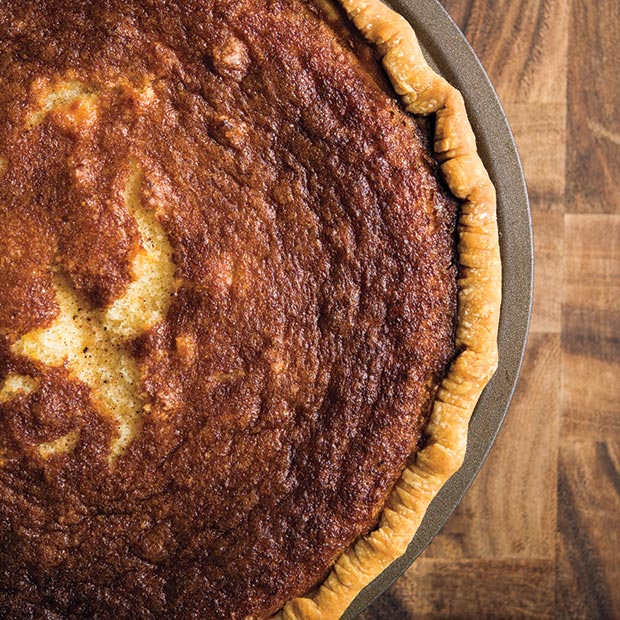 Stockman's Steakhouse Old-fashioned Buttermilk Pie
9 eggs
3 sticks margarine, melted
3 tsp. vanilla
dash of salt
4 1/2 c. sugar
9 T. flour
1 1/2 c. buttermilk
3/4 tsp. nutmeg
2 unbaked pie crusts
Preheat oven to 425 degrees. Beat eggs lightly, then blend all other ingredients; pour into pie crusts. Bake pies for 10 minutes, then reduce heat to 350 degrees. Cook the pies until firm, about 1 hour.
Return to storyButtermilk Pie (Photo ©Matthew Johnson).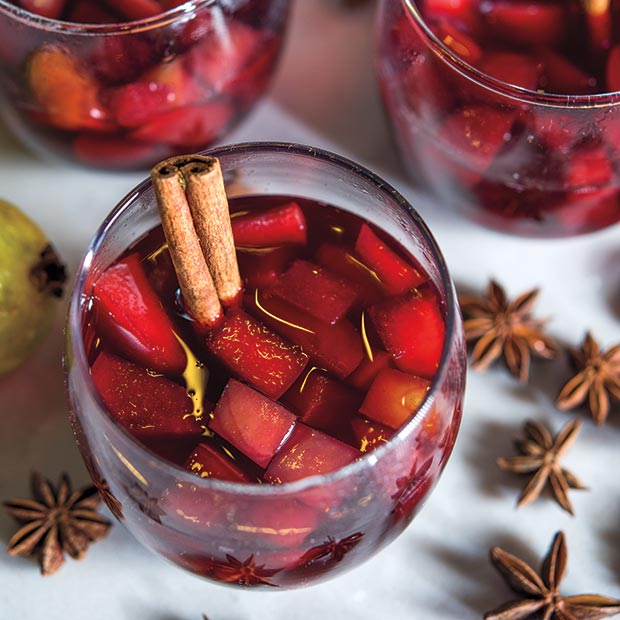 Melissa Guerra's Traditional Christmas Punch
Serves 8
2 qts. water
2 sticks cinnamon
1/4 tsp. ground cloves
1/4 tsp. ground anise
1 c. jamaica (dried hibiscus flowers)
8 oz. piloncillo or panela (or 1 c. white granulated sugar)
1/2 apple, cored and chopped
1 pear, cored and chopped
1 oz. pitted prunes, chopped
1 oz. raisins
1/4 lb. tangerine, peeled and separated into sections
4 oz. sugarcane, peeled and separated
2 oz. tamarind pods, peeled and deveined
1/4 lb. guavas, fresh or frozen, quartered with seeds removed
In a 6-quart stock pot, bring the water, cinnamon, cloves, and anise to a boil. Add the jamaica and boil for 5 minutes. Remove from heat, allow to cool completely, and then strain out the jamaica flowers, saving the liquid tea. Return the tea to the stock pot. Add the sugar, apples, pears, prunes, raisins, tangerine, sugarcane, tamarind, and guavas. Simmer for 5 to 10 minutes, then remove from heat. To serve, ladle some of the fruit into a mug and pour warm ponche over it.
Return to storyPonche Navideno (Photo ©Matthew Johnson).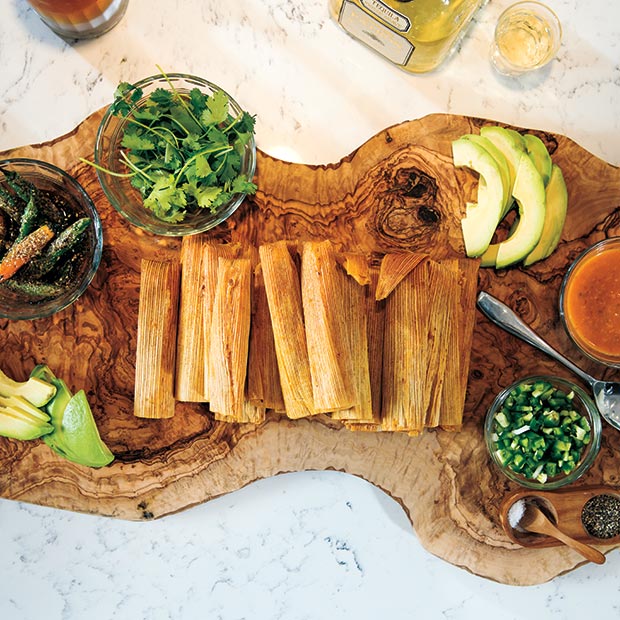 Larry Delgado's Tamale with a Twist
At its most basic, a tamale is a bundle of corn masa (dough) wrapped around fillings such as pork, chicken, beans, or even fruit, then steamed in a corn husk, banana leaf, or other natural wrapper. In many parts of Texas, you can buy ready-made masa for tamales in the refrigerated section of the supermarket or from a tortilla factory. Or you can make your own with a commercial corn flour product called masa harina (dough flour).
Many cookbooks and online sources provide filling recipes and instructions on wrapping and steaming your tamales, but here's a masa recipe that leaves lots of room for creativity. "For a sweet twist, replace salt in your masa with cinnamon and sugar," Larry Delgado says. "Then add condensed milk instead of lard. Fill the dough with roasted pecans, golden raisins, and cajeta (Mexican goat-milk caramel)."
Basic Masa Recipe for Tamales
6 c. masa harina
5 c. warm water
2 c. lard
2 tsp. salt
Cumin, onion powder, chile powder (optional)
In a large bow, mix the masa harina with the water. Allow to sit for 20 minutes, then beat with an electric mixer until a dough forms. Add salt and desired spices. In a separate bowl, whip the lard until fluffy. Add the lard to the dough, combine well, and use immediately or refrigerate up to 24 hours.
Return to storyTamales (Photo ©Matthew Johnson).

Ross Coleman's Black-eyed Peas
1 lb. dry black-eyed peas
1 yellow onion, diced
1 bell pepper, diced
3 stalks of celery, chopped
1 oz. chopped garlic
8 oz. cherry tomatoes
1 smoked ham hock (or 1 smoked turkey leg)
1/2 gallon chicken stock
1 lb. of andouille sausage, cut
1 lb. of mustard greens, triple-washed, cut in 1/4-inch strips
4-6 oz. Parmesan rind
3 T. oil
Water
Salt and pepper to taste
In a large stockpot, sauté bell peppers, celery, and onion in 3 T. oil for about 5 minutes until soft. Add chopped garlic and sauté for 2 minutes. Add chicken stock, black-eyed peas, ham hock, andouille sausage, cherry tomatoes, and mustard greens. Bring to a boil, lower heat, and let simmer for 1 to 1.5 hours until peas are soft. Add water as necessary, keeping the water level 1 to 2 inches above the beans.
Once the beans are tender, turn off heat and add Parmesan rind; let sit for 15 minutes. Add salt and pepper to taste.
Return to story.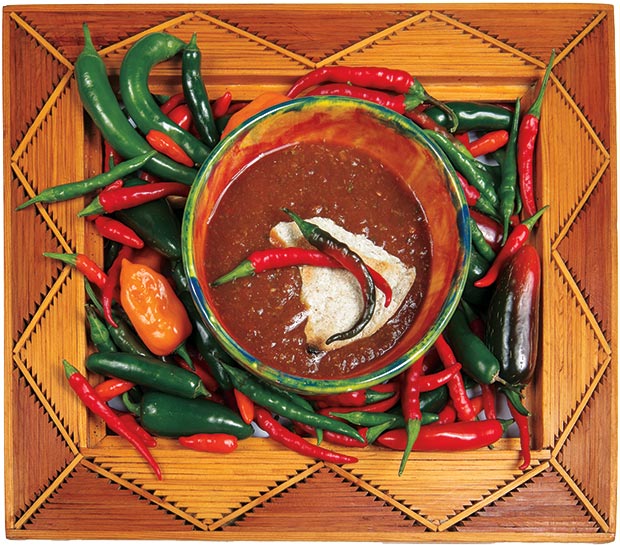 Trevino's Roasted Salsa
(makes 4-6 cups)
About 8 chile peppers: jalapeño, serrano, cayenne, or large green Anaheim
1 yellow onion, peeled and quartered
4 whole large, peeled garlic cloves
3 whole garden tomatoes with stem core removed
1 lime
A bundle of fresh cilantro
2 tsp. course sea salt
1 or 2 8 oz. cans of tomato sauce (optional)
Remove stem tops and pierce chiles with a fork. Wipe skillet with olive oil, then heat to medium on stovetop or over an open flame. Distribute chiles, onion, garlic, and whole tomatoes across skillet and roast slowly until the skin has blackened, turning occasionally and pressing them with tongs. Remove from skillet. In a blender, add a quarter cup of warm water, then add the roasted ingredients and cilantro and blend until coarsely blended; don't liquefy. Add sea salt and the juice of one lime. If mixture is too hot for you, add tomato sauce to taste, then add more salt, lime, and cilantro to restore your tangy flavors.
Return to storyT Rod's Roasted Chili Salsa (Photo ©E. Dan Klepper).

The Cace Kitchen's New Orleans Bread Pudding with Rum Sauce
2 loaves French bread, broken up in pieces
1 c. raisins
1 qt. milk
6 eggs
1/2 c. butter, melted
1 T. vanilla
2 c. sugar
1/2 T. nutmeg
1/2 T. cinnamon
Break up French bread and place in baking dish, then scatter raisins over bread. Combine all liquid ingredients thoroughly, then add sugar, nutmeg, and cinnamon. Pour over bread and raisins, and bake at 325 degrees for 1 hour.
Rum Sauce
3 eggs
1 c. sugar
1 tsp. vanilla
1.5 c. milk
1 T. cornstarch in 1/4 c. water
1.5 oz. rum
Cook in double boiler until thickened, stirring constantly. When ready to serve, ladle warm sauce over individual servings of bread pudding.
Return to story.

Sweet Potato Pie
3 eggs
1/2 c. white sugar
1/4 c. butter
1 tsp. nutmeg
1/2 tsp. salt
1 tsp. cinnamon
1/3 c. milk
1 1/2 c. sweet potatoes, boiled and mashed
2 T. lemon juice
1 tsp. vanilla
unbaked pie shell
Beat eggs and sugar. Add melted butter, spices, and milk. Blend in sweet potatoes and lemon juice, then vanilla. Pour into pie shell and bake in hot oven (400 degrees) 10 minutes. Reduce heat and bake 40 minutes longer. Serve plain or with whipped cream.
Return to story.