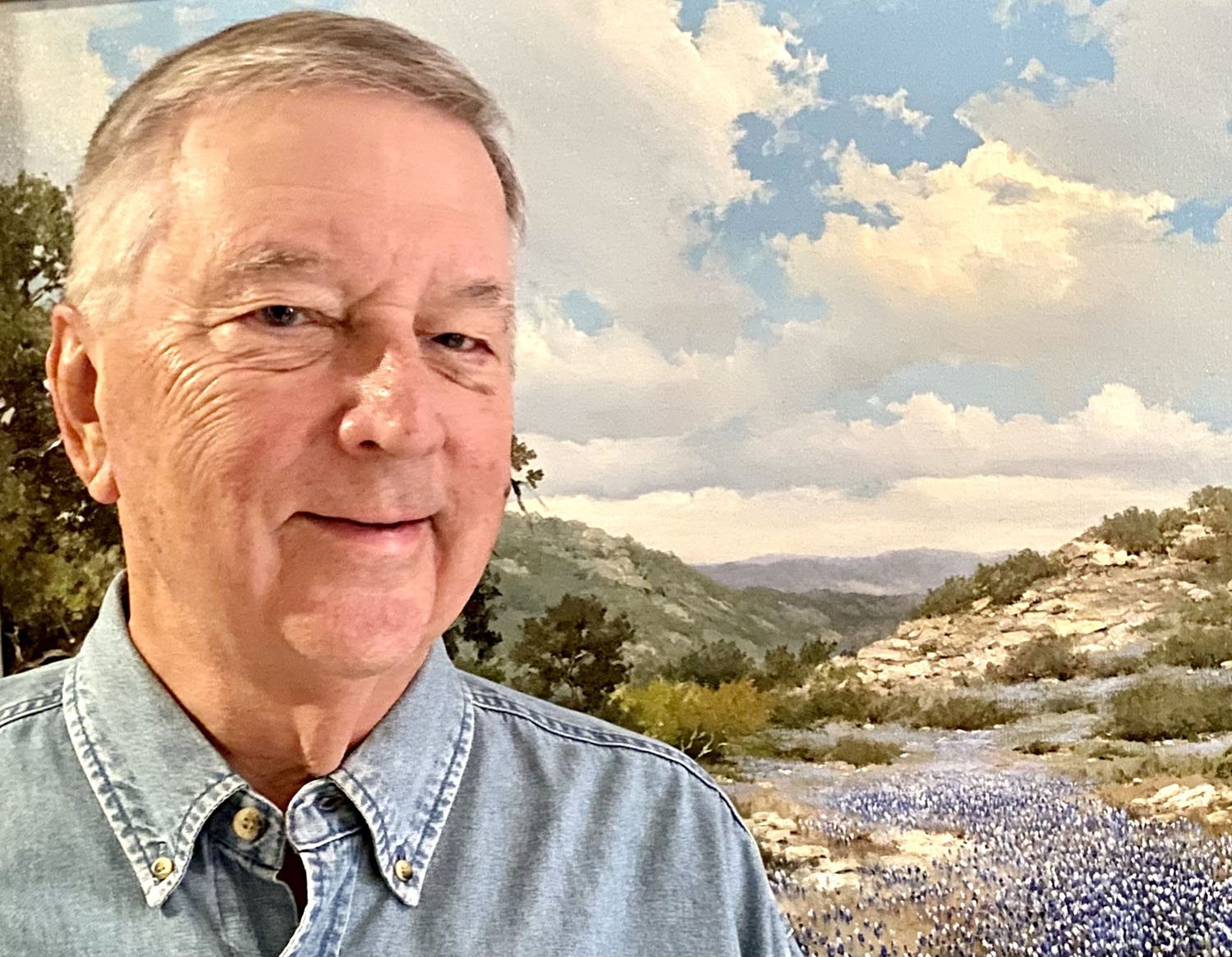 About The Author
John O. Lumpkin, author of the narratives in our Texas Symbols project, is a Texas Highways contributing writer with a history in Texas journalism beginning in the late '60s as a reporter for the Fort Worth Star-Telegram.  He was Texas bureau chief for Associated Press from 1982 to 2003, retiring in 2009 as an AP vice president. As bureau chief, he supervised AP staff in bureaus around the state and worked with the state's newspapers and broadcasters, traveling extensively.
He has crossed the Rio Grande at Brownsville, McAllen, Laredo, Del Rio and El Paso and waded in its tributary to enter Boquillas Canyon in the Big Bend. He has stood astride Texas and Arkansas in the middle of a street in downtown Texarkana, embraced the only existing international border marker between the Republic of Texas and the United States at the Louisiana state line in Panola County and traveled by boat from Oklahoma into Texas and back on Lake Texoma. He has waved goodbye to Texas at Texline in the Panhandle and hell0 at Waskom on Interstate 20 and Orange on Interstate 10 on its eastern border.
He has ordered red snapper from the Gulf of Mexico in Port Isabel, Port Aransas and Gaido's in Galveston, catfish in Uncertain and Etoile, caldo de pollo in Jourdanton, barbecue on butcher paper in Taylor, a cheeseburger at the Forestburg Country Store, fried chicken at Allen's in Sweetwater and a 35-ounce Porterhouse at the Lowake Steak House, which moved to Rowena.  He has viewed the sun sinking behind Gomez Peak from the hood of a vintage Land Rover in the trans-Pecos, sunrise from over his shoulder on the eastern rim of Palo Duro Canyon and the havoc reeked by tornadoes and hurricanes, the latest being Harvey.  He has hiked past the ruins of the Butterfield Stage station in Guadalupe Mountains National Park and to the top of Old Baldy in Wimberley. His only pair of boots were bought at Luskey's in downtown Fort Worth in 1969, bruised but still wearable.
Lumpkin wrote West Texas, A Portrait of Its People and Their Raw and Wondrous Land, with the late Associated Press correspondent, Mike Cochran. He lives in Richardson with his wife Eileen, a sixth generation Texan. His work on Texas State Symbols is dedicated to schoolchildren across Texas who use the symbols to study Texas history and culture and who, along the way, inspired the adoption of several of them.
From the November 2022 issue