State Tree,
Health Nut, and Pie
Pecan
Adopted: 1919 (tree),
2001 (health nut), 2013 (pie)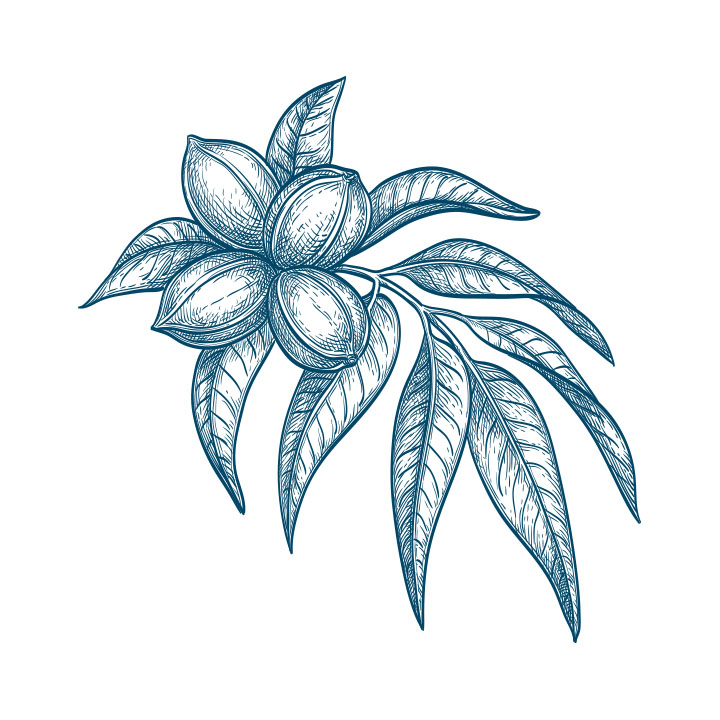 Texans' affinity for pecans represents a triple play among state symbols: the tree, nut, and pie. It also binds us together historically and culturally. Native Americans subsisted on the sweet nut during harsh winters, Spanish explorer Cabeza de Vaca wrote about pecans in his famous 16th century Texas walkabout, and Texas pioneers used abundant pecan trees for lumber, cooking, and heating, as well as food. Modern-day farmers make Texas among the largest pecan-growing states in the U.S., with harvests approaching 50 million pecans annually. Pecan trees are native to 150 of Texas' 254 counties and have been introduced to many others.
Texas pecan lore was captured in a lengthy 1964 entry in the Congressional Record by U.S. Sen. Ralph Yarborough, who cited the writings of a Texas A&M horticulturalist and professor Fred Brison. "Pecan growing is a way of life for those who love trees," said Brison, who taught a course on pecans. "The trees herald the spring with bursting buds, with beautiful rosettes of developing pecan clusters, 25,000 on one tree, comparable in beauty to a giant Christmas tree."  Yarborough's entry also referred to Texas Gov. Jim Hogg's 1906 burial directive—"I want no monument of stone or marble, but plant at my head a pecan tree—prior to the 1919 resolution establishing it as the state tree.
In praising the pecan as "nutritious and delicious," the 77th Texas Legislature's resolution in 2001 also mentions studies that the official health nut "can lower cholesterol … while helping to reduce the risk of cancer" and is "a significant boon to the Lone Star State's economy." Four other states commemorate the pecan as their state nut.
It took a group of first-graders in Georgetown to remind us that pecans can taste really good, too, especially as dessert. The enterprising research of teacher Mary Mikeska's students contributed to the 2013 Legislature's recognition of pecan pie as our state pie, which are "hands-down the best, especially when made with Texas pecans by a Texan." As recounted in the Houston Chronicle, the youngsters traveled to Austin to lobby a Senate committee with slices of pecan pie.
Texas Highways captured the state's pecan culture, both historically and present day in 2020.
The Texas State Historical Association chronicles the state's pecan industry.
The Bullock Museum in Austin houses an historic example of pecan furniture – the portable desk of David Burnet, the Ad Interim President of the Republic of Texas in 1836.
For first-hand experience, visit Texas' family-owned orchards and their retail markets, such as:
Also on a pecan itinerary: Seguin is home to "The World's Largest Pecan" statue off Interstate 10 at the Pecan Museum of Texas, a 16-foot whopper of fiberglass that succeeded a five-foot pecan rendering still displayed at the Guadalupe County Courthouse downtown. South on Texas 123 is Pape Pecan House, which claims to have the world's largest collection of nutcrackers at more than 8,000.
To honor the state's most celebrated pie, perhaps you could visit the town of Kyle south of Austin, the official "Pie Capital of Texas." Texas Pie Company's five-inch Southern Pecan pie goes for $6. Or you could fire up the oven and try the recipe for the 2016 State Fair of Texas' winning pie submitted by Candice Haun of Highland Village, using classic ingredients like brown sugar, corn syrup, eggs, and vanilla to enhance the pecans. Wondering what happened to other tasty Texas pies? We have an Official State Cobbler—peach—also adopted by the Legislature in 2013.
Read More
Symbols of Texas