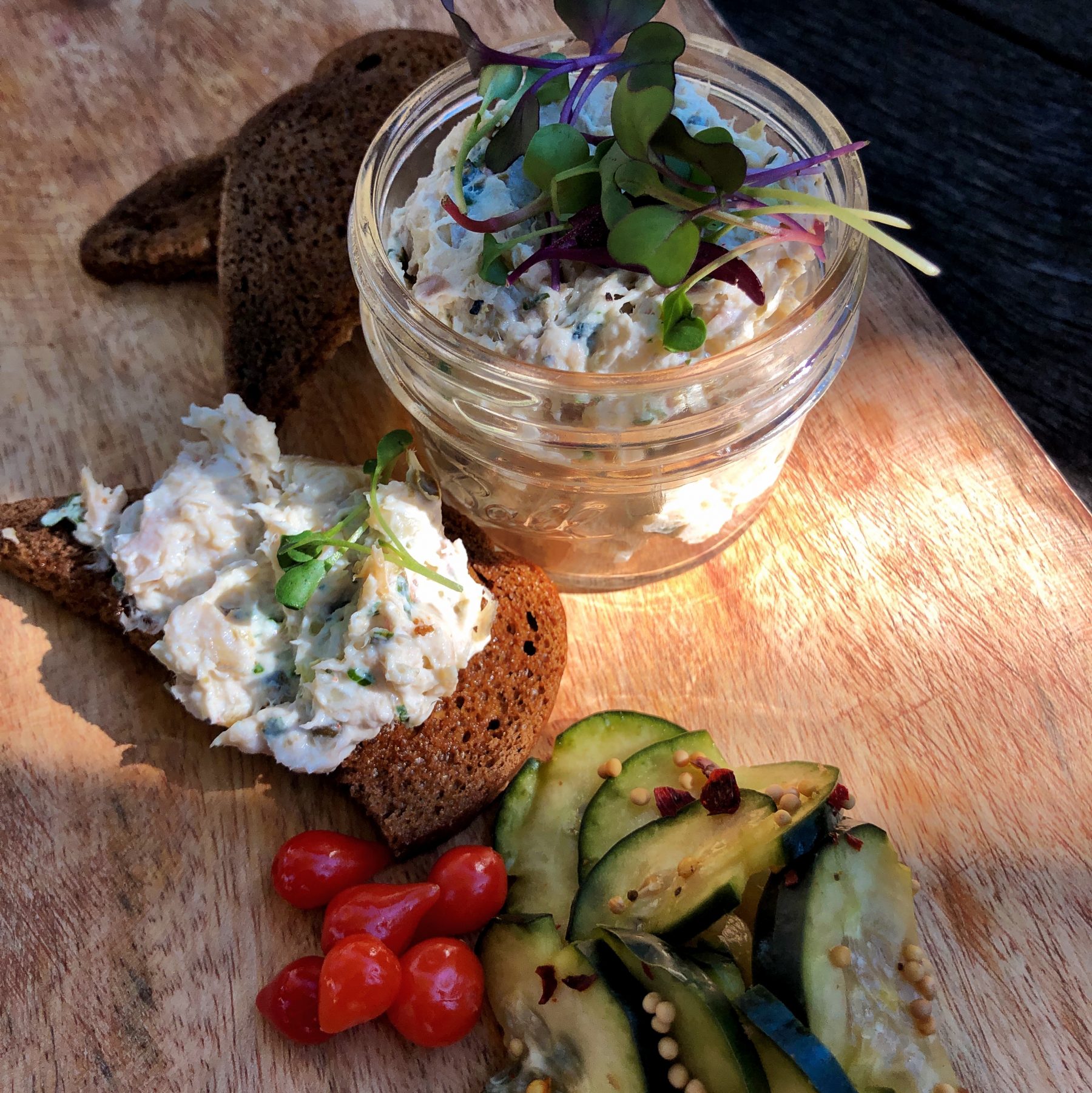 Cabernet Grill in Fredericksburg is as focused on delivering truly seasonal cooking as it is on continuously developing its all-Texas wine list. To celebrate autumn, Chef Ross Burtwell shares this appetizer recipe that would be a hit at any gathering. At the restaurant, cooks brine and smoke the trout using oak wood and local pecan shells, but Burtwell says "you can use any quality prepared boneless smoked trout filets" at home. In true Cabernet Grill fashion, Burtwell suggests pairing it with a fine Texas wine, like the light red Rendezvous from Grape Creek Vineyards.
Smoked Trout & Goat Cheese Rillettes
Serves 6-8 as an appetizer
Ingredients
1 pound smoked trout filets
2 tablespoons shallots, minced
1 tablespoon fresh tarragon, minced
½ lemon, zested
2 tablespoons chives, minced
2 teaspoons capers, minced
1/3 cup plain goat cheese
½ cup crème fraiche (or sour cream)
2 tablespoons mayonnaise
Pinch cayenne pepper
Pinch freshly ground black pepper
Kosher salt (optional)
Pumpernickel toast
Directions
Take the smoked trout and remove any bones and skin from the filets. Lightly break the trout into pieces allowing it to flake naturally into smaller pieces, but leave some texture by not over flaking it. Set aside for a moment.
Place shallots, herbs, lemon zest, capers, goat cheese, crème fraiche, and mayonnaise in a medium-size bowl and mix together until well combined.
Fold the reserved trout into the goat cheese mixture until combined. Adjust seasoning accordingly with a little cayenne and black pepper. Depending on how salty the trout is, you may or may not need to sprinkle in a little kosher salt as well.
Refrigerate for about an hour to allow the flavors to meld.
Serve alongside slices of pumpernickel toast.