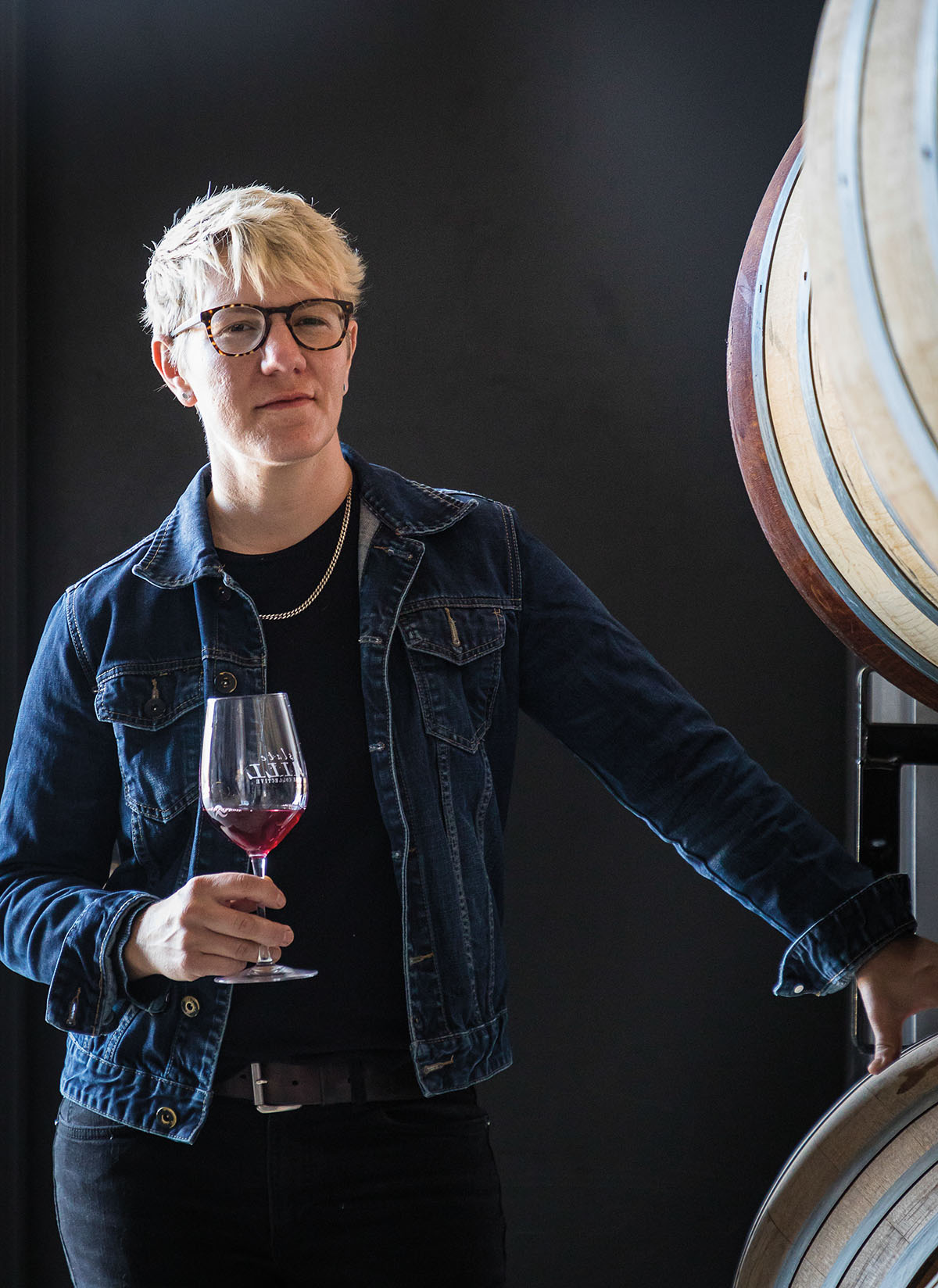 When Rae Wilson planted her first grapevines on 2 acres near Johnson City in 2014, she was throwing herself into an ambitious experiment. The sommelier had been interested in transitioning to the winemaking side of the business for several years, a somewhat uncommon move in the industry. But even more unusual was her attempt to grow her own grapes, a job most winemakers leave to farmers.
Wilson didn't expect to make wine anytime soon, as new vines can take a few years to produce. But shortly after her inaugural attempt at farming, another winemaker offered her extra grapes that were of the same Southern French varietals she had planted. She used them to make a very small batch of Dandy Rosé, her first wine.
While her vines never bore fruit (she discovered a disease in the original plant stock and decided to start over with new vines in 2020), her winemaking operations are flourishing six years after Dandy Rosé was released to rave reviews.
Today, Wilson's company, Wine for the People, includes three brands: Dandy Rosé, the Grower Project, and La Valentía, each with its own mission and wines. At the end of 2020, the St. Louis native also opened a tasting room in Austin. Over the past decade, these efforts—paired with her natural curiosity and attuned palate— have led her to an unexpected role as a champion of Texas wines.
"Sometimes it's still funny to me that now I'm seen as this Texas wine person," Wilson says. "And, of course, I am. But it's also strange because so much of my time in the wine world, I didn't even know there was wine in Texas."
Compared to Old World regions like France, the U.S. is in its winemaking infancy. Within the young American industry, Texas is a relative newborn. Although Wilson was working as a sommelier in Austin, she was clueless about the wine being produced just a couple of hours away in the Hill Country.
After harvesting grapes in California and Portugal, she was determined to leave Austin to work in a more established wine region. But the Great Recession of 2008 kept her from making the big leap, and she decided to launch a wine consulting business in the capital city instead. It was while she was advising clients on their wine programs that she first learned about the varietals coming out of the Hill Country.
As she became more familiar with local wine, she realized she couldn't find a rosé that suited her palate—they were all too sweet. She was looking for something drier and more akin to the Southern French style. So when she was gifted those extra grapes, she seized the opportunity to make what she felt was missing from the market.
"When Rae premiered Dandy Rosé, it made Texas [wine] attractive to perhaps a younger group of people, perhaps those of us in the industry who might have overlooked it in favor of Old World styles," says Nat Davis, a senior brand manager for Serendipity Wines who met Wilson when they were both working as consultants in Austin. "It came along and it was like, whoa, this is something interesting."
Today, Dandy Rosé—a dry, bright, easy-drinking pink—is the cornerstone of Wilson's wine portfolio. "I just want that wine to make you smile," Wilson says. "It's like your friend—your summer friend." And since rosé is suited for growing and drinking in Texas' climate, she hopes it will become synonymous with the region. "The longer I lived here, the more [rosé] I was drinking…and so I thought, this should be our Hill Country water."
Perfecting Hill Country rosé isn't Wilson's only mission. In 2016, she launched the Grower Project with winemaker Andrew Sides, dedicated to spotlighting farmers by detailing their work on each bottle's label. In addition, Wilson debuted a new line of wines called La Valentía in late 2020 to showcase her range beyond rosé. One of the highlights of the initial release is a sparkling chenin blanc. In all three projects, her wines are made from 100% Texas-grown grapes.
"She's very specific in what she wants to do with those wines. She makes wines with intention," says Randy Hester, owner and winemaker at Austin-based winery C.L. Butaud, which shares a tasting room with Wilson's brands. "She's constantly seeking more education and getting better and better. I would say that's a huge warning shot to the rest of the state."
Wilson is obsessed with terroir, that elusive mix of soil, topography, and climate that imbues wine with its sense of place. "For me, that's everything," she says. "Without a sense of place for wine, I could be doing anything." As the Texas wine industry matures, she hopes a more nuanced understanding of the state's terroir is developed beyond the Hill Country and High Plains.
"I would love to think that I could stand in a group of producers that represent the potential of this area—and represent that well," Wilson says, "and show what it is to have a sense of place in this gigantic area."
From the February 2021 issue