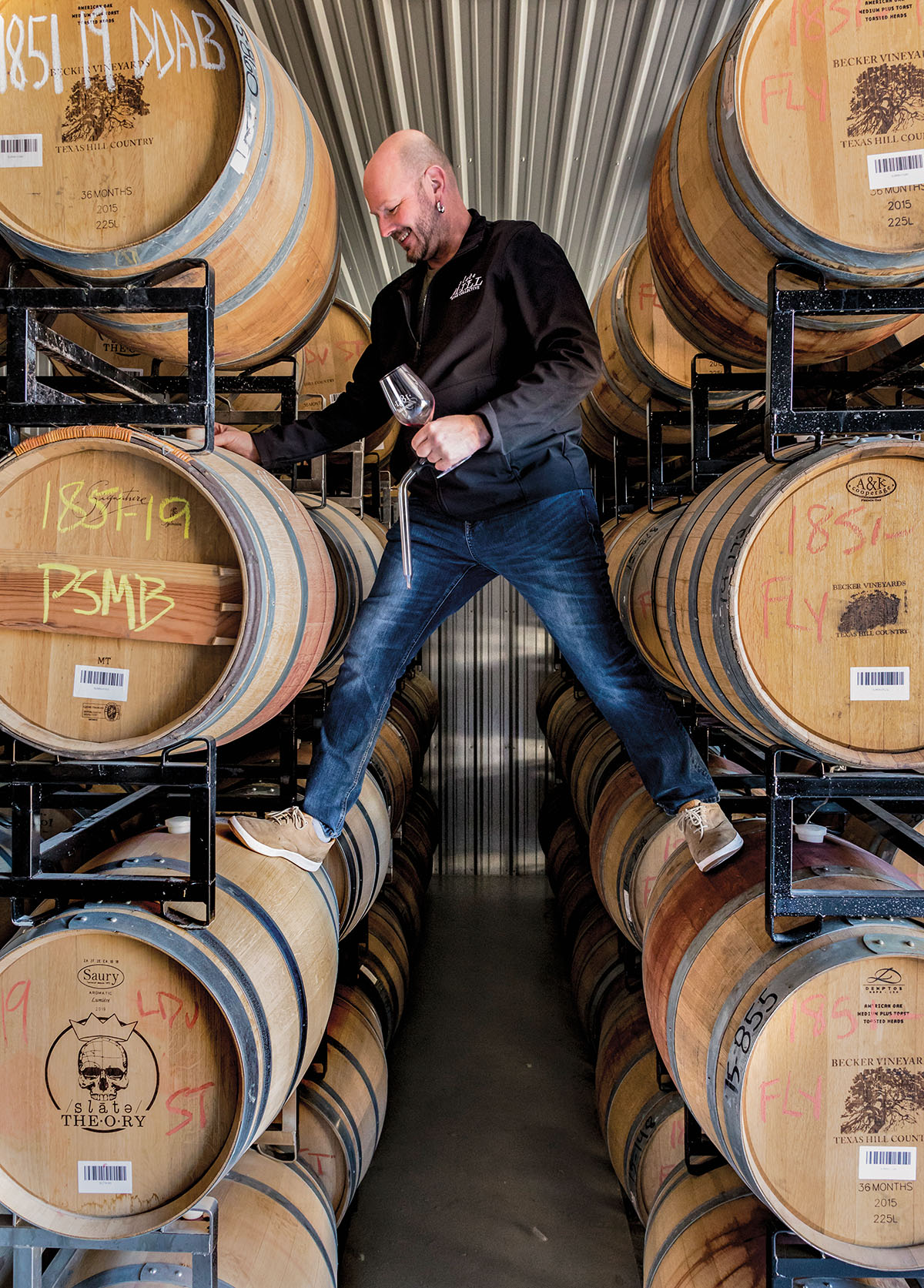 Slate Mill Wine Collective, a full-service winemaking incubator set on a picturesque 75 acres just outside Fredericksburg, could be the future of wine production in Texas. Driving up the gravel roadway to the tasting room, it doesn't look all that different from the dozens of wineries that line US 290. There's cornhole on the patio, grapevines in neat rows, and a shiny red vintage truck with barrels in its bed parked in the lot.
But sitting down for a tasting hints there is something more going on here. Instead of one winery and its varietals, a flight includes a plethora of varietals from five different wineries. In five pours, you can sample sparkling rosé from Dandy, tempranillo from C.L. Butaud, and roussane from Tatum Cellars. These and other brands make up the "collective" in Slate Mill Wine Collective, the first of its kind in Texas.
Slate Mill Wine Collective
4222 State Highway 16 S., Fredericksburg.
The tasting room is open for curbside pick-up Tue-Sat, Noon-5 p.m. Free delivery (with a purchase of $50 or more) is available Tue and Thurs. Call 419-350-9303 to place an order.
slatemillwinecollective.com
Slate Mill's tasting and barrel rooms, vineyards, and grape-crushing devices serve a group of small wineries. For fledgling wineries—or those purposely kept at a small scale—using shared resources reduces the amount of capital needed to thrive in an industry with typically high barriers to entry. This includes the cost of land, real estate, and construction.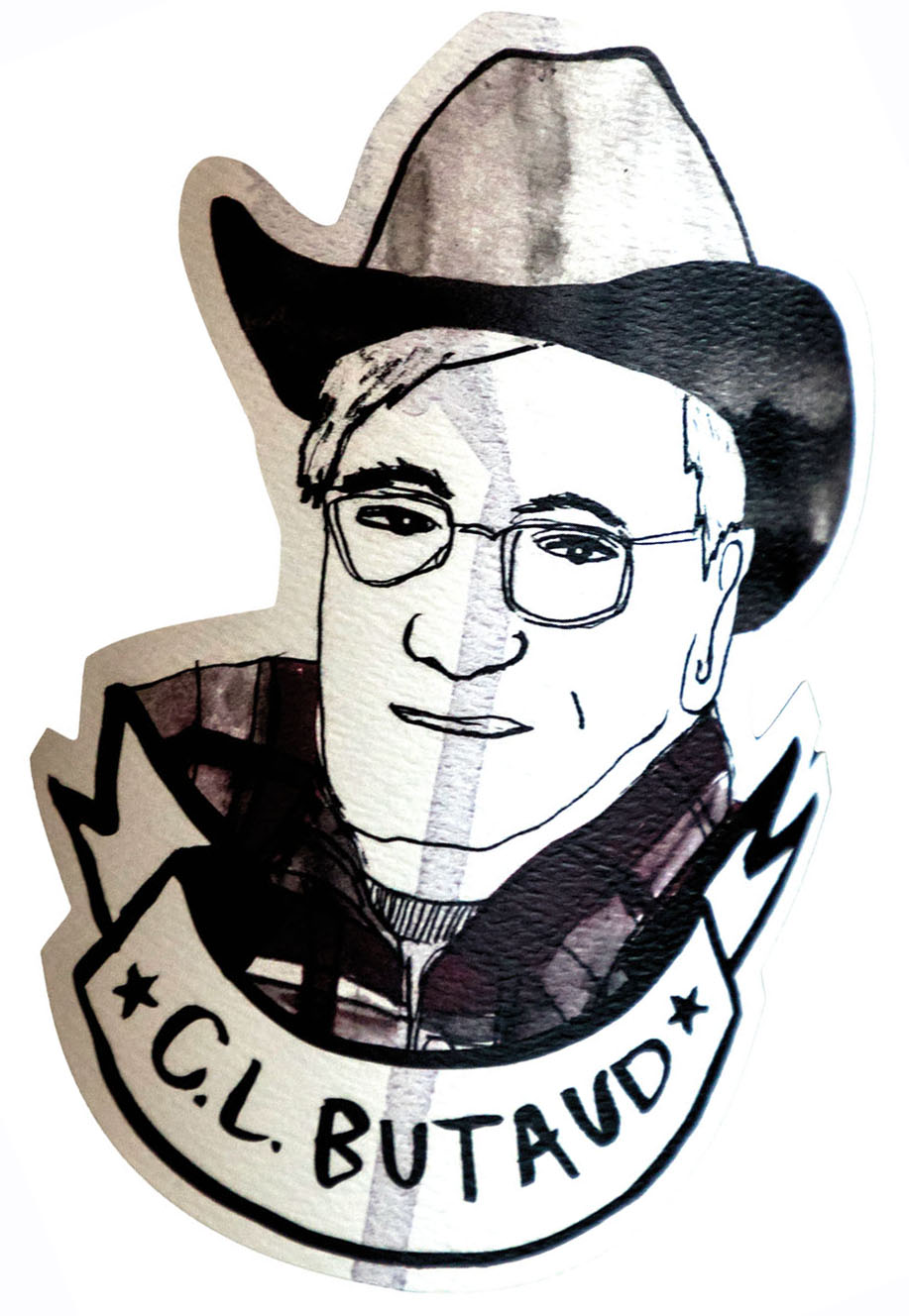 Winemakers who collaborate with Slate Mill can be as hands-on or hands-off as they want, and range from novices to veterans of the industry. Slate Mill sources grapes, as well as provides facilities, equipment, and a tasting room space. It also assists with government regulation, paperwork, and taxes, and on packaging and label design with help from an in-house artist.
"We're bringing some infrastructure that's sorely needed," says Tim Drake, director of winemaking. "People can come and start in a very inviting, educational, nonhostile place."
About a year ago, Drake reached out to Randy Hester, a seasoned winemaker who would fly from California to Lubbock every three weeks to make wine for his brand, C.L. Butaud. When Hester moved his business to Austin, he wanted to make great wine but didn't have the capital to plant vineyards or open a winery. Drake explained the Slate Mill concept to Hester and asked him if he was in.
"It was an immediate 'yes,'" Hester recalls. "I know my wines are safe. I know they're protected. I do all my own work. I know nothing's happening to my wine that I don't know about. I now have a home base."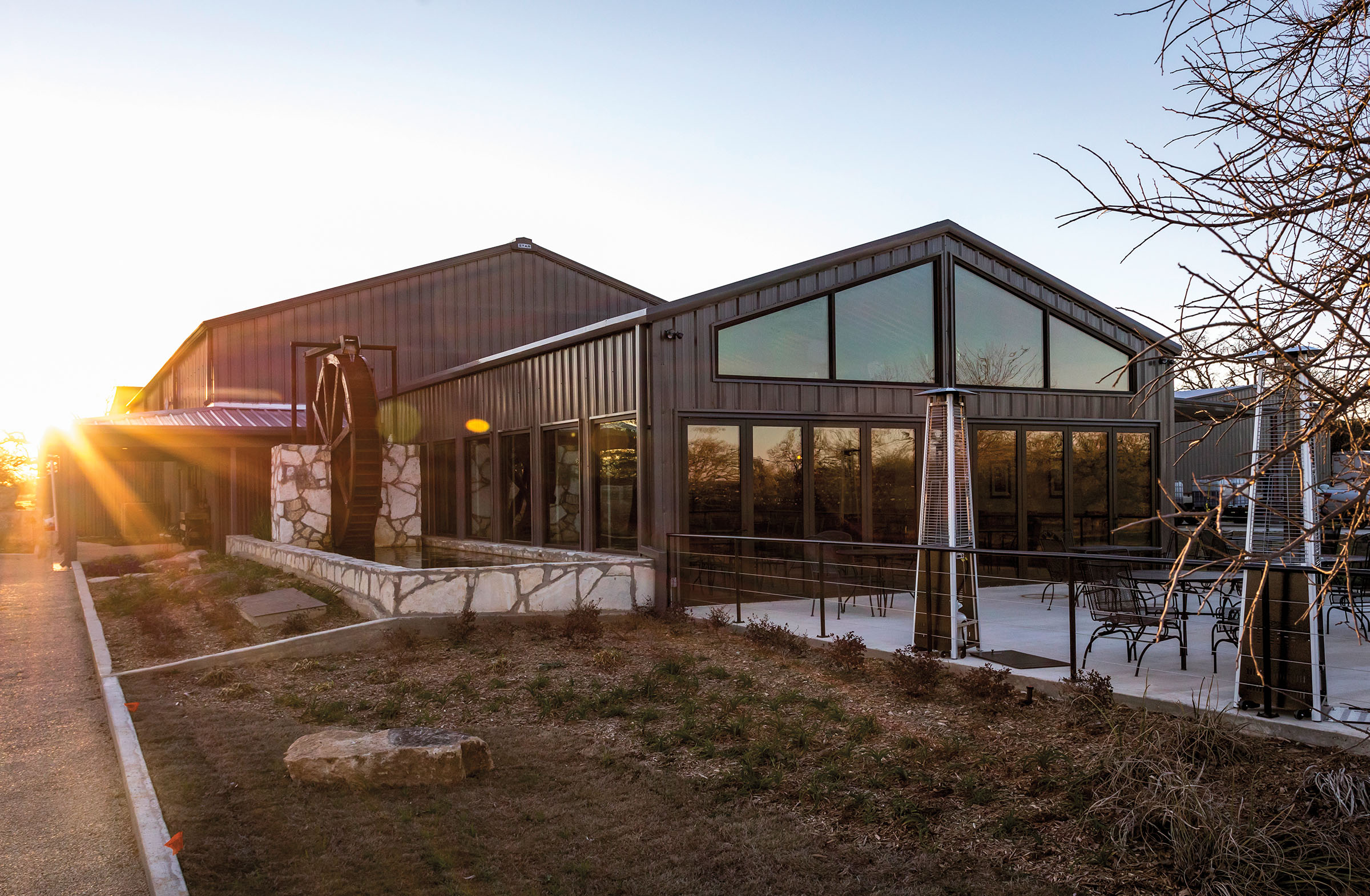 While Hester is a trained professional, Slate Mill also serves a growing contingent of newcomers, who are oenophiles wanting to turn their passions into businesses or retirees taking on second careers.
"I would say 90% of wineries start that way," Drake says. People seem to underestimate the hard work it takes to have a successful label. That's where Slate Mill steps in—to bring a reality check and also to pick up the slack on some of the more stressful aspects of the business. "I tell people all the time that 'winemaker' is French for 'janitor,'" Drake adds with a laugh. "There are a lot of unglamorous things that happen. It just so happens there are enough crazy people to make it look like we enjoy doing it all the time."
The Jones family, who owns Slate Mill, is new to wine too. Two years ago, the family moved from Midland to Fredericksburg to start a wedding venue called La Bonne Vie. They decided to use half of the venue's land to grow grapes, which seemed like the natural thing to do in Gillespie County with its many vineyards.
The idea was to be in a business less stressful than oil. "All you came up with was farming? Really? That's as far down the list as you got?" director of operations Jennifer Beckmann remembers joking. The seven Jones children, mostly in their 20s and 30s, decided to invest their inheritances in Slate Mill. The property Slate Mill sits on was originally 1851 Vineyards, which the Joneses purchased in 2019. 1851 wine is still being made as the in-house brand.
The Joneses brought on Drake and Beckmann, two noted experts in their fields who got their starts in Walla Walla, Washington, and Chicago, respectively. Drake was running a heavy metals lab at a toxic waste site before getting into the science of
winemaking. Beckmann is a certified sommelier and educator who charms in front-of-house duties. The two make up a dream team of Texas wine that aims to advance any brand.
"Beckmann is bringing it at a high level on the business side, and in general," Hester agrees. "I know her standards are high." Hester adds: "Tim has education and real experience. I know he is willing and able to get me where I want to be with my wines. I can compensate for the facilities—I can't compensate for the people."
As C.L. Butaud increases its sales and production, Hester is looking at starting his own vineyard and opening his own tasting room in Austin or Fredericksburg. That fits perfectly into Slate Mill's overall goal.
"It's part of that incubator feel, where we can let them grow in a controlled environment until they're ready to go out on their own," Drake says. "Hopefully, 20 years from now, we can point to 50 or 60 standalone wineries and say, 'Yeah, they started here, and
we helped give birth to them.'"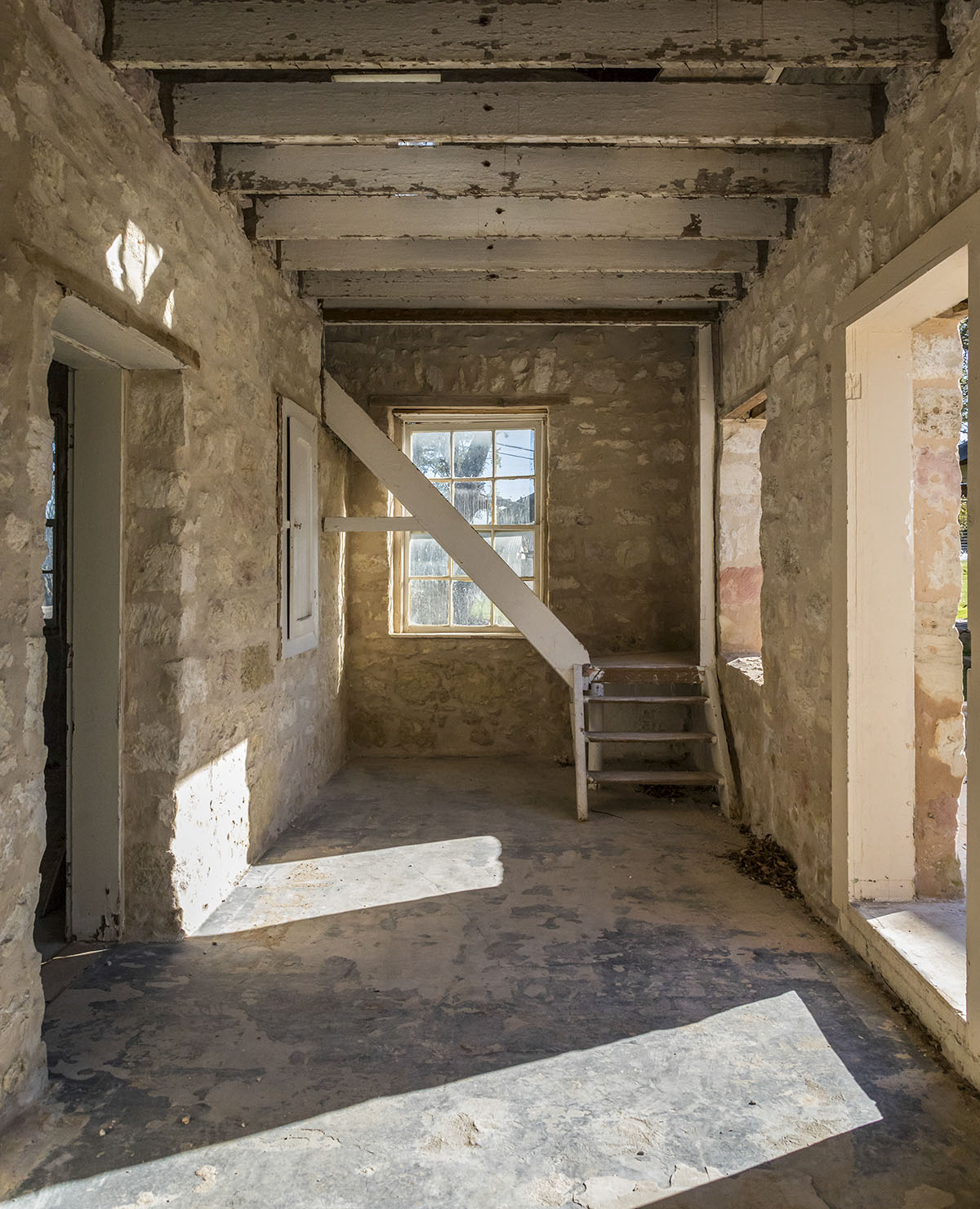 Milling About
As you enter Slate Mill Wine Collective's property, you'll notice a few limestone buildings clustered in the corner. This was the site of Pioneer Flour Mills, founded by Carl Guenther in 1851 on the banks of Live Oak Creek. Eight years and a couple of floods later, he moved his business to San Antonio. While the actual mill is no longer around, you can still see the original barn, main house, guest house, and smokehouse. The Texas historical landmark is undergoing restoration with help from Slate Mill.
Director of winemaking Tim Drake hopes to eventually use the buildings to store sherry, port, and other dessert wines. While it's not recommended for guests to get too close to the historical buildings at this time, the artifacts provide an opportunity to reflect on the legacy of the land and the industries that have thrived on it.
"We want to really pay homage to that industrial spirit," says Jennifer Beckmann, director of operations.
From the May 2020 issue