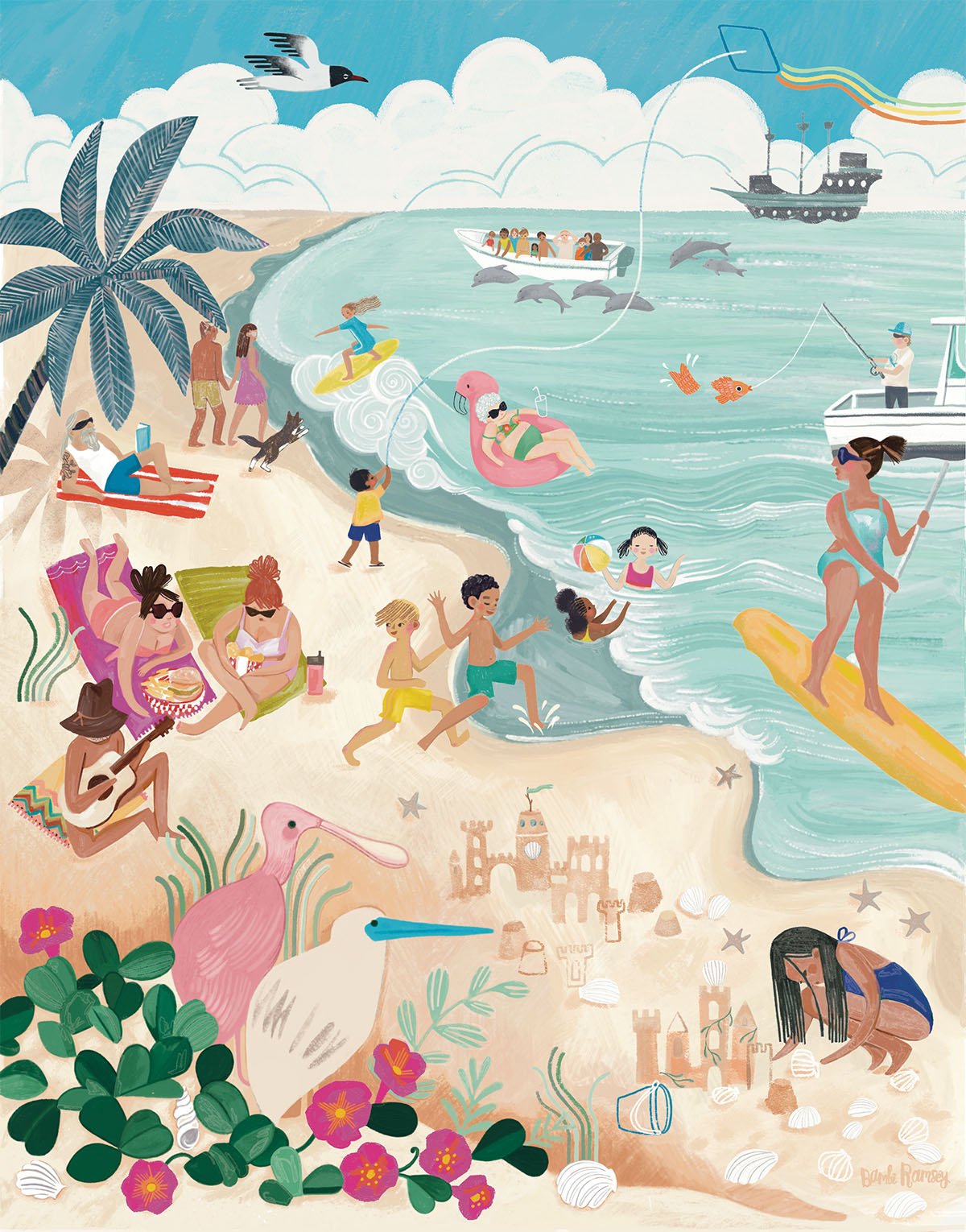 1
Explore Coastal History: Though Battleship Texas in La Porte is locked in a struggle for restoration, Tall Ship Elissa in Galveston and USS Lexington in Corpus Christi offer tours and other experiences. ­battleshiptexas.org; galvestonhistory.org; usslexington.com
2
Shell By the Shore: Padre Island National Seashore's Big Shell Beach and Little Shell Beach contain common arks, coquina, quahogs, and cockles along their shorelines. The beaches are aptly named: For larger seashells, Big Shell is the way to go, whereas smaller pieces can be found at Little Shell. nps.gov/pais
3
Take a Quiet Walk on the Beach: Padre Island National Seashore is protected from commercial development, so it's ideal for a relaxing and primitive beach vacation. Other less-visited sites include Mustang Island State Park and Matagorda Bay. nps.gov/pais; tpwd.texas.gov/state-parks/mustang-island; matagordabaytexas.com
4
Hang 10: Surf at Corpus ­Christi's Bob Hall Pier, South Padre ­Island, and Matagorda Bay. visitcorpuschristi.com; sopadre.com; matagordabaytexas.com
5
Swim It: Hot spots like Galveston and South Padre Island draw crowds to their cool summer waters, but beaches at Mustang Island and Rockport-­Fulton offer a quieter alternative. galveston.com; sopadre.com; tpwd.texas.gov/state-parks/mustang-island; rockport-fulton.org
6
Entertain the Kids: Corpus Christi's Texas State Aquarium interprets coastal wildlife; Historic Pleasure Pier on Galveston Island­ offers rides and carnival fare; and Port Aransas and Port Isabel pirate cruises take guests on a fantasy adventure. ­texasstateaquarium.org; pleasurepier.com;­ ospreycruises.com/­the-black-dragon-pirate-ship; reddragonpiratecruises.com
7
Bring the Pets: South Padre Island Dolphin Research & Sealife ­Nature Center offers pet-friendly dolphin-viewing boat­ tours, and SPI Sessions provides surfing lessons for humans and animals. spinaturec­enter.com; spisessions.com
8
Go Fishing: Catch red drum, flounder, and spotted sea trout along the Gulf Intracoastal Waterway and in Matagorda Bay and with the oversight of experts on one of many charters operating in the Gulf.
9
Set Sail: Prime marinas are found in Galveston and South Padre Island, and guided charters along the coast take guests out on the water to fish, view wildlife, or just relax. galveston.com; sopadre.com
10
View Dolphins: Port Aransas, South Padre Island, and Galveston all offer tried-and-true dolphin-watching experiences. portaransas.org; sopadre.com; visitgalveston.com
11
Birdwatch: The World Birding Center's nine Rio Grande Valley sites collectively boast more than 500 species of birds. One of the sites is located on South Padre Island. spibirding.com
12
Build Sandcastles: Galveston's AIA Sandcastle Competition, held in August, and Port Aransas' Texas SandFest, held in April, offer sandcastle builders a chance to show off their skills. aiasandcastle.com; texassandfest.org
13
Fill Up: Houston offers diners the most diverse array of food options, but visitors to small coastal towns like San Leon and Rockport enjoy seafood classics with the Gulf as a scenic backdrop.
From the July 2022 issue