It's a heart-pumping hike up 218 limestone steps to the knobby summit of Mount Baldy in Wimberley. But the work pays off with 360-degree views of the Wimberley Valley's rolling hills and basins, a landscape that harbors some of the Hill Country's finest natural and cultural treasures. On cool mornings, rising mist traces the course of the Blanco River and Cypress Creek, and sun rays illuminate the limestone ridge known as the Devil's Backbone. Settled around 1850 as a trading post and gristmill, Wimberley today is a bustling riverside village of about 3,000 residents that's known for its swimming holes, arts scene, summer holiday rodeos, and a monthly sprawling outdoor market called Wimberley Market Days. "I would make the case that we have more talent in the visual arts, literary arts, performing arts, and culinary arts than any other town our size," says Don Minnick, a Wimberley Valley Arts and Cultural Alliance board member. "I think artists are drawn here by the natural beauty and the ability to connect with like-minded people."
Austin
1 hour
San Antonio
1.25 hours
Houston
3.5 hours
Dallas
4 hours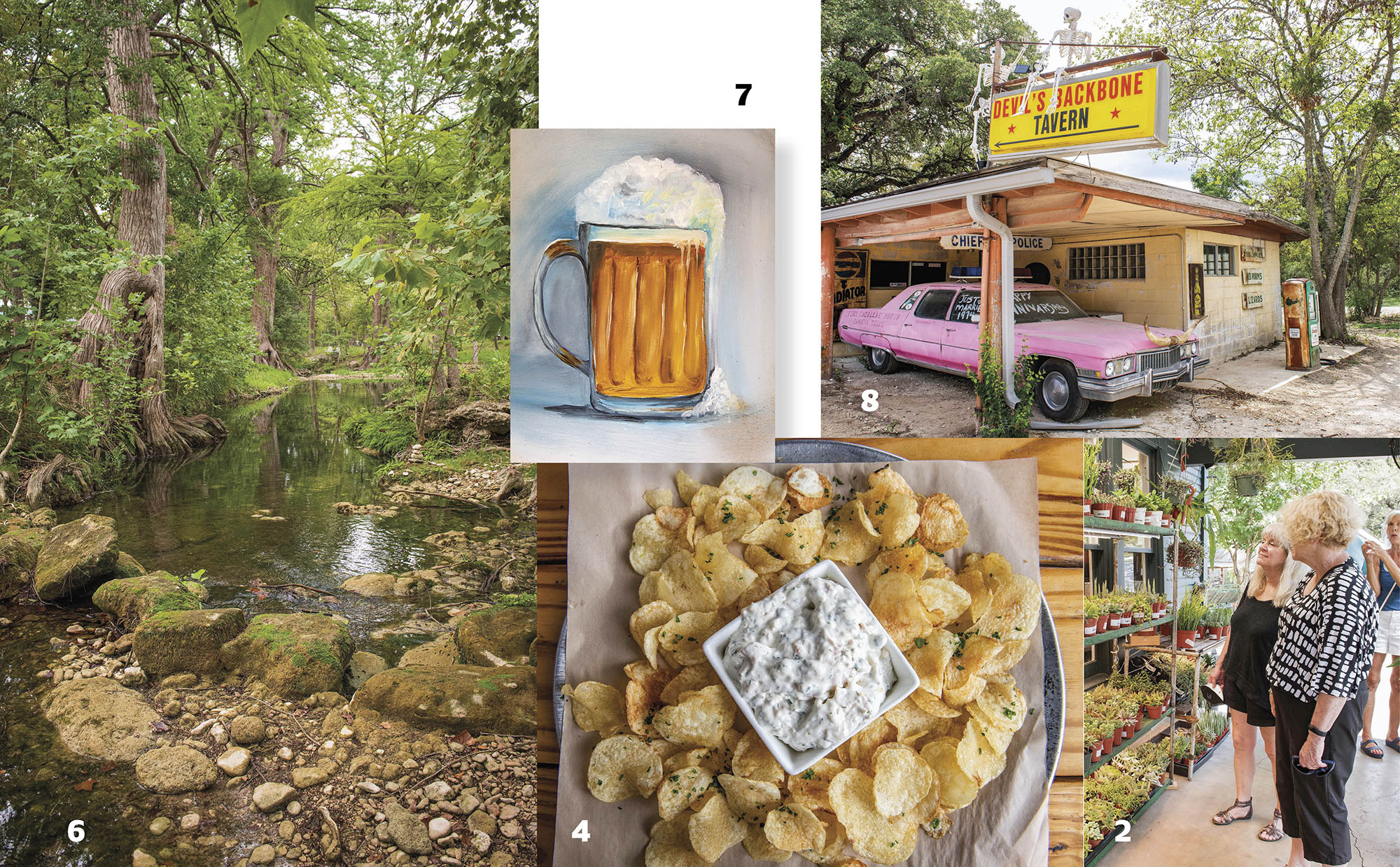 Stay

Eat

See

Learn

Shop

Drink

1 / Creekhaven Inn & Spa
The cypress and pecan trees along Cypress Creek impart a sense of serenity at this B&B. The rooms (starting at $229/night) feature a comfy mix of antique and contemporary furnishings. Breakfasts of homemade frittatas and baked goods provide fuel for yoga, spa treatments, kayaking, and bicycling—or just relaxing by the creek.

2 / Wimberley Square
Home to roughly 70 businesses, Wimberley's downtown core is full of shops stuffed to the rafters with home décor, jewelry, clothing, gifts, artwork, and unexpected finds. Grab a coffee at Sip on the Square and then check out the succulents at Ceremony Botanical Studio, the kitchen gadgets at Kiss the Cook, and the folk art at Rancho Deluxe.

3 / Wimberley Zipline Adventures
Set on 30 acres of steep terrain, this network of 10 zip lines soars above limestone hillsides and through oak, juniper, and elm trees. The longest line measures 900 feet, and the highest is 100 feet in the air. The adventure starts with a ride to the first platform on an Austrian Pinzgauer troop carrier.

4 / Community Pizza & Beer Garden
It's hard to go wrong with pizza and beer, and this place excels at both with wood-fired Neapolitan pizzas and 32 craft-brew taps. Creative offerings include The Illuminati pizza with garlic, Gorgonzola, serrano, sausage, and honey toppings. Next to the patio seating, a webbed playscape occupies the kids.

5 / 7A Ranch
Opened in 1946 on the Blanco River, 7A offers hotel rooms (starting at $200/night), family cabins, and group lodges. Since the damaging Memorial Day flood of 2015 and an ownership change, 7A has renovated its cabins, improved its riverbank, and rebuilt the Pioneer Express railway. 7A is also home to Pioneer Town, an Old West crossroads with a vintage ice cream parlor and an arcade.

6 / Swimming Holes
Running 5.5 miles from its headwaters at Jacob's Well to the Blanco, Cypress Creek is home to three publicly accessible swimming holes. The holes at Jacob's Well Natural Area and Blue Hole Regional Park require reservations and only open during summer. At Cypress Falls, you can also order beer and burgers. The pools close when the creek runs low in severe droughts, like this past summer.

7 / Art on 12
A hub of the Wimberley art community, the gallery features the work of 50 artists, mostly local. Its rooms are filled with a variety of creations, such as photographer Rodney Bursiel's images of African wildlife and Maxine Price's contemporary abstract paintings. Art on 12 also puts on guest artist shows, and hosts music and poetry readings on its courtyard stage.

8 / Devil's Backbone Tavern
Local musicians Robyn and John Ludwick bought this 1937 dive bar in 2018 and have refreshed the property while preserving the familiar spirit that draws a loyal crowd for cold beer, shuffleboard, and jukebox classics. Of particular note, the Ludwicks restored and reopened the 1940s dance hall, which hosts country and roots bands.
Wimberley Market Days
Wimberley's sleepy weekends are jolted awake on the first Saturday of the month—March through December—when thousands of people converge on the shopping bonanza known as Wimberley Market Days. Billed as the Hill Country's largest outdoor market, the event features about 400 vendors selling antiques, artwork, home décor, jewelry, handcrafted furniture, plants, clothing, and more. Roughly 200 volunteers put on the event, which started on the Wimberley Square in 1969 and moved to its current 19-acre location 50 years ago. Musicians perform at the various concessions areas, where you can purchase lunch and drinks. With funds raised through the event, the Wimberley Lions Club has donated $4 million to local charities and scholarships over the years.
Black Canyon Wimberley is home to seven RV campsites (starting at $40/night) with hookups, Wi-Fi, picnic tables, and fire pits. The property, which is located five minutes from the Wimberley Square, also offers two cottages and three cabins. No bathrooms or laundry facilities are available to RV campers. 630 Wayside Drive, 512-757-7083,
blackcanyonwimberley.com
From the November 2022 issue