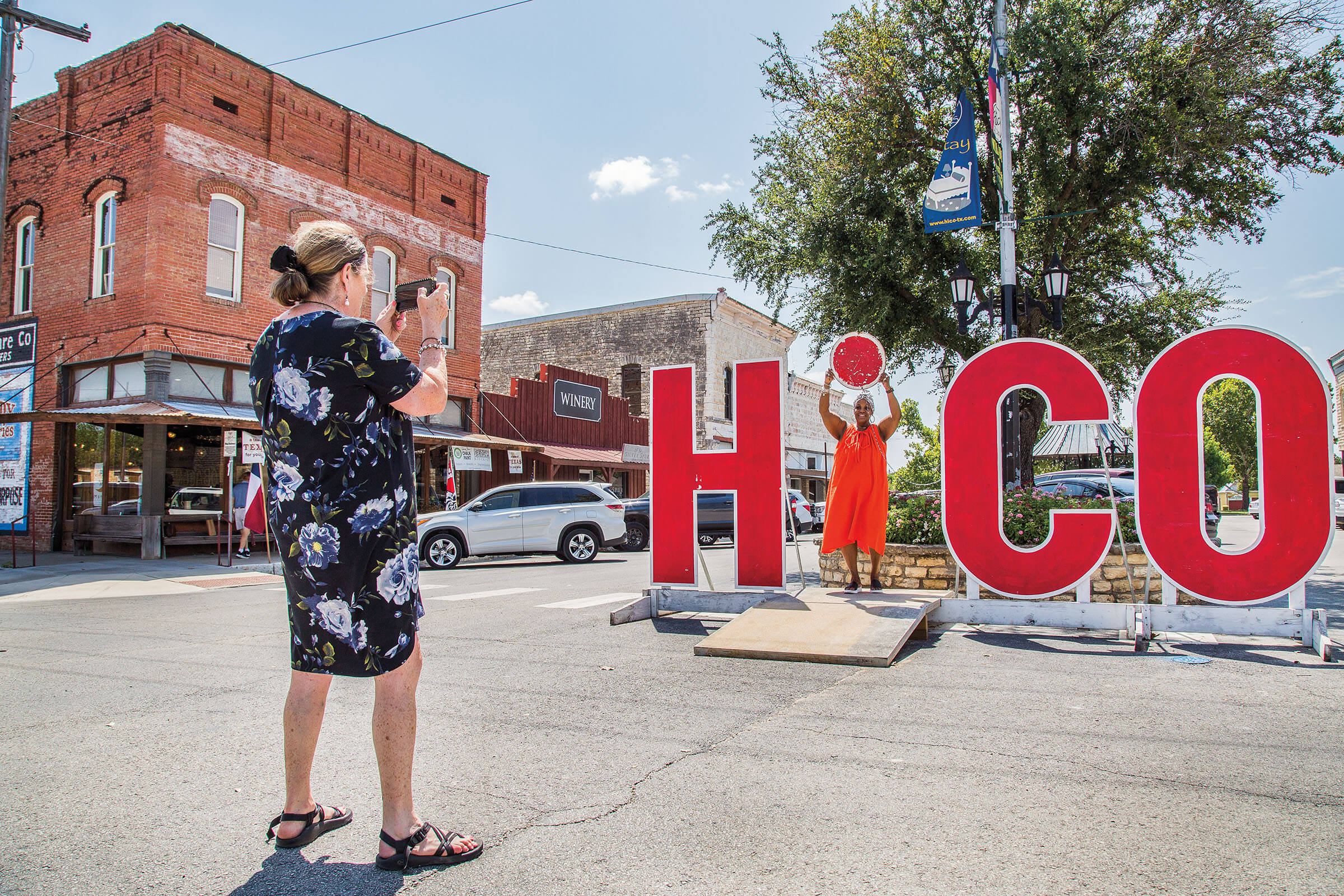 For a town of around 1,500, Hico packs a wallop, drawing in city dwellers who enjoy small-town charm paired with urban amenities. Sitting at the tip-top of the Hill Country, where US 281 crosses State Highway 6, Hico (HYE-coe) first earned its stop-worthy reputation from the towering ­meringue pies at the Koffee Kup restaurant. These days, there's far more than dessert to keep you amused for a full weekend (though Wiseman House Chocolates is still around to satisfy a sweet tooth). Everything's in walking distance, from the limestone-studded Bosque River on the south end of downtown to the statue of Billy the Kid, the outlaw said to have lived out his life here in anonymity, at the north end of downtown Hico. The only time you'll need a car is to head 20 miles south to Hamilton to check out art, music, and eats in the seat of Hamilton County.
Dallas
2 hours
Austin
2.5 hours
San Antonio
 3.5 hours
Houston
4 hours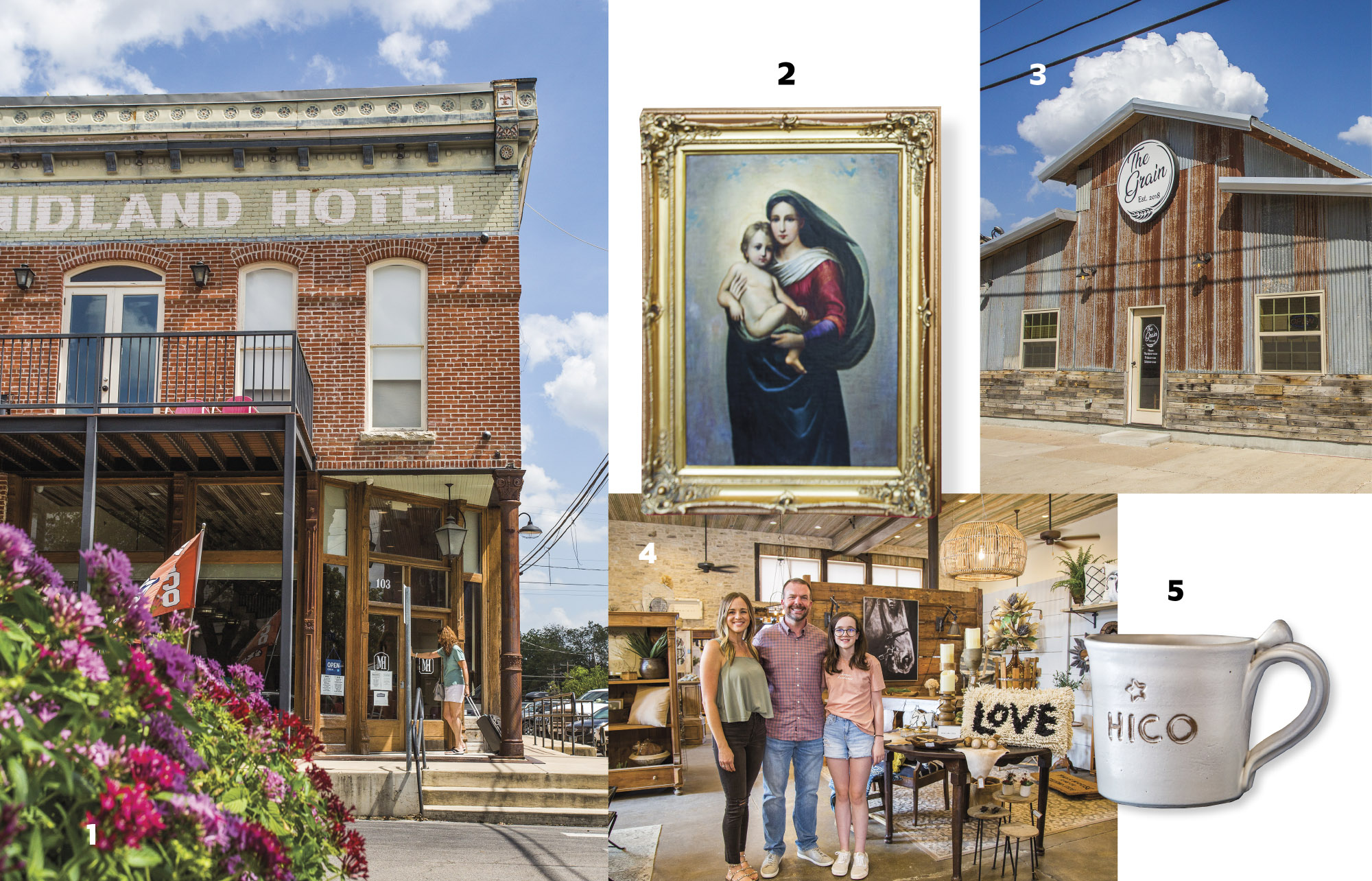 Stay

Eat

See

Learn

Shop

Drink

1 / Midland Hotel & Chop House
The handsome brick building anchoring one downtown corner is an 1896 landmark offering 14 rooms (starting at $139 a night) with historical beauty and modern comforts, as well as an exceptional restaurant (see sidebar).

2 / Ramsey Collection
Book an appointment to see a stunning private collection of American and European art from the 16th to early 20th centuries. The former bank building on the Hamilton County Courthouse square houses hundreds of works by the likes of Edgar Degas and Diego Rivera.

3 / The Grain Drafthouse & Eatery
Look for the old grain silos, relocated from a nearby farm, to find Hamilton's new live music venue. Listen to headliners like Gary P. Nunn and local acts while eating fried cheese curds and sipping a ranch water.

4 / Hico Mercantile
The grand 1895 opera house is now home to an assemblage of fresh boutiques where one can purchase a range of items, including a Dolly Parton prayer candle, heavy wooden candlesticks, and framed vintage botanical prints.

5 / Hill Country Dwellings
A side hustle of sisters and designers Jane and Cindy Schumacher, this shop's earthy sophistication shines in its selection of textiles, handmade wooden biscuit cutters, locally crafted pottery, and art.

6 / 2nd Street Bakeshop & Coffee Co.
A refurbished Victorian home makes morning coffee and afternoon tea special events. Few things are more comforting than settling into a corner here with a seasonal honey-lavender latte, a lemon-blueberry scone, and a good book.

7 / Eis & Pecan Street Drink Shoppe
These sister businesses offer a delicious smoked chicken salad sandwich next door to a selection of wines from Texas and the world. Pair with locally made cheeses and smokehouse meats to complete a riverside picnic.

8 / City Park
Wander south along Elm Street, which ends at this shady, welcoming retreat on the Bosque River bank. Enormous pecan trees provide shelter from the sun, and plentiful tables near the clear water supply a bucolic backdrop for picnicking.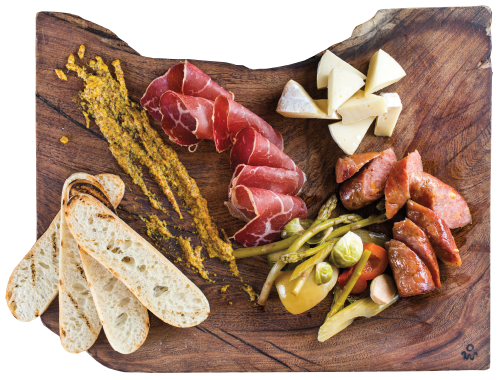 All a Board

It's more than chef Eric Hunter's menu that inspires return visits to the Chop House, found within the Midland Hotel. It's the inspired craftsmanship he employs with every item. He makes the cavatelli pasta from semolina fresh each morning. He smokes brisket and queso as well as molasses-cured salmon. The charcuterie presentation involves meats he cured, grainy mustard he made from scratch, vegetables and fruits he pickled, and even a wooden board he milled, cut, stained, and finished. You taste the passion in every bite.
historicmidlandhotel.com
Bosque River RV Park
There are 21 spaces at this city park to pull your RV into. Hook up to the complimentary Wi-Fi or enjoy the park's volleyball court and hike-and-bike trail. 500 Elm St., Hico. 254-796-4620, ext. 2; hico-tx.com/visitors/rv-park
From the November 2021 issue