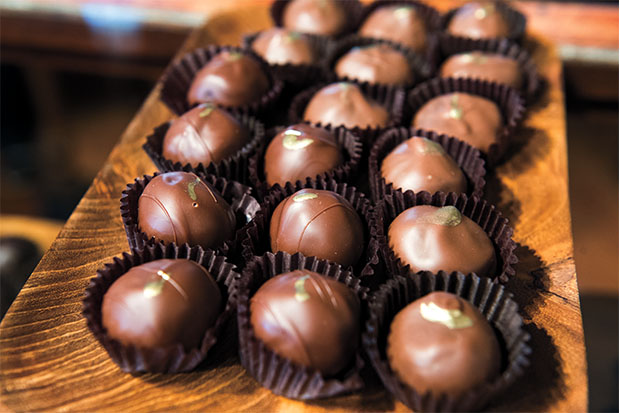 I'm standing inside the Wiseman House chocolate-making studio in downtown Hico, and the chocolatey, slightly salty aroma reminds me of a mug of hot cocoa.
WISEMAN HOUSE CHOCOLATES

The retail shop is located at 406 W. Grubbs St. in Hico;
the studio is at 106 Pecan St.
For details about hours, tours, and classes, call 866-460-3571.
wisemanhousechocolates.com.
A few blocks away, the Wiseman House retail shop sells chocolates and chocolate-themed gift items, but here is where the real chocolate magic takes place.
The front of the studio features floor-to-ceiling windows that flood the room with warm light. It brings to mind what an old-world European confectionary might look like with stone walls, trays of chocolates in various stages of preparation, and apronclad workers bustling around various work stations.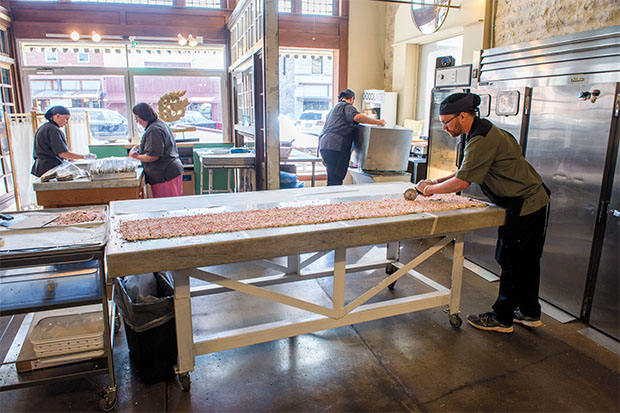 "Can you stand some toffee?" chocolatier Kevin Wenzel asks me, placing a few broken pieces in my hands. I take a bite, and the soft buttery crunch of the nutty toffee mixes with warm chocolate. Its light texture balances the rich flavors.
Making chocolate keeps Wenzel and his crew busy year-round, but from March through August, visitors can take a 45-minute guided tour (by appointment only) or take a hands-on chocolate-making class from Wenzel himself.
Wenzel grew up in the hospitality business. His family owns Dutch-man's Hidden Valley Country Store in Hamilton, and he was raised learning the finer points of making pastries, breads, candy, fudge, and charcuterie. "Except we didn't call it that back then, we called it 'meats,'" Wenzel says.
As an artist, he began thinking of chocolate as his medium, bringing it to Hico from Belgium.
After school, the four Wenzel kids would pitch in to help out with the family business, which is run these days by their sister Kara Chorenziak. It's still a popular road-trip stop for travelers seeking a stretch break, a bag of penny candy or other old-fashioned treats, or a sandwich such as the delicious toasted ham with sauerkraut and dill mayonnaise.
As a young adult, Wenzel went on to study art, backpacked in Eastern Europe and Asia, and worked a stint waiting tables at the Neiman Marcus store in downtown Dallas. Around that time his perspective changed.
"I came back here to Texas, met a girl, and fell in love," he says.
The girl was LaDonne DeWitte, who had studied at the Fashion Institute of Technology in New York, was new to Dallas, and looking to meet some friends. They first arranged to meet at a church in Dallas.
"She was leaning against a stone archway in a stone-colored dress," Wenzel remembers. "She seemed to be part of something wonderful—this wonderful gothic arch in this cathedral, as if she had stepped down out of the rockwork to meet me."
But for all his studying, volunteering, and life experiences, Wenzel didn't yet have a profession—something he felt he needed for a proper courtship. Wenzel's father, Ron, planted the seed for a chocolate business. First he took his son to a few chocolate conventions. Then the senior Wenzel found a Victorian house on West Grubbs Street in downtown Hico for sale. "Why don't you look at this little house?" Wenzel recalls his father saying. "I think it could make a nice retail shop."
Wenzel gets choked up thinking about how he and his new bride hung a sign on the door of their new business in September 1997, indicating they were going on their honeymoon in Big Bend. "People still say they remember seeing that sign," he says, marveling at the customers who've been with them all this time.
In the beginning, the Wenzels sold pre-made chocolate and observed what their customers enjoyed."I figured out how to make other people's chocolate, and then I started making other things," he says. As an artist, he began thinking of chocolate as his medium, bringing it to Hico from Belgium. He started experimenting with ganache, a creamy glaze or filling that is challenging to make because of its exacting temperature requirements.
"You know how your eye travels through a painting?" Wenzel says. "Your tastebuds should travel through a ganache."
When he was first getting the retail shop ready for business, he found several treasures during renovations, including an old bottle of whiskey. Experimenting, he mixed whiskey into a batch of ganache instead of cream, and he liked the result. Inspired, he started tinkering with brandies, chiles, spices, and fruits.
In 1998, he created a treat that has become a signature of Wiseman House: the Wild Woman truffle, a combination of two kinds of Belgian dark chocolate both in the shell and the inner ganache, where the chocolates are mixed with whipping cream.
In 1998, he created a treat that has become a signature of Wiseman House: the Wild Woman truffle.
"Slightly sweet, bold, and never bitter, that's a wild woman," Wenzel says.
Wiseman House chocolates were named Best Truffle in the Austin Chocolate Festival for several years, and in 2009, Wenzel brought his chocolate to President Obama's inaugural ball in Washington, D.C. But Wenzel says what keeps him going is his customers.
"I'm proudest that we have ladies who come in and say, 'I've had chocolate all my life, all over the world, and yours is the best,'" he says. "I love to see someone who is really enjoying the experience."
Two decades after Wiseman House Chocolates opened, the historic brick buildings of downtown Hico are starting to welcome new tenants, ushering fresh energy to a town that is still fairly under the radar for most Texas travelers.
"I think it's moving in a good direction. It's not a 'status town;' it's definitely a comfortable town and very approachable," Wenzel says. "The proof is in the pudding, the secret is in the sauce; that's true about chocolate, and it's true about our town."
From the February 2018 issue