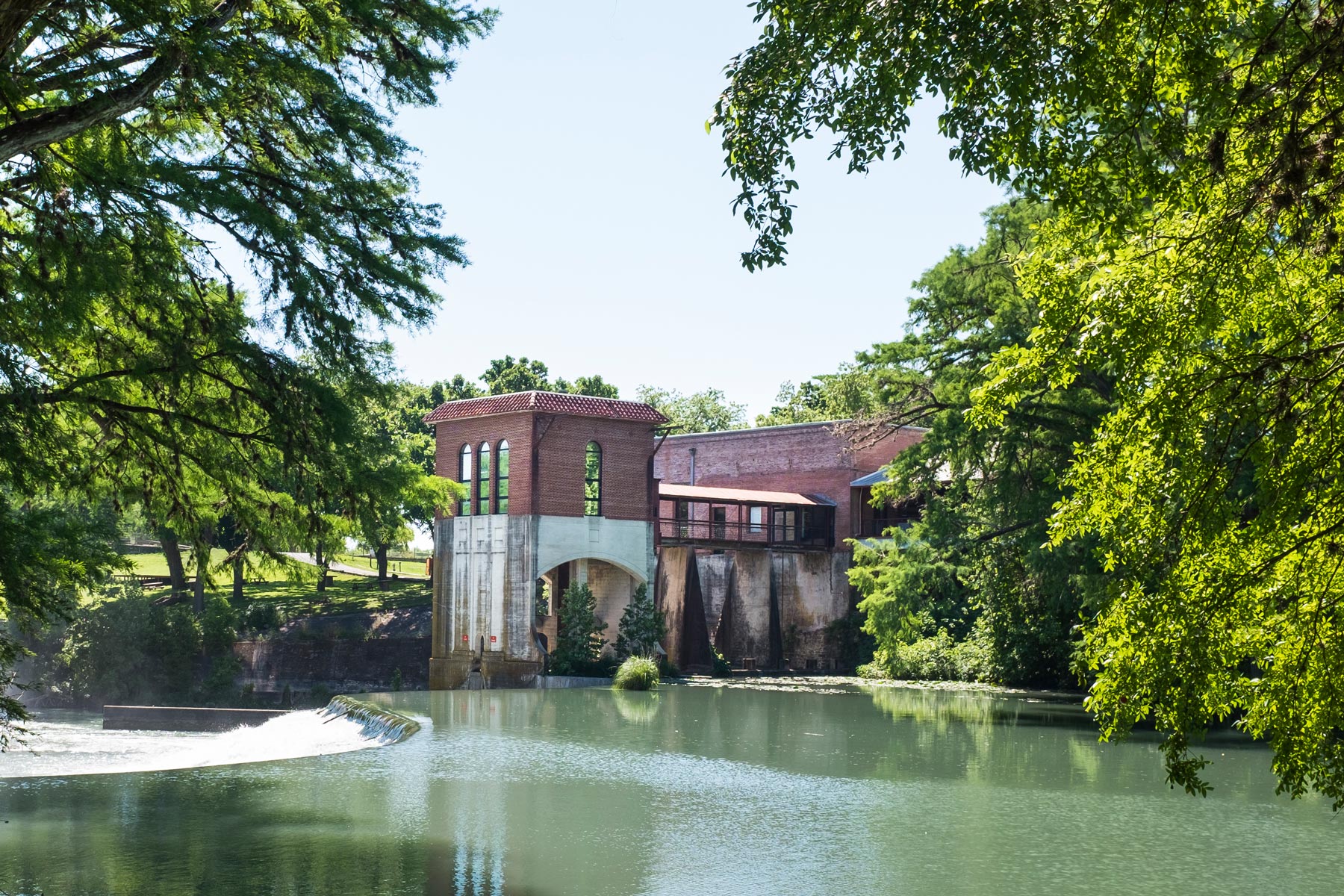 The mighty Guadalupe runs slow and wide through Seguin, but this is not a river town. It's not really a bedroom community, either, although many residents work in San Antonio, 36 miles southwest. Nor is it a college town, despite being the home of Texas Lutheran University. Seguin's motto—"It's Real"—is painted on a water tower heading into town. This Guadalupe County seat is real, all right… real hard to pin down.
Seguin's mix of Hispanic and Czech/German culture can be heard in the Mexican polka "Viva Seguin," made famous in the early '40s by Santiago Jiménez Sr. It's an instrumental about a lyrical town, with a beat everyone can dance to.
Perhaps best known as the home of the world's largest pecan, Seguin has surpassed that designation to become a destination with great restaurants and parks, well-preserved history on display, and even a 10-acre amusement park, ZDT's, built in a former agricultural and meat-packing complex, of all places. Seguin's boots are made for walking—after dinner, between bars, or just to get some fresh air—with a downtown scene growing in vibrancy. Dubbed "the prettiest town in Texas" in 1854 by famed New York landscape architect Frederick Law Olmsted Sr., Seguin's draw today is it feels like a cosmopolitan city with a population of only about 30,000.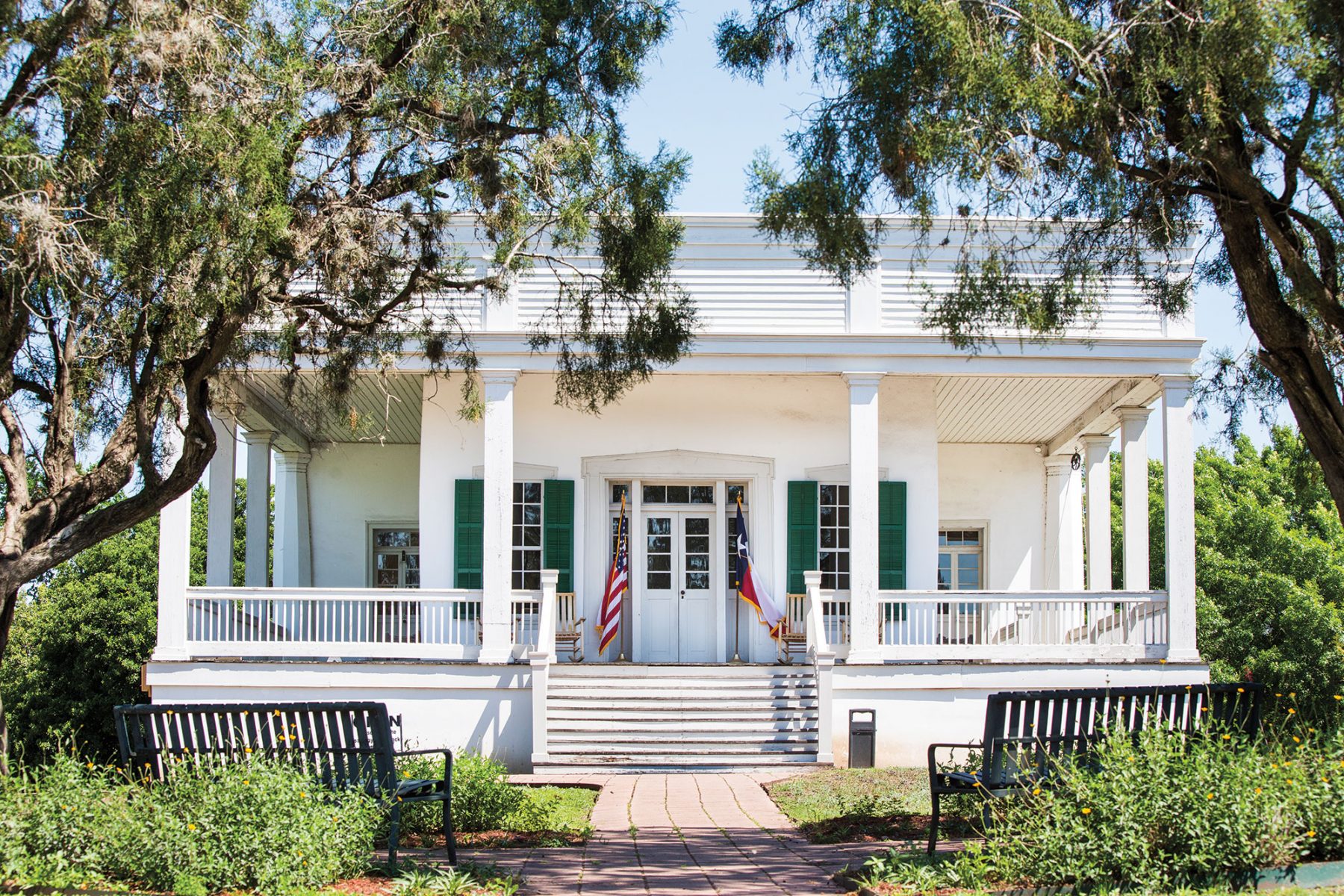 Friday
3 P.M.
Remnants of the Past
The place to stay is Olivia Mansion, a six-room Victorian bed and breakfast downtown, but since check-in isn't until 4 p.m., there's time to explore Seguin's historic haunts first. The hillside burial site of the town's namesake, Juan N. Seguin, a hero of the Texas Revolution, is about a mile from the B&B. Also nearby is the architecturally significant Sebastopol House, constructed of poured "limecrete"—a mix of limestone, gravel, sand, and water—in 1856. By the end of the 19th century, a journalist dubbed Seguin "The Mother of Concrete Cities" because it was the first in Texas to widely implement that method of construction. Nineteen of the original 90 limecrete buildings, including the haunted Magnolia Hotel (no longer used for lodging, but hosts occasional tours), are still standing.
Slaves built the Greek Revival-style Sebastopol House, and it displays stark remnants of the era, like a pair of hand-carved "slave master chairs" that will make you wince. But it also houses a large collection of priceless pottery from H. Wilson and Co., founded by former slave brothers Hiram, James, Wallace, George, and Andrew Wilson after they were emancipated. Historic furniture from many of the house's former occupants are also on display.
Olivia Mansion is only eight blocks from ZDT's, so if the kids see the wooden roller coaster or water slides while coming into town, you'll have to schedule Sebastopol House for another day. An amusement park cannot be unseen by young eyes!
6 P.M.
Sushi and a Flick
Ask the locals for the best restaurant in Seguin, and the name that comes up most is probably Sakura, a Japanese restaurant in a strip mall facing the town's mega H-E-B. If you say "nah" to raw, the restaurant also serves hibachi-cooked steak and seafood, plus lightly-battered and deep-fried tempura dishes. Besides flavorful, exotic food at reasonable prices, Sakura keeps late hours—open until 10 p.m. on Fridays and Saturdays.
Across the parking lot is the King Ranger movie complex, which shows first-run features in a stadium-seating setting (with rocking chairs) for a top ticket price of $9.50. The adjoining Gas Light Saloon serves beer, wine, and frozen drinks you can take into the theater for a few bucks a pop. Maybe instead of "It's Real" on the water tower, Seguin should paint "It's Reasonable."
Saturday
11 A.M.
The Original River Walk
If the weather's nice, pop into Amy's and Cathy's Takeout for a Reuben sandwich and eat your lunch at Walnut Springs Park, a delightful downtown stroll below street level. If that sounds like San Antonio's River Walk, that's because the same architect, Robert H.H. Hugman, designed Walnut Springs six years before his world-famous showpiece in San Antonio. The walkway traverses around the Seguin Public Library, situated in a wooded area. With its floor-to-ceiling windows, the library gives the illusion of being in a treehouse.
1 P.M.
Browser's Paradise
The historic blocks around the Guadalupe County Courthouse offer plentiful pop-in choices. The Seguin-Guadalupe County Heritage Museum tells the county's history through artifacts of Texas Rangers (who had a big presence in Seguin after the Texas Revolution), hometown Negro League baseball hero Smokey Joe Williams, and many others. Photo buffs will want to head upstairs to view a replica of Leon's Photography Studio, which served Seguin from 1944 until the late '90s. Leon Kubala and his wife, Nelda Kubala, also a photographer, sold all their cameras and equipment—along with more than 100,000 photos—to museum director John Gesick Jr., who in turn gifted them to the museum for preservation and access to the public for reprints.
Another downtown browsers' delight is the Traveling Gypsy Antique Mall, a 7,000-square-foot store that's so tidy it makes the inventory feel new.
3 P.M.
Go Nuts
Seguin unveiled a beautiful bronze statue of Juan Seguin on the town square in 2000, but the city's most famous sculptures are a 16-foot fiberglass creation of the world's largest pecan housed at the Pecan Museum of Texas on State Highway 123 north of town, and a 5-foot cement facsimile of a pecan that sits in front of the County Courthouse. South of town on State Highway 123, the Pape Pecan House sports a 10-foot pecan on wheels and also boasts the world's largest collection of nutcrackers. Sweet!
5 P.M.
Foodie-ville!
Guadalupe County has many great Mexican restaurants, but Seguin is also curiously rich in Southern-style diners. Named for the year the town was founded, 1838 Grill is friendly and filling, with large portions of all the fried faves. For Vietnamese cravings, Saigon Bistro offers up top-flight vermicelli noodle bowls and tasty and inexpensive banh mi sandwiches. The owners did miss a great opportunity to call it Saigon Seguin.
8 P.M.
Out on the Town
After-dinner drinking downtown ranges from the glorious dive bar Oak Tavern (est. 1935) to the more upscale 1916 Bar and Bistro on the ground floor of the historic former Aumont Hotel. For occasional live rock and country music, decent pub grub, and a breezy, spacious patio, there's Warehouse, which is the go-to for anyone who uses "party" more as a verb than a noun. These bars, as well as Court Street Coffee Shop, which has live music on weekends, are within three blocks of each other.
Sunday
10 A.M.
Party in the Park
A drive through Seguin Coffee Company, home of the addictive cinnamon roll coffee (and also healthy smoothies), provides the fuel for today's mission: Max Starcke Park. Seguin's 227-acre jewel, the park features a challenging 18-hole golf course, kayaking and fishing on the Guadalupe River, picnicking, disc golf, volleyball, playscapes, and a 15,000-square-foot wave pool. Named after the mayor who presided during Seguin's 1930s oil boom, Starcke Park also has six baseball/softball fields and an enclosed dog park.
1 P.M.
Power Lunch
On the other side of the Guadalupe is the Powerplant Texas Grill and Bar. Set on the curved 1890s Saffold Dam that once powered a cotton mill, the Plant is one of the most scenic restaurants in the state. The saying "the better the view the weaker the stew" doesn't play out here: The ACDC bacon cheeseburger will leave you thunderstruck. The Plant is quite a scene on weekends, with live music on the patio, and tube rentals on the property. It's the perfect spot to end your stay in a town that offers more activities than a single weekend can hold.
Camp Out
The Dam Camp in McQueeney, less than 7 miles from downtown Seguin, offers tent camping and fabulous container cabins for those who want to go beyond "glamping." Located on Lake Placid, the camp offers fishing, swimming, and kayaking, plus a pavilion.
9035 FM 725
830-481-5605
thebestdamcamp.com
From the July 2019 issue