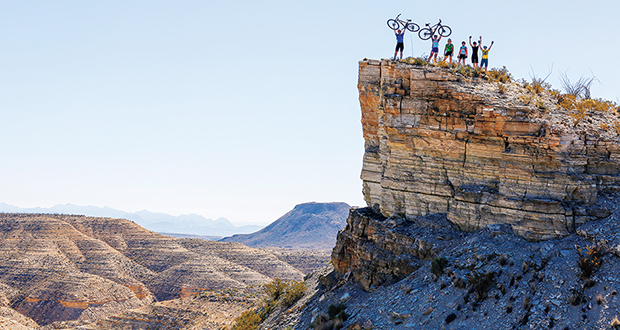 Chances are I won't be hitchhiking out West any time soon to hire on with a ranch or join a sheriff's posse. My boyhood fancies of a cowboy life on the open range, fueled by Lone Ranger reruns and imaginative bicycle escapades around the neighborhood, lost steam over time. But I've still got a Lone Ranger poster, and I've still got a mountain bike. And exploring the Texas countryside by bicycle still kindles my childlike excitement for adventure, freedom, and fun.
Top Rides

Riders share their favorite Big Bend mountain biking rides.

Essentials: Big Bend Mountain Biking

The Chihuahuan Desert Bike Fest will not take place in 2019.

Desert Sports, an outfitter, guiding company, and bike shop near Terlingua, carries bike equipment and rents mountain bikes. Call 888/989-6900.

Big Bend Ranch State Park's East Contrabando and West Contrabando trailheads, which access most of the park's mountain-biking trails, are on FM 170. Visitors should check in at the Barton Warnock Visitor Center, 1 mile east of Lajitas on FM 170, to pay the $5 entrance fee. Call 432/424-3327.

The Lajitas Trails depart from the Lajitas Airport trailhead on FM 170, 5 miles east of Lajitas Resort. No fee. Call 432/424-5000.

Big Bend National Park's hiking trails are closed to mountain biking, but bikes are allowed on the park's paved and unpaved roads. Call 432/477-2251.
Of course, if I were a cowboy, I wouldn't be wearing spandex shorts and pushing my bike up this steep hill in the Chihuahuan Desert. I'm climbing the side of the Wax Factory Laccolith, the eroded remnants of an ancient magma intrusion set among Big Bend Ranch State Park's jagged ridges and dry washes. Led by an experienced guide, I've joined a couple of dozen other bikers for a ride during the Chihuahuan Desert Bike Fest. Held annually in February, Bike Fest draws mountain bikers to the desert for three days of riding in the state park, Big Bend National Park, and Lajitas Trails.
The Big Bend is arguably Texas' premiere destination for mountain biking. Big Bend Ranch State Park has more than 200 miles of multiuse trails, including several popular single-track biking routes. Big Bend National Park's hiking trails are closed to mountain biking, but bikes are allowed on the park's 160 miles of unpaved backcountry roads. And Lajitas Resort is home to a 25-mile trail system—originally built for racing—that's both riveting and accessible.
The Chihuahuan Desert's stark beauty and thorny terrain distinguish it from other mountain-biking hotspots across the country. The rugged setting is a challenge: Prickly plants and tire-piercing crags line the trails of gravel, sand, and rock; the desert sun is intense; shade and water are scarce. All that said, if you're properly prepared, the payoffs are magnificent—exhilarating rides, soaring vistas, inspiring isolation, and interesting perspectives on the region's rich cultural and natural history. And you don't have to be an expert to give it a try, thanks to a local biking community that has blazed a trail for the sport over the past 30 years.
"We didn't have trails when we started riding out here, and so we spent a lot of time riding creek beds and cow paths and that kind of stuff," says Mike Long, the director of Bike Fest.
Long moved to Terlingua in 1985 and now co-owns Desert Sports, an outfitter, guiding company, and bike shop. "You could tell the local mountain bikers because their shins and forearms were always shredded from the thorns. We were always trespassing, but we didn't even really think about it, because no one was out here. That has changed a lot, especially in the last 10 to 12 years. So having access to trail systems like Big Bend Ranch State Park and the Lajitas Trails is pretty huge. It gives us places to go ride, and it also makes it easier for us to tell people where to go."
Desert Sports produces Chihuahuan Desert Bike Fest in conjunction with Big Bend Ranch State Park and Lajitas Resort. The three-day event, which benefits the Big Bend Trails Alliance—the volunteer group that has built or improved most of the mountain-bike trails in Lajitas and the state park—is an opportune introduction to mountain biking in Big Bend. Held at a time of year with a good chance for cool, sunny weather, the festival schedules a slate of guided rides each day, places water stations around the riding areas, and coordinates a roving bike patrol, including EMTs and volunteers to assist with orientation and mechanical issues. The support is a safety net for mountain bikers who are new to the area or want to test their legs on new challenges.
Outside of the riding, Bike Fest offers an opportunity for mountain-bikers to geek out with kindred spirits with parties, workshops, and games such as bike-rolling and bike bunny-hopping. In the late afternoons, the sunburned riders exchange their helmets and biking shoes for straw hats and sandals and congregate at the Maverick Ranch RV Park in Lajitas to swap tales, pick some tunes, and check out demo tents set up by several top-of-the-game mountain-bike makers.
"It's an amazing bicycle community—this many people way out in the middle of nowhere hanging out, having a couple of beers, and talking about their rides—it's really fun," marvels Shea Webb, a San Angelino who attended his first Bike Fest last winter. "This place really caters to the mountain biker this weekend. When we were riding in the state park, we had two or three trail guys [bike patrol] with us all day to make sure we were okay, make sure we weren't lost. If you have a flat or mechanical issue, they help you out."
The festival showcases a different mountain-biking area on each of its three days, although riders can go wherever they please. Thursday's showcase is a guided ride on Big Bend National Park's Old Ore Road. The 29-mile, one-way ride follows a mule-cart mining trail as it descends through rugged terrain to the Rio Grande Village area, where hot springs await. The festival helps arrange shuttles to ferry riders back to their cars at the starting point.
On Friday, the guided rides focus on the Lajitas Trails, a thrilling system of interconnected, single-track trails that dip and swerve through fast-riding badlands. (Watch out for the white-thorn acacia!) On Saturday, the guided rides explore Big Bend Ranch State Park with routes of varying length and difficulty.
If you're up to it, the 58-mile IMBA Epic Trail stretches deep into the park. For experienced riders, Bike Fest leads a group outing on the route, which the International Mountain Biking Association has designated one of the world's "Epic" rides for its rigorous trails and scenic backcountry.
Of course, some mountain bikers prefer to visit the region outside of Bike Fest weekend to avoid the crowd of about 500 riders who turn out for the event. In Mike Long's opinion, the best time to ride in Big Bend is actually the weeks following Bike Fest. That's because you'll have the place mostly to yourself, yet the trails are in their top condition—rehabbed for the event and then worn smooth by the recent influx of riders.
Big Bend's mountain-biking season lasts roughly from October through April. You can ride in the summer, but you're limited to the early morning hours because the midday heat is down-right dangerous. Mountain biking in the region is realistically accessible for people with moderate skill, experience, and fitness, but the experts at Desert Sports and Big Bend Ranch State Park stress the need to be prepared for the demanding environment.
You'll have more fun and pick up confidence if you embark on your initial rides with experienced friends or a guide from one of the outfitters. You need a decent mountain bike that's in working order along with basic knowledge of a few mechanical skills, such as replacing a tube and realigning a slipped chain. Carry spare tubes, preferably the type with sealant. Also bring water—the state park recommends about 1.75 gallons per day.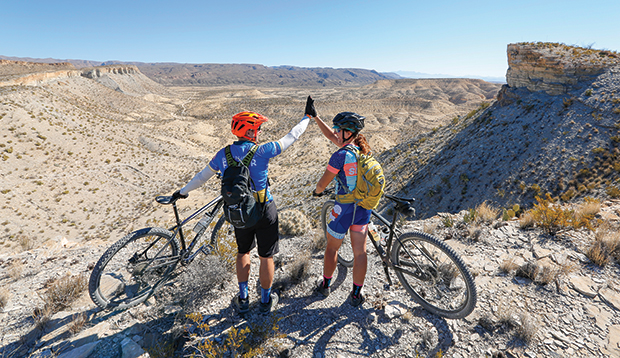 Experts also suggest familiarizing yourself with the trail map before setting off on a ride, and carrying a map and compass. It's important to visit with the guides at the local bike shop or park rangers to get up-to-date information on trail conditions. You should notify somebody of your planned route, including at park headquarters. If possible, carry an odometer, GPS unit, and satellite phone. Cell phone service in the area is minimal at best.
"You don't have to be an expert to enjoy our trails, but you have to remember where you are," says Nathanael Gold, superintendent of the Big Bend Ranch State Park complex.
"The ambulance is hours away, and if you are seriously injured, it takes hours to get to the hospital in Alpine. I don't want to scare anyone from coming out here, but I do want people to use their good common sense and really evaluate themselves and be honest with themselves—remember where you are and remember who you are; remember your skill level."
Gold's comments remind me of a refrain I heard throughout Bike Fest: There's no shame in walking—your bike, that is—when you encounter a section of trail that feels iffy or precarious. It surely beats a damaging fall.
I followed this advice several times during my Big Bend mountain biking adventures—when losing momentum on the final pedals of a steep climb up a plateau; when teetering alongside spiky lechuguilla and ocotillo blades; when barreling down a precipitous hill of gravel interspersed with rock ledges; or when simply taking a moment to enjoy new discoveries, like the sparkling hillside of quartz on the state park's Crystal Trail or the remnants of an old candelilla wax factory in Fresno Canyon.
And that slog up the Wax Factory Laccolith that I mentioned earlier? That walk paid off, too, when the Fresno Divide trail flattened out and revealed dramatic views in every direction, from the Solitario flatirons to the Rio Grande, the Sierra Rica mountains in Mexico, and the faint outline of the Chisos Mountains in Big Bend National Park. I soaked it all in and then rode off into the horizon, just like the Lone Ranger.
Texas Highways Associate Editor Matt Joyce always takes his bike along on road trips, just in case. Photographer Erich Schlegel keeps in shape mountain biking the trails near his Lake Travis home when he's not traveling to shoot adventures across Texas and the globe.
From the February 2017 issue