One of the great pleasures of roaming Texas roads is driving our scenic trails. Travel the Texas Brazos Trail, Forest Trail, Forts Trail, Hill Country Trail, Independence Trail, Lakes Trail—don't forget the Mountain, Pecos, Plains, and Tropical trails—and you'll see a whole lot of natural beauty.
I would like to nominate a new trail, or set of trails, for Texas highway wanderers to blaze for a different kind of beauty. Let's call it "The Great Texas Wind Turbine Trail." The presence of thousands of wind turbines—on average 300 feet tall but as tall as almost 600 feet, with three propeller blades of at least 115 feet in length—has radically transformed much of the state's landscape over the past 20 years, especially in the wide-open western half. Wind turbines are so huge that they render Lilliputian all of their surroundings, even gigantic structures like cell phone and water towers.
Driving through a dense concentration of wind turbines conveys the sensation of being on another planet, where humans are reduced to ants.
There is a lot of land in Texas and, therefore, a lot of wind. The prospect of converting this natural resource into energy—aided by incentives like the Renewable Electricity and Production Tax Credit and legislation including the American Recovery and Reinvestment Act of 2009—has created a wind boom. Today, Texas is the top producer of wind power in the United States, churning out three times the renewable wind energy as the runner-up, Oklahoma.
Love 'em or hate 'em, the influx of wind turbines on Texas land is inescapable. They're utilitarian landscape architecture, sometimes arranged in perfect lines, sometimes rolling with the topography, always flexing their muscles. The Roscoe and Horse Hollow wind farms—the former around the town of Roscoe and the latter in Taylor and Nolan counties—cover 100,000 acres and 35,000 acres, respectively, with wind turbines. Three to four of the 10 largest wind turbine farms on Earth are located in Texas, according to various sources that monitor the industry.
Driving through a dense concentration of turbines conveys the sensation of being on another planet, where humans are reduced to ants, skittering past these giant pinwheel behemoths that dominate minimalistic landscapes. Eyeball several turbines in a line, so all you see is one single tower, along with multiple spinning props, and it's like watching a Busby Berkeley musical with dancers waving their arms and legs in synchronized movements.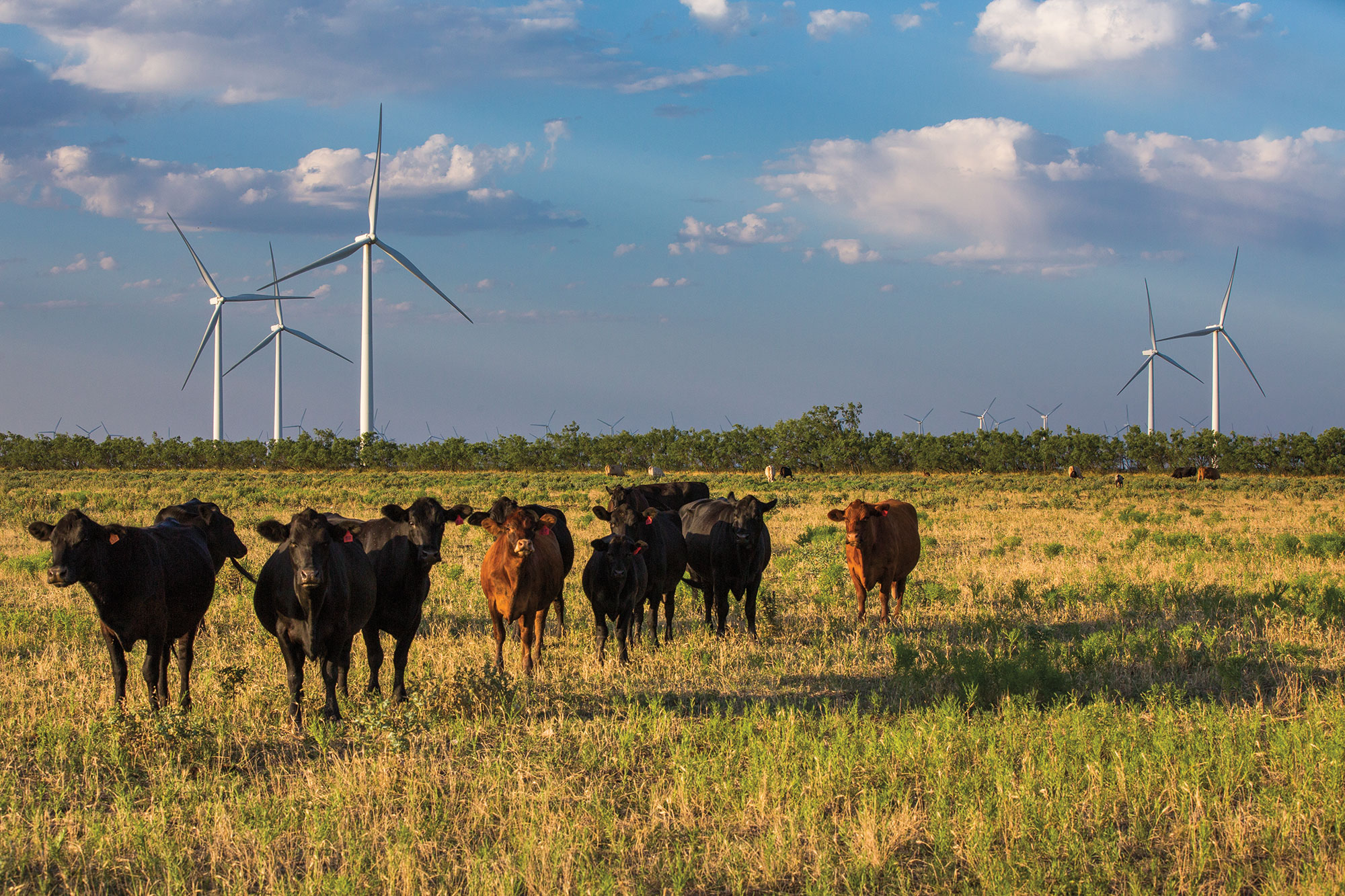 My own wind-turbine epiphany happened about 10 years ago. I was driving south from Lubbock to Austin through Sweetwater on State Highway 70. Near Sweetwater, turbines began to appear on both sides of the road. They grew in number for the next 10 miles, until turning east and south onto State Highway 153 toward Wingate. I felt like I was in a dense forest, only the trees were white towers with steadily whirling blades, perched on a vast, grassy ridge top.
I stopped and got out of my car to get a better look. Wind turbines spun as far as the eye could see, some hovering right above the roadside. The constantly rotating props mesmerized me. These weren't static objects but huge metal instruments that were working, moving, doing something. After staring long enough, the turbines, part of the Horse Hollow wind farm, started reminding me of a marching band, all symmetry, precision, and synchronicity, with the propeller blades acting as the twirlers leading the band.
"They're kind of like doing cartwheels in the sky," says Mark Morgan of Guthrie Oil Company, who routinely drives through the part of west-central Texas where turbines are in great number.
But what some perceive as enchanting, others consider an eyesore. Environmentalists see wind turbines as infringements of epic proportions on otherwise mostly pristine land. Other complaints are more complicated. Wind turbines' behemoth size requires permanent foundation pads that fragment the land, not to mention the turbines come with flashing warning lights at night. Also, their blades produce an irritating whooshing noise and are responsible for roughly a quarter of a million airborne animal deaths per year in North America, according to studies cited by the National Audubon Society. Moreover, their profits and future growth seem to be largely dependent on government subsidies.
When I place a call to the Abilene Convention and Visitors Bureau, near where I had my epiphany, the nice lady who answers the phone sums up wind-turbine ambivalence, offering her opinion that the machines "are butt ugly up close, and destructive. A lot of concrete goes into those pads. Birds and bats fly into them." She pauses, then adds: "But from a distance, they're like dancers on the horizon."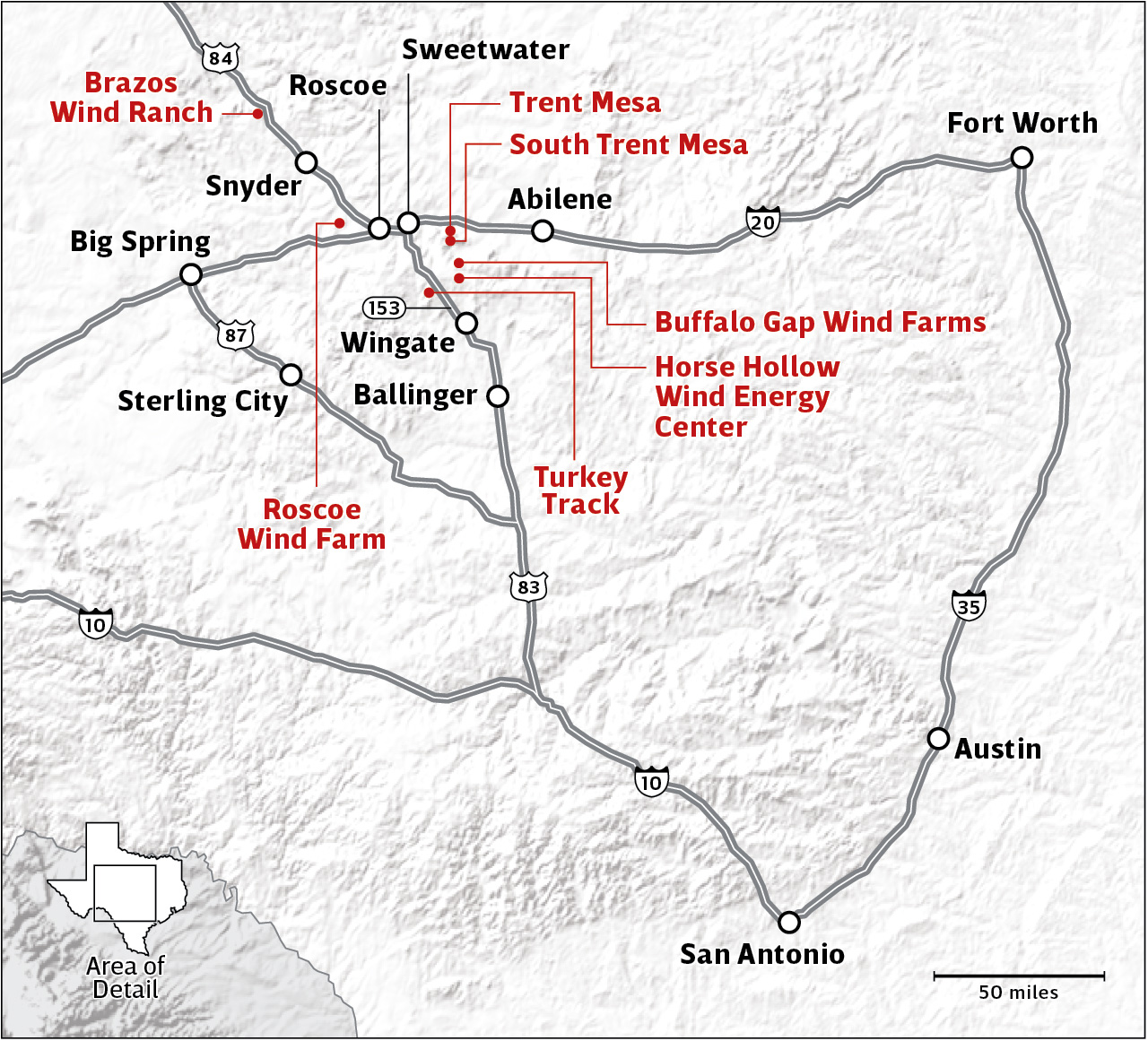 The Abilene-Sweetwater Wind Loop
Coming from the east, exit I-20 at Abilene and drive southwest on US 277 to FM 89 and head west. On the left is the Horse Hollow Wind Energy Center, one of the biggest wind farms on the planet with 421 turbines dotting two counties and 35,000 acres. On the right is the 76-turbine Callahan Divide wind farm. FM 89 winds about 10 miles to a ridge top loaded with more wind turbines, part of the Buffalo Gap Wind Farm. Turn right at FM 126 before dropping into Mulberry Canyon for 6 miles. Turn left on FM 1085 for a mile, and then left again on FM 2035 for 8 miles, with the Trent Mesa and South Trent Mesa wind farms on both sides, and then on to Lake Sweetwater, I-20, and US 84.
The Wingate to Sweetwater Sci-Fi Wind Trail
Coming from Austin, San Antonio, and Ballinger, head up to Wingate and take SH 153 to the SH 70 turnoff toward Sweetwater almost 13 miles north. The viewshed boils down to the abstract of sky, land, and turbines, and there are towers and moving propellers in all directions as you pass through the Turkey Track and Horse Hollow wind farms. Add the occasional metal-grid transmission-line tower built to carry that wind power to cities, and the setting is surreal enough that you might expect to see Spock hitchhiking along the road.
The Roscoe to Fluvanna Bank Shot Trail
From I-20 in Roscoe, take US 84 northwest for 31 miles through Scurry County toward Lubbock. The turbines punctuating the farmland west and east of US 84 are the Roscoe Wind Farm, one of the 10 biggest in the world. From Snyder, it's 12 miles up US 84 to the FM 612 turnoff. To the east is Amazon Wind Farm Texas, the internet giant's 110-turbine project. Head west up a quick 300-foot rise on to the Llano Estacado. Several lines of towers border the two-lane blacktop. That's the 2-year-old Fluvanna Wind Farm, which continues after the right turn onto FM 1269 north, before giving way to the Brazos Wind Ranch and the Red Canyon Wind Energy Project. The road makes a curvy, dramatic drop off the Llano Estacado to reconnect with US 84, 8 miles from Fluvanna.
The Big Spring to Robert Lee Big Country End-Around Curve
Coming from the west on I-20, exit at Big Spring, take US 87 south for 43 miles to Sterling City, through one of the densest stretches of wind farms in Texas. The Big Spring, Ocotillo, Elbow Creek, Panther Creek, and Forest Creek projects extend to Sterling City, where Capricorn Ridge— thought to be one of the 10 biggest in the world with 407 turbines—and Goat Phase wind farms are clustered on a windy ridge top along State Highway 158 toward Robert Lee. Straight ahead: sweeping long-distance views from several ridges lead to a dramatic canyon.
From the September 2019 issue