Go with the flow
The Comal River

is the sparkling centerpiece of thriving New Braunfels
By Joe Nick Patoski
Photographs by Kenny Braun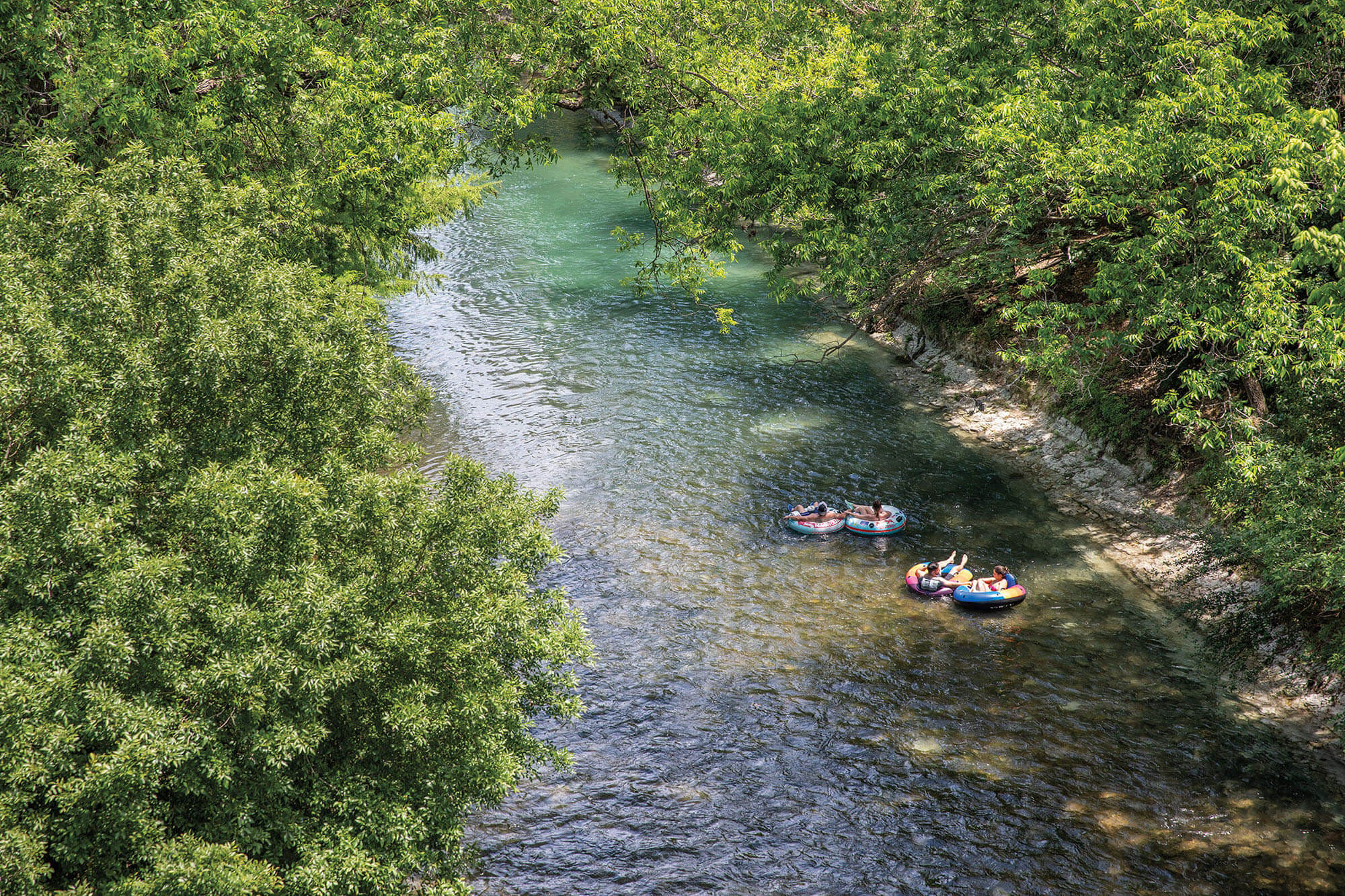 on a scorching Saturday in August, and I'm standing on the banks of Hinman Island in Landa Park in New Braunfels, the main public access to the Comal River. Dubbed "the longest shortest river in the world" by locals, the cool river is a hot spot in the summer. I'm watching a parade of folks of all ages and walks of life plop down in clusters of multicolored inflatable tubes.
A steady line of tubers enters the river across from Hinman Island at Texas Tubes, one of the main launch sites. Before long, the 60-foot-wide waterway is filled bank to bank with several hundred tubers. It creates a traffic jam just upstream from the Tube Chute, the city-owned concrete waterslide that's the highlight of most Comal tubing trips.
An hour later and about a mile downstream, across from the packed Schlitterbahn parking lot, I watch another tube jam from the porch of a riverbank condo just below Warnecke Falls. Despite the crowding, all I hear is laughter. Everyone is having a grand time.
Tom and Patty Pfost, the condo owners, view the scene with measured amusement. "You should see it July Fourth weekend," Patty says. "You can walk across the river on all the tubes jammed together. Today isn't so bad."
On peak days­—meaning Saturdays in July­—anywhere from 14,000 to 20,000 tubers are on the Comal, according to New Braunfels River and Watershed Manager Amy Niles. Roughly half a million people float the 2-mile stretch each year. The hospitality industry's impact on Comal County, which includes New Braunfels, is $700 million annually.
The Comal consistently ranks as one of the most popular tubing destinations in Texas alongside the Guadalupe, San Marcos, and Frio rivers. Those rivers have much longer tubing stretches but are subject to low or no flow in drought conditions. While tubing shuts down on those rivers, the Comal, fed by the largest springs in Texas, continues to run high enough for floating. With 14 river outfitters, an array of shuttle buses, parking lots, restaurants, and bars catering to the crowds, tubing is big business in New Braunfels­—especially on summer weekends.
But during five visits over five months, I discover that any other time, the Comal is a whole different river. Clear with a hard rock bottom, fed by cool, constant 72-degree water, and shaded by tall trees and lush vegetation, the Comal looks and feels like paradise.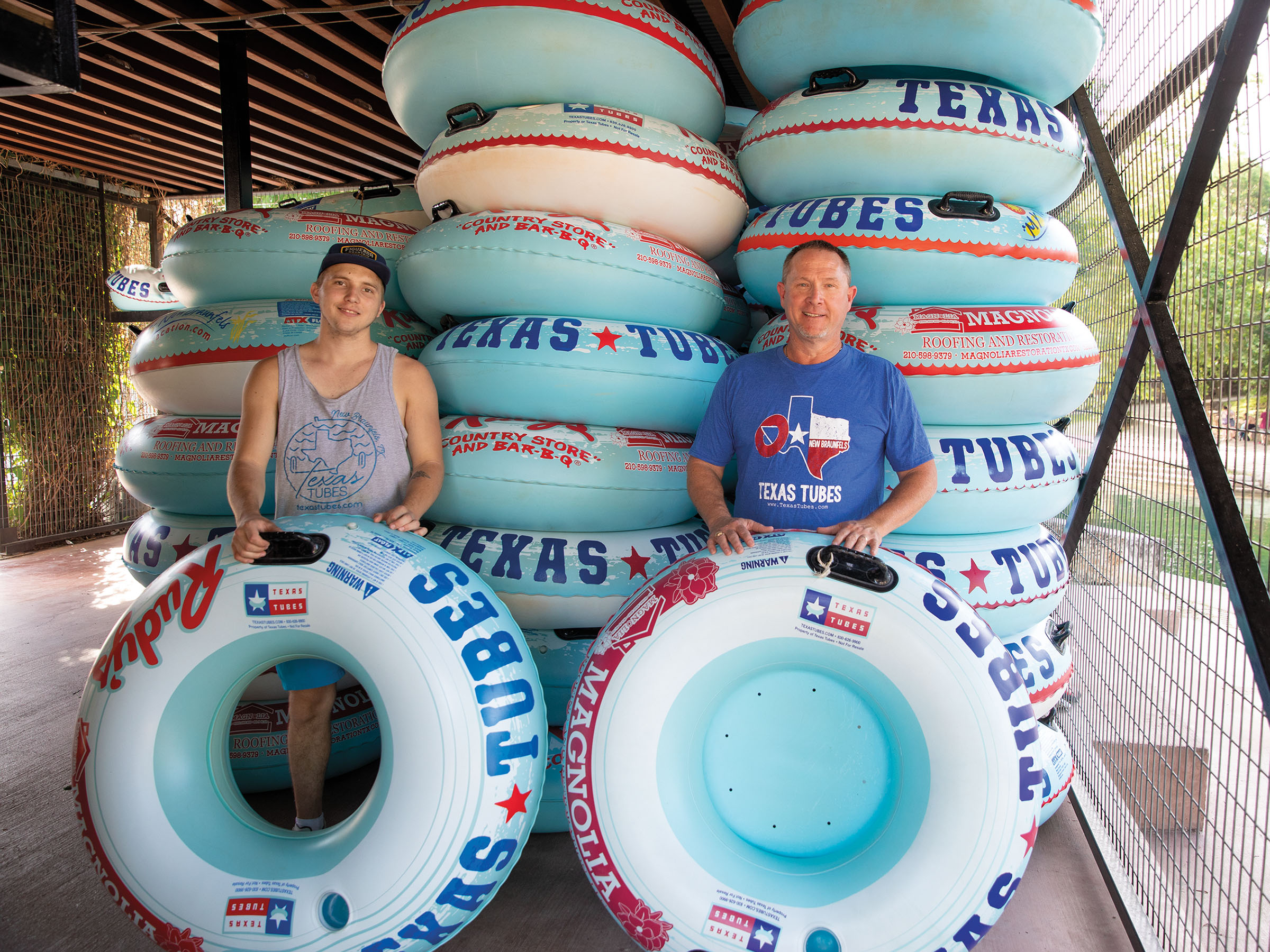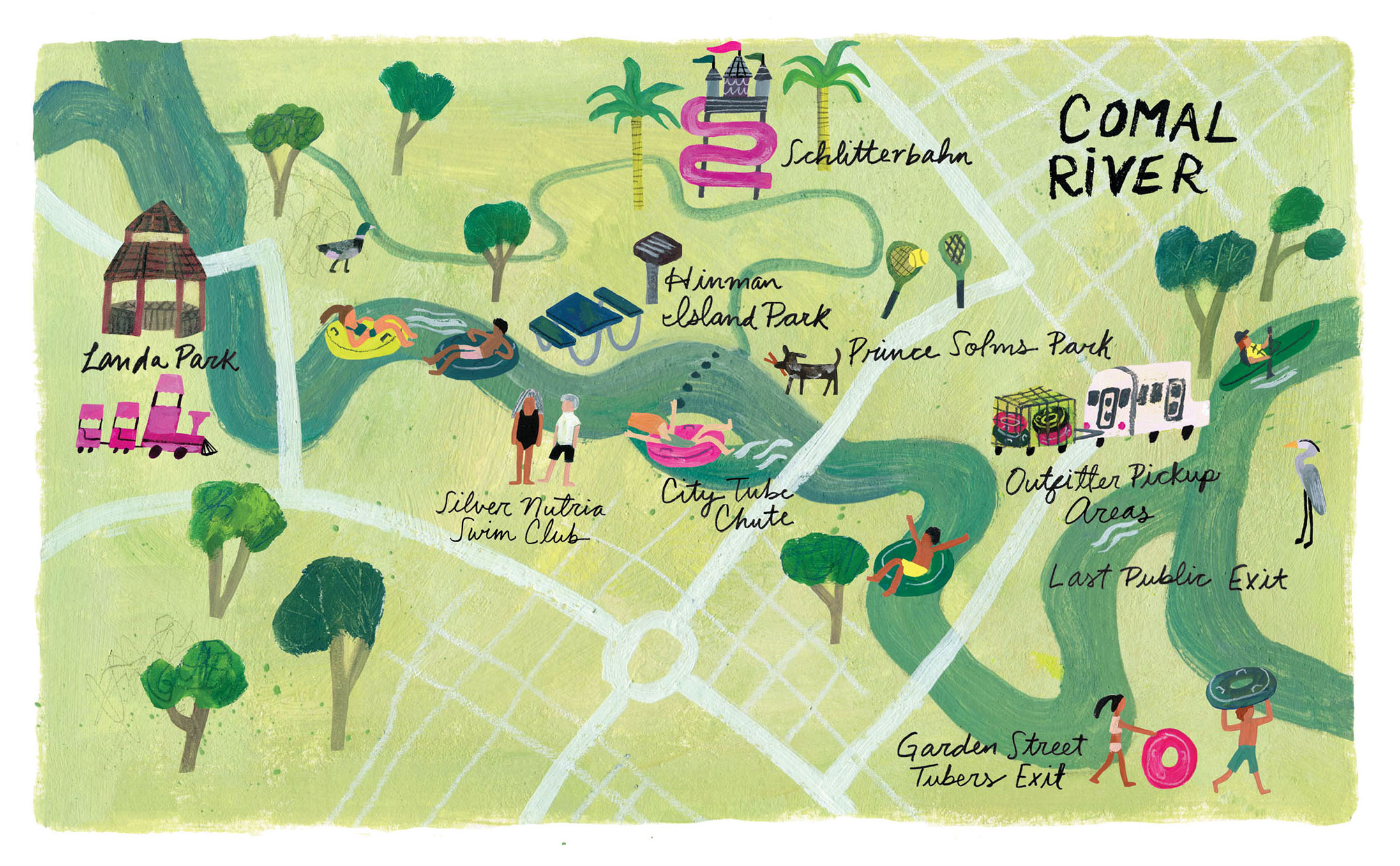 When I first meet the Pfosts a few days before at daybreak near Hinman Island, all is calm. A couple anglers stand on the riverbank, casting lines into the water. Several people, including Tom, stroll past on their early morning walks. And Patty is one of the eight bobbing heads treading water in the river who call themselves the The Silver Nutria Swim Club, folks of a certain age who meet early in the morning to take a dip together in the Comal year-round.
I am introduced to the Silver Nutria by Jeff Davis, who is showing me the Comal from a local's perspective. Davis, using the pen name Patnarain, wrote the chapter on the Comal in the 2022 Wittliff Collections Literary Series book Viva Texas Rivers! His line, "This river has become my salvation, or at least my salve," led me to ask to swim with him. An unapologetic river nut, Davis moved to New Braunfels in 2018, where he works remotely as a senior research analyst for a national law firm. This morning, he's dressed for action in swim trunks, a lightweight shirt, floppy hat, snorkel, mask, and river shoes.
We jump in to swim near the Tube Chute just before sunrise, and Davis immediately dives underwater and heads upstream toward the falls by Wursthalle, the turnaround point for his mile-long daily swim.
He finishes his morning ritual by sliding down the Tube Chute, then lingers at the bottom beyond the churning whitewater, where he dives deep and joins several other snorkelers scouring the bottom for treasure. Tubers topple over here all the time, often leaving possessions behind.
"I did pretty good yesterday," he says after we get out of the water, pulling a gold wedding band out of his dry bag to show and tell. "I took it to the jeweler, and he said it was a knockoff."
Then he produces a shiny plastic gold chain necklace that is also definitely fake. He puts it around his neck as he recounts other underwater finds: credit cards, phones, watches, all kinds of trash. The detritus pickings have led him to observe that while beer drinking is still the thing among tubers, seltzers and canned mixed drinks are gaining popularity.
Fetching trash from the river bottom is part of the price he pays to enjoy the Comal. "The river is such a jewel in its natural state," Davis says, "it just makes sense to do something to preserve it."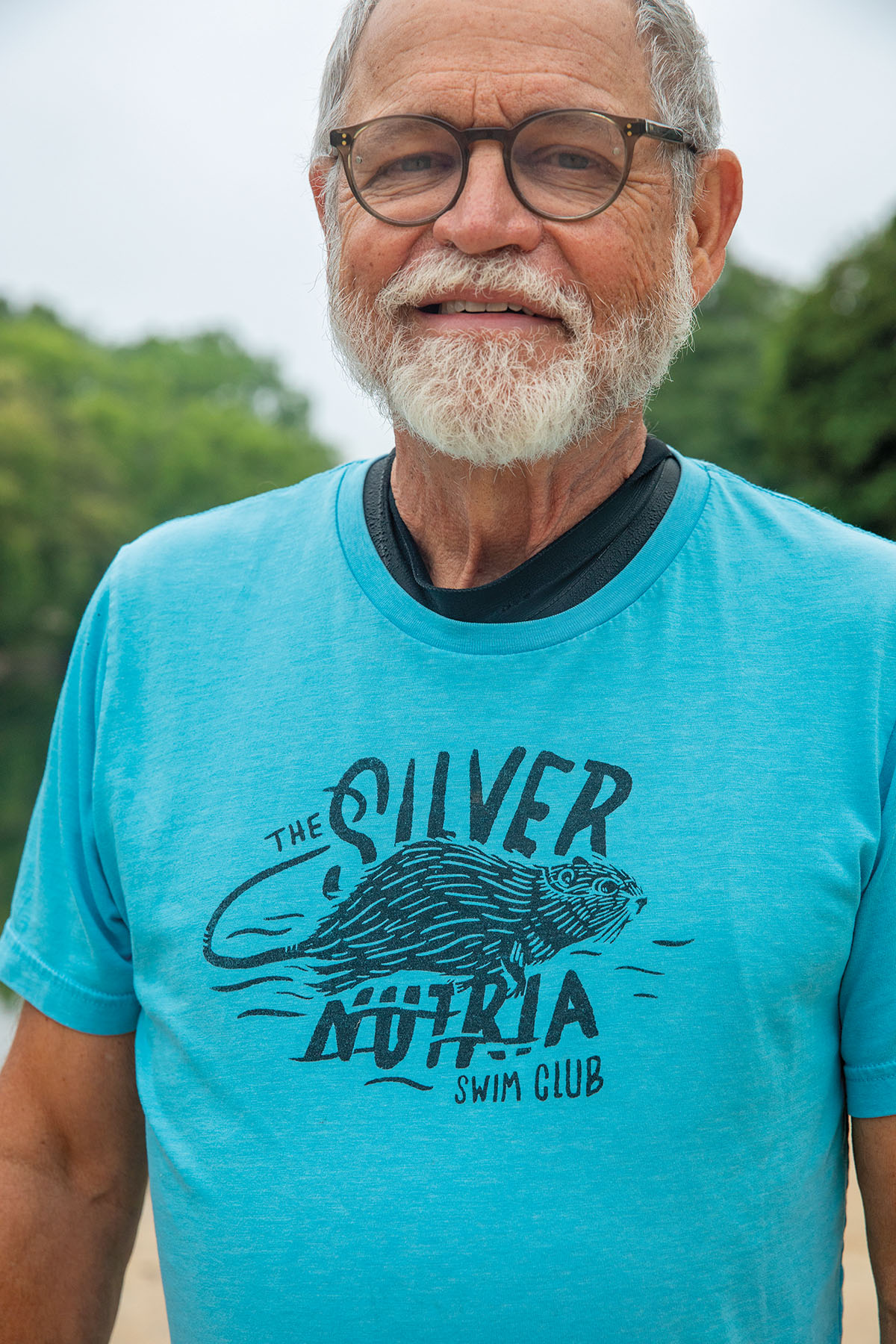 At noon on the Saturday of Labor Day weekend, under sunny skies with temperatures in the low 90s, I join Niles as she makes her rounds along the Comal. Her job includes oversight of rules, regulations, and operations on the river, as well as protecting the endangered Fountain Darter fish, the river, and the overall spring system.
With a slight chance of rain and schools back in session, there are considerably fewer tubers than the last time I was here.
"We have had so many people in the past, I couldn't see how we could tolerate more," she says as we walk Hinman Island, above the Tube Chute. "But over the past two years, it's leveled out. People who want to avoid crowds are coming earlier in the day and coming on weekdays instead of weekends."
Safety is a key concern at the Comal. When the river becomes overcrowded with tubes, the Tube Chute entrance is closed for 10 minutes to make it safer to exit downstream. "The Comal is a family destination," Niles says. "People who want a rough and rowdy time go elsewhere."
At the Prince Solms Park entrance, where most of the 14 licensed outfitters with shuttles drop off tubers to begin their float, Niles chats with two park rangers in distinctive lime green shirts and black shorts. The rangers patrol the banks of the river around Hinman Island, which is packed with swimmers, waders, and picnickers. About 30 rangers and 25 police officers are on weekend duty, along with lifeguards stationed at the Tube Chute.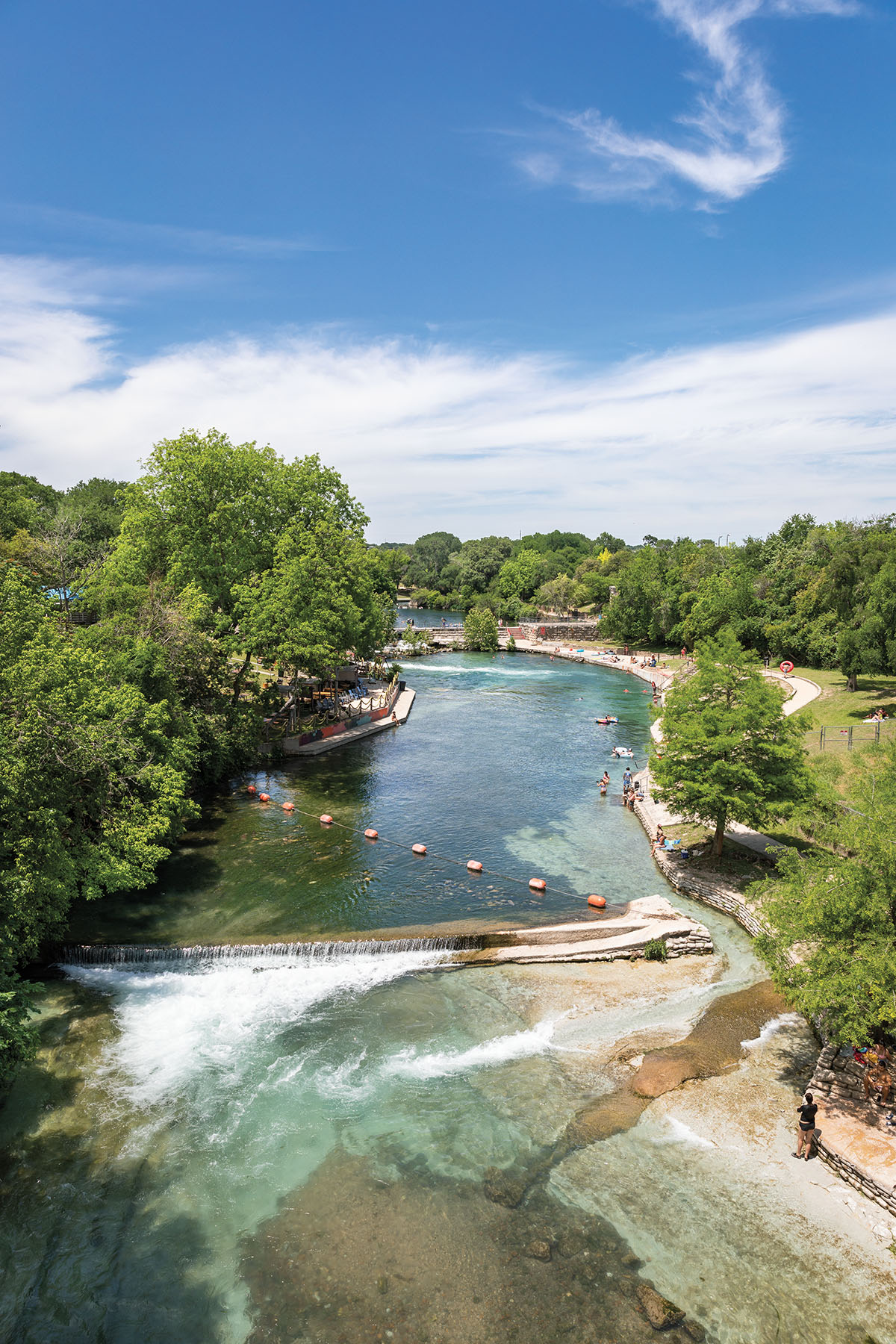 Downstream, we stop at the Garden Street Bridge exit on the river, the next-to-last exit point for tubers. "It's never crowded here, even when tubers are backed up at the Lincoln Street exit," she says. Lincoln Street, the last exit for tubers, is wheelchair accessible. At the top of the steps, buses, vans, and trams wait to shuttle tubers back to their starting points.
We loop back to Landa Park, a pastoral landscape shaded by oaks, willows, and cypress and crisscrossed by river channels and canals–parkland that has been enjoyed by locals and tourists since 1898. There are paddleboats to rent on Landa Lake, channels to wade in, picnic areas, a golf course, a miniature golf course, and a kiddie train. There's also the Landa Park Aquatic Complex, which consists of a rectangular chlorinated Olympic pool; a kiddie pool; and the natural pool fed by the Comal with concrete banks, a gravel bottom, along with swings, a floating platform, waterslides, and lifeguards.
Niles works closely with HAVA, the Hospitality and Visitors Association of tubing concessionaires, lodging operators, restaurants, and other entities tied to the river economy. Shane Wolf, the COO of Rockin' R outfitters, the largest river outfitter in the state, cites the HAVA-New Braunfels partnership as critical to the Comal's ability to accommodate thousands of visitors each day in search of a good time. "Relations with the city are better than they've ever been," he says. "They realize they need us, and we need them."
The outfitter also utilizes 20 miles of the Guadalupe River—when there is water. "The Guadalupe really hasn't had decent flow for the past 10 years," Wolf says. "But when it's down, like it was last summer, the Comal is still running."
River recreation is baked into the local culture. New Braunfels founder Prince Carl Solms chose the site in 1845 for his community of German immigrants due to its proximity to the river. During the town's first quarter-century, dams and mills were constructed on and along the Comal for industry.
But beginning in the late 1800s, locals and tourists were drawn to the Comal for leisure. Photographs at the Sophienburg Museum and Archives in New Braunfels capture men fishing in 1879, boaters in Landa Park in 1888, and swimmers at the Comal Baths bathing park in 1900. Before air-conditioning, the Comal was literally the coolest place in Texas to spend the summer.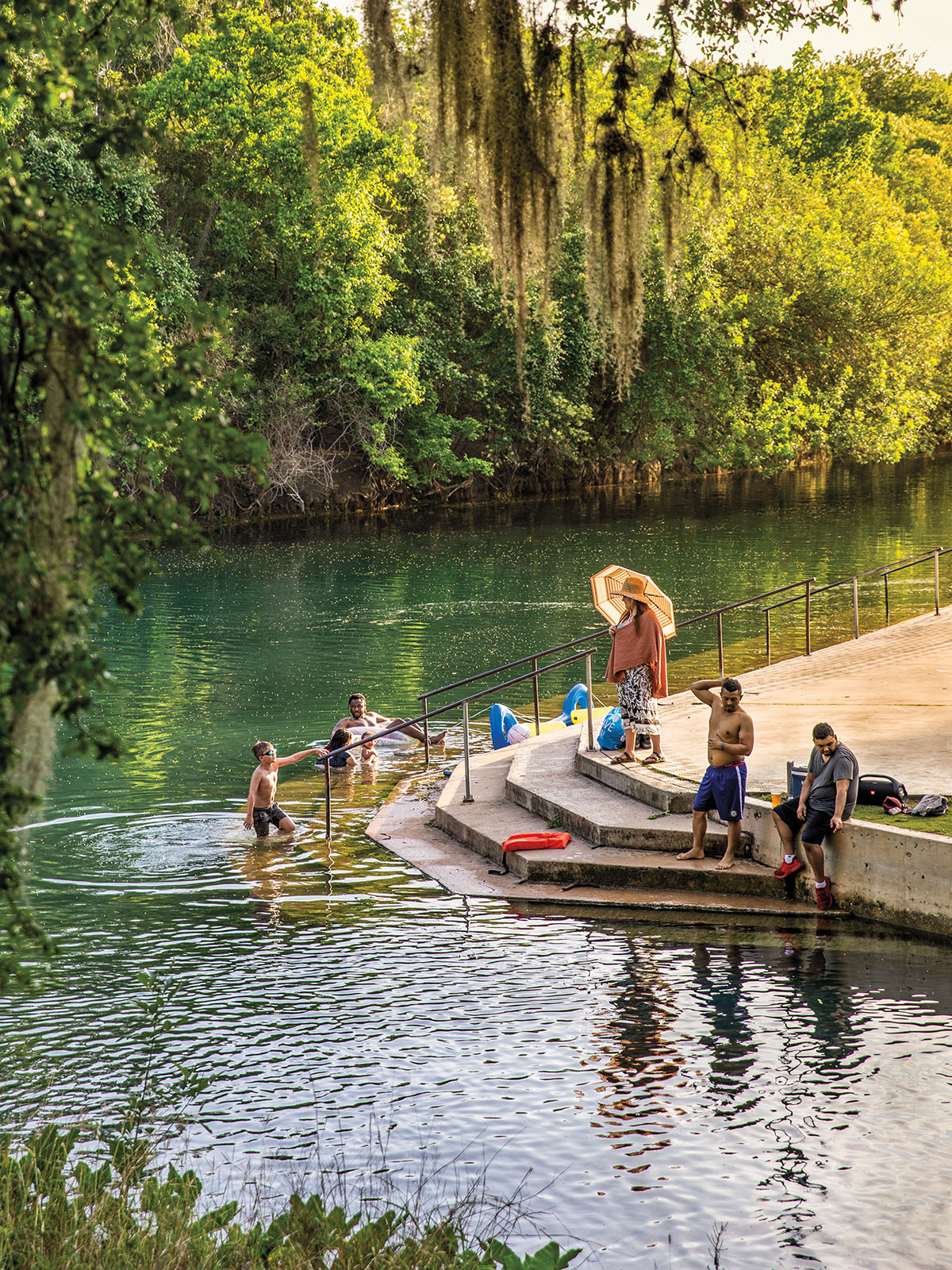 A sign in the northwest corner of Landa Park identifies Comal Springs as the largest complex of springs found in Texas and the American Southwest. Humans have lived near these waters for more than 12,000 years. The springs extend upstream for 10 city blocks past Spring Island, a residents-only park, all the way to the headwaters.
I visit the headwaters for the first time on a breezy 80-degree day in mid-October. My guide is Nancy Pappas, the managing director of the Headwaters at the Comal, a nonprofit formed in 2017 to raise funds after New Braunfels Utilities made the decision to tear up its maintenance facilities and restore the marsh habitat in 2012.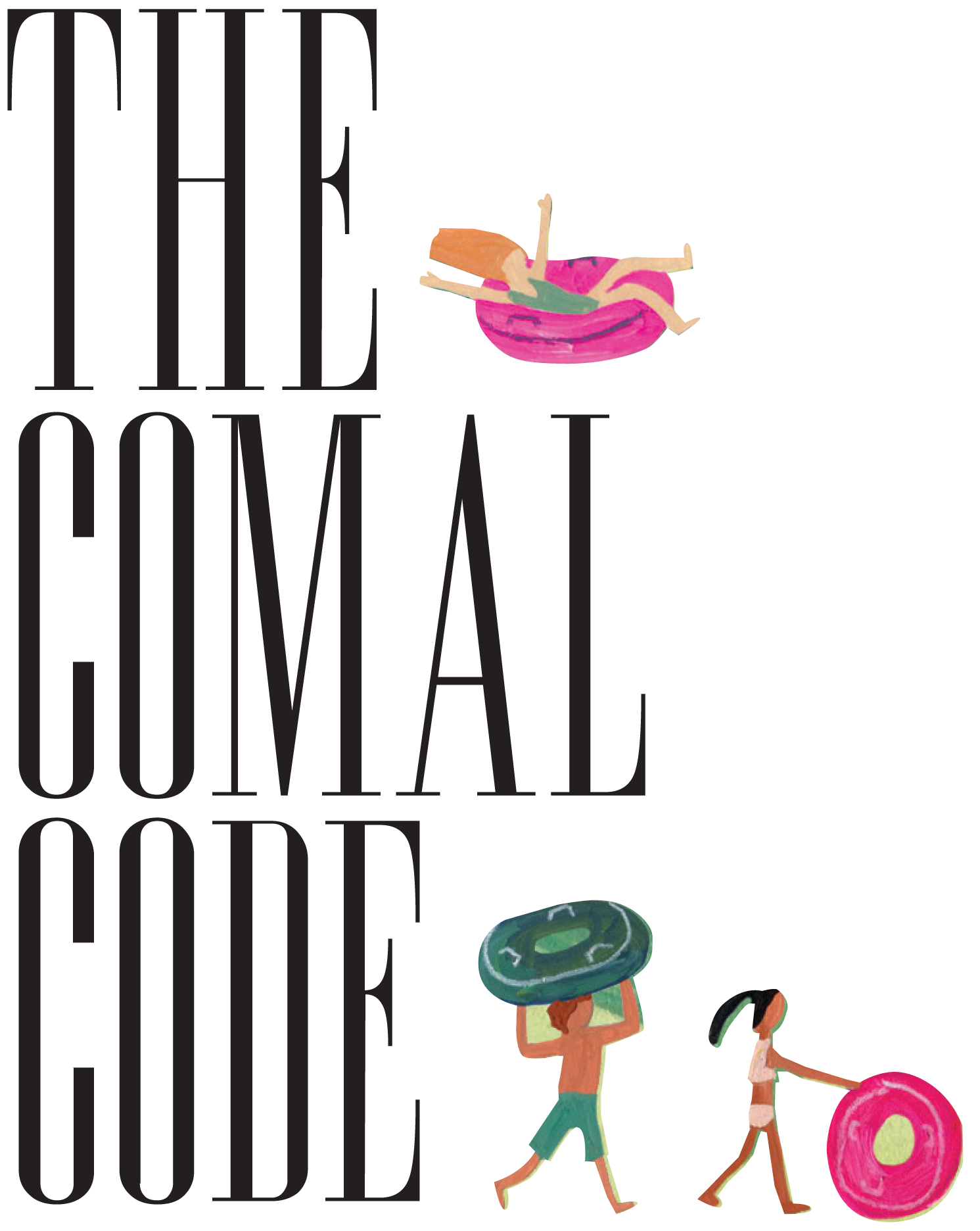 10 rules of the river every tuber must follow
DON'T bring glass, foam, or disposable containers.
DON'T litter.
DON'T bring volume-drinking devices, like beer bongs.
DON'T jump from bridges, dams, or trees into the Comal River.
DON'T bring more than two tubes per person. (You can also rent tubes from one of the many river outfitters.)
DO bring lifejackets for weak swimmers and children under 8. (Personal flotation devices are provided to Comal River tubers for free with a deposit at the New Braunfels City Tube Chute or other river outfitters.)
DO leave containers under 5 fluid ounces at home.
DO ensure noise devices are not audible beyond 50 feet.
DO make sure your cooler is less than 30 quarts and has a clasp on the lid (zipper, Velcro, latch, cord). Limit one cooler per person.
DO make sure round inflatable tubes are less than 5 feet in diameter.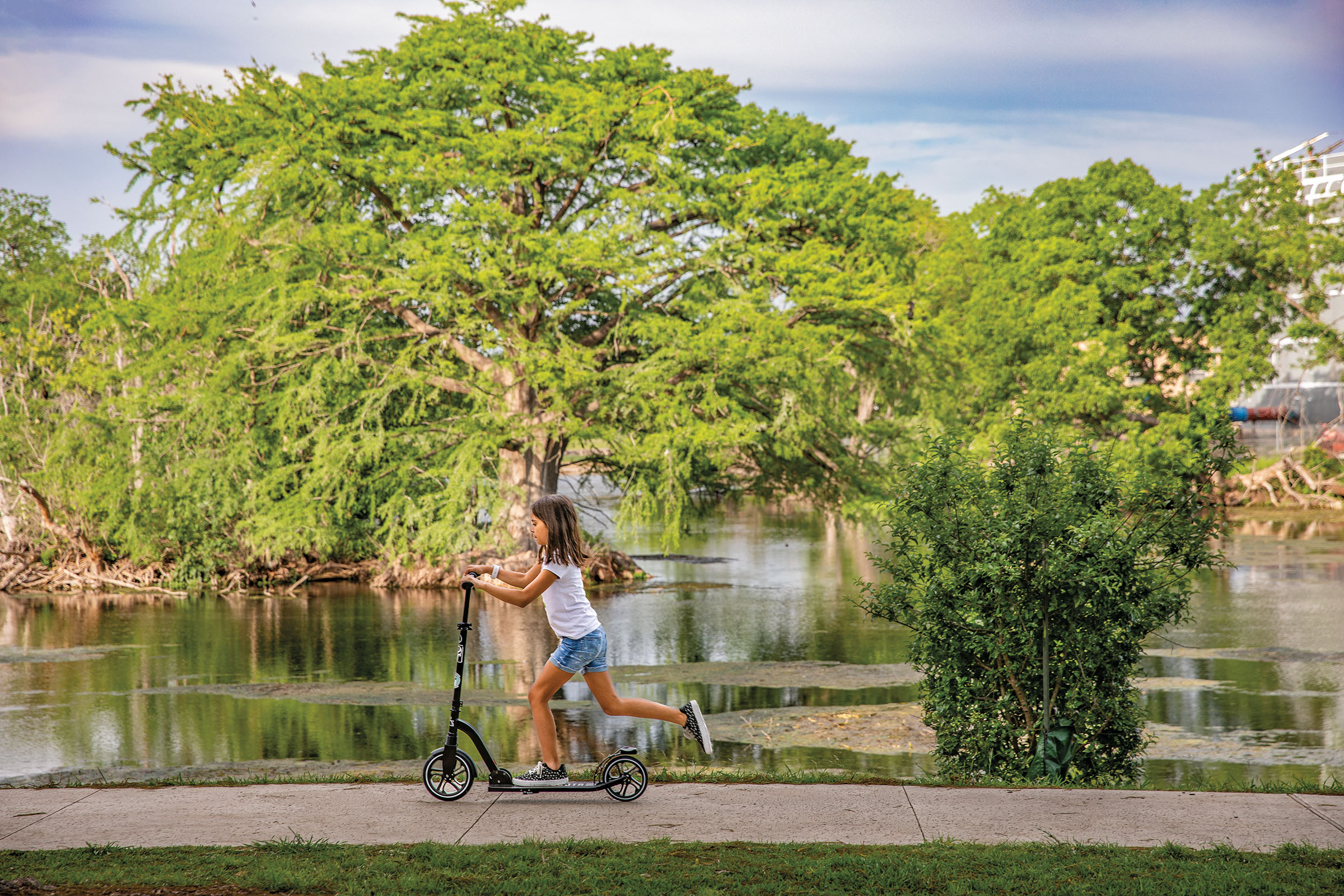 Pappas walks me across an asphalt lot fronting Klingemann Street where it intersects with Lakeview Boulevard. We continue down a crushed granite trail through lush native grasses and waving reeds to a vernal pool at the edge of the savanna.
"The first pool channels through swales," she explains, gazing beyond the pool. "The borderline is literally here. This crease is where the coastal plains end and the Balcones Escarpment begins."
She adds that the site was the original water plant for New Braunfels. "This was swamp, they called it," she says. "So many people don't know these headwaters exist."
The walking trails, display gardens, and natural spring overlooks are part of a $23 million restoration that will also include outdoor classrooms, wastewater treatment wetlands, and composting facilities. Yet to come is the transformation of the on-site buildings into an interpretive center recreating the Edwards Aquifer to show how springs, groundwater, and karst topography, such as caves and sinkholes, interact.
Documentation of the habitat and archeological digs is ongoing. "We have a good citizen science group at the headwaters," Pappas says. "They've identified 1,100 species of plants, birds, and insects. This is a really biodiverse environment."
A month later, I meet Melissa Welch-Lamoreaux, a communications specialist who works with the New Braunfels Convention and Visitors Bureau, in a parking lot near the Landa Falls tube rentals. It's a beautiful late-November day with clear skies and temps climbing into the mid-70s. I brought my short sit-on-top kayak while Welch-Lamoreaux has her stand-up paddleboard.
"This looks about perfect," she says as we haul our crafts to the river. We have the Comal practically to ourselves. For an hour and a half, we paddle and talk all the way to the confluence with the Guadalupe. When I ask Welch-Lamoreaux if a love of paddling or tubing was a requirement for her job, she laughs. "No, I just got lucky," she says. "I love this water."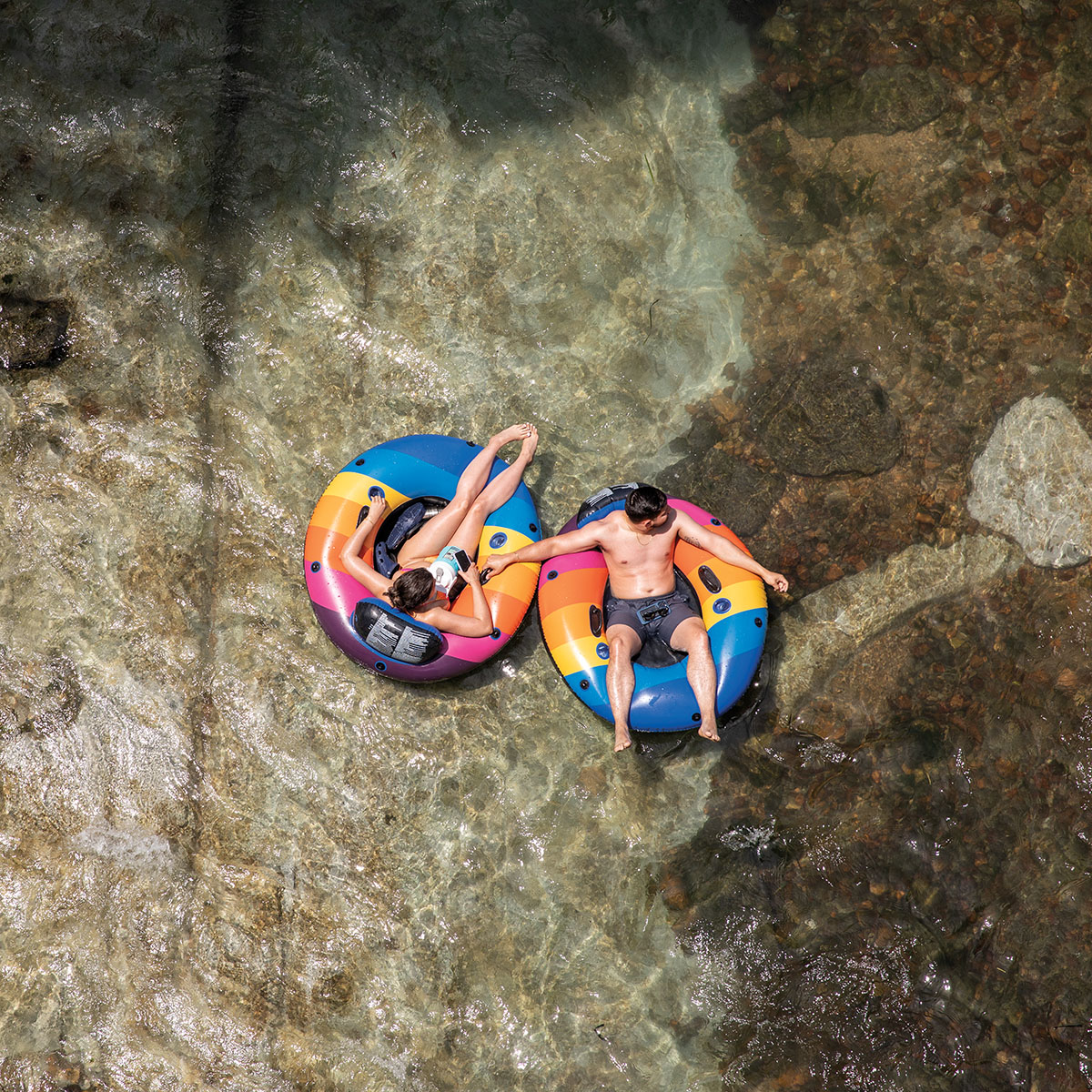 We portage around the Tube Chute, where boats are not allowed. Carrying our watercraft on the sidewalk by the chute, Welch-Lamoreaux runs into two friends. The three locals discuss their strategies for dealing with Comal crowds: leave by noon on summer weekends or only visit on weekdays.
When we reach the confluence, Welch-Lamoreaux makes another introduction. "Meet Hank," she says as we paddle toward a tangle of brush on the opposite bank, where a great blue heron stands sentinel on a small promontory. "He's here all the time."
Even on extra-crowded summer weekends.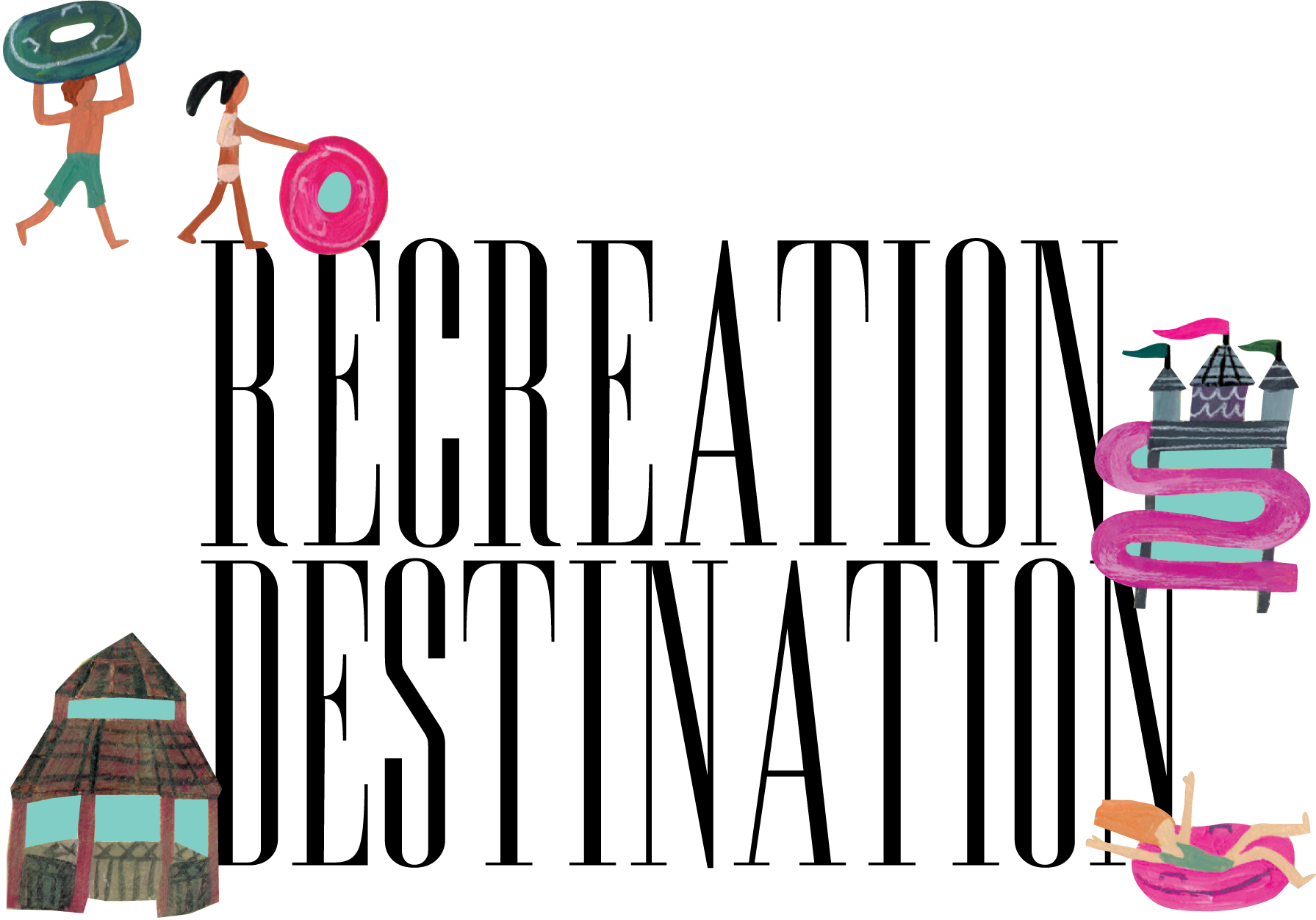 New Braunfels has welcomed tourists to the Comal and its environs for more than a century
1845 – Prince Carl Solms from Germany settles New Braunfels. He chooses the site for its proximity to the Comal River.
1881 – Banker William Clemens constructs the Clemens Dam, adjacent to the present-day Tube Chute, for a cotton textile mill that never comes to fruition.
1898 – Henry Landa establishes Landa's Park near downtown. Now called Landa Park, the beloved city park comprises 196 acres.
nbtexas.org
1910 – Professor F.E. Giesecke, who taught architecture at Texas A&M, buys more than 60 acres to establish a summer school for incoming college students.
1918 – With 56 acres purchased from Giesecke, Otto and Martha Warnecke establish Camp Warnecke. Tubing is a popular pastime at the family resort, which is featured in Life magazine in 1951.
1925 – New Braunfels holds a Venetian Carnival with decorated boats on Landa Lake. The carnival draws roughly 20,000 people and repeats in 1926 for the final time.
1950s – Bucky Warwick organizes the first Aquacade for the Miss Texas Pageant held in Landa Park's spring-fed pool.
1961 – Ed Grist, the city meat inspector, creates Wurstfest to honor sausage. Six years later, the booming 10-day fest moves to Wursthalle in Landa Park. wurstfest.com
1976 – The city builds the Tube Chute, which is still popular with tubers almost 50 years later.
nbtexas.org
1979 – Bob Henry and his family build four waterslides descending from a faux German castle and call it Schlitterbahn. The park, now owned by the Cedar Fair Entertainment Company, has won Amusement Today's Golden Ticket Award for Best Waterpark for 24 consecutive years.
schlitterbahn.com
1997 – The San Antonio Express-News reports that tubers are forgoing the Guadalupe River, which is swelling due to rain­, and heading to the Comal River—leading to a boom for local business owners.
From the July 2023 issue