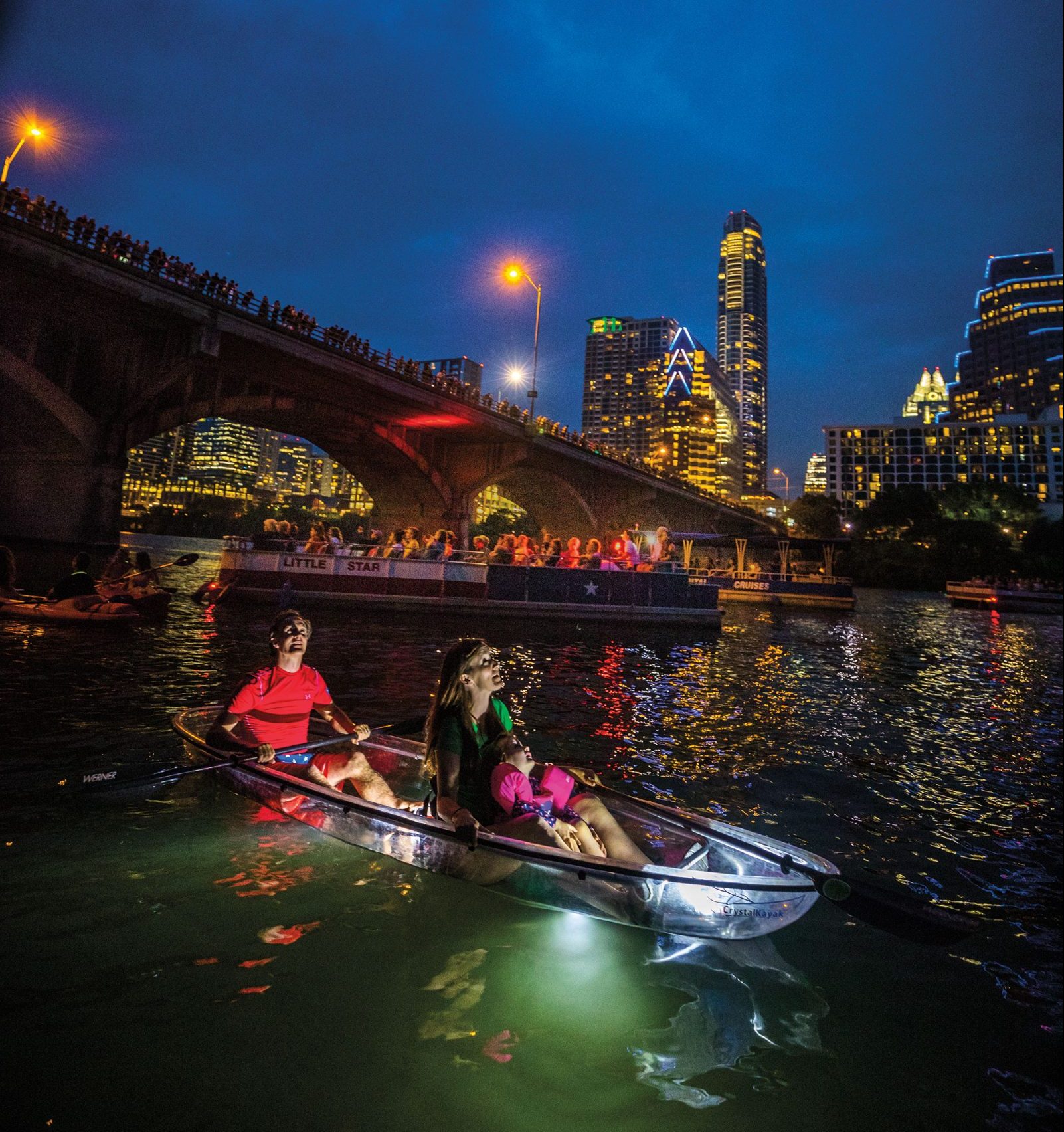 "What do you think about checking out the bats?"
My college friend, Susan, and her daughter, Gia, were meeting my family in Austin for the weekend. We wanted what most families hope to find during a Central Texas getaway: a little bit of adventure, a lot of fun, and a minimum of whining. Watching the world's largest urban bat colony emerge from their roost inside the Ann W. Richards Congress Avenue Bridge at sundown seemed promising—if we did it the right way.
Each evening between late February and late October, as the sun hits the horizon line, experts estimate that somewhere between 750,000 and 1.5 million Mexican free-tailed bats leave the nooks and crannies of this downtown bridge's interior to go a-hunting. And each evening over that same eight-month span, hundreds of people line the bridge's walkway, as well as any open spaces nearby, to take it all in. Most locals suggest claiming space hours before sunset in order to get a good view. But a few hours in the hot sun with nothing to do but wait? That seemed like a situation that would violate all three of our family getaway hopes fairly quickly.
Live Love Paddle

1610 E. Riverside Drive in Austin
Opens Mon-Sun, 10 a.m.-6 p.m.

Congress Avenue Bridge Bat Tour tickets are $45 per person.
512-804-2122
livelovepaddle.com
Instead, we decided to book a Congress Avenue Bridge Bat Tour with Live Love Paddle, a family-owned watercraft rental shop specializing in urban adventures on Lady Bird Lake. Beverley Vick, who co-owns the operation with her husband, Casey Vick, says it offers families a chance to view the bats from a "cooler perspective."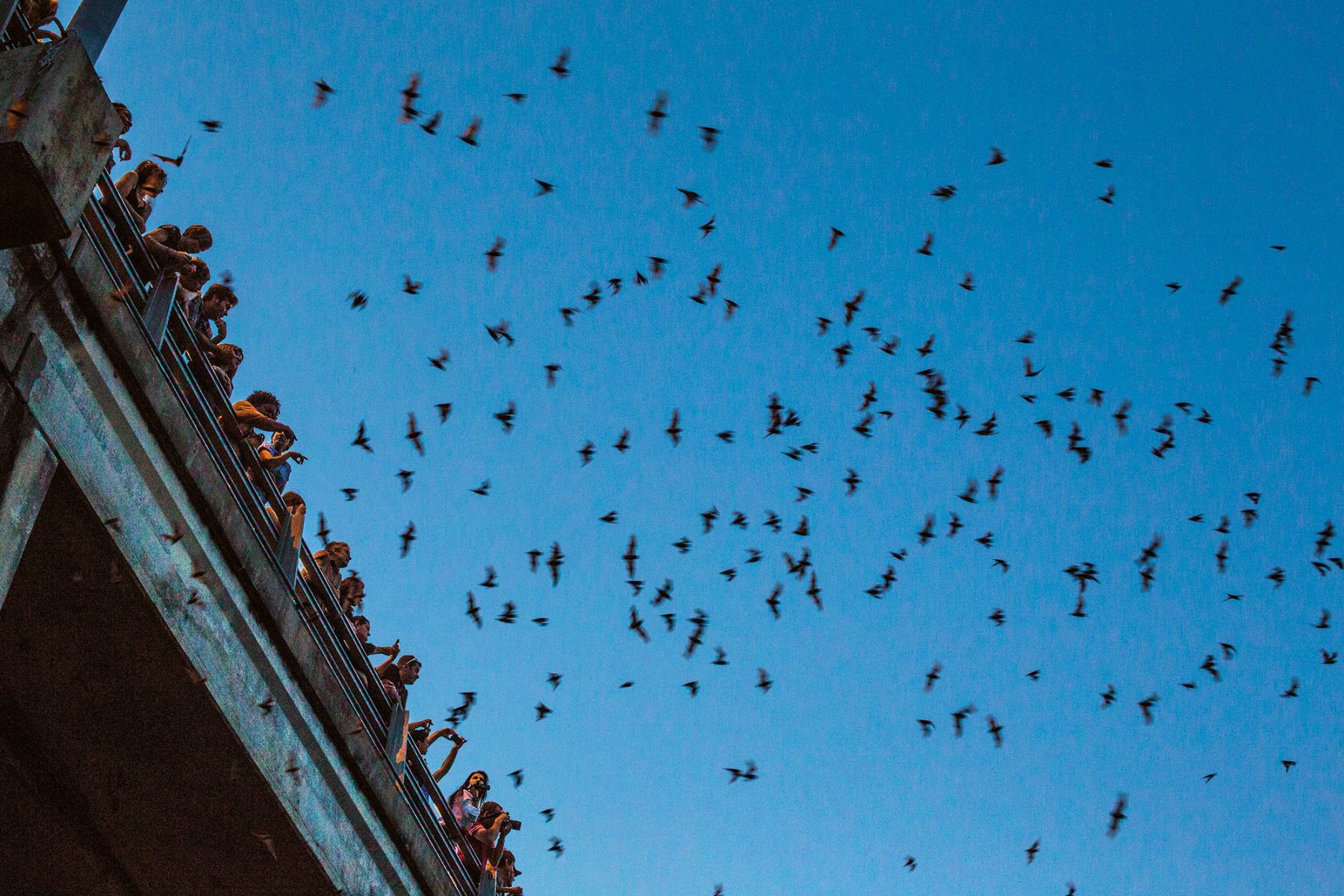 "When you're on the water, you have a great view. You're agile and mobile, too—in the kayak, you can maneuver yourself to the place where you can get the best look," she said.
The next week, our motley crew of six adults and two children made our way to Live Love Paddle's Riverside Drive storefront. There, our tour guide, Dan Bowen, helped us get set up with our kayaks—double models for those of us schlepping the kids—as well as our paddles, dry bags, and personal flotation devices.
"We'll be kayaking about a mile to the Congress Avenue Bridge, and then we'll wait for the bats to come out. It will take about 25 minutes," Dan said. "You may have seen on our webpage that the bats can sometimes poop on you. This is true. However, they are much more likely to pee on you. So I recommend a hat and that, no matter how amazing you find the bats as they make their way out from under the bridge, you make sure to keep your mouth closed as you are looking up at them."
As we paddled our way toward the bridge, the sun was starting to get low in the sky. When we passed beneath Interstate 35, Dan pointed out some of the signature buildings that make up the Austin skyline.
"That one looks like an evil ice lair," said my son, Chet, pointing to the Frost Bank Tower. I couldn't help but agree.
Once we reached Congress Avenue, Dan told us a little more about the bridge's famous bat colony. "This is a mostly female colony originally from Mexico. They come up here while pregnant and then have their babies in the bridge," he said. "They come out when the sun goes down to eat, flying hundreds of meters above the ground to catch moths, mosquitoes, and other insects. In fact, they can eat more than 10,000 pounds of pests each night—flying even as far away as the coast to get them."
The kids, who'd been doused with insect repellent before we left shore, seemed to appreciate this fact.
"When you're on the water, you have a great view. You're agile too—in the kayak, you can maneuver yourself to the place where you can get the best look."
Facing the bridge, we heard the stramash before we saw anything: a telltale muttering of chirps and flapping wings. In a flash, the first whirling dervish of black-winged creatures escaped from the underside of the bridge. They moved en masse, a swirling twister of hungry beings in search of buzzing victuals. Chet gaped at the spectacle with his mouth wide open, all warnings about being hit with bat urine now forgotten.
For the next 20 minutes, we watched as the flocks of murmuring bats made their way into the dusky night. Then, having maxed the kids' attention spans, we made our way back to Live Love Paddle's HQ, taking in the sky as it transformed into gorgeous hues of pink and orange.
"I didn't think I would ever like bats, but I do now," Gia said as we climbed out of the kayaks.
"They were really cool," Chet said."I wonder where they all are now."
As we listened to them discuss how far the bats might have gotten, Susan and I smiled. A little bit of adventure, a lot of fun, and a minimum of whining. The trifecta of family outing requirements had been met–and then some.
From the July 2019 issue