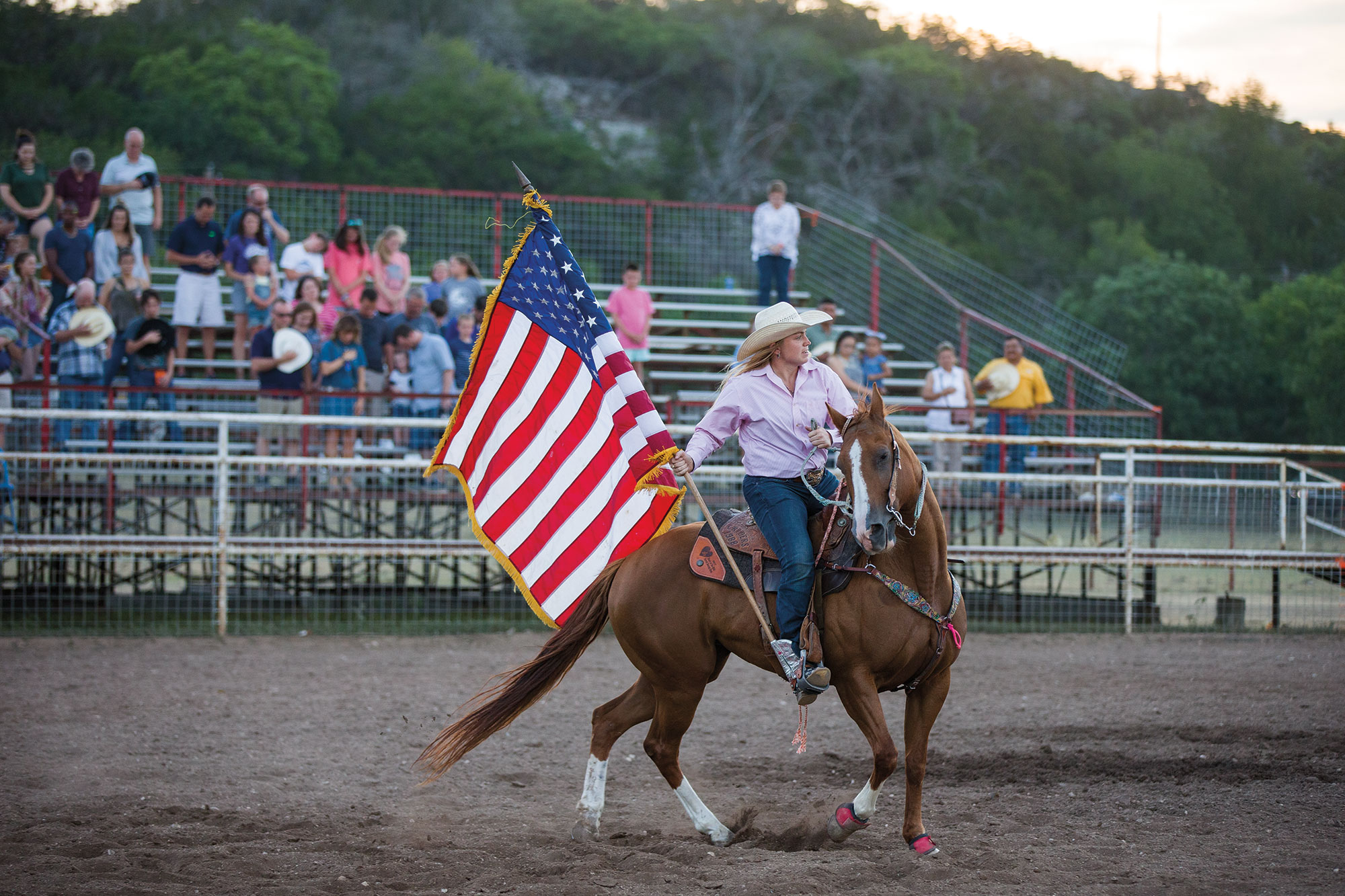 On summer weekends, Crider's Rodeo and Dancehall springs to life on the banks of the south fork of the Guadalupe River, where locals and vacationers return time and again to watch cowboy competitions and boot-scoot to live music under a canopy of stars.
The down-home, open-air entertainment venue on the outskirts of Hunt got its start in 1925 when Walter and Audrey Crider hosted a rodeo, dance, and barbecue fundraiser to support the local school. The event proved so popular it was reprised the following year, then on a weekly basis throughout the summer by the late 1940s. Over the subsequent decades, the small-town attraction has grown and gained a statewide following.
Crider's Rodeo and Dancehall

2310 State Highway 39, Hunt
830-238-4441
cridersrandd.com
"Everyone needs a place to come home to," says Tracy Moore, who runs Crider's café and dancehall in Hunt, a town that has been one of the most popular vacation and summer camp spots in the Hill Country since the 1920s.
At dusk on Saturdays from Memorial Day through Labor Day, visitors stream into the bleachers of Crider's brightly lit arena. On the sidelines, rodeo competitors saddle their mounts, and lowing livestock huddle in steel pens. As the sun dips over the horizon, the crowd stands for the national anthem, and the competitions begin. Cowboys test their endurance on bucking bulls. Teams of ropers race to capture runaway calves. Cowgirls on horseback tear around barrels at breakneck speed. And young cowpokes compete to ride bucking ponies, or, in the case of the "Junior Bull Riding" event, miniature zebu cattle.
The youngest aspirants can attempt "mutton bustin'"—holding on tight on the woolly back of a sheep while it streaks across the arena. And any child age 12 and younger can try to win a modest cash prize in the calf scramble, a riotous melee of kids and calves running wildly in all directions.
Dakota Moore, the 25-year-old great-grandson of Walter and Audrey Crider, started helping out at the rodeo when he was only 6. He almost literally got roped into the job. "When I was old enough to move gates and cut cows, I was out there," he confirms.
In 2017, Dakota took over management of the rodeo from his father, Bill Moore. He's just the latest in a long line of Crider family descendants to keep the business going.
Dakota's mother, Tracy Moore, runs the adjacent café, which serves up cheeseburgers, barbecue sandwiches, tacos, corn dogs, and Frito pie along with beer and other beverages to wash it all down. On Fridays in the summer, the café also hosts a catfish dinner with all the fixings: okra gumbo, coleslaw, beans, and hushpuppies. The only break in Crider's long history came when the café caught fire in 1993, shutting down operations for a couple of months. Its new metal building offers indoor seating (plus pool tables, air hockey, and a jukebox) for those who have had enough of the great outdoors.
The décor is decidedly Western: tack, tools, and taxidermy cover the walls. But the more popular option is to grab a seat outside at one of the wooden picnic tables that surround the dance floor. Here, you can dig into a pile of fried pickles and sip on a longneck while enjoying the sprawling live oaks illuminated by strings of lights, the murmur of the river passing close by, and fireflies pulsing in the night.
After the rodeo, people flood over from the arena to attend the dance. A raised bandstand opposite the café hosts live musical acts—some up and coming, others well known. Even legends like Bob Wills and Willie Nelson have graced the stage. A couple of decades ago, Tracy took over booking the talent from her husband's family, including his grandmother, who in the 1960s had relegated Nelson to playing only on weekday nights. "She didn't think he was that good," she chuckles. In recent years, Tracy has sought out emerging musicians as well as big draws like Gary P. Nunn, who will play June 29.
"It doesn't change….As we grow up, get married, and have kids of our own, we can come back and it's still the same. Whatever else is going on in the world, there's always Crider's."
The dance floor, designated by a red circle painted on the cement patio, is usually packed with two-stepping couples. "We have an age range from 6 months to 90 years old," Tracy says. "We have families who have been coming for three generations. This is a friendly, welcoming place. People from all over the world come here, and they're just like part of the family." On the crowded floor, you can find retirees gliding around in a practiced groove; mothers teaching sons to lead; fathers dipping daughters; and teenage girls dancing with each other.
Elizabeth McClung was once one of those teenagers. Now in her early 30s, she has been coming to Crider's since she was about 5. "I've only missed a few years in between," she brags.
McClung lives in the Houston area but continues to make an annual trek to Hunt. "My extended family has been going to Crider's every summer for as long as I can remember," McClung says. "The appeal is that it doesn't change… It is wholesome fun for the whole family. As we grow up, get married, and have kids of our own, we can come back and it's still the same. Whatever else is going on in the world, there's always Crider's."
Rodeos start at 8 p.m. Saturday nights Memorial Day-Labor Day; rodeo $7, dance $10, combo ticket $15 (discounts for children and seniors; prices may differ for special events) .
From the May 2019 issue