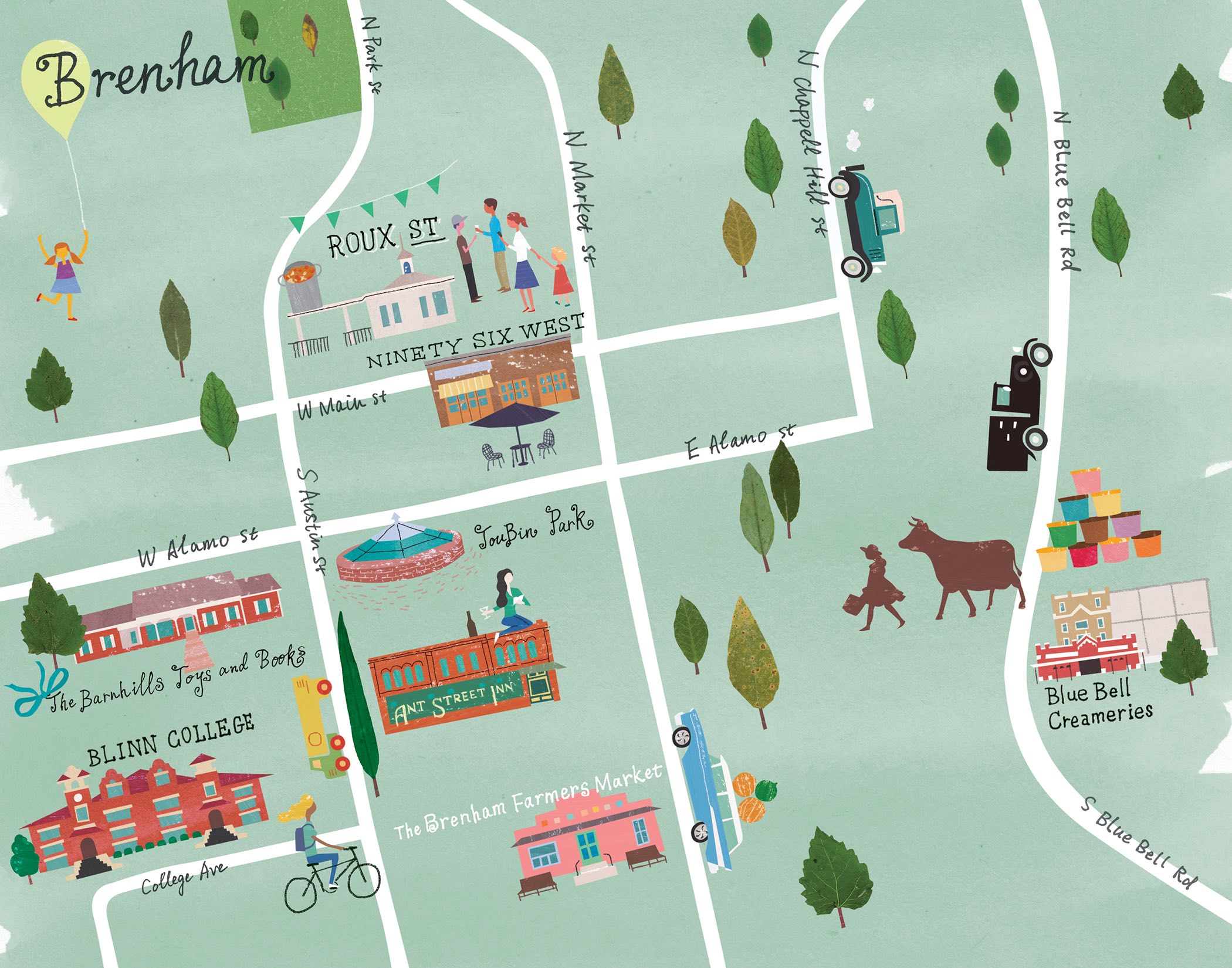 There aren't enough synonyms for "quaint" in describing Brenham, that rare landlocked town that feels like it should have a lighthouse. Arranged around an Art Deco courthouse which, built in 1939, is one of the newer buildings downtown, Brenham keeps history in its place.
Visit Brenham

For information, contact the Brenham/Washington County Visitor Center at 115 W. Main St.

Call 888-273-6426
visitbrenhamtexas.com
Once best known as the halfway point between Austin and Houston on US 290, this town of 17,000 on the Brazos River has increasingly become a destination in its own right with restaurants, shopping, wineries, sightseeing, bed-and-breakfast inns, and a vibe that mixes progressive attitudes with small-town charm.
There's much more to Brenham than bluebonnets and Blue Bell ice cream, though the former makes Washington County a spectacular springtime drive; and the latter's creamery is still the favorite stop for tourists, who can watch dairy become an addictive dessert from an observation deck, then sample the product.
The streets are clean and the buildings well-kept, which 46-year resident Betsy Barnhill Newman, who sells old-fashioned playthings at the fabulous Barnhill House Toys and Books, attributes to "a heavy German influence. We like to take care of things." In the 2010 Census, a quarter of residents claimed German ancestry. Before Europeans started immigrating to the area en masse in the mid-1800s, Washington County became "the birthplace of Texas," with the declaration of independence from Mexico drafted here in March 1836 and signed by Sam Houston and the other delegates.
Brenham is also home to Blinn College, whose 2009 Buccaneers, led by quarterback Cam Newton, were the most recent Texas college team to win a national football championship—albeit on the junior college level. Home games are only $5, which includes performances by the award-winning cheer and dance squads.
Add top-rated barbecue to Brenham's Killer B list (bluebonnets, Blue Bell, Brazos, Blinn, birthplace, bed-and-breakfasts). Newer smokehouses Truth and LJ's have joined Nathan's BBQ to get 'cue heads coming from miles around to wait in lines for barky brisket, succulent sausage, and ribs barely clinging to the bone. Watch out, Lockhart.
Great barbecue is pretty much expected in a rural Central Texas county where cattle outnumber humans roughly 61,000 to 34,000, according to the 2012 USDA Census of Agriculture. What sets the Brenham culinary scene apart is the diversity of good restaurants in such a small downtown area. Tapas fusion eatery Ninety Six West has been the automatic "best place for dinner" in Brenham since opening on the town square in 2015, but there's been some heavy competition from a couple of new Brenhamians. The Chilean sea bass topped with shrimp from cool Latin joint Las Americas can't be beat; over at Roux Street, you can eat some gumbo and shrimp po-boys out in the open air and feel like you're on the border of Louisiana. Just as hot salsa music makes the food taste more authentic at Las Americas (which also serves a fantastic Cuban sandwich), Roux Street is down for that Cajun string music and N'awlins funk.
Music also plays a big part at the 36-year-old Must Be Heaven sandwich/ice cream shop, which blasts oldies in keeping with its nostalgic, checkered-floor vibe. If the line's too long (or if Frankie Valli's falsetto is making you crazy) head over to Yumm! Sweets and Eats, which serves tasty pizza and also has an ice cream parlor. For exceptional, moderately priced Italian fare, there's Volare.
Explore Brenham
We asked locals for more dining options, and Jimbo Hafner, whose Silver Wings Ballroom hosts roller skating and live country music on weekends, also recommends Santa Fe and S.P. Cafe, a cash-only comfort food diner with frog legs on the menu. Keith Hankins, owner of the Ant Street Inn, says you can't go wrong with BT's Longhorn Steakhouse, located in an 1886 building renovated by owner Tommy Traylor. (Full disclosure: Traylor also resuscitated the uniquely charming 15-room Ant Street Inn in 1995 and sold it to Keith and Suzy Hankins in 2012.) The oil paintings of nude women in the downstairs men's room of the inn was Traylor's idea. "He wanted to re-create the feel of an 1870s saloon," Hankins says, "and found that nude paintings were on the walls back then." Traylor's original plan was to spread the paintings throughout the inn, but his wife wasn't a fan of that idea and restricted the nudes to the men's room. The Ant Street Inn, which names each room after the city where the vintage bed was bought, houses the Brenham Grill, a great place for breakfast (as are Smitty's and Dumas Walker Café).
There are lots of places to go for a digestive stroll, but the best starting point is Toubin Park, which tells the history of Brenham through illustrated placards and includes one of the town's original cisterns, built to gather rainwater for fighting fires after an entire city block burned down in 1866. The informational park is behind Today and Yesterday antiques store, which has a bit of living history if you believe in ghosts. Built in 1872 as an opera house, one phantom remains and has been seen by customers and owner Bebe Hayward, who thinks the apparition was freed from the walls during a 1995 interior gutting.
Across the street is the Book Nook, a place to get lost in its six rooms and a hallway packed with used and new books. Other shopping options downtown include Bluebird Off the Square, which offers antiques and newer gifts, the women's boho-tique Canyon Chick, and the Back Lot Gallery for local art. Glissman's Pharmacy has a museum re-creation of a 1920s drugstore in the back, with authentic medicines, bottles, and medical instruments.
Brenham is limited when it comes to live music, but Home Sweet Farms, that rare farmers market with over 20 beers on draft, is filling the niche with a funky beer-garden scene. Opened by organic farmers Brad and Jenny Stufflebeam, this is a dog-friendly place for aficionados of gourmet cheese, hand-rolled cigars, and craft beer, including Mama Tried IPA from Brenham's own Brazos Valley Brewery.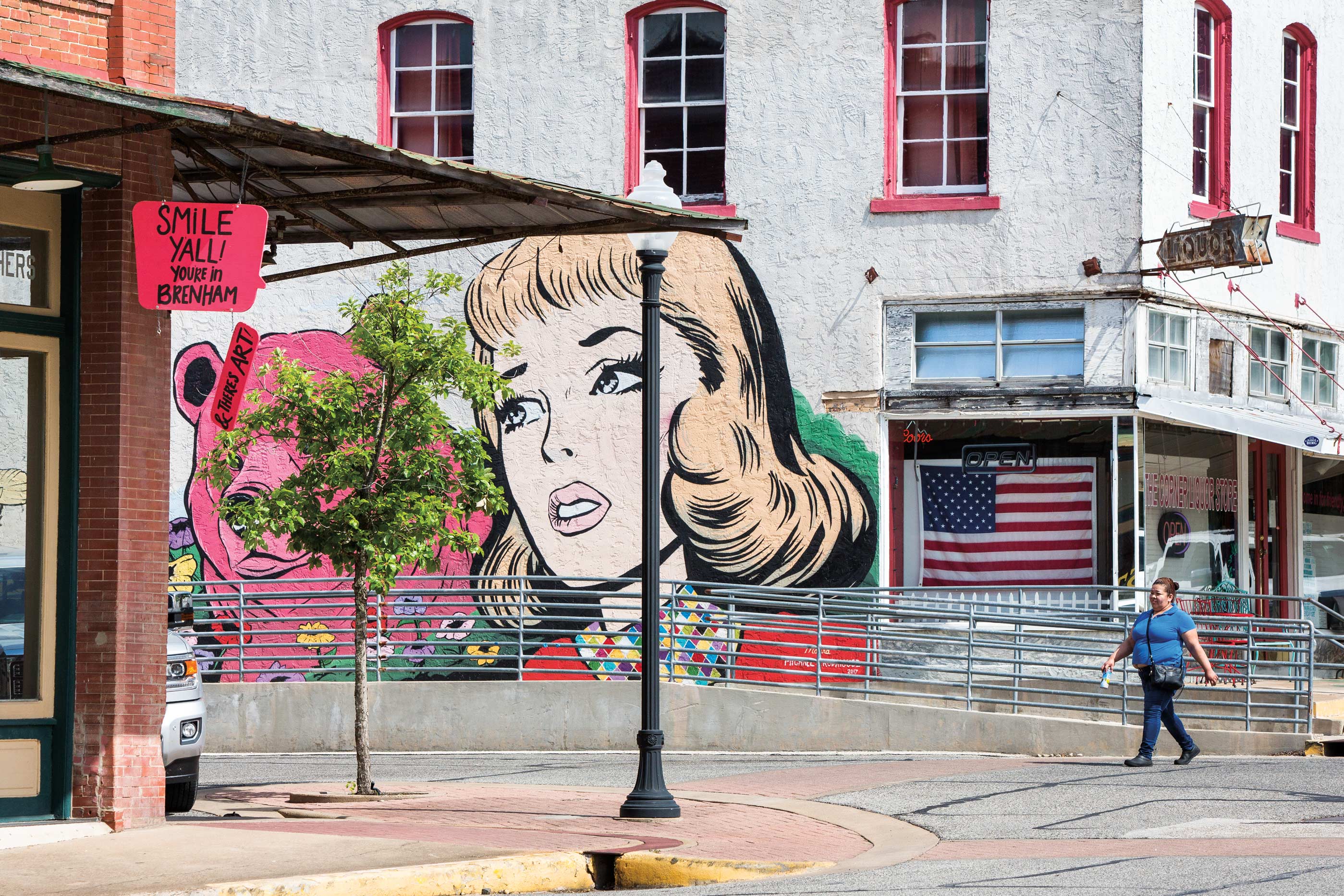 So many cool things so close together, but then you can get in your car for a 20-minute drive to the Washington-on-the-Brazos State Historical Site, the aforementioned birthplace of the Texas republic. Blinn runs the Star of the Republic Museum next to the visitor's center, concentrating on the decade from 1836 to 1846 when Texas was its own country. The park's Barrington Living History Farm takes you to the former home of Anson Jones, the last president of Texas, whose post-Republic life as a farmer is reconstructed with costumed staffers doing old-time chores with vintage equipment and period livestock. Also in Washington, if you've got some time and even more money, is the Inn at Dos Brisas, the only five-star restaurant in Texas, according to Forbes Magazine.
Home gardeners will want to take the 12-mile trek from Brenham to the Antique Rose Emporium, an 8-acre retail garden in Independence that not only sells American Beauty and Pioneer roses, but native plants, perennials, and herbs.
With its proximity to the high-falutin' mecca of Round Top—whose thrice-yearly Antiques Fair and year-round classical musical institute draws folks from all over North America—Brenham's surrounding area has become the Hamptons of Texas, where the rich keep their weekend getaway homes. The connection between Brenham and Round Top, 23 miles away, was made official when the wildly popular Royers Round Top Cafe, where "if you have a reservation, you're in the wrong place," announced plans to open a Brenham location this year.
Though the area's new farmhouses are more likely to be seen in Architectural Digest than Country Living magazine, visitors can still find a slice of unchanged Texas at the oldest county fair in the state, which celebrates 150 years at the Washington County Fairgrounds Sept. 14-22. Texas country superstars Robert Earl Keen and the Randy Rogers Band are headlining the event, plus there are polka bands that go back to the roots of a town both modern and nostalgic.
From the September 2018 issue