Growing up a summer camp fanatic myself, I can confidently say nothing compares to the feeling of reuniting with your camp friends after a long year apart, returning to your home-away-from home and your favorite camp rituals. I'll never forget spending those summer weeks in heat-filled cabins, learning how to be independent while still getting to be a kid. It's a rite of passage for many kids in Texas.
The Texas Hill Country has been the home of numerous summer camps for decades. Many of them lie on the banks of the refreshing Guadalupe River. One of them, Camp Rio Vista for Boys, turns 100 this summer, making it the oldest summer camp in Texas.
Established in 1921, Camp Rio Vista was the brainchild of Herbert Crate, former CEO of the Houston YMCA, who bought 1000 acres of Guadalupe riverfront property between Hunt and Ingram. Interesting to note, at the time of opening his camp, Crate was neighbors with the Butt family, who owned C.C. Butt Grocery Store in Kerrville which later became H-E-B. (Howard E. Butt and his wife, Mary Elizabeth Holdsworth, would eventually establish their own Hill Country camps, starting in 1954.)
According to a Houston Post article from Aug. 31, 1924, 13 boys attended Rio Vista's first year. They had cabin inspections, enjoyed books in the camp library, listened to visitor talks on character development, and took riverside hikes—complete with toasting marshmallows over a campfire.
By summer 1922, the camp added wooden cabins, a clay tennis court, and a large floating platform on the river with a high dive. All of the cooking was done over a fire, and the boys ate outside under a wooden structure. In that Houston Post article, the camp was described as being "bounded on every side by high mountains, and fanned by a delightful breeze through the valley, only health and a dark tan can result."
The campers of the 1920s participated in caving, tennis, track, boxing, baseball and donkey polo, which is polo with donkeys instead of horses. A dining hall, which is currently the oldest building on the grounds, came along in 1927.
With the Great Depression, polio outbreaks, and the 1932 flood of Kerr County that left only the dining hall standing, the 1930s proved a tough decade for Camp Rio Vista and the Crate family. In 1936, Crate sold the camp to George and Carlotta Broun, a couple from Kerrville who ran it as a private family camp while rebuilding the cabins, which stand to this day.
The Brouns welcomed the public back to the camp in the early 1940s, even running the camp in 1941 despite a lack of young men to serve as counselors due to World War II. During this era, activities included motorboating, horseback riding, riflery, archery, hiking, arts and crafts, and the start of camp traditions such as the Mystic Dance, a dance held with the girls from nearby Camp Mystic.
In 1964, George Broun passed away and the camp soon changed hands again. Bill Stacy, a former Honor Camper, and his family purchased the camp from Broun's widow, Carlotta, in 1968; however, their leadership was short-lived, as they sold the camp by 1970.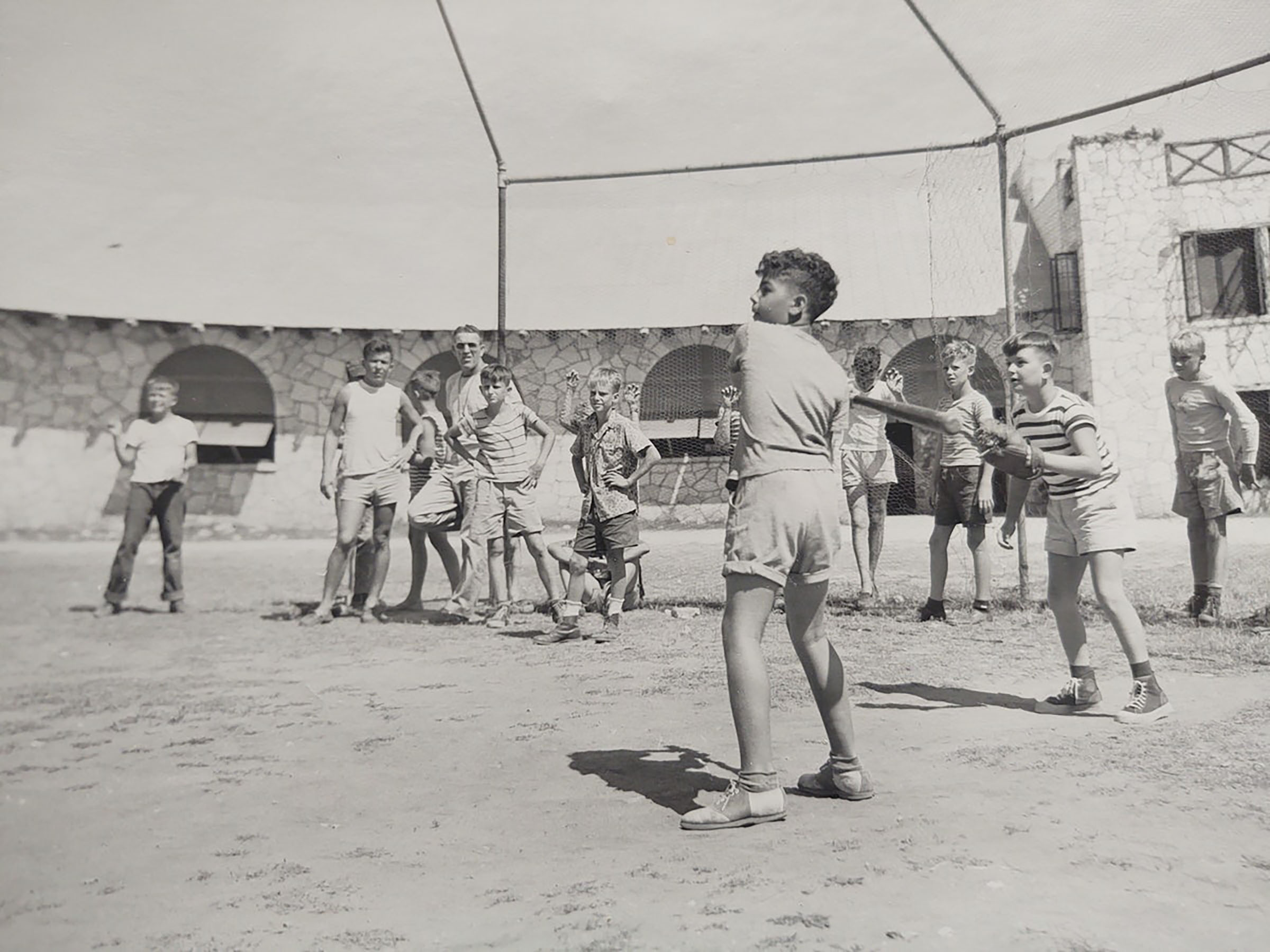 Sold and purchased multiple times during the 1970s, Camp Rio Vista finally landed in the hands of Carl and Diane Hawkins, who had previously owned the nearby Heart O' the Hills Camp for girls, in 1977. They continue to run Camp Rio Vista today.
Five years after taking over, Carl and Diane, along with their sons Johnnie and Freddie, who had become part owners and associate directors by then, started Camp Sierra Vista for girls. While it sits on the same property as Rio Vista, the two programs are run separately.
During this time, Freddie started running the program side of camp, while Johnnie was taking care of the facilities. They also raised their kids on the camp property. One of the children, Johnnie's son Justin, came back in 2004 after graduating from Texas Tech to work as the executive director of Vista Camps. He is now part-owner of Vista Camps, along with his dad.
"We have always done summer camp," Justin says about his family. "And we love it. We think summer camp nowadays is probably more important than ever because camp is one of the last few places that kids can just come and be kids."
Justin loves that kids not only have a great time at camp, but they also learn so many valuable life lessons, such as independence and friendship. Since Rio Vista has been around for so long, the Hawkins family has also had the privilege of hosting multiple generations of campers. They're now up to their fourth generation of campers, Justin says.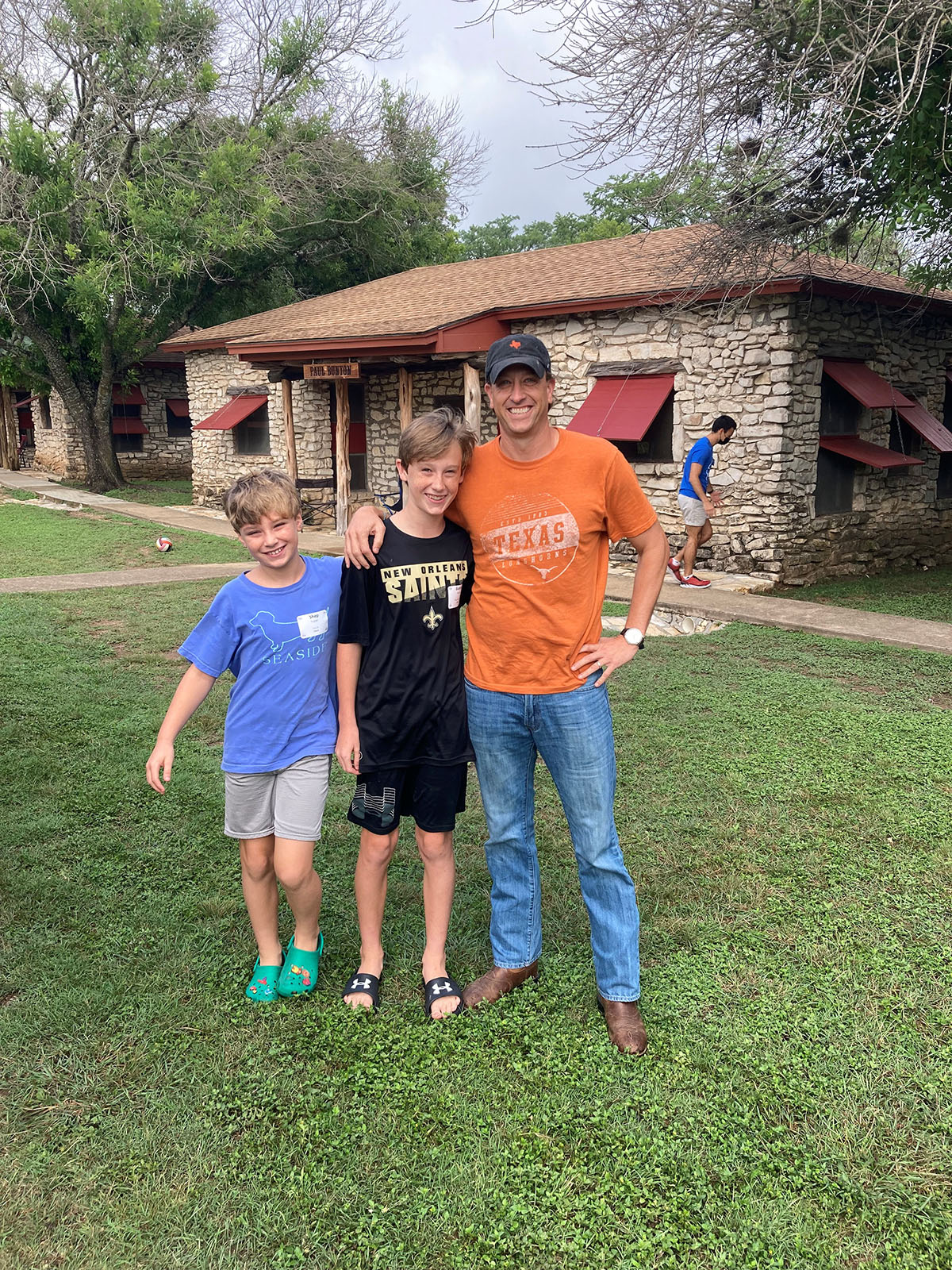 He recalls a family picking up their 6-year-old from camp, and the boy's great-grandfather coming along. "He had gone to camp here," Justin says. "It was so cool seeing him light up when he got here. He wanted to take a picture in front of his 6-year-old boy's cabin, where he had taken a picture when he was 6. There is almost a 90-year difference between these two, and it was cool seeing how excited they both were."
Many campers, like Rob Frazer, are hooked from their first experience. He spent his first summer at Rio Vista in 1987. Seven more summers followed before he came back as a counselor. In early July, Frazer dropped off his sons, Shepherd, 9, and Bobby, 14, at camp.
"It's so reassuring," Frazer says, referring to how little has changed about the camp. "Times change, but Rio Vista is just this constant haven for little boys."
Even though Frazer hasn't spent a summer at Rio Vista in a while, he always remembers how much he grew there and how much fun he had. "Even when you leave camp, you have these memories and things to talk about year-round," he says. "Now, it's something I can share with my boys. We will be watching a movie and then all of sudden start talking about camp."
Over its 100 years, the camp has welcomed roughly 40,000 boys, estimates Justin, who hopes his children share the same joy and passion he has for this camp. He also would like to see them continue the legacy one day.
"I have always loved camp," he says. "The older I get, the more I appreciate what it does for the next generation and what it does for the kids who come through here. When you think about 100 years, that's thousands of kids whose lives have been changed here."
Other Sleepaway Summer Camps in Texas
Heart O' the Hills in Hunt
Created in honor of Jo Jones, the daughter of the innkeepers of Heart O' the Hills Inn who passed away in a car accident, this all-girls camp is for ages 6 to 16. Founded in 1953, younger campers stay in the original red-roof inn while older campers stay in more traditional style cabins. 830-238-4650; hohcamp.com
Laity Lodge Youth Camp in Leakey
Founded by the Butt family, this faith-based co-ed summer camp offers campers two weeks along the beautiful Frio River Canyon. In fact, parents have to drive their car through the river to get their campers to camp on opening day. 830-315-9220; llyc.org
Camp La Junta in Hunt
Another camp that has been around since the 1920s (1928 to be exact), this all-boys camp has a deep history that shines in traditions like the ranch competition and "The Rough Riders," a two-day ranch trip the top eight horsemen in camp participate in. 830-238-4621; lajunta.com
Camp Longhorn in Burnet
Since its founding in 1939 along the Colorado River, Camp Longhorn has grown to offer three different locations for boys and girls: Inks Lake, Indian Springs, and C3 on Inks Lake. Located in Burnet, the camp is known for its most exhilarating invention: the blob, an inflatable water toy. 512-793-2811; camplonghorn.com
Camp Mystic in Hunt
A Christian camp for girls that has been around since 1962, Mystic sits on the Guadalupe River. To deal with the scorching Texas summer, campers are served Blue Bell ice cream after lunch…every single day. 830-238-4660; campmystic.com
Prude Ranch Summer Camp in Fort Davis
Since 1951, Prude Ranch has offered boys and girls the "Southwest" experience. With campers riding horses every day and getting to participate in activities like roping, riflery, and animal life, kids get a real ranch-life experience. 432-426-4406; prude-ranch.com/summer-camp/
Camp Stewart in Hunt
The brother camp to Heart O' the Hills, Camp Stewart for boys offers a wide-range of activities and special events, some of which have been traditions since its founding in 1924. In addition, once boys turn 13, they can make the camp experience their own by participating in one of the specialty programs: ranchmen, sportsmen, outdoorsmen, and campmasters. 830-238-4670; campstewart.com
Camp Waldemar in Hunt
Situated on the Guadalupe River, this Christian all girls camp has been around since 1926. With a mission of excellence in mind, one thing Waldemar is known for is its etiquette training, especially when it comes to meals. 830-238-4821; campwaldemar.com