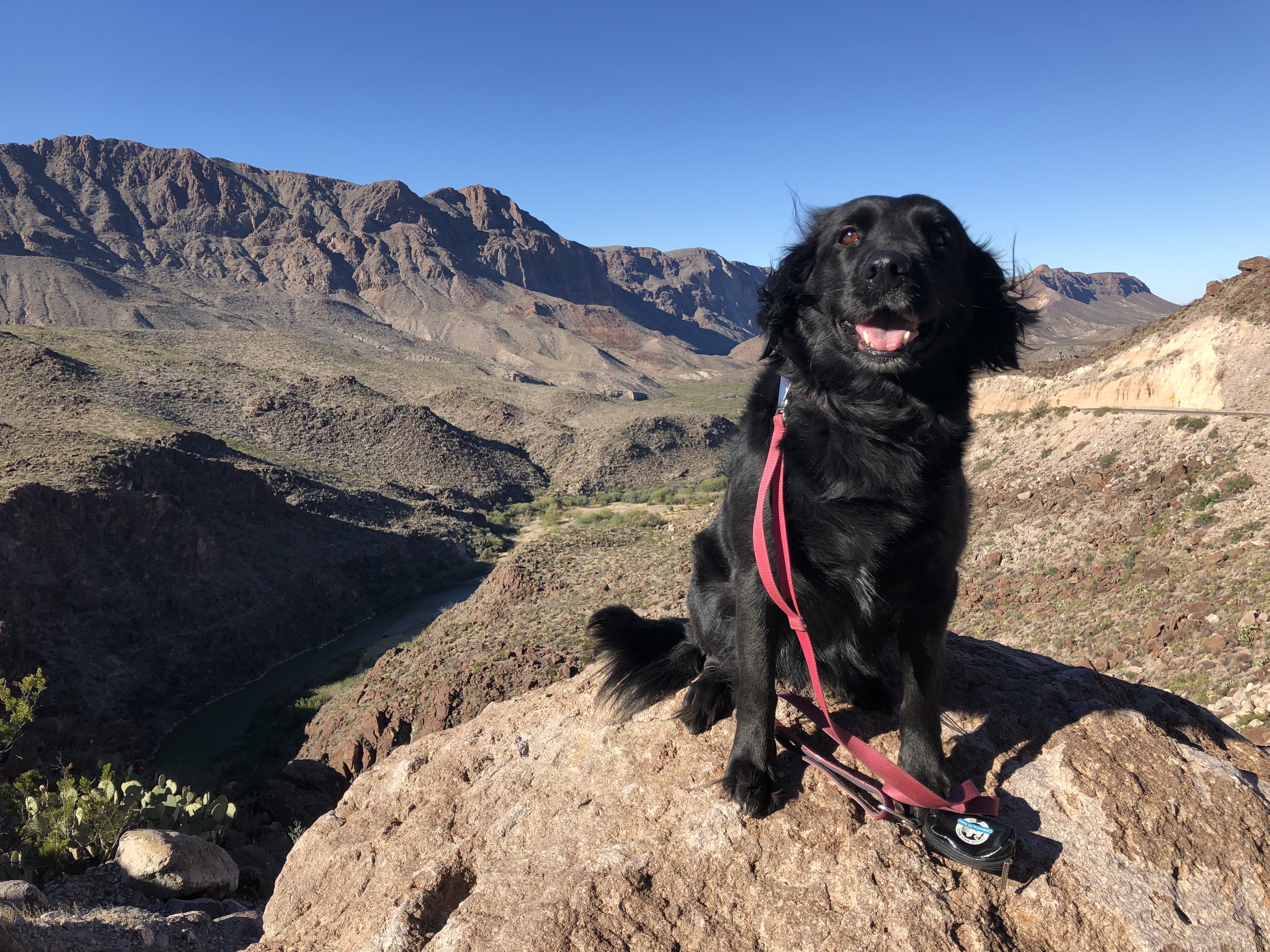 The title of "bark ranger" comes with great responsibility and even greater dedication. Lucy, my 5-year-old rescue dog, knows this better than most.
Lucy and I found each other in late 2014, about halfway through my goal to visit all 95 state parks and natural areas in Texas in one year. Over the past couple of years, we've slowly but surely played catch up on the parks she missed during my initial visits. Finally, after a swing through West Texas this past December, Lucy became the first dog to visit every state park property in our great state.
Here's a look at some of her favorite parks and my favorite memories of the journey.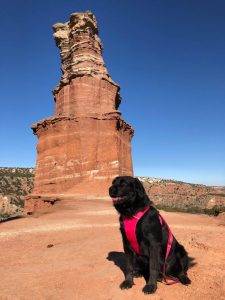 Palo Duro Canyon State Park
My family lives in Amarillo, so Lucy and I visit Palo Duro Canyon more than any other park in Texas. I would guess it's her favorite park, based off the intensity of backseat wiggles along State Highway 217 as you're heading to the gate. One particular visit always stands out. There was an overnight dusting of snow, so we got to the park as quickly as possible the next morning. I held Lucy's leash in my hand while photographing a frozen creek. Lucy had, without me noticing, walked out onto the ice—when we both heard a sudden and loud crack. Lucy looked at me with a face of pure panic, and I can only imagine she would have cursed if dogs could talk. She managed to jump the entire width of the creek in one leap, thankfully, and crisis was averted. I didn't have the heart to tell her the creek was only a few inches deep. She seemed way too proud of her heroic self-rescue.
Caprock Canyons State Park
The bison are the star attraction at Caprock Canyons, but Lucy is always more interested in the prairie dogs who also call this park home. I like to park in the middle of the road in Prairie Dog Town, assuming there's no traffic, and roll down the back windows. Lucy jolts back and forth between the windows, so eager to meet the nervous prairie dogs. I think they'd likely be friends, but the prairie dogs have zero interest in that happening.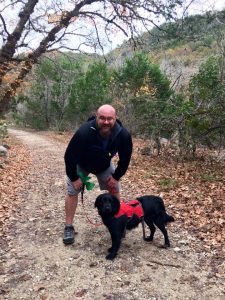 Lost Maples State Natural Area
This is the park where Lucy let me know she loves to climb rocks. We were making our way down a steep decline on the East Trail when Lucy pulled so hard on her leash that I accidentally let go. She bolted—hopping from rock to rock with precision. I called her name, and she came hopping right back up. We've since worked out a routine with steep sections of trail. She leads on the way up. I lead on the way down.
Lake Livingston State Park
Hiking with a black dog during the Texas summers presents its own challenges. So you come to appreciate parks like Lake Livingston, with its towering trees and shade along the trails. Our second visit here was Lucy's introduction to the worldwide dog community on social media. We took over the We Rate Dogs Snapchat channel during our hike, and Lucy thrilled the audience with her ability to balance a pine cone on her head.
Monahans Sandhills State Park
This was it: Lucy's 95thpark. We finished the journey to visit every park with a stop in the famous Texas sandbox, and I've never seen her react the way she did here. It was almost as if she knew this was a special day. When we were done and she jumped in the back seat, I took off her leash, as usual. Before I could shut the door, Lucy was out, which she never does. She ran back to the edge of the dunes and simply laid down with a big smile on her face. It was such a genuine reaction of joy—and one of my most favorite pictures I've ever captured.
Passersby sometimes recognize Lucy in the parks, which is always a treat. People come up and want to say hello. Rest assured, the fame hasn't gone to her head. She's still really patient when it comes to posing for pictures with fans. We also try to set a good example for other dogs and dog owners. Lucy is always on her leash in the state parks, and she always makes sure I pick up after she takes care of business on the trail.
It's been such a joy to share our beautiful state with my sweet girl. Lucy's the best travel buddy I could ever ask for. I hope you get to explore Texas with your pup, as well.
Dale Blasingame is an assistant professor of practice in the School of Journalism and Mass Communication at Texas State University and an advocate of Texas state parks. He and Lucy were featured on Texas Highways' list of Extraordinary Texans in 2016. You can follow Lucy's adventures on Instagram: @lucyandherleash