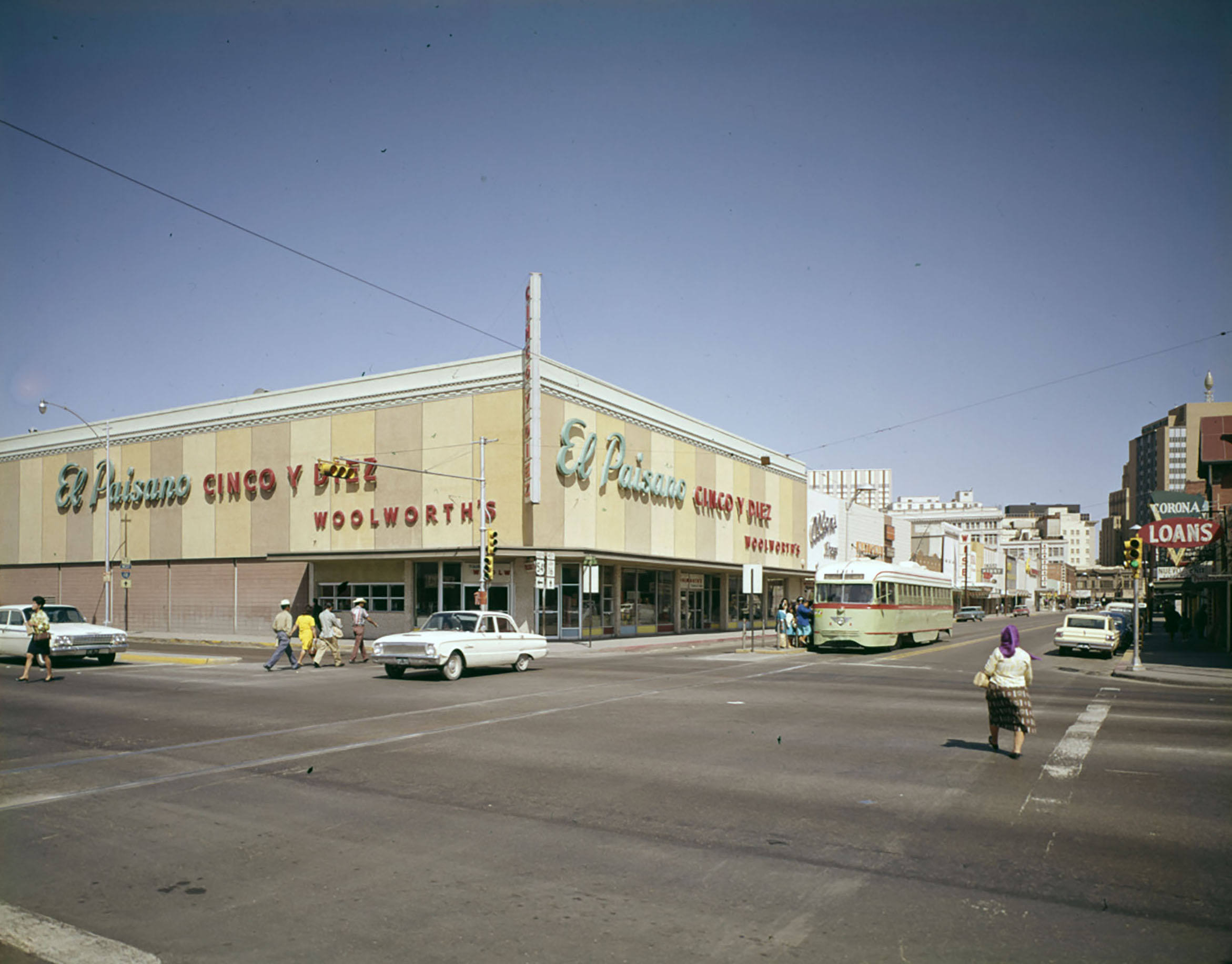 For two hours on Saturday mornings, turn your radio dial to El Paso's KTSM-AM 690 and you'll hear lively discussions on topics ranging from the geologic formation of the borderland region to the legacy of Pancho Villa to the impact of Bhutan on the architecture of the University of Texas at El Paso. This is the El Paso History Radio Show, a program dedicated to exploring the rich past of this area of the Southwest.
The radio signal reaches listeners throughout El Paso County and the southern parts of New Mexico's Doña Ana and Sierra counties, and, with clear meteorological conditions, can stretch as far as Albuquerque. Others tune in from around the world, thanks to social media livestreams on Facebook, YouTube, and other platforms. "The joke I make is that we've shoehorned a television studio into a radio station," says Andrew J. Polk, who took over as host of the show from his father, Jackson Polk, in March.
During the livestream, viewers can see historical photos that illustrate the day's topics, and they often comment on where they're viewing from. "The fact that we have people from across the country interested, and letting us know that they're tuning in, and that they appreciate the history going on has been very motivating," Andrew J. Polk says.
El Paso History Radio Show itself has had a long history. Nobody knows exactly when the show premiered, but an early incarnation was broadcast in the 1990s with host Leon Metz, the well regarded El Paso historian who passed away in 2020. At first sporadic, the show began airing more consistently when Jackson Polk joined Metz as co-host in 2001. As a teenager, Jackson Polk had been a disc jockey at the radio station KHEY, and he came to know the long-running morning show host Charlie Russell, who recruited him to join Metz. The duo hosted the history show for a decade.
"Most anything I heard was brand new to me," Jackson Polk says. "I grew up in El Paso, went to public school, and they never taught El Paso history, so I knew very little about what was going on in this town. I learned what I know basically sitting in that radio show."
When Metz exited in 2011, Melissa Sargent, who had an interest in voiceover work and is married to historian and Wild West reenactor Bernie Sargent, was asked to join as the new co-host.
After nearly 21 years at the desk, Jackson Polk handed the mic over to son Andrew, a producer of the show and host of the programs Talk El Paso and The El Paso Public Forum. Sargent also departed the show, following the announcement that she and her husband were moving to Conroe.
Today, Andrew Polk mans the show himself and is focused on expanding its reach by building its social media channels. But he continues to embrace the show's motto: "Texas History Begins in El Paso."
"There is an argument to be made—[one] I personally support—that the literal first Thanksgiving that happened within what is now the continental United States happened right here in El Paso," he says, referring to the feast Spanish explorer Juan de Oñate held to celebrate safe passage through the region in 1598. "There are fascinating stories that help inform where we live now."
As host, Polk sees his role as a guide, speaking with historians and experts on subject matter that opens a door for listeners to learn more about the area.
"I look at it more like a journalist in a very specific category—that we are helping develop topics and bringing it to an audience by talking with the people who have done the research, who have gone through the stacks of documents, who have pulled out the dates, and then helping turn it into a narrative that is digestible in a couple hours," he explains.
For program topics, the latest of which are posted on the show's Facebook page, the host often fields suggestions from audience members, as well as from experts with historical knowledge to share. This Saturday's topic is the last Battle of Juarez, with military historian John Hamilton as guest.
"There's so much that informs how we live today and there's a lot that has happened here—history, geology, current events," Polk says. "That's the sense I try to give people and I hope it comes across with each specific topic we do."
El Paso History Radio Show host Andrew J. Polk's Top 3 Places To Visit In El Paso
Hueco Tanks
6900 Hueco Tanks Road No. 1; 915-857-1135
"It's chock-full of petroglyphs and pictographs of the native people who were here even before reported history, up to and including the Tigua tribe. Some of their very important sacred sites are depicted out there."
The Magoffin Home
1120 Magoffin Ave.; 915-533-5147
"It [belonged to] an Irish-Mexican family that was among some of the earliest mayors of El Paso and the reason El Paso exists in a lot of the ways it does."
Transmountain Road
"You can literally drive through the geologic history of this area as you move through the width of the Franklin Mountains. It's a beautiful drive. The views you get on either side really give you a sense of the region."