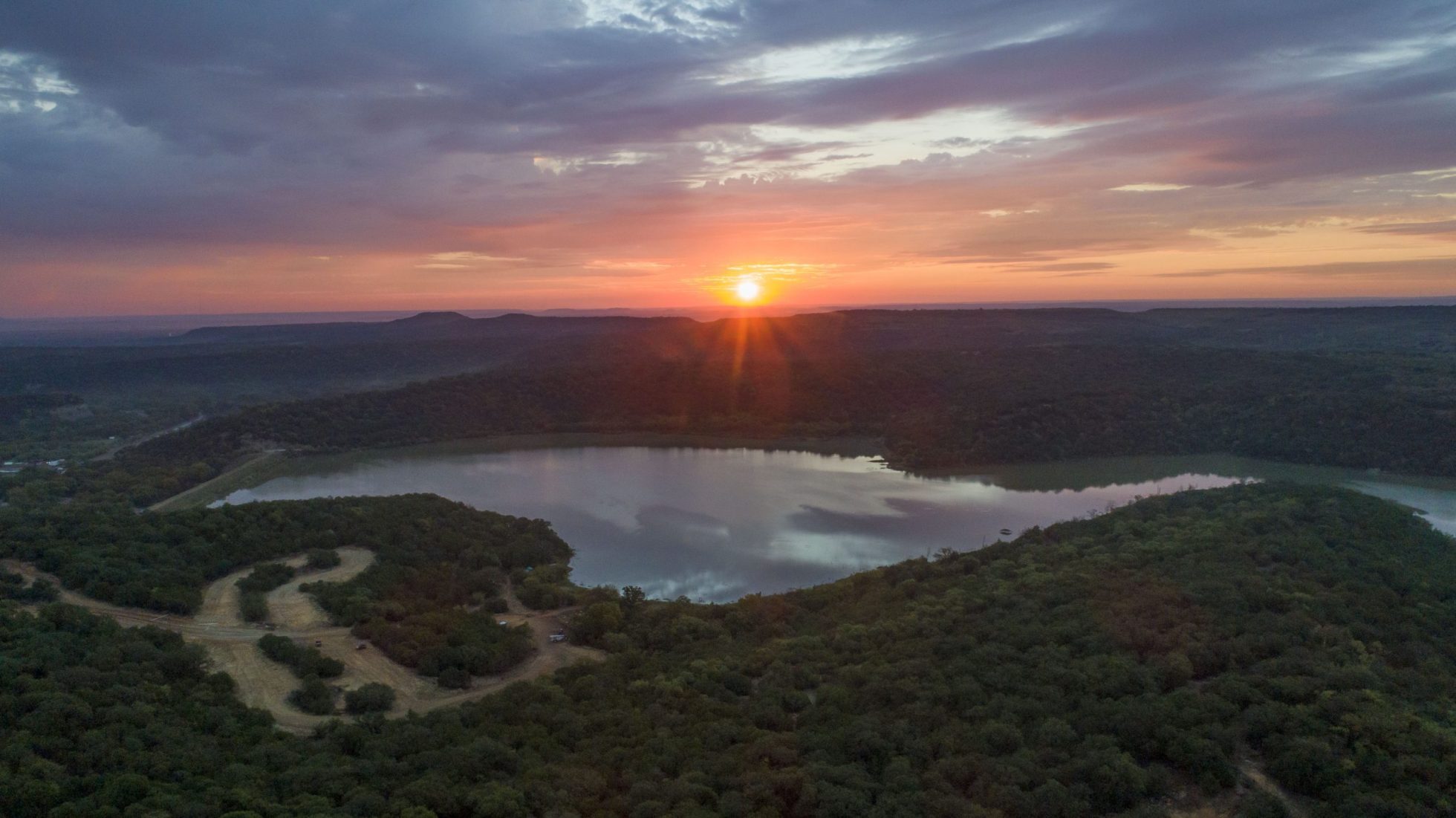 The Texas Parks and Wildlife Department is gearing up for the 2023 centennial of Texas State Parks, a yearlong celebration underscored by a "You're a Natural" campaign intended to encourage new visitors to explore the system's 89 parks across the state.
Department officials gathered at Palo Pinto Mountains State Park, which is not yet open, on Tuesday to discuss plans for the centennial anniversary. Located in Strawn, about 80 miles west of Fort Worth, the park will be the first new state park with campgrounds to open in Texas in about 20 years when it debuts in late 2023. (See sidebar for more on the new state park.)
"If the last few years have taught us anything, it's taught us how important it is to get outside. Being outside helps with your mind, body, and soul," said Rodney Franklin, director of Texas State Parks. "We have a growing population of Texans, and so it's important to have resources and grow the outdoors [opportunities] like at Palo Pinto Mountains State Park."
The state park system traces its origins to 1923 when Gov. Pat Neff formed the State Parks Board. Today, state parks encompass 630,000 acres of land and provide habitat for more than 50 threatened and endangered species, according to the department. State parks also attract nearly 10 million visitors a year, which generates $891 in economic activity and $18 million in sales tax revenue.
Franklin said the You're a Natural campaign is intended to "let everybody know that parks are for you."
"We have an entire demographic of Texans and citizens across the United States that have not been as engaged in the outdoors," Franklin said. "People of color traditionally haven't spent as much time in the outdoors. We want to let people who have not traditionally come to state parks or enjoyed the outdoors in a public setting know that they're welcome to come to a state park, there's an activity for them. You don't have to be an avid fisherman, you don't have to have an RV, you can come and just take a walk outdoors. And so 'you're a natural' in this setting."
Beyond encouraging the benefits of spending time outdoors, Franklin said, developing interest and participation among new visitors will help state parks flourish into the future. "We want to create the next generation of stewards," he said. "We want to make sure that parks are here for the next 100 years, and the only way to do that is to have people see parks as something for them so that they will take care of parks in the future."
Also on Tuesday, representatives from H-E-B announced a donation of $1 million to the Texas Parks and Wildlife Foundation—the department's official nonprofit partner that raises funds for the department—to support the You're a Natural campaign.
The San Antonio-based grocery store chain—a presenting sponsor of the centennial—is also supporting Texas State Parks by donating a percentage of sales income from its line of Field & Future products. Launched last year, the line includes products such as paper towels, dishwashing liquid, trash bags, and toothpaste. The funds from the program will go specifically to coastal conservation, black bear restoration in West Texas, and the development of Palo Pinto Mountains State Park.
The Texas State Parks centennial events will kick off on Jan. 1 with First Day Hikes at various parks and will include special events at all 89 state parks throughout the year, Franklin said.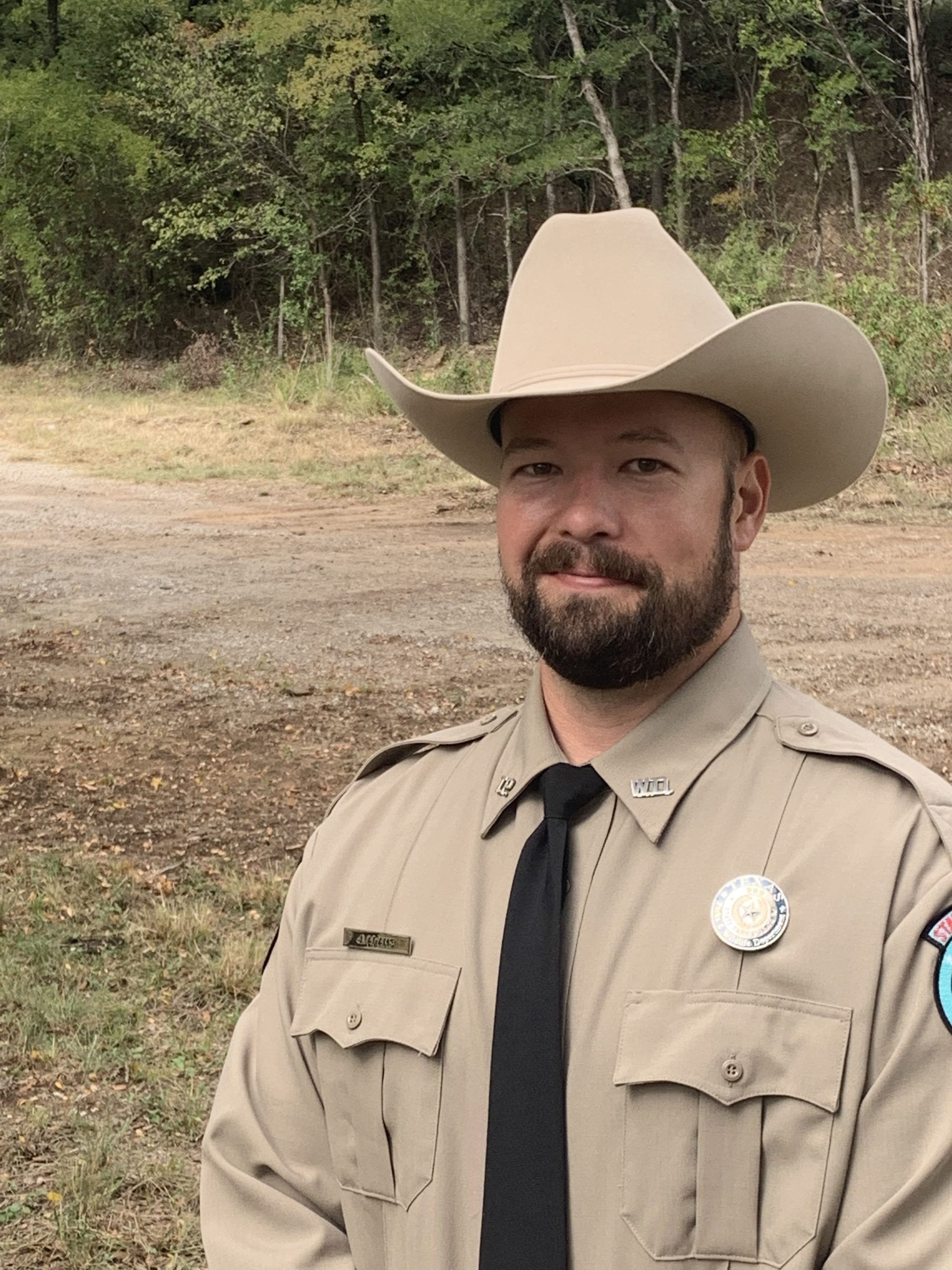 Palo Pinto Mountains State Park Takes Shape
At Palo Pinto Mountains State Park, construction crews are busy building roads, installing utilities, and grading building pads as the Texas Parks and Wildlife Department prepares to open the park in late 2023, a culmination of next year's Texas State Parks centennial.
The department broke ground on the $30 million project last year. While there are no permanent structures built yet, the site is buzzing with work. The 4,871-acre park—the first new state park in North Texas since Lake Tawakoni State Park opened in 2002—will include campgrounds, day-use areas, a playscape, a pavilion, a boardwalk and boat launch on Tucker Lake, and 16 to 18 miles of trails.
Park Superintendent James Adams spoke with us about the park and its setting.
TH: What do you call this country?
JA: It's the Palo Pinto Mountains, especially on a lot of older maps, but as far as ecoregions, I would say Cross Timbers. What characterizes this park is rolling hills and a hardwood and juniper mix vegetation. The hardwoods are various different oaks, cedar elms, pecans, and mesquites. We have pocket prairies, tall-grass prairies.
TH: When did the state acquire this land?
JA: The first 3,300 acres was acquired in 2011. We've had other smaller pieces added on since then, some contiguous land. The land that we're standing on right now was actually donated by the City of Strawn.
TH: What has been done as far as surveying the history of the land?
JA: Something we did early on were natural resource and cultural resource surveys to see what we have. It's important to us that in improving this place so people can recreate outdoors that we don't destroy its intrinsic value. So we did natural resources surveys, we did shovel tests throughout the park, and located a ton of cultural resources and archeological sites, some of which were very significant. Some were prehistoric dating back to 3,500 years ago and some were historic dealing with the construction of the Texas and Pacific railroad.
TH: What kind of Native American artifacts were found?
JA: Campsites, fire rings, burned rock, that sort of thing. Some dart points, including at least one Paleo-Indian point. The Caddo probably came through here from the east, the Lipan Apache, Comanche, and I'm sure others as well.
TH: Is 4,871 acres considered to be a large state park?
JA: I would say it's high average size for a state park. If the opportunity arises, we love to be able to expand the public lands that we have.
TH: How old is Tucker Lake?
JA: The damn was built on Russell Creek in the 1930s. The creek continues below the spillway to a confluence with Palo Pinto Creek a couple of hundred yards down. At conservation pool, Tucker Lake is 91 acres. It's a fairly small lake, but it's great for paddling, kayaking, canoeing, and angling. There are largemouth bass, black and white crappie, channel cat, blue cat. [Motorized boats are not allowed.]
TH: How many campsites will there be?
JA: The total will be about 60. That includes the equestrian campsites, the multiuse or RV campsites, walk-in sites, and primitive sites. We'll have 10 equestrian water and electric sites, and 25 regular water and electric sites. We'll see a lot of the same facilities you see at other parks, but one thing we're doing here is trying to build them with lessons learned in mind. The way people use state parks today is not the same as the way they used them in the '30s. One thing is that campers are significantly larger so we are building these RV pads with concrete and longer pads to accommodate these newer RVs, and we've added some additional parking per site, which is something that's a lesson learned.
Through some interactions with equestrian groups, we took suggestions from them and one of the things that came from that is the parking pads, the pull-outs for the equestrian areas, will be flex base or caliche instead of asphalt, just for the sake of the horses. We had multiple public meetings and really tried to incorporate everything we could from these stakeholders.