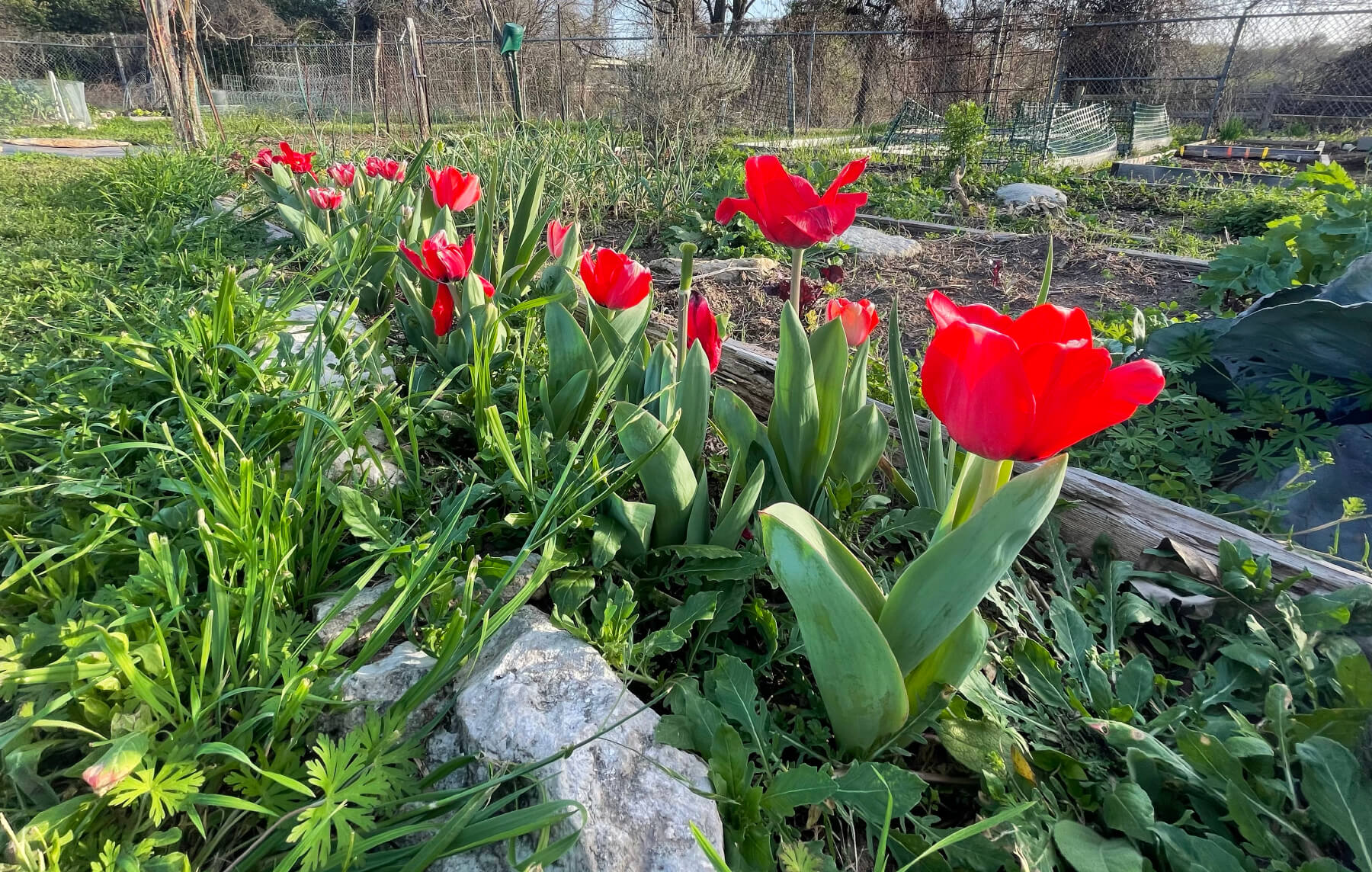 Several years ago, Waxahachie resident John Poston had a dream: to build a garden that could serve as a fundraising source and provide an opportunity to learn socialization and fundamental skills for the residents of Daymark Living. Poston founded the independent residential community for people who live with intellectual or developmental disabilities, including his son Michael. After meeting a few Waxahachie locals with Dutch ties, he was inspired by the idea of growing tulips.
It turns out that tulips not only last a good amount of time with the Texas soil and weather, they also are logistically an easier crop to manage, with a two-week bloom life that provides a burst of color, then they go away to be replanted for the next season.
With his background in commercial real estate, Poston realized about 30 acres of unused land next to Daymark's facility could serve as the garden. He got to work, traveling to Holland to learn all about tulip farming. In 2019, with the help of a team from the Netherlands and people in the Waxahachie and Daymark communities, Poston Gardens opened and debuted its first tulip festival.
For the past two years, the garden has welcomed visitors to come and enjoy the annual crop of 1 million bulbs. Last year, health and safety concerns due to COVID-19 resulted in the garden having to close during the peak of its season in mid-March. Waxahachie residents launched a fundraising effort to help raise enough money so there could be a festival in 2021. Poston, hoping to enhance tourism in the area and get more of the community involved, reached out to city officials and local nonprofits and decided to move the event closer to town.
Taking place from March 19 to 28, this year's event is located on 2 acres around the Waxahachie Civic Center. Although the 2021 deep freeze had everyone wondering about the effects of the record snowfall and low temperatures, the 250,000 bulbs planted by Daymark and Waxahachie residents loved the freeze, so there are plenty of photo opportunities with gorgeous backdrops for sweetheart, family, and pet pictures.
Throughout Tulipalooza, guests can admire the designs in the non-pick areas and then take home tulips in the "You Pick 'Em" area that go for $2 per stem. There are 12 varieties of tulips in a rainbow of hues that will make attendees forget all about those single-digit nights.
As beautiful as the tulip extravaganza is in spring, Poston Gardens is more focused in its mission to provide fundraising for adults with intellectual disabilities. And Poston is proud of his son's participation in Tulipalooza and the gardens.
"Michael takes great pride in raising money to fund scholarships for residents to live at Daymark Living," Poston says, "He handles interviews, recruits volunteers at Daymark, passes out marketing material to businesses in Waxahachie—he's a great ambassador for people with intellectual disabilities. He gets it—he knows it's not just a party among a field of tulips, but is about improving lives and adding friends to his growing list."
Along with the tulips, Tulipalooza features a schedule of live music performances, local vendors, and food trucks. Tickets for the event range in price from $15 to $20 per adult and $5 per child and are available at tulipalooza.org/tickets.
Coming Up Tulips
For more tulip delights, look no further than these North Texas destinations. But you should hurry, as the season for these particular blooms may only last until the end of March.
About 20 miles northeast of Denton, this Pilot Point nursery offers rows upon rows of color in 100 tulip varieties. Admission is $5, with specials for seniors and veterans; baskets are provided for tulip picking, and flowers are $2.50 each.
At the famous Dallas Arboretum and Botanical Garden, this annual event bills itself as the largest floral festival in the Southwest. Open now through April 11, it features 500,000 tulips among 100 varieties of spring bulbs and thousands of other spring flowers. There is no flower picking, but there are parties with different themes each week. Tickets run between $12 and $17.