When chef Davis Turner was growing up in Portland, just across the Nueces Bay from Corpus Christi, he fished year-round on Red Fish Bay and the Lower Laguna Madre. The co-owner of Austin-based food truck and catering company Huckleberry Hospitality has especially fond memories of family fishing trips during the "drum run" that occurs when black drum spawn in February and March.
"You can easily catch 20 to 30 pounds of drum at that time," Davis says. "It's a very versatile fish—moist, meaty, and flaky, with mild white flesh, especially when they're smaller, around 14-inches. The larger fish tend to be stronger in flavor and can be tough."
Davis and his business partner Melinda Reese (a native of Panama City, Florida) started Huckleberry, which opened in June 2020, to "feel more at home" in Austin while getting their respective educations at Le Cordon Bleu and St. Edward's University.
Unsurprisingly, Texas seafood plays a starring role on the menu in simple dishes like shrimp po'boys, blue crab quesadillas, and fried black drum with lemon caper remoulade. "We want our guests to feel like they're dining at one of our family's homes on the Gulf Coast, but black drum is also very approachable for guests who may not initially be keen on fish," Davis says.
Black drum feed on mollusks and crustaceans, which accounts for their mild flavor. In the summer months, they feed along the shallow banks of estuaries. During the winter, the fish gather in deeper water better suited to pier fishing, where anglers use live shrimp as bait.
Because black drum is under-harvested recreationally, the population in Texas is sustainable, according to Faye Grubbs, Upper Laguna Madre Ecosystem leader for the Coastal Fisheries Division of the Texas Parks and Wildlife Department. "It also provides a great alternative to more popular species like spotted seatrout, flounder, and red drum," she says
Davis's favorite method of cooking drum is "on the half-shell, meaning we filet them, leaving the scales on," he says. "We then grill the filets scale-side down and finish them with salsa verde or salsa macha for a little extra kick. Drum collars are also amazing, but the whole fish is usable, including the bones and offal."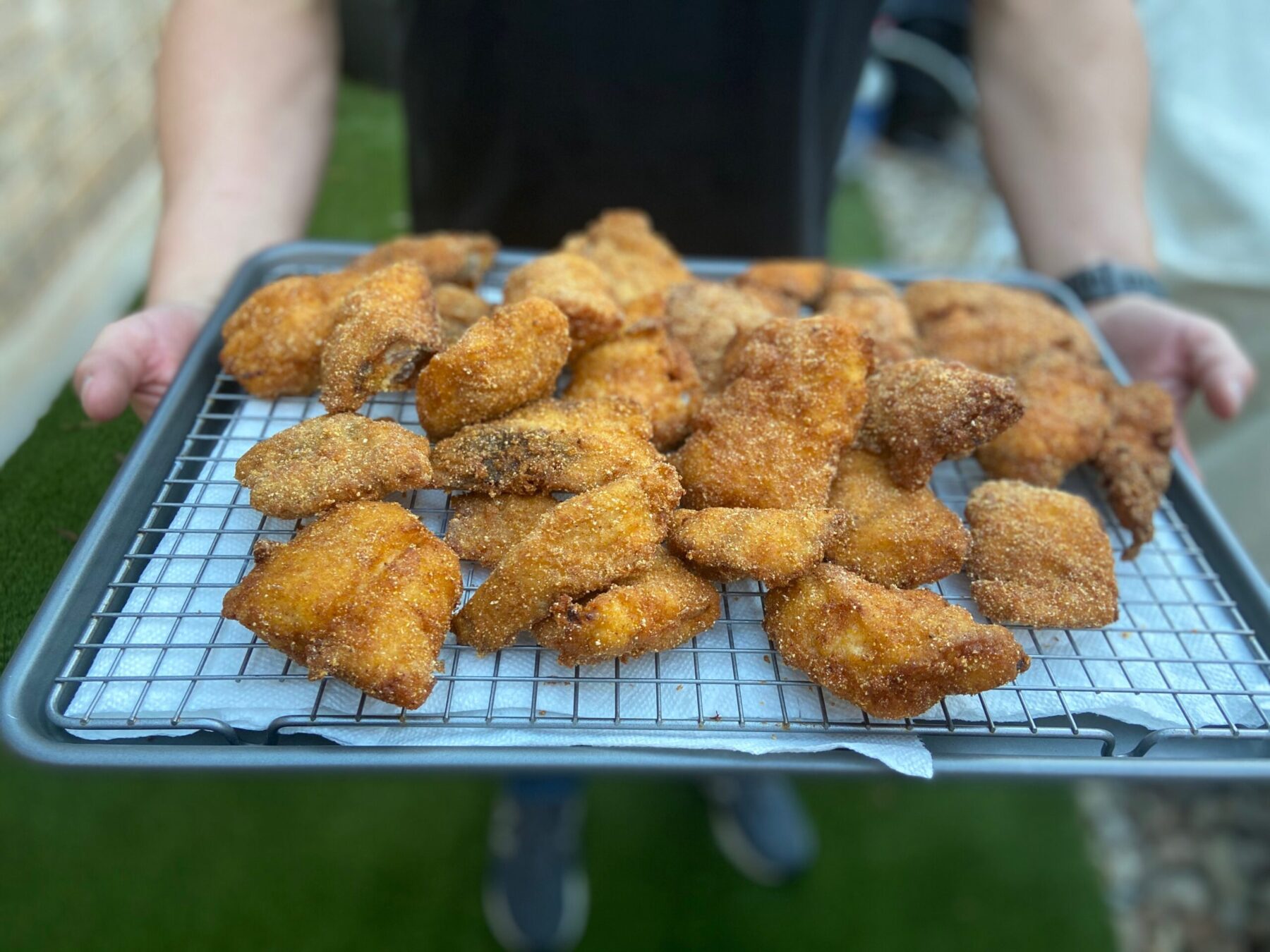 Recipe:
Fish Fry
For Huckleberry's fish fry, Davis makes a highly seasoned cornmeal-and-rice flour batter. He prefers drum for this method because "the mild flesh doesn't overpower the breading or sauce, and it also retains its moisture," he says.