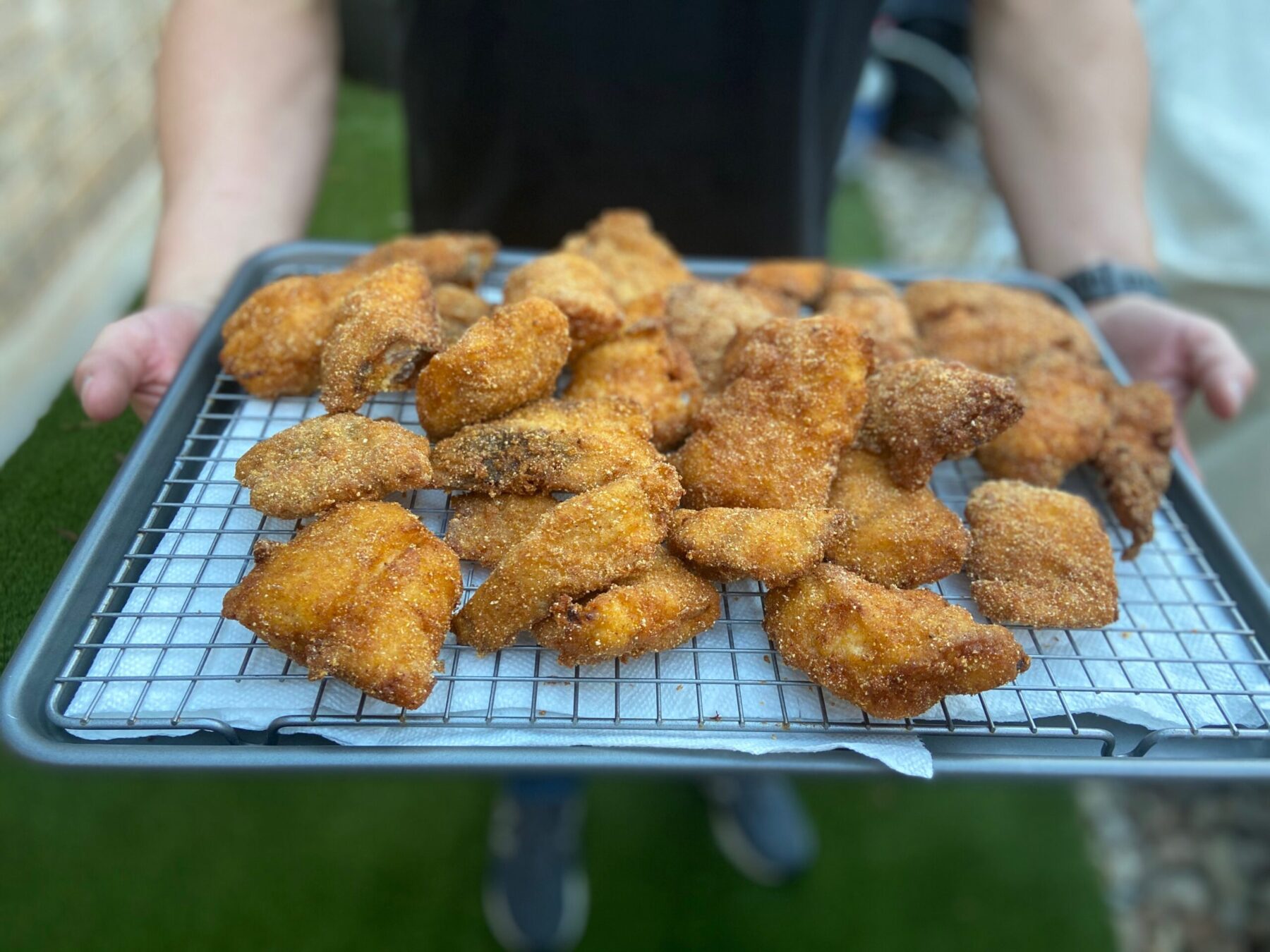 Recipe: Fish Fry
For Huckleberry's fish fry, Davis makes a highly seasoned cornmeal-and-rice flour batter. He prefers drum for this method because "the mild flesh doesn't overpower the breading or sauce, and it also retains its moisture," he says.
Ingredients:
1 pound of black drum cut into 4-ounce portions
Buttermilk
1 ½ cups yellow cornmeal
1 ½ cups all-purpose flour
1 tablespoon garlic powder
1 tablespoon chili powder
1 tablespoon paprika
1 teaspoon cayenne
¼ teaspoon ground celery seed
¼ teaspoon dried oregano
¼ teaspoon dried thyme
Pinch of kosher salt and pepper
Not ready to cook right now? Enter your email to have this recipe sent to you:
By entering your email, you agree to receive email communications from Texas Highways Magazine as described on the newsletter page.
The recipe has been sent to .
Directions:
Preheat fryer or oiled frying pan to 350 degrees F. Soak your fish in buttermilk until just covered and let sit for 5 minutes in the refrigerator.
Mix dry ingredients in a bowl and set aside. Set up a breading station with the fish, a plate/tray with the breading, and a plate/tray to set the breaded seafood on.
Carefully set the fish in the breading mix and coat thoroughly. Be sure to let the liquid drain off before placing the fish in the breading mix to avoid getting clumps. Also, do not overcrowd the breading mix with the seafood, bread just a few pieces at a time. When they are breaded, place them on the sheet tray and place in the refrigerator for at least 5 minutes to help the breading set.
Once the seafood is set, test the fryer with a small piece of fish to make sure it is hot and ready. Fry fish in small batches for 4-5 minutes at a time or until golden brown and cooked through
When fish is golden brown, pull out of the fryer and drain oil by placing fish on a tray with a wire rack or a paper towel. Sprinkle with kosher salt and add a lemon wedge on the side.
Read more: Underrated Gulf Fish Black Drum Takes Center Stage at Austin's Huckleberry Food Truck