Growing up, West Texas resident Martie Garcia frequently traveled between the U.S. and Mexico to visit family through an informal crossing on the Rio Grande River. The port connected Lajitas, an unincorporated border town near Big Bend National Park, to the neighboring Mexican town of Paso Lajitas. But that point, along with those in Redford, Candelaria, and Boquillas, was closed after 9/11 when border security tightened, altering communities on both sides of the river.
What used to be an hour round trip to see family in San Carlos, Mexico, now takes Garcia at least three hours in one direction. She has to drive from her home in Terlingua to the official port of entry in Presidio, roughly 60 miles northwest. Though the Boquillas crossing in Big Bend National Park reopened in 2013, the others remain closed.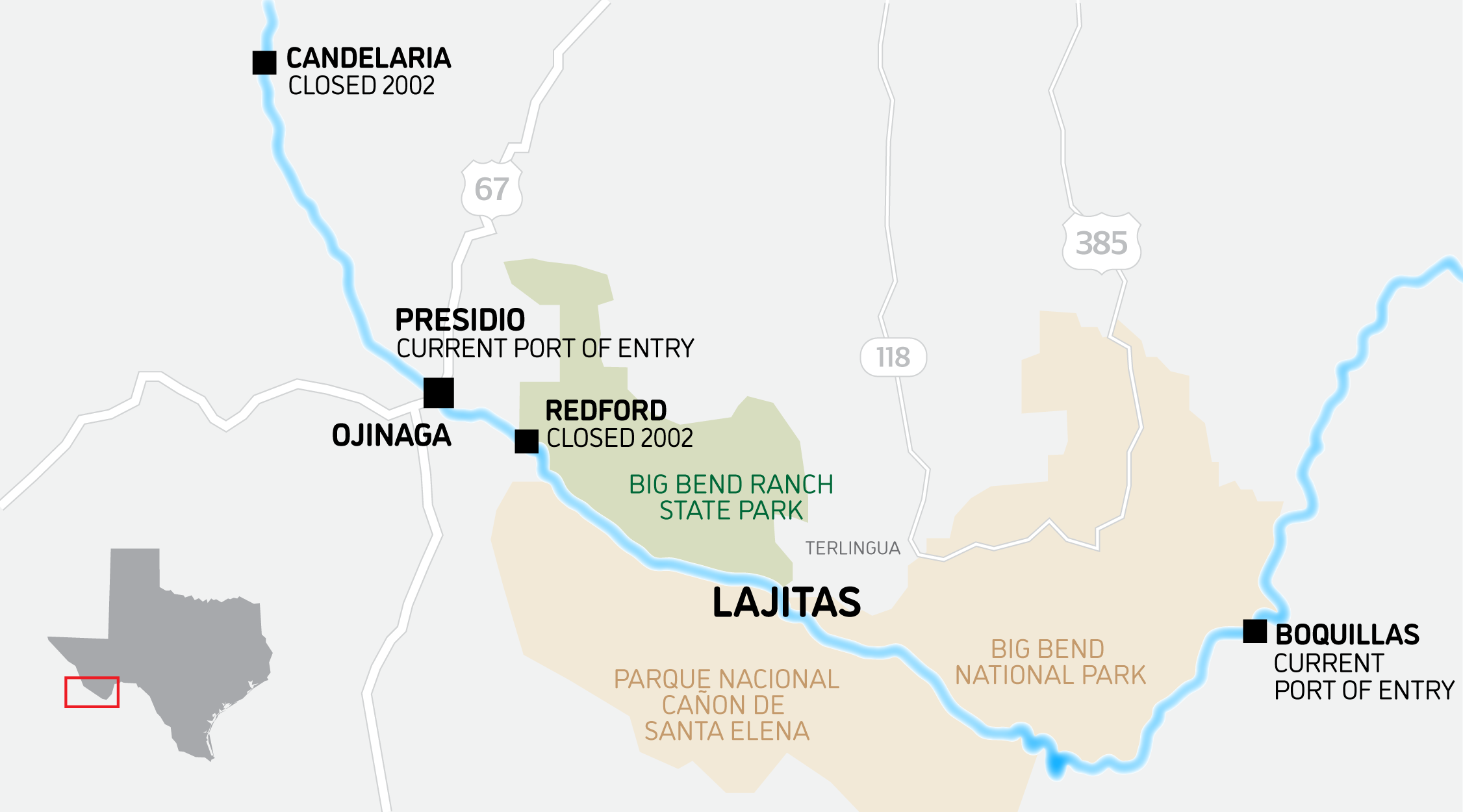 Since then, hundreds of people have been unable to see family members and businesses that relied on the easy exchange of traffic between Mexico and the U.S. shuttered. That's why, in 2013, the community came together to create Voices From Both Sides, an annual festival that provides people like Garcia a day to reunite with their loved ones at the former crossing point. For the first time since the COVID-19 pandemic, the festival will return on May 13.
"A lot of people in my family from Mexico don't have a passport or they can't come over here," Garcia says. "That's the only chance we have to see each other up close."
Also known as Fiesta Protesta, the event takes place in the water, where people from both sides of the border wade and enjoy a few hours together. Typically, local law enforcement is on site at the fiesta to ensure people's safety, while U.S. Border Patrol agents stand afar on a hill. On either side of the river, tents and stages are set up with food and musical performances. But the heart of the event is the family reunions. "Our presence allows them an opportunity, and we're happy to provide it," says Tony Drewry, one of the Terlingua-based organizers this year.
The event is put on by the Big Bend Citizens Alliance and residents of the area. This year will be the first without event co-founder Jeff Haislip, who died unexpectedly in February. He had been working with a group from Terlingua to bring back the event this year. Those that were working with him felt it was their duty to ensure it takes place in his honor.
"To lose him unexpectedly really puts a lot more on our plate, and it helped us all understand a lot more clearly how much work and heart and everything he put in," Drewry says.
Eventually, organizers would like to see Voices from Both Sides grow, but they know it will take some help and time to develop it. For now, people are simply grateful for the chance to connect.
"You can stay in touch over Facebook and all that kind of stuff, but it's not the same," Garcia says. "Having a little short time to really enjoy in person is fantastic. It's really exciting."