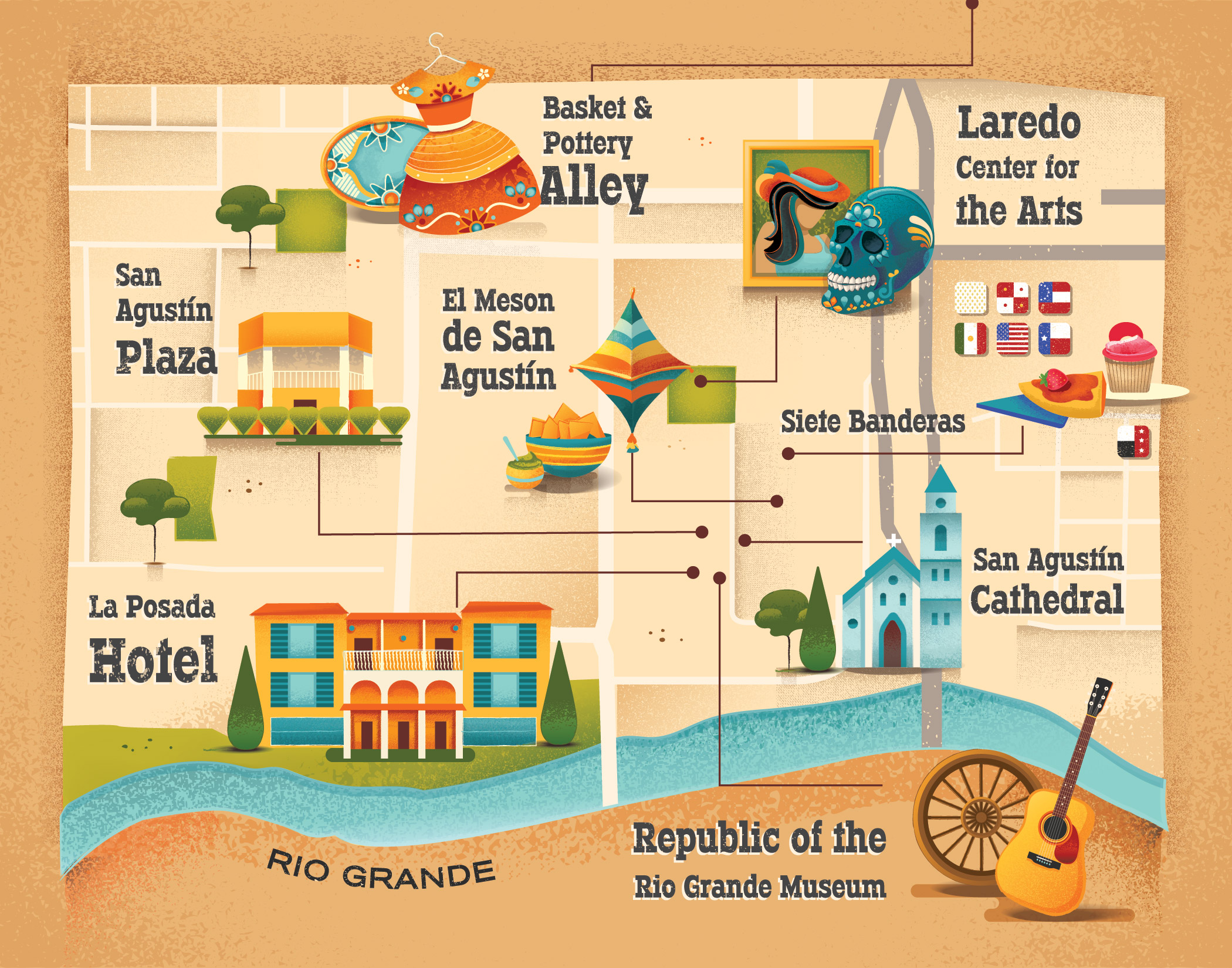 Illustration by Chiari VercesiA stroll across the San Agustín Plaza, just a few hundred feet from the Rio Grande in downtown Laredo, feels like a passage across both space and time. Sit on a bench in the shade of the ornate stone gazebo, next to sago palms and neatly trimmed hedges, and you could be in the town square of any classical Mexican city. Survey the 19th-century gothic revival cathedral and even older colonial homes around the plaza's perimeter, and you can't help but be transported back hundreds of years.
Visit Laredo

Laredo Convention and Visitors Bureau Visitor Center
501 San Agustin Ave., Laredo
800-361-3360
visitlaredo.com


The Laredo Sister Cities Festival
July 13-15, 2018
Features 200 exhibitors from 60 Mexican cities vending their native wares.
800-361-3360
visitlaredo.com


Webb County Heritage Foundation
Guided walking tours of the San Agustín Plaza area begin at 10 a.m. on Friday and Saturday at The Republic of the Rio Grande Museum (or by appointment).
956-727-3480
webbheritage.org


The Monte Mucho Audubon Society
Connects visitors interested in birding with an experienced guide
956-764-0531

When the Spanish army captain Tomás Sánchez founded Laredo in 1755, he chose the site because it was the location of an ancient Native American ford across the Rio Grande. Since then, Laredo has transformed from a riverside village into a thrumming hub of 21st-century global commerce, but one thing has remained the same: the importance of the Rio Grande to the community's identity. Whether it's walking narrow cobblestone streets little changed for 200 years, shopping for artisan wares along San Bernardo Avenue, enjoying authentic Mexican cuisine, or bird-watching along the riverbank, a visit to today's Laredo offers the chance to experience this border heritage firsthand.
"The history of Laredo centers around the river and the city's role as a bridge between two countries," says Edwardo Garcia, museum services manager for the Webb County Heritage Foundation.
Every Friday and Saturday, or by appointment, Garcia leads guided walking tours of the San Agustín Plaza area that depart from the Republic of the Rio Grande Museum. There, visitors learn why Laredo proudly claims to be the only city in Texas to live under seven—not six—flags. When several northern Mexican states declared independence from Mexico in 1840, frustrated by a lack of protection and resources, rancher Bartolomé García offered his modest home to serve as the capitol. While the Republic of the Rio Grande lasted less than a year before it was quashed by the Mexican government, its legacy continues at the museum. A front room—added on after the fall of the republic—holds exhibits detailing Laredo's history, while the back rooms that made up the original 1830s house are decorated with period furniture, much as they would have appeared at the time of the revolt.
The García home is a classic example of Mexican vernacular architecture. Built for sturdiness with the materials available at hand, it has a flat roof, thick sandstone walls, and no windows in spite of the South Texas heat. One of the next stops on the tour exemplifies the more opulent colonial style that arrived as royal land grants attracted wealthier settlers. Like many buildings in the San Agustín de Laredo Historic District, the home of 19th-century architect José Reyes Ortíz is surrounded by a wall that extends to the sidewalk. Built in stages from the late 1700s to the early 1870s, it is now managed by Texas A&M International University as a historic site and event space. Inside, a shaded courtyard looks out over the Rio Grande, while a tiled outdoor kitchen conjures images of a 17th-century carne asada, or barbecue. "We don't know exactly how old the kitchen is," Edwardo Garcia says, "but some think it dates to just a few years after the founding."
The tour continues with visits to sites including the San Agustín Cathedral (the present church was completed in 1872) with its five-story bell tower and Gothic revival windows; the Villa Antigua Border Heritage Museum, which hosts exhibits and events on Laredo history in a restored early 20th-century Italianate-style home; and the Washington's Birthday Celebration Museum, which commemorates a civic festival held each February for the past 122 years.
If all that walking works up an appetite, not to worry: The historic district offers up a buffet of dining options, many housed in notable structures themselves. Taking its name from the seven flags over Laredo and housed in a restored colonial building, upscale Siete Banderas serves up innovative takes on famous Tex-Mex dishes—like a chile relleno stuffed with ground beef, cranberries, and pecans—and boasts a leafy outdoor patio with live music. The elegant La Posada Hotel, located on the central plaza, offers both the Zaragoza Grill and the Tack Room, the latter a steakhouse in an 1883 building that housed the first telephone exchange connecting Laredo with Nuevo Laredo across the border.
Tucked away on a narrow street, El Mesón de San Agustín serves home-cooked traditional Mexican meals in a clay-colored colonial home next to the cathedral. There's no sign to mark its location, but that doesn't dissuade hungry patrons who fill its 12 wooden tables from the time it opens at 11 a.m. until 4:30 p.m. "Everyone complains that they can't find it the first time," says Jesus Bernal, who co-owns the restaurant with his wife, Maria de la Luz. "But then they come a second time, and they don't have trouble anymore."
Finding a souvenir for your trip is no trouble at all on San Bernardo Avenue. Along a stretch of about 20 blocks, about two dozen shops display Mexican imports ranging from colorful dresses and wooden toys to playful painted metal statuary. One popular destination is Basket & Pottery Alley, set up in the style of a Mexican mercado, or market. Wholesalers drive from as far away as New York and Florida to buy goods by the truckload, but "you can come here and find a little bit of everything without the markup," owner Raymond Camina says. Another shopping opportunity is the Laredo Sister Cities Festival. This July marks the festival's 16th year with artisans from across Mexico converging at the Laredo Energy Arena for a weekend of food, entertainment, and cultural exchange.
The Laredo Birding Festival, held each February, also brings in visitors from around the world, this time for kayak tours of the Rio Grande, visits to local ranches, and the chance to see rare "specialty birds" found nowhere else in the United States like the white-collared seedeater, red-billed pigeon, and Audubon's oriole. But you don't have to wait for February to get out and bird: Daniel Perales, president of Monte Mucho Audubon Society, says local members are available year-round to guide both new and experienced birders. River front hotspots include Las Palmas Trail and Slaughter Park.
Nature enthusiasts and history buffs alike can also head to the Lamar Bruni Vergara Environmental Science Center, located a mile upriver from downtown at Laredo Community College's Fort McIntosh campus. The college established the center in 1994 as a result of a community-wide effort to raise public awareness of contamination in the Rio Grande. Today, the river's health in the Laredo area—while still threatened—has vastly improved. The center features multiple exhibits on the ecology of the Rio Grande watershed and the chance to get up close and personal with more than 100 native animals, including American alligators, a Texas indigo snake, and the threatened Rio Grande lesser siren—a primordial eel-like salamander. Visitors can also stroll past the original 19th-century U.S. Army fort buildings still in use on the Laredo Community College campus and hike down the Paso del Indio nature trail to the original river crossing that inspired Tomás Sánchez to establish the city here. "We're on some of the most historic land in all of Laredo," says Tom Miller, the center's director. "It all ties together here: nature, the environment, and history."
At the Webb County Heritage Foundation's downtown office—housed in the old Mercado building—Executive Director Margarita Araiza says the same enterprising spirit that led to the city's founding and brief flirtation with independence is still evident today in grassroots efforts to conserve nature and history for future generations. "What other community can claim to be the capital of its own republic?" she says. "I think that's a reflection of the character of the people who have always been here, starting with Tomás Sánchez, who were very stubborn, very independent, and very intrepid. Against all odds, they staked their claim here, and they stayed."
From the July 2018 issue