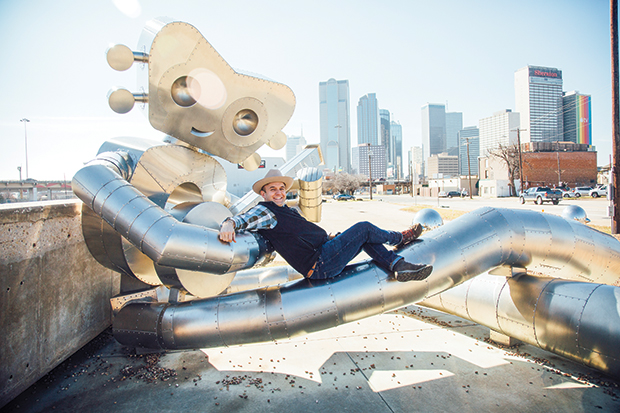 I love trippin' small towns, but sometimes a traveler has to go big. That's exactly what I did on a recent trip to Dallas, better known as Big D. While this city may have gotten its reputation from big business and big hair, I found there's so much more to this mega metropolis, including big flavor and big adventure!
Contact the Dallas Convention & Visitors Bureau at 214-571-1000.

Chet Garner is the host of The Daytripper® travel show on PBS. To view the Dallas episode visit thedaytripper.com.
8 a.m.: I kicked things off with a morning bike ride along the Trinity Skyline Trail. This nearly 5-mile hike-and-bike trail lies in the heart of the city, yet feels worlds away from the hustle and bustle of downtown. I passed yoga classes, dog walkers, and early morning birders, making it hard to remember the days when this river corridor was forgotten and abandoned. I took a deep breath and paused to appreciate how it's now one of Dallas' best public parks.
10 a.m.: Ready for a different view of the skyline, I made my way to the top of Reunion Tower, lovingly called "the giant disco ball in the sky." In a few short minutes, I stood on the tower's "GeO-Deck" at 470 feet above the ground. The people and cars below moved like miniatures in a model. I felt like I could see all the way to Oklahoma, but more importantly, the view of Dallas' neighborhoods helped me plot my next moves.
11:30 a.m.: I decided to head east toward Deep Ellum, one of the city's most historic neighborhoods. I admired the murals and giant robots, but nearby Pecan Lodge lured me with its wafting smoke and impressive line of customers. After a short 45 minutes in line, I sat down to a full platter of brisket, ribs, and homemade sausage. One bite magically transported me to a small town meat market on a Texas back road (aka barbecue heaven).
1 p.m.: I was amazed at Deep Ellum's many transformations over the years to its current iteration as a haven for craft food, beer, and shops. I couldn't help but pop into Deep Ellum Brewing Company's taproom to sample its collection of beers as well as play a few games of giant Connect 4 with the friendly locals.
2:30 p.m.: Jumping across the proverbial tracks, I landed in Uptown, full of high-rise condos and upscale shopping. But instead of spending time with the rich and famous, I spent the afternoon at the Perot Museum of Nature and Science—one of the best science museums in Texas. This colossal museum spans five floors covering everything from prehistoric dinosaurs to the future of robots. On the sports floor I compared my throwing form to Dallas Cowboys great Roger Staubach's and even raced a T-Rex. Not that I'm keeping score, but I did beat the lizard king.
5:30 p.m.: Next I jumped into another burgeoning neighborhood—the Bishop Arts District—which boasts an eclectic mix of funky shops, cool artwork, and hipsters galore. I browsed the aisles of M'Antiques with old stuff geared toward guys, including boxes of comics and stuffed cobras. Even more rare was the chocolate "salami" from Dude, Sweet Chocolate with a homemade mixture of chocolate, dates, and figs. I could have spent all day in this neighborhood, but dinner time beckoned.
8 p.m.: In the mood for home cook-in,' I headed toward Chicken Scratch for behemoth chicken biscuits almost as tall as the downtown buildings. I ordered one of their fresh-made biscuits topped with pecan-crusted rotisserie chicken and smothered in a homemade oregano and vinegar honey sauce. I partly ate it, partly wore it, but it was definitely a scrumptious mess! I finished up the day at the adjoining Foundry bar listening to some live music under the expansive Dallas sky.
While many things are big in Dallas, this town also towers with personality, adventure, and good eats that are even bigger than the skyscrapers. So whether you follow my footsteps or forge your own path, I hope to see you on the road.
From the July 2017 issue