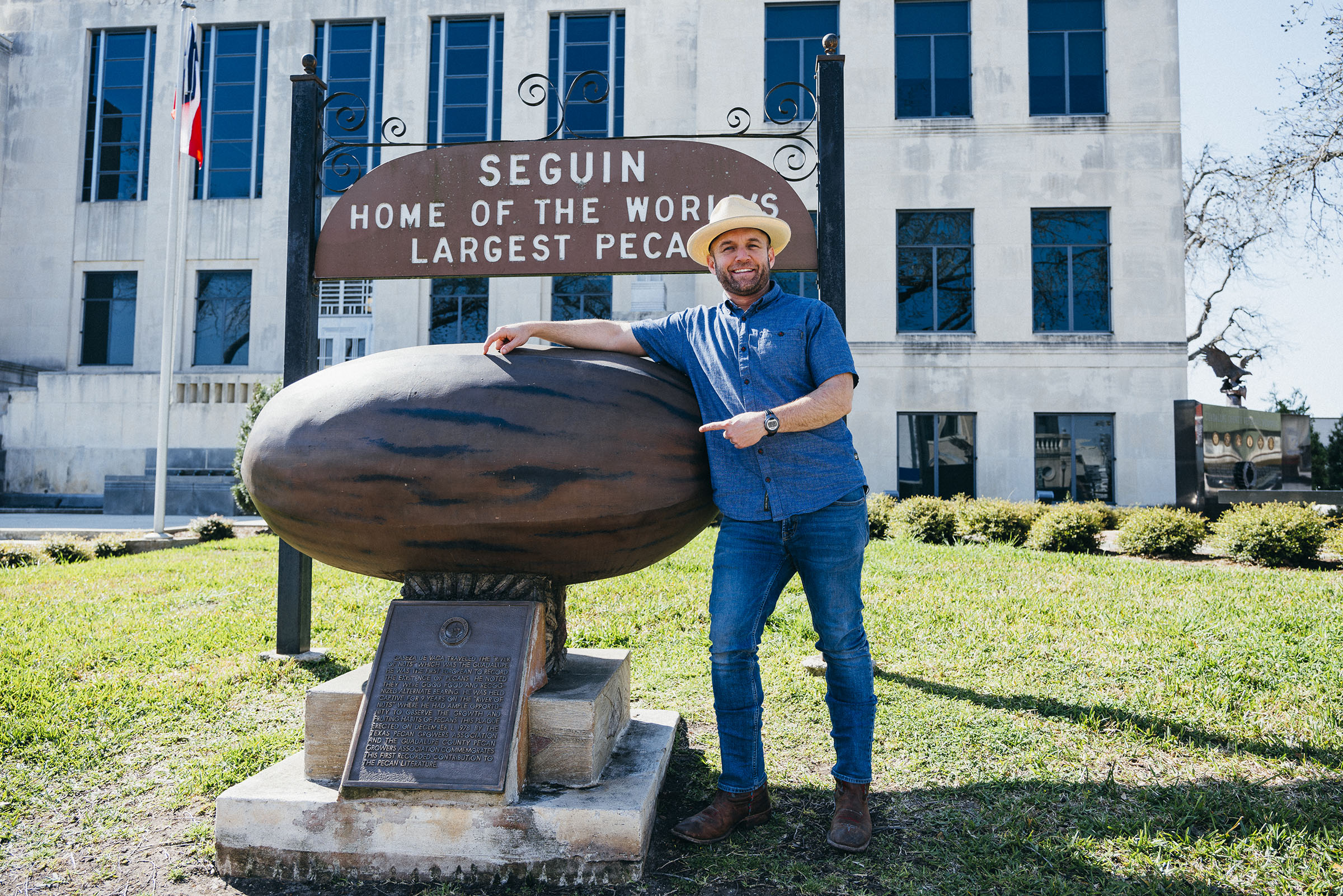 Just east of San Antonio sits one of Texas' oldest towns, named after one of the state's original heroes. Juan Seguín was a Tejano leader in the Texas Revolution who fought in the Battle of San Jacinto. Today, Seguin celebrates both its Lone Star heritage and its setting along the Guadalupe River, making for a "nutty" day trip.
World's Largest Pecans
It's a feat to have the "world's largest" anything, but Seguin proudly claims three of the world's largest pecans. The story begins in 1962 when a group of locals wanted to honor the town's pecan industry. They built a 5-foot-long concrete pecan that still sits in front of the Guadalupe County courthouse. Forty years later, local pecan farmer John Pape built an 11-foot pecan, only to find out that a town in Missouri had already built an even larger one. Seguin finally reclaimed the record in 2010 with a monstrous 16-foot-long pecan statue that sits outside the Texas Agricultural Education and Heritage Center. Now all trippers can proudly take a selfie with the first-, third-, and fourth-largest pecans in the world.
Powerplant Texas Grill
The Guadalupe River flows through the middle of Seguin, which harnessed the river to electrify the town with a stunning brick power plant. Decommissioned decades ago, the structure now houses a restaurant serving pasta, burgers, and fried pickles aplenty. There's nothing quite like diving into the Powerplant's huge chicken-fried steak smothered in queso while overlooking the dam below.
Son's Island
Follow the river upstream to Son's Island, an unexpected getaway on the Guadalupe. Trade in your boots for flip-flops and your car for a cabana as you spend the afternoon on "island time" in a hammock or kayak. I had to paddle around the entire island before I believed it was real. It may be nowhere near the ocean, but it's got all the sand, sun, and water a Texas tripper needs.
Guero's Backyard
In the backyard of this pink historic home, a local couple whips up some of the best fusion street tacos on the planet. Wrapped inside a thick, homemade tortilla, you'll find concoctions like the "Marissa" with seared ahi tuna, seaweed salad, and gorgonzola cheese, and the "Soul Train" with shredded beef short ribs and collard greens. Tacos will never be the same.
Haunted Magnolia Hotel
A town as old as Seguin is bound to have a few spooky skeletons still in its closet. For those who want an eerie encounter with history and maybe even a ghost, take a tour of this 1840 hotel that was built by one of the original Texas Rangers. Equipped with ghost-detecting gadgets and photos, the owners will take you on a hair-raising tour and share the stories of the 13 spirits who checked into the hotel, but never really checked out.
From the March 2020 issue