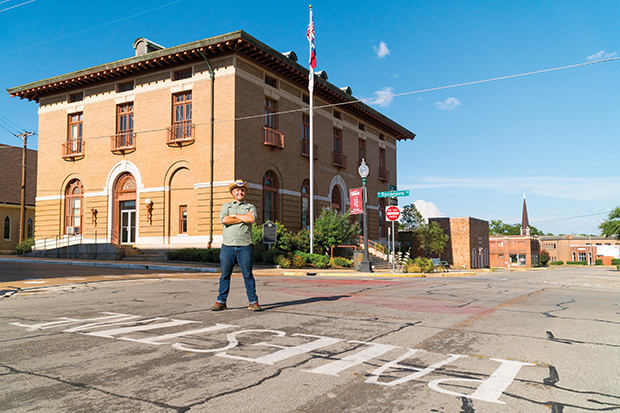 If you arrange to travel to "Pal-e-styne," you'll end up in the Middle East. However, if you set your course to "Pal-e-steen," you'll end up somewhere very different—in the middle of East Texas. And while the latter may not sound as exotic, it doesn't make it any less exciting. Between sci-fi-esque spacecraft, hidden waterfalls, and delicious grub, Palestine has just what you're looking for.
Chet Garner is the host of The Daytripper® travel show on PBS. To view the Palestine episode visit thedaytripper.com
9 a.m. I started the day like a true local at Bird's Egg Cafe. This farmhouse-themed eatery bustled with folks (and yolks). Rooster and chicken figurines covered every wall and shelf. Surrounded by my new feathered friends, I dug into a giant stack of blueberry pancakes.
10 a.m. Eager to learn more about the town's history, I headed to the
Museum for East Texas Culture located in a 1915 high school building. Each classroom was dedicated to a certain part of Palestine's past, ranging from railroads to African American history to locally manufactured glass. There was even an entire log cabin squeezed into the old gymnasium. By the end, I had definitely earned my diploma in local lore.
11:30 a.m. Afterward, I roamed downtown, spending most of my time browsing the booths of antique knick-knacks at the Old Magnolia Mercantile. I also discovered the Texas Art Depot, which displays artworks and holds the tasting room for Granny Muffin Wines. I sipped some "Muffin's Manna" white wine and pondered the canvas paintings of bluebonnets.
1 p.m. Ready for lunch, I took a bite out of history at the iconic Hamburger Bar, which has been serving the staple since 1942. I bellied up to the bar and ordered an old-fashioned cheeseburger and french fries. I could taste the decades of seasoning sizzled into each juicy patty.
2 p.m. With a lingering sweet tooth, I stopped into Oxbow Bakery for a slice of its famous pie. It wasn't easy deciding which flavor as the glass case displayed everything from buttermilk to chocolate meringue. The blueberry-banana pie called my name, and with one bite it was a match made in dessert heaven.
3 p.m. Since I'd already taken a deep dive into Palestine's past, I decided to explore the future next with a tour at the NASA Columbia Scientific Balloon Facility. From this base, NASA oversees a program that sends 900-foot-tall balloons into the atmosphere for research. I toured mission control, the launch pad, and the research zone where more than a dozen scientists were hard at work. I couldn't read any of their notes, so I can only assume they were looking for alien life forms.
5 p.m. I was ready to explore the great outdoors and had heard tales of the epic dogwood trees of Palestine. I made it to Davey Dogwood Park just in time to catch the spring blooms. It was incredible to see the green forest transformed into a watercolor painting of faded pinks and bright whites.
6 p.m. Eager for more nature, I headed to the Palestine Community Forest to see if I could find the Wolf Creek Lake waterfall. I crossed the dam, and before I could see it, I heard the sound of distant water. I raced to the end of the path and stood at the edge of an incredible grotto as 20-foot falls crashed into the creek below.
7 p.m. After the exercise, I wanted to kick back and relax. In "Old Town" I found Pint and Barrel Drafthouse, a craft beer bar and eatery. Kids ran around on the giant lawn as their parents enjoyed dinner with ice-cold beers at the surrounding picnic tables. I found an open spot and devoured my "Three Little Piggy" sandwich with pulled pork, fried Spam, and bacon—a pork lover's dream. Sooie!
It just goes to show that sometimes you don't need to travel to the other side of the globe to have an epic adventure. Whether you follow my footsteps or forge your own path, I hope to see you on the road.
From the March 2018 issue