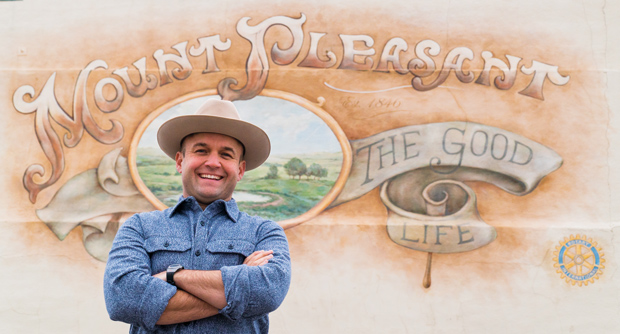 Mount Pleasant, in the northeast corner of Texas, combines history, unexpected cuisine, and beautiful scenery that go together just like iced tea, sugar, and lemon. It's a small town that exudes Southern charm and hospitality but isn't afraid to add in a dash of fun and whimsy.
Contact the Mount Pleasant/Titus County Convention and Visitors Bureau at 903-572-8567; mtpleasanttx.com.

Chet Garner is the host of The Daytripper® travel show on PBS. To view the Conroe episode visit thedaytripper.com
8:30 a.m. My first stop was Laura's Cheesecake, a bakery where it's more than acceptable to eat dessert first thing in the morning. So, of course, I opted for the "breakfast cheesecake." I ordered an "Elvis Style" slice that came spread with peanut butter and honey, and stacked high with bananas and bacon. It was delicious. And since it had bananas, I considered it a healthy start to the day.
9:30 a.m. After breakfast, while strolling around the Titus County Courthouse, a giant red cowboy boot statue beckoned me into Hoover's Jewelry, where I found Western wear, diamond rings, and, surprisingly, phonographs. The Edison Phonograph Museum, located inside the jewelry store, highlights about 75 well-preserved phonographs in every shape and color. The rare recordings of Teddy Roosevelt and Thomas Edison made this place feel like a true gem.
11 a.m. On the hunt for more fascinating relics, I headed to the Mount Pleasant Regional Airport to see the Mid America Flight Museum. I was floored by the five hangars of historic aircraft, ranging from early 1930s biplanes to World War II bombers to helicopters. I sat in the cockpit of a '40s warbird and could almost hear the roar of the engine as I imagined what it might have been like to fly into battle. I felt like a little kid with life-size toys.
1 p.m. Soon enough the noise in my stomach out-rumbled the engines in my head, so I headed to lunch at Outlaw's BBQ. Inside were tables full of rough-and-tough cowboys munching on some of the most tender smoked meat in Texas. I loaded my plate with brisket, ribs, and sausage, along with a generous scoop of mashed potatoes and some cucumber salad. I added fiery barbecue sauce on top of the array of meat for the finishing touch.
2:30 p.m. Looking for some room to stretch my legs, I grabbed my mountain bike and headed for a ride through the woods at Lake Bob Sandlin State Park. I found a number of awesome trails. And while the route proved challenging, the sights and vistas along the way made it well worth the effort. Towering oak, pine, and maple trees surrounded the glimmering lake in a stunning display of East Texas beauty.
4 p.m. I cruised back into town and found Sweet Shop USA, the largest handmade chocolate manufacturer in the country thanks to its 80,000- square-foot factory. After sampling more than my fair share of mouth- watering truffles, I walked out with a couple dozen more for my family.
6 p.m. Needing more than just chocolate for sustenance, I rolled into Round Eye Sushi Guy. One bite into the restaurant's signature "Round Eye" roll of buttery salmon, spicy tuna, creamy avocado, and kickin' sriracha sauce, and I became a believer in East Texas sushi. I quickly devoured it and ordered the deep-fried "Texan" roll filled with beef, cream cheese, and green onion. I usually don't recommend eating sushi this far from the ocean, but this place is definitely an exception.
7:30 p.m. I walked a couple blocks to Jo's Downtown, a trendy coffee shop on the square that was buzzing with caffeine and friendly locals enjoying some handcrafted coffee and conversation. I ordered an espresso, found a spot to rest on the comfy couch, and thought back on my day, which had been much more than just "pleasant;" it had been downright fantastic. So whether you follow my footsteps or forge your own path, I hope to see you on the road.
From the January 2018 issue