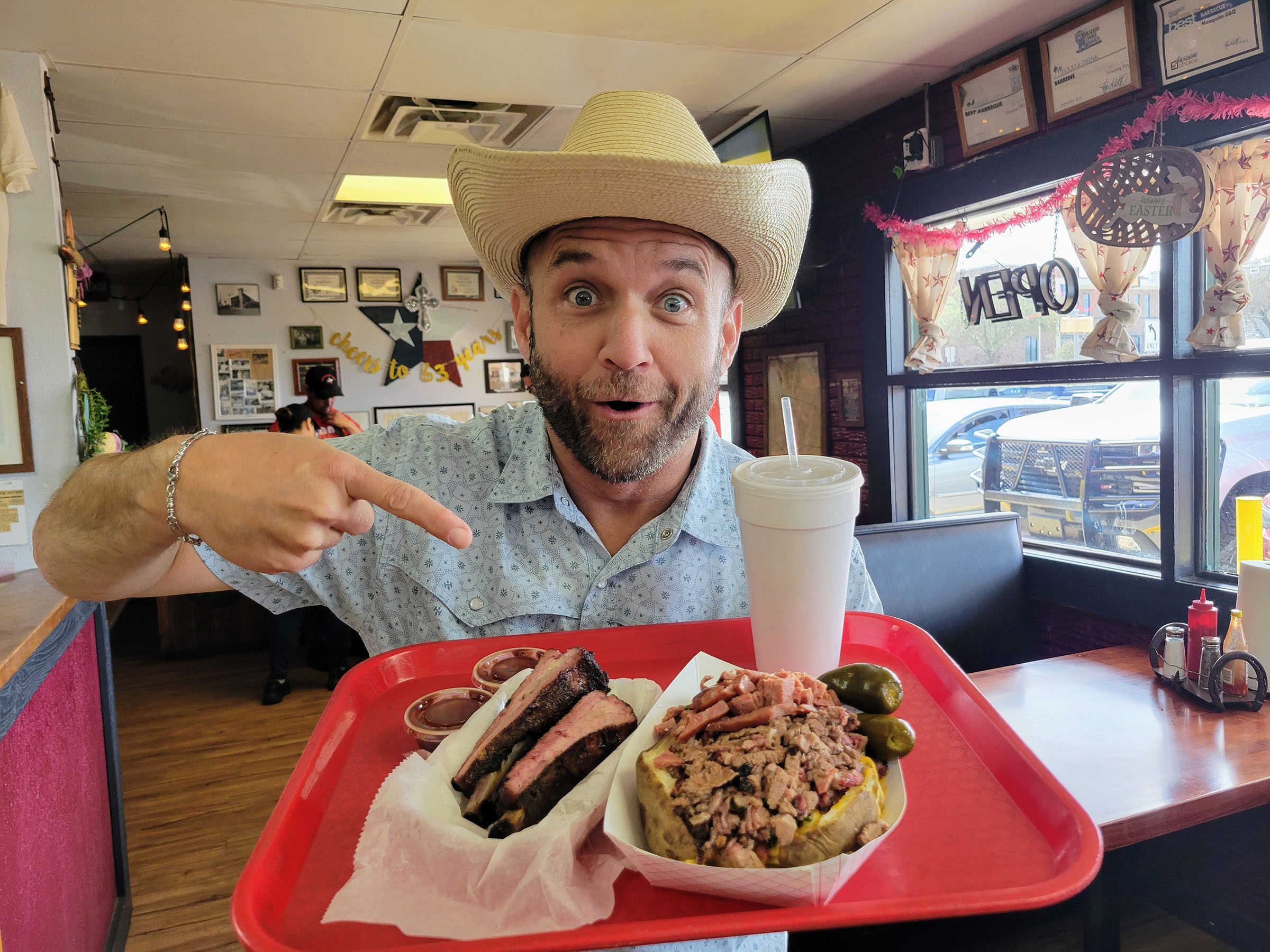 It's hard to believe that just 14 miles east of one of the busiest and bougiest downtowns in the state is our laid-back and unassuming "Rodeo Capital of Texas." Until recently, this modest town was hidden in plain sight on the east side of Dallas-Fort Worth. Today, folks are quickly discovering there's more than just boots and bulls in Mesquite.
Downtown Mesquite
This town started with a railroad depot but now draws visitors to the "Front Street Station" event venue, where guests can shop at farmers markets and enjoy public art. Kick your day off at Bear Cave Coffee with a cup of artisan joe served inside the lobby of an old theater. I recommend the "Grizzly," a latte with brown sugar and a spice blend of cinnamon, nutmeg, cloves, and cardamom. Then, head over to The Jazz Patisserie for scratch-made French pastries, including delicious honey lavender scones.
Mesquite BBQ
This restaurant has been serving authentic Texas barbecue since 1959, and judging by the line at lunch, locals still can't get enough of it. A platter of smoked brisket, sausage, and ribs will certainly hit the spot, but my favorite dish is a baked potato stuffed with so much meat, sauce, jalapeños, and cheese that you can no longer see the spud itself. Save room for dessert, as this joint makes some of the best pies and cakes in Texas.
Devil's Bowl Speedway
Fans pack into this 10,000-seat venue to witness the action on the most famous dirt track in the Southwest. NASCAR-style stock cars and dune buggy sprint cars run the half-mile course. Even if you're not a racing fan, the sound, fury, and grit are sure to get your heart racing.
Yia Yia's House of Gyros
A family of Greek immigrants started this Mediterranean restaurant to bring the authentic flavors of Athens street food to Texas. Photographs and souvenirs from their home country decorate the walls. Patrons leave with happy bellies after polishing off overstuffed gyro wraps smothered in homemade tzatziki sauce.
Mesquite Championship Rodeo
A visit to the Rodeo Capital of Texas wouldn't be complete without a real Texas rodeo. Every Saturday night in June, July, and August, some of the best cowboys on Earth travel to North Texas to compete for buckles and glory inside the Mesquite Arena. Tackling bareback broncs to beefed-up bulls, these world-class riders can make eight seconds feel like a lifetime.
---
So whether you follow my footsteps or forge your own path,
I hope to see you on the road.
Chet Garner is the host of The Daytripper® travel show on PBS.
To view the Mesquite episode, visit thedaytripper.com.
Follow along on Facebook, Instagram, and Twitter @chettripper.
From the June 2023 issue