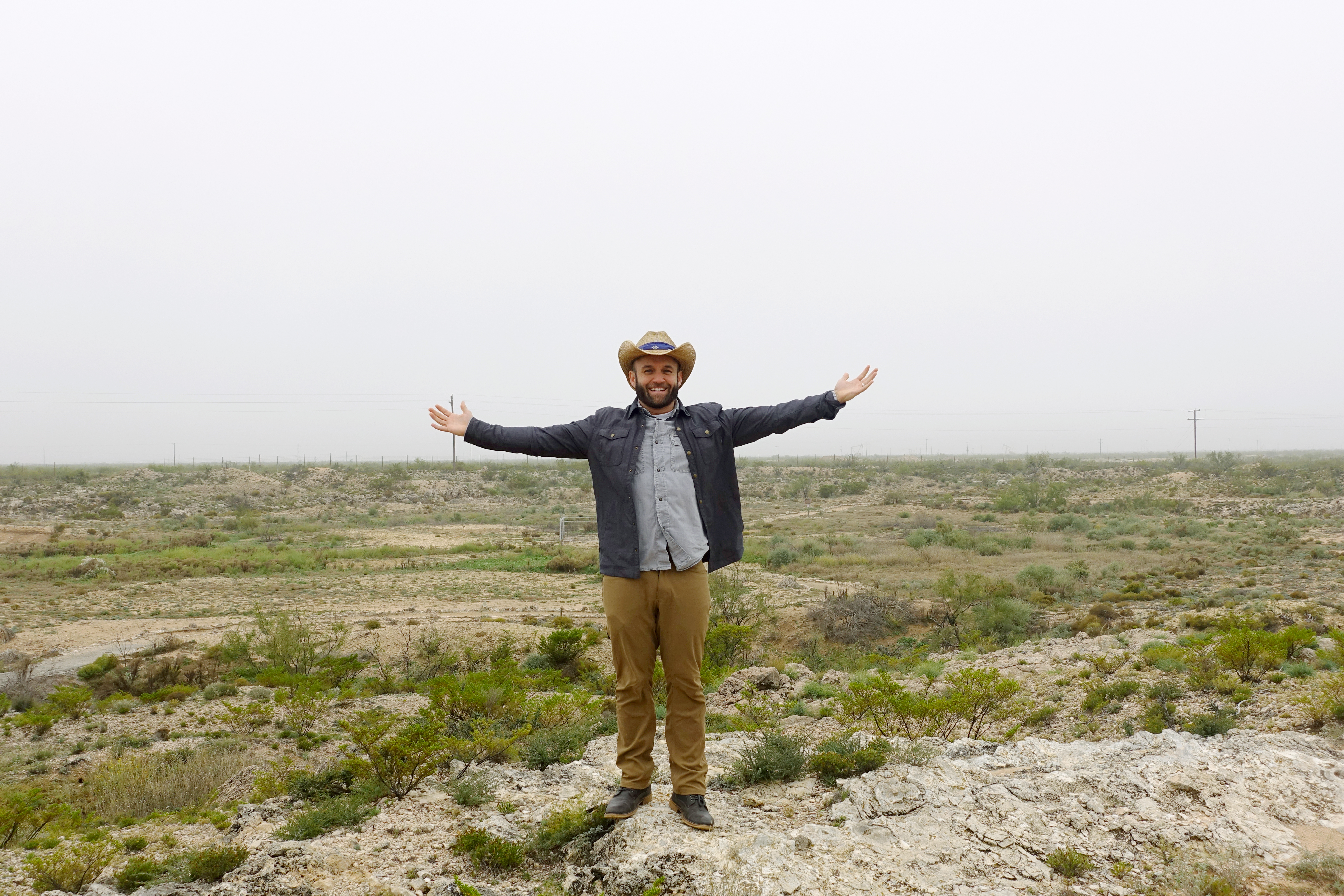 Odessa isn't just for wildcatters: This town on the West Texas plains booms with more than oil these days. From alien objects to Shakespearean monologues, there isn't much you can't find in Odessa, making for one incredibly weird and wonderful day trip.
For a Texas-size dose of the extraterrestrial, you'll want to visit the Odessa Meteor Crater Museum, home of the second-largest crater in the U.S. The museum tells the story of a time, 63,000 years ago, when a giant meteor crashed into the earth, creating a crater over 550 feet wide and 100 feet deep. Wind-blown dirt has filled in most of the hole over time, but you can still see the crater's shape from the well-maintained walking paths.
5599 Meteor Crater Road
432-381-0946
odessameteorcratermuseum.wordpress.com
Permian Basin Hamburger Co.
Right in the middle of Grant Street—Odessa's historic main street—you'll find this stalwart joint that's served greasy burgers since 1978. As you walk through the cafeteria line, pile on the self-serve fries to complement your mouthwatering cheeseburger. And don't miss the pinto beans.
520 N. Grant Ave
432-333-4971
Sitting on the campus of the University of Texas Permian Basin, this museum focuses on the U.S. presidency. Explore photos, stories, and artifacts from each commander in chief. You'll see the Marine 1 helicopter seat that was used by every president from Gerald Ford to Barack Obama; campaign buttons; one of LBJ's hats; and even dinnerware from Thomas Jefferson's era. The crown jewel sits behind the museum—the Bush House, the restored home where the Bushes lived in 1948 when George H.W. Bush, Barbara, and little "W" lived in Odessa as the elder future president worked in the oil business.
4919 E. University Blvd.
432-552-2850
shepperdinstitute.com/presidential-archives
To trip or not to trip? What an easy question! Grab your tights, sonnets, and British accent and head to Odessa College to see this theater modeled after Shakespeare's renowned Globe Theatre in London. Performances take place year-round, including non-Shakespearean plays if you don't speak iambic pentameter.
2308 Shakespeare Road
432-335-6400
odessa.edu/community/GlobeTheateratOdessaCollege
Think of the most delicious food at the State Fair of Texas, combine it with gourmet comfort food, and then you'll have something resembling this place. The Curb Side Bistro started as a food truck, but now hungry patrons come to them. Enjoy dishes like the Homer Simpson Slider, piled high with mac-and-cheese and bacon, or the Buffalo Fries with cheese, chicken, cilantro ranch, and buffalo sauce. For the ultimate dessert, order the Funfetti Fritters (fried cake balls doused in icing). It's definitely not for the carb counters out there, but that's OK—more for the rest of us.
3816 Andrews Highway
432-272-0959
facebook.com/curbsidebistro2014
Whether you follow my footsteps or forge your own path, I hope to see you on the road.
Chet Garner is the host of The Daytripper travel show on PBS. To view the Odessa episode visit thedaytripper.com. Follow along on Facebook, Instagram, and Twitter.
From the December 2019 issue