At the eastern end of the Strand, a historic boulevard in Galveston lined with busy restaurants and souvenir shops, an unusual sign in the shape of bespectacled eyes attracts attention.
Hendley Market

2010 Strand St. in Galveston


Call for hours (extended in spring and summer) 409-762-2610.
hendleymarket.com

Upon closer inspection, the sign marks the entry to Hendley Market—an eclectic emporium that doubles as a virtual cabinet of curiosities.
Inside, the shelves and tables are carefully curated with fair-trade goods from all corners of the globe, with clever toys and gift items mixed in with 19th-century antiques, medical implements from days gone by, and stacks of intriguing books both old and new.
Cheryl Jenkines, co-manager of Hendley Market, often serves as a kind of tour guide for shoppers overwhelmed by the marvels on display. "Once they step inside, they realize they are not in an ordinary store," she observes. "They try to figure out what is going on here." She is quick to point out some of the more uncommon objects for sale, such as vintage glass eyes from France, a leech jar once used for medicinal purposes, and a preserved two-headed duckling (the stuffed nutria sporting a fez is apparently not for sale). Among its varied inventory, the store specializes in Victorian antiques—particularly daguerreotype and tintype photographs, mourning jewelry carved in jet (a lignite that's a precursor to coal), and hard-to-find silver pieces like ornate anchovy forks, tiny-pronged oyster forks, and tea scoops.
Hendley Market still stands as the oldest commercial building on the Strand, once dubbed the "Wall Street of the South."
The building itself also dates from the Victorian era. Fashioned in the Greek Revival style, with a first floor ringed by numerous pilasters, the three-story brick edifice contains four conjoined structures and was the tallest in Texas when it was completed in 1858. Its name, "Hendley Row," came from the maritime shipping firm of William Hendley & Co. Today, it still stands as the oldest commercial building on this busy thoroughfare, once dubbed the "Wall Street of the South." Hendley Market occupies the first floor of one of the complex's four structures—an open room illuminated by a central sky-lit atrium and originally used for grading cotton. The offices of the upper stories have been converted into six vacation-rental apartments that should be available by May.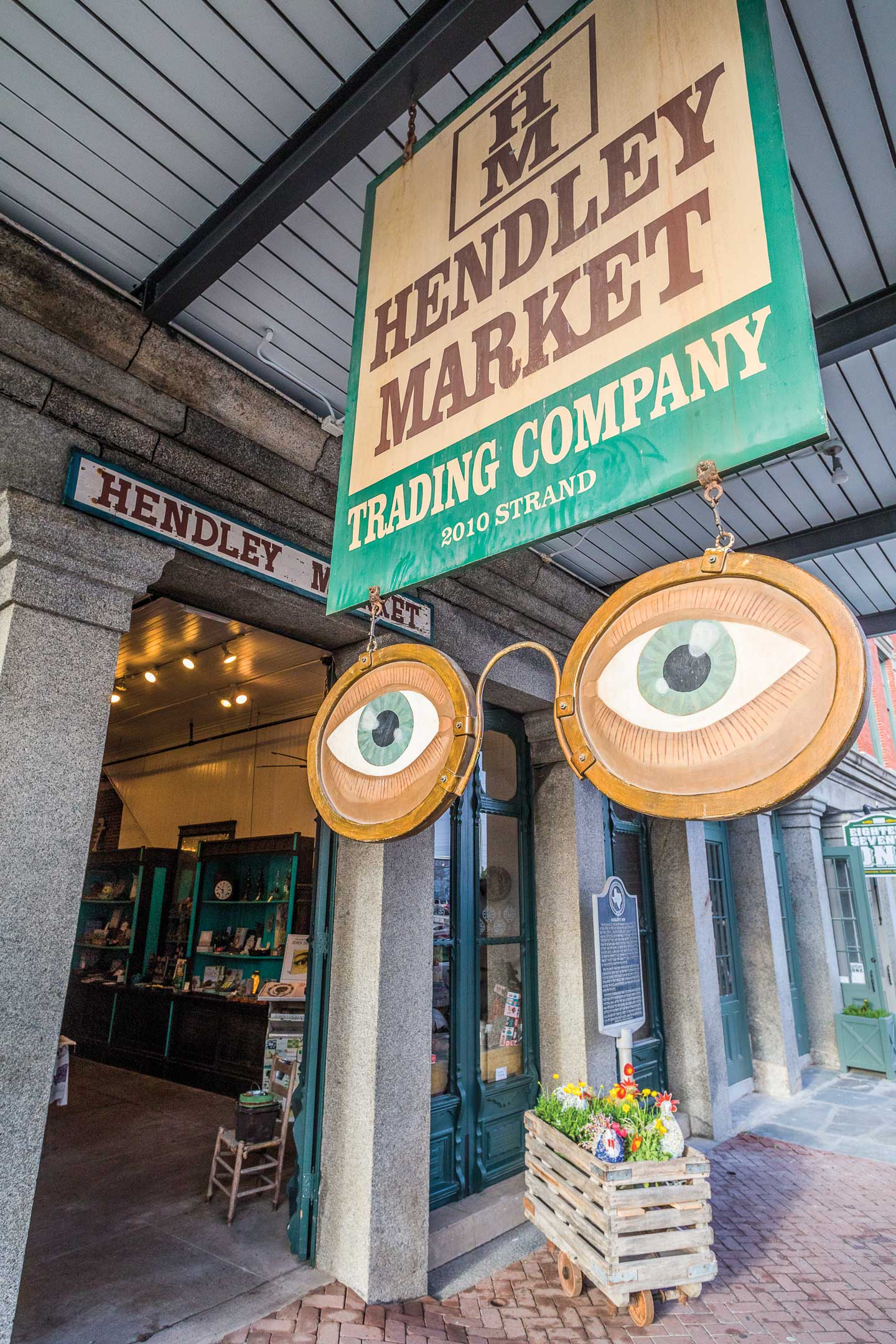 Hendley Market has been a fixture on the Strand since 1979, and it hasn't changed much in all that time. Jenkines began working there in 1990, and she says the original owners sold the property to her in-laws shortly thereafter. Over the years, Jenkines—along with her trusty red hound, Cooper, who often greets customers—has continued to helm the shop with the help of her co-manager, Tulisha Dampier.
Together, they have maintained the tradition of stocking the shelves with fascinating novelties and one-of-a-kind finds. Jenkines estimates that the shop's inventory numbers in the thousands, although she is really not certain: "There's no way to measure. It's like a black hole. It's an ever-changing inventory of items. There's new stuff every week, and sometimes daily."
Jenkines and Dampier particularly pride themselves on their selection of international fair-trade wares, such as beaded bracelets from Thailand and Nepal, Peruvian good-luck packets and amulet vials, Indian kantha-cloth dish towels with decorative stitching, blue-glass "evil eyes" from Turkey, and pouches made from brightly colored Mexican oilcloth—all priced under $20, and often much less. Jenkines
procures these items from trade shows across the country and sometimes directly from artisans abroad. "We were doing fair-trade way before it was fashionable," she asserts. European gift items are also available. Petite hand soaps from France offer a bouquet of scents, including freesia, starflower, and laurel. British tea towels and Italian paper are printed with taxonomic depictions of flora and fauna, showing different kinds of crustaceans, cacti, butterflies, octopi, and birds.
However, the shop is perhaps best known for its astounding array of Nativity scenes, more than 300 in all, which draws shoppers year-round—even in the heat of summer. "The smallest one is from Ecuador; it fits in a pistachio shell. The largest is from Haiti, made from a recycled oil drum," says Jenkines, gesturing toward some packed display cases at the back. These figurines come in a range of shapes and sizes, and from as far away as Bangladesh, France, Ghana, India, Kenya, Poland, Thailand, and Vietnam. One Nativity scene made in Mexico from old car parts goes for $420; others, such as a Peruvian one nestled inside a ceramic chili pepper, cost as little as $8.
Hendley Market also carries the work of artists and artisans closer to home. Galveston local Ben Thomas is responsible for the wacky taxidermy on display ($75–125). Houston resident (and part-time store employee) Amanda Hannie produces the colorful Day of the Dead altars and skulls, as well as the long strands of lights embellished with vividly painted flowers made from the ends of recycled plastic water bottles ($165). Texas Pioneer Creations, a family-owned business near Houston, supplies the shop with handmade bars of soap, including an exclusive "Galveston Sea Salt" variety. One of the more popular items, also unique to the store, is the "Cider Beetle": half of a dried orange peel packed with brown sugar, with a cinnamon stick, cloves, a nutmeg seed, and allspice seeds arranged to look like a bug in the center. This fragrant concoction, produced by and for Hendley Market, can be dropped into a steaming pot of apple cider or red wine on festive occasions to make wassail or mulled wine. A seasonal "Cider Reindeer" (with Red Hots candy for a nose) is available around the winter holidays.
According to a sign posted near the entrance, dogs and bare feet are welcome in the shop. Children are likewise encouraged to enter and explore. Here, they will find classic toys like kazoos, mood rings, and rubber roaches, but they will also find objects to spark their curiosity: coins and paper currency from around the world, old postcards from far-off places, antiquated medical tomes, samples of
petrified wood, and geodes waiting to be cracked open. Even adults can regain a sense of childlike wonder when browsing through Hendley Market's captivating inventory. There is always some new oddity or delightful trinket to discover. Curiosities abound.
From the April 2018 issue