Near Route 66 in the Panhandle,
a junkyard of classic cars pays tribute
to the heyday of the hot rod
putters through his salvage yard in a beat-up truck on a bright October day. He is surveying the hundreds of weathered vehicles on his 65 acres of scrub brush in the rolling plains of the Panhandle. Before him is arguably the best collection of classic cars and car parts remaining in Texas. Maybe the world.
Bob has painted "Bob Express" on the dented bed of his pickup. A joke—it's going nowhere fast. A row of knife handles runs along the top of the dashboard. Often, Bob will pull a part from an old car, come across a knife, and stab the blade into the pickup's dash. He doesn't know why. The truck came to him a bit crumpled, so he cut out the windows and left the roof as a sunshade. All the better to see his cars.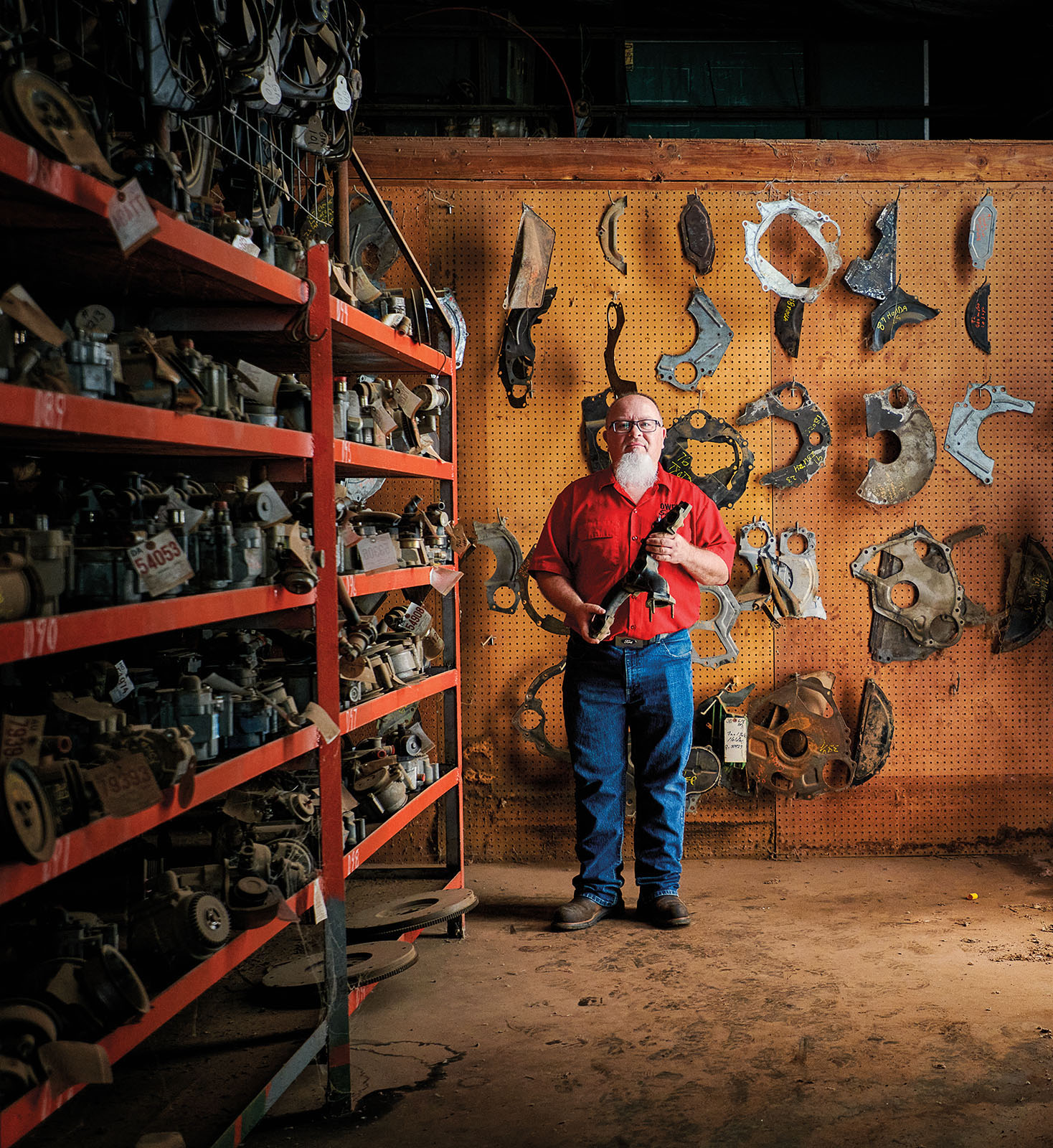 Here's a '49 Plymouth fastback. "See the hood ornament?" Bob chuckles. "It looks like a ship, like the Mayflower." Over there, a round stump is wedged between the bumper and body of a '53 Chevy. "I had to cut the tree to get it," Bob says with a melodic twang. He looks out across his yard. "Somewhere I've got another car with a tree in it, a big one."
He drives past a section of the yard he's dubbed Mercury Corner and then over to Oddball Row, where distinct vehicles like a Nash Rambler, Willys Aero, and Frazier and Hudson sedan sit. The rows of vehicles and their remaining parts are meticulously organized inside Bob's head, and only in Bob's head. He used to shave his hair into an old-fashioned style that got him the nickname Flat Top Bob. But at 55 years old, his hair's thinned. Still, a long tuft of white goatee protrudes from Bob's chin—screaming, "hot-rodder." He nudges his truck within inches of a black cow gnawing at the weeds sprouting up around a rusty axle. "Yes, that's the lawnmower." Other animals live in the yard, too. The odd western diamondback and an energetic Doberman pinscher, Roxy. She's known to go after the rattlers and give customers friendly licks, but today no one is around.
Bob's dad, Bob Sr., opened the junkyard in 1964. Bob was born in '66. Named Owens Salvage, the yard is located a mile south of Wellington, a town of about 2,000 people near historic Route 66 and the Oklahoma border. At its pinnacle, nearly 3,700 people lived in Wellington, the Collingsworth County seat. The town square boasted two banks and a jewelry store. But Wellington's population has declined every decade since 1950 save for a spell during the '80s oil boom.
Even as growth stalled, cars remained a way of life in this part of the Panhandle. A set of wheels was a ticket to enjoy life in Wellington, where the plains rise west toward the red walls of Palo Duro Canyon and the long flat Llano Estacado beyond. The undulating, open roads beckon to vehicles that go fast in a straight line. And yeah, Bob's dad raced dragsters and built hot rods. Bob started driving not long after he could peer over the dash and get a foot on the brake pedal. At 12, he drove himself to his first day of middle school in a Chevy El Camino. On weekends, the residents of nearby towns like Memphis and Shamrock, the backdrop for the animated movie Cars, might spot the boy rolling down their back alleys or digging through the local junk pit, searching for discarded artifacts. He was especially drawn to one-of-a-kind signs made from porcelain baked onto rolled iron or constructed with neon tubing.
Bob may have missed the heyday, back when people really did get their kicks on Route 66, but the vestiges of that bygone era remain. With its single-screen movie theaters, roadside cafés, and art-deco gas stations, the rolling plains appear as a dust-covered snapshot, capturing a time when things seemed simpler, at least according to Bob. From as early as he can remember, he'd felt destined to reclaim, restore, and retell the story of what had been lost.
The salvage yard eventually expanded. Bob's dad traded a Model T Ford for the tin to build the first iteration of what would become a 30,000-square-foot warehouse for stockpiling parts. An entire wing houses used engines. The reused parts from one demolished vehicle might save a dozen others. Stripped clean, a car's body and frame would go to the crusher—a device Bob's dad built by hooking a diesel engine up to a pair of pneumatic pistons he'd saved from a decommissioned missile silo. The scrap iron would then get melted down and recycled into something else. But Owens Salvage never crushed the cars from the '40s, '50s, and a select few from the '60s. Too much potential. Bob points to a '69 Camaro: "That's my last one."
Owens Salvage once employed as many as 20 people to help keep the area's vehicles running. "Now," Bob says, "it's just me." In the early 2000s, not long after the internet began connecting the world, Bob logged on. On a forum for car collectors called HAMB (the Hokey Ass Message Board), he found a rapt audience who let him know he wasn't alone.
"You have to really hunt and search and try to find parts for these old cars," says Steve Wertheimer, a friend of Bob's who organizes the Lonestar Round Up car show and owns the live music venue The Continental Club, both in Austin. "You can't go down to AutoZone or O'Reilly's and pick that stuff up off the shelf. So, all of us hot-rodders and custom-car guys, we became fast friends with Bob. Because he had the stuff."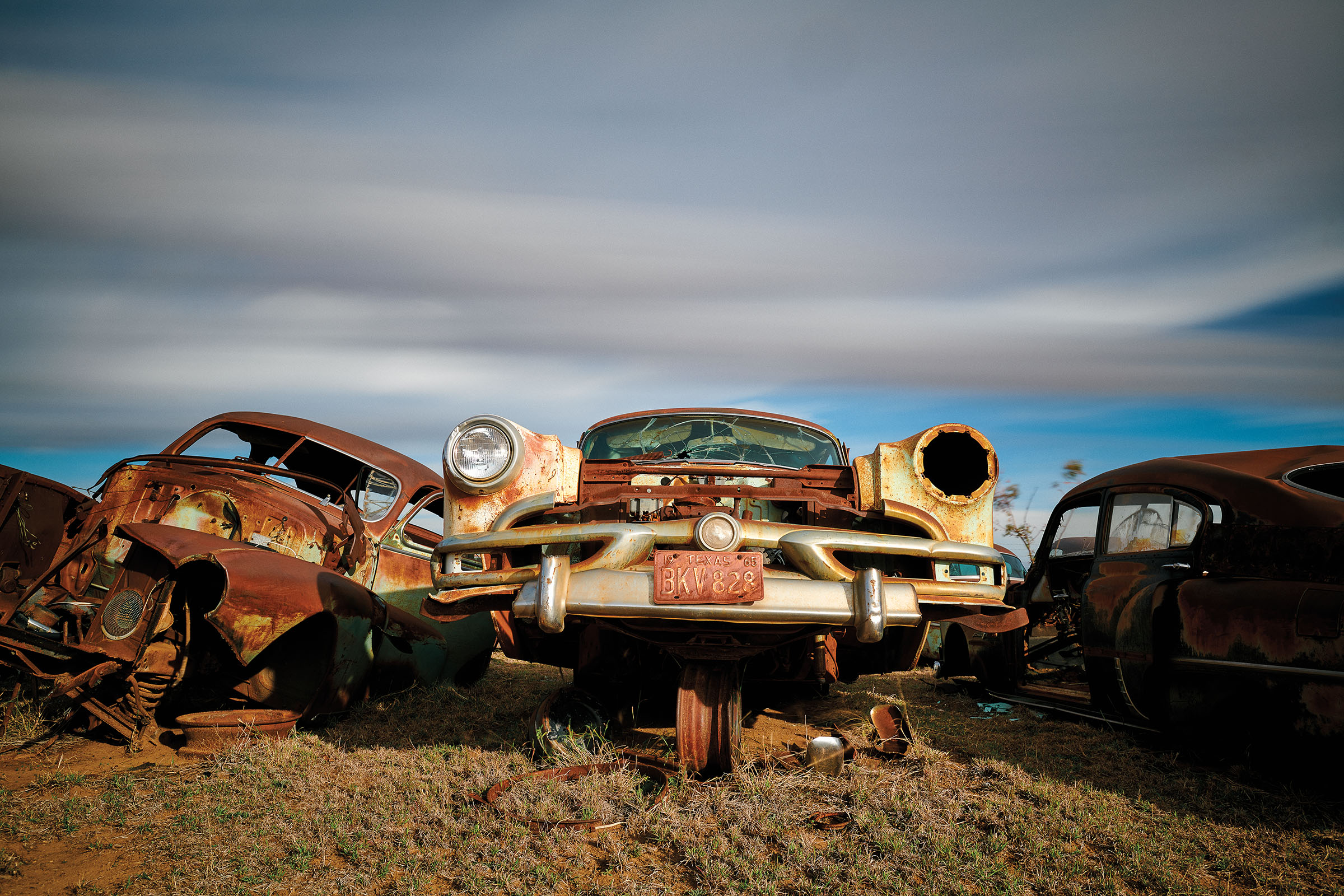 Type "salvage yard" into YouTube and you're quickly sucked into a subculture that reveres old vehicles. Someone will be driving down a backroad and spot some cars and trucks sinking into a field. They'll pull over, start filming on their phones, and say, "Boy, don't you wish you could get back in there, get out your wallet, see if you can buy something?" People strap GoPros to their heads and tour other well-known classic car salvage yards, like the CTC Auto Ranch in Denton or John's Salvage in Seguin. Some videos rack up hundreds of thousands of views.
There are countless auto salvage yards in Texas and around the country, places where you can fix your car with a part from someone's junker. But there aren't many places like Owens Salvage today. Customers from as far away as Japan and Israel request parts from Bob. And car clubs often make a point of stopping in Wellington when they're exploring Route 66. Bob's happy to give tours of Owens Salvage by appointment. Just last month he had some visitors from New Zealand and Germany.
This phenomenon is a source of chatter for Bob and his friends during lunch at the Gettin' Spot restaurant on US 83. The road spans the United States from Mexico to Canada, and where it intersects Route 66, some call the crossroads of America. Bob and his friends eat at the same broad wooden table; they sit in the same chairs. "We call it the board meeting," he says. "We've solved most of the world's major problems right here." He orders a sweet tea in a Styrofoam to-go cup and a small spaghetti with red sauce. "Extra bread sticks?" the waitress asks. "Why not?" Bob smiles.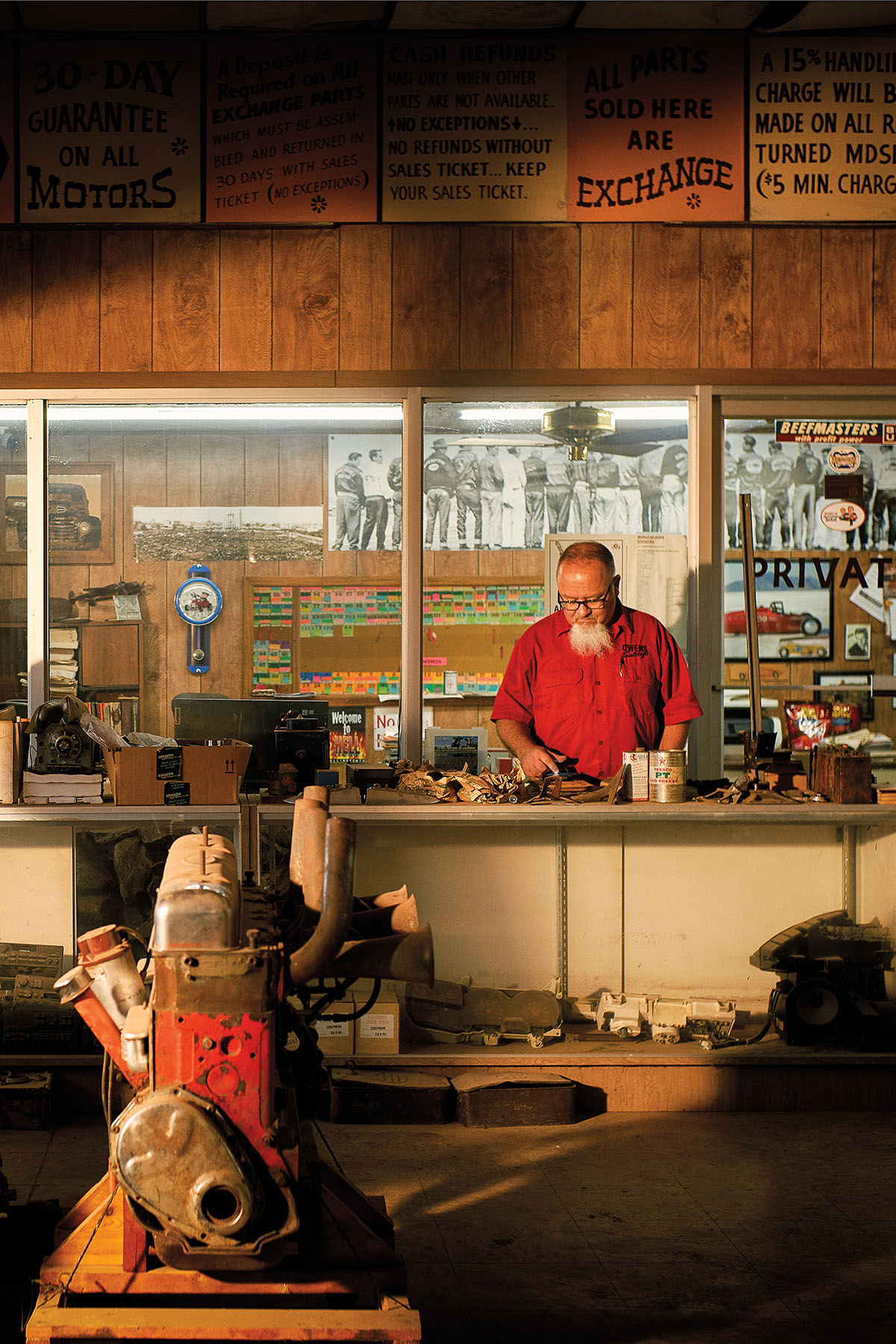 Life's good in Wellington. The town recently opened a public water park and restored the 400-plus-seat Ritz Theatre. Bob maintains the theater's neon marquee: "Ever since I was a kid, I'd wanted to see that sign light up." His teenage daughter, Isabella, recently got a job at the children's dance studio on the Wellington square. And Bob's planning a trip with some of his hot-rod friends into Palo Duro Canyon. They plan to stay at Hotel Turkey, which is also a popular live music venue.
But even in his idyllic corner of the world, there are things outside of Bob's control. The rise of electric vehicles, for example. "Everything I do and love—my entire life, my livelihood—is coming to an end," he says. "Because this is my whole life. I mean, this is all I do. If I can inch out another 10, 15 years, I'll be lucky." He bemoans that many younger folks don't want the hassle of pulling parts from old cars. Instead, they'll buy cheaply built refabricated stuff off the internet. Or they won't bother to save something at all; they'll just trash it and get the next new thing. Not everyone has Bob's reverence for the past.
Bob looks to his good friend Heath Murray, the owner of Murray Kustom Rods near the Fort Worth Stockyards, as hope for the future. Murray, 40, is one of the younger guys in the Texas hot-rod scene.
"People our age, we inherit these old cars," Murray says. "And what we remember is the time we had with our parents and grandparents riding around in those cars, going to dinner or church. I've had projects in here where people—that's the car they were carried home from the hospital in. That's how we hold on to those memories. By reliving them, by having that car."
Murray says the types of cars change. "People are wanting to restore trucks from the '90s now," he says. "If you were born in 2005, a '95 Chevy is an old truck." But the overriding motivation, to recall the past through the vehicles that moved us forward, stays the same.
Many of Bob's customers are looking for historic vehicles for reasons other than putting them on the road. "Do you ever go to Chuy's restaurants?" he asks. The Tex-Mex chain reuses the rear ends of Bob's cars as self-serve nacho bars, with the chips and queso in the trunk. And all those hub caps on the restaurants' ceilings? "I have sold thousands of hub caps to Chuy's," he says.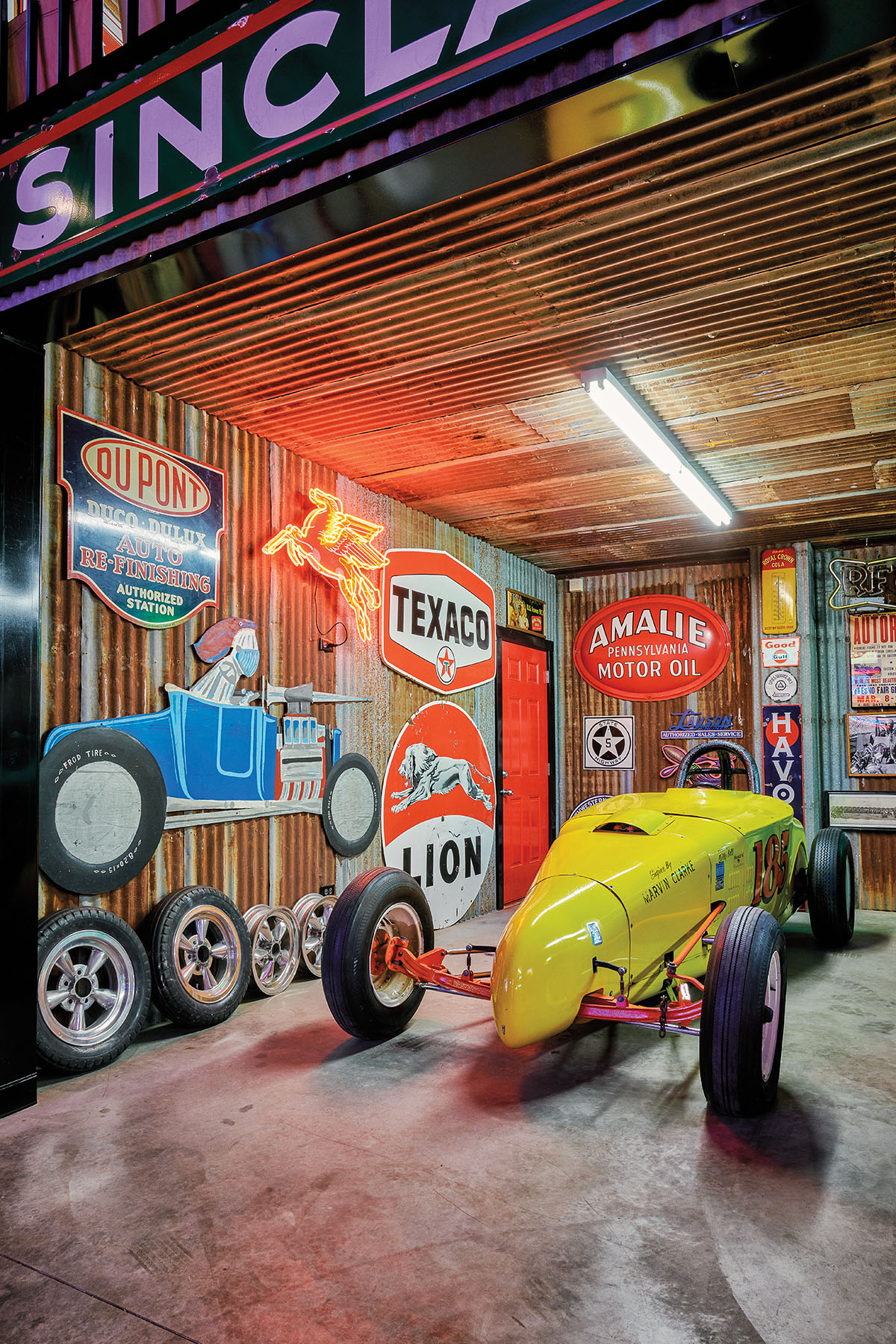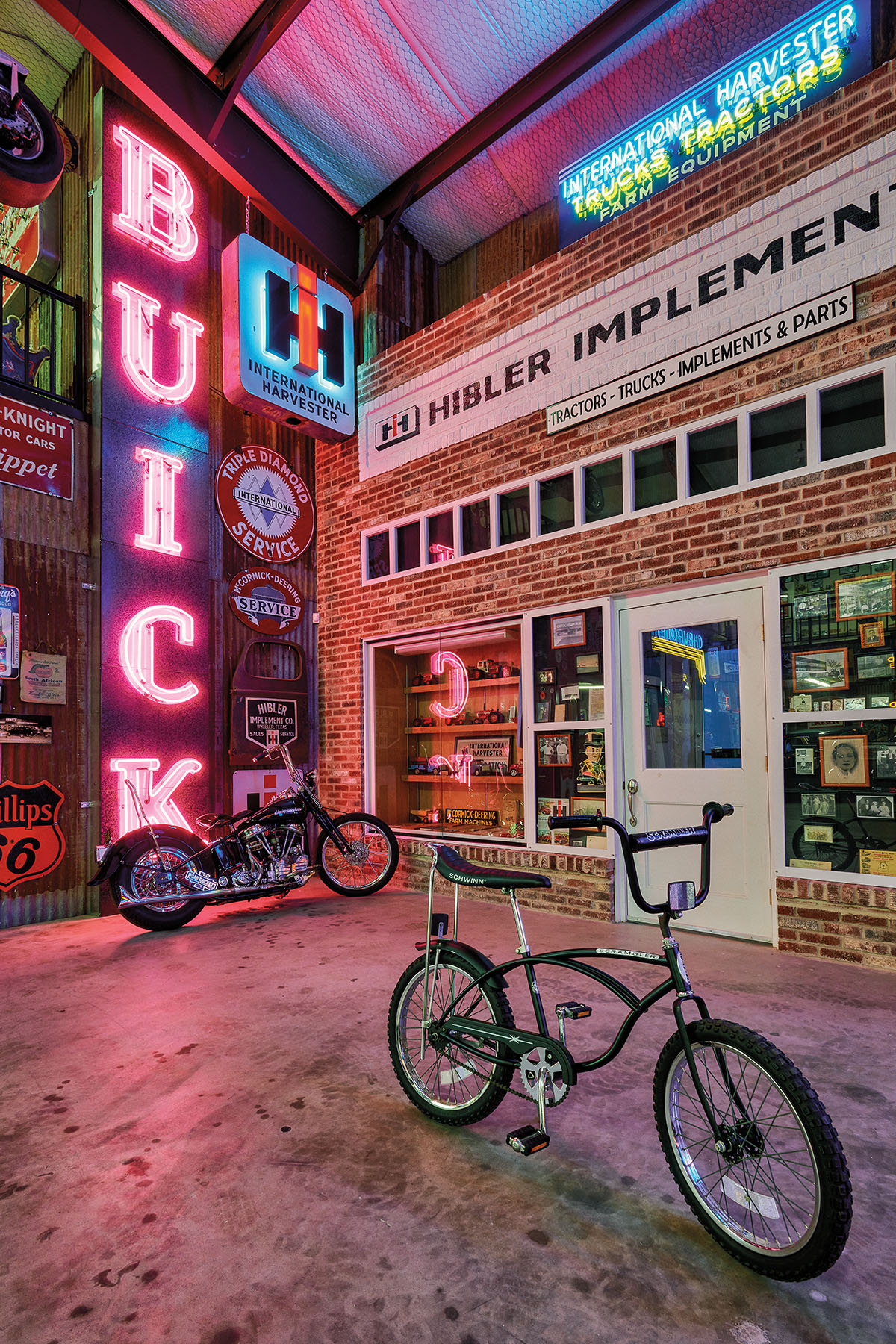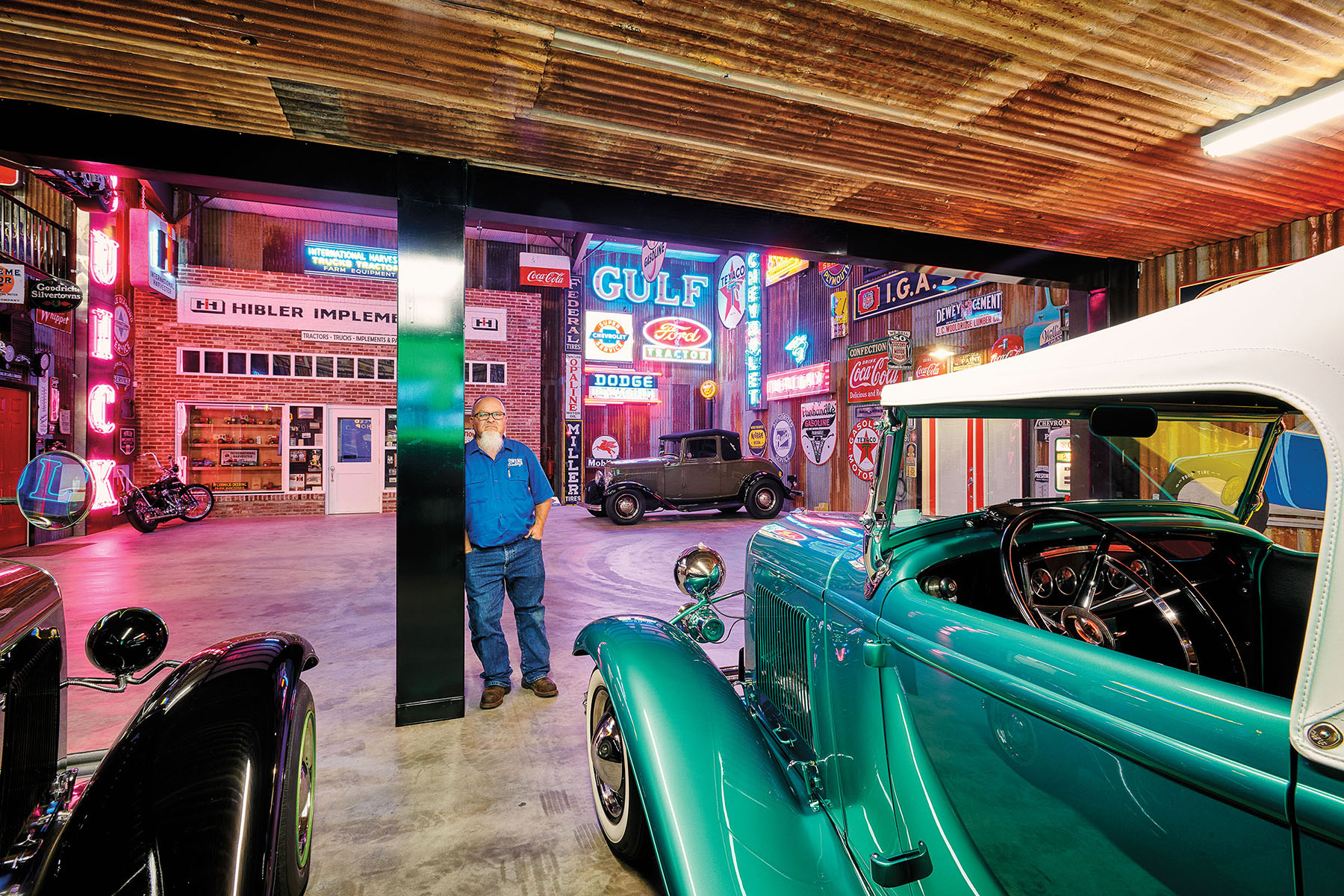 Bob is perhaps his own best customer. He restores cars himself and is particularly attracted to one model. "When I'm sleeping, I'm dreaming about '32 Fords," he says. With its regal grill and restrained styling, the 1932 Ford brought the V-8 engine to the masses. Outlaws like Bonnie and Clyde praised the '32 Ford for its ability to outrun the cops. In 1933, the Barrow gang crashed a Ford into the Salt Fork River just north of Wellington, spilling guns and cash across a family farm. In the '50s and '60s, young hot-rodders began dropping muscle-car motors into the wide chassis of '32 Fords and taking the devilish-looking vehicles to the drag strip. Dubbed the "deuce," the car has been immortalized in songs like the Beach Boys' "Little Deuce Coupe" and Bruce Springsteen's "Blinded by the Light." Cut loose like a deuce / Another runner in the night.
Bob is happy to show off his collection of '32s, located inside a warehouse next to Owens Salvage. The place is divided into three walled-off areas: a three-bedroom home, a shop, and a showroom. In the latter, an 18-foot-tall neon Buick logo glows and buzzes. A Panhandle Oil sign hangs on a wall where Bob can see it every day when he gets home from work. Framing the exterior door is a true-to-life facade of Hibler Implement, the international dealer and tractor-parts store that Bob's grandfather once owned in nearby Wheeler. The bricks came from the actual building. Bob and his brother restacked them just so.
Bob long dreamed of living in a big home with room for all his junk. When he turned 40, he realized if he didn't build it then, he never would. So, he and his wife, Linda, sold their modest Wellington house and lived in a trailer for three years while their warehouse home went up. Before proposing, Bob warned Linda, "As long as we can eat, there will be cars and antiques." But, Linda says, "I didn't know it'd be this bad."
A bullet-shaped vintage dragster that's topped 169 miles per hour on Utah's Bonneville Salt Flats sits in a corner of the showroom. In another corner, there's a four-door '32 Ford Phaeton, black as an ink drip. But it's all about the famous jade-green cruiser with a cream-white ragtop—the Cusey Roadster. The car appeared on a 1963 cover of Hot Rod magazine, as well as an album for the surf-rock band the Astronauts. Its former owner, Ian Cusey, founded the L.A. Roadsters hot-rod club. Tuned, the Cusey Roadster could match a souped-up '60s Ford Mustang going zero to 60.
Bob got the car from a friend who got it from Cusey. After decades in storage, it'd deteriorated to an assemblage of patinaed parts. In his shop, Bob recaptured the car's heritage, maintaining its imperfect paint splatters and rough spots. Because the hot-rodders of that era built these cars to use—and show off. In January of 2022, Bob was invited to enter the Cusey Roadster in the "Historic Roadster" category at the Pebble Beach Concours d'Elegance in California.
The Kentucky Derby of car shows, admission starts at $475. The men wear sports coats and the women don fancy hats. The show began with a 70-mile jaunt down US 1, where Bob drove his '32 Ford alongside Bugattis and Bentleys, past the mountains overlooking the Pacific Ocean. "To be on the greens on Pebble Beach with some of the finest cars in the world, you know, this freaking hillbilly from Wellington—and no disparagement to him, he'll tell you the exact same thing—I was so excited for him," Wertheimer says.
The judges awarded Bob's car third place. All his life, he'd wanted a car with a story he could bring back to life. Sure, he'd grown up around classic cars. He rebuilt many of them, kept some, and sold others for a mint. But this car is special. "It's more important than money," Bob says. "It's history."
In Plains Sight
Five stops for a road trip along the rolling plains
Tower Station and U-Drop Inn Café
A quintessential 1930s Route 66 gas station and roadside café, this neon-lit art-deco building now serves as a visitor center, Tesla charging station, and iconic photo op.
101 E. 12th St., Shamrock.
806-256-2501;
facebook.com/udropinncafe
Devil's Rope & Route 66 Museum
A "tribute to barbed wire" and its impact on the Old West, the museum features exhibits on the Dust Bowl and cowboying.
100 Kingsley St., McLean.
806-779-2225; barbwiremuseum.com
Ritz Theatre
Built in 1928, the fully restored theater on the Wellington square hosts contemporary movies and live shows.
902 East Ave., Wellington.
806-447-0900;
wellingtonritztheatre.com
Hotel Turkey
The 96-year-old Hotel Turkey, in the hometown of Texas swing legend Bob Wills, offers lodging, serves dinner and drinks nightly, and hosts live music Friday and Saturday nights.
201 3rd St., Turkey.
806-423-1151;
hotelturkeytexas.com
Owens Salvage
Contact owner Bob Owens to rummage through the junkyard for vintage car parts or for a tour of his personal showroom.
3725 US 83, Wellington.
806-798-2581;
owenssalvage.com
From the January 2023 issue