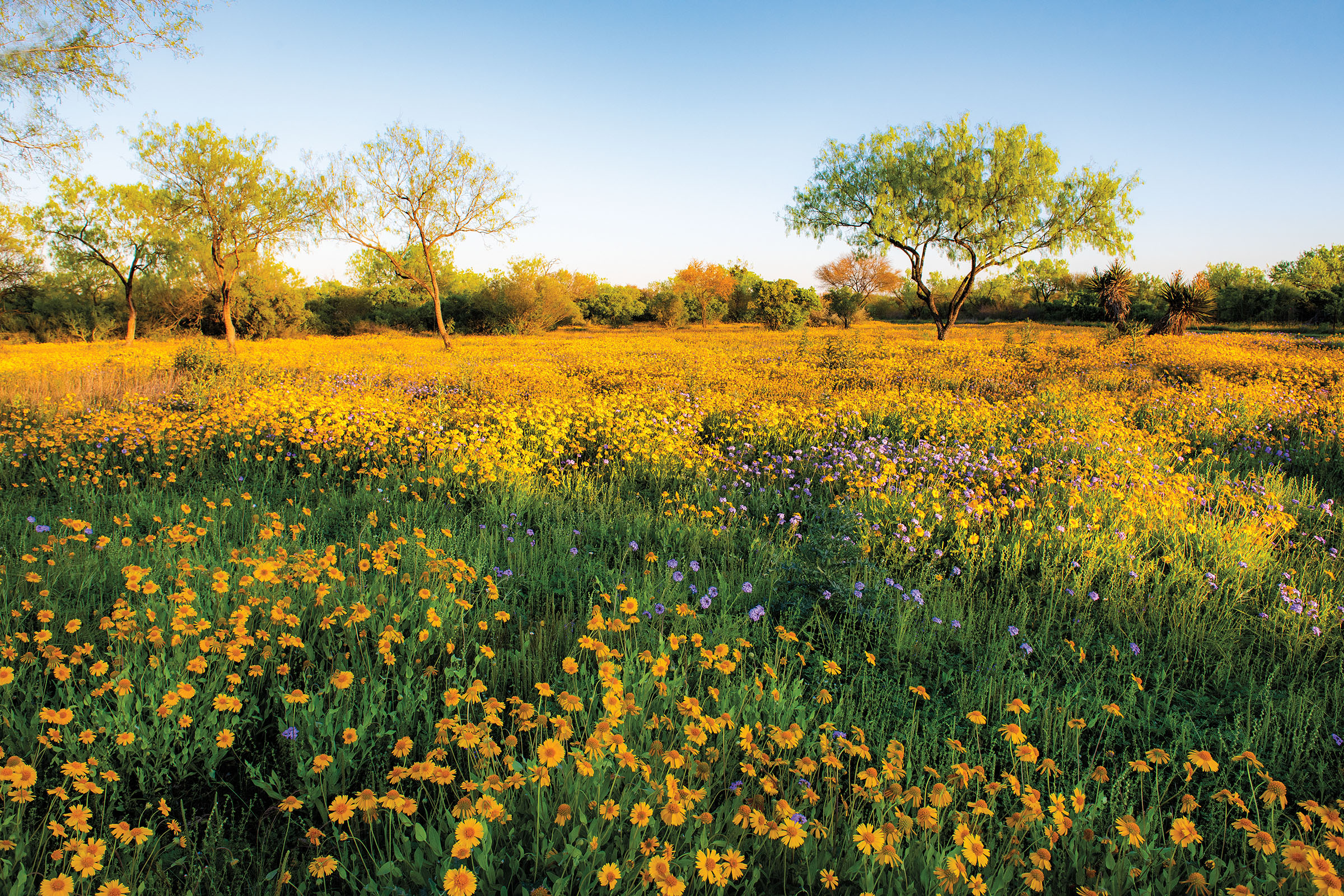 Spring crowds in search of the Hill Country's famous wildflowers often stop just short of Kerrville, located 30 minutes southwest of the tourist hub of Fredericksburg. But travelers who continue southwest on State Highway 16 for another 30 minutes are rewarded with an off-the-beaten path respite along the peaceful banks of the Guadalupe River. Farmer Justin Graham, who operates the Kerrville Farmers Market, likens his little city to "a flower that hasn't opened yet." There is a lot to discover in this budding town, from its active arts community and picturesque walking trails to its flourishing dining scene.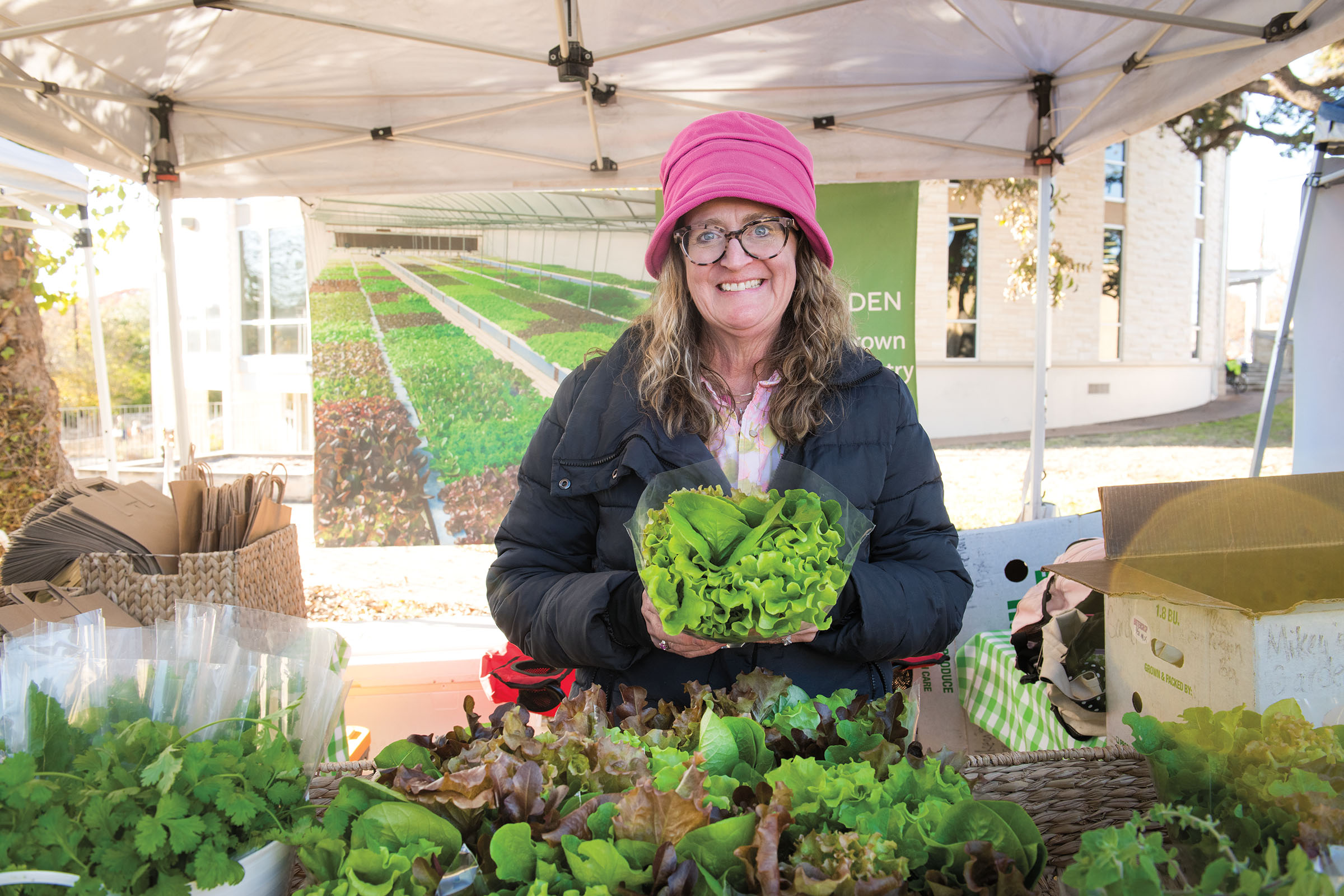 4 p.m.
To Market, to Market
Kerrville is home to several comfy options for overnight stays. Those who prefer traditional hotels might want to book a room at the Y.O. Ranch Hotel or Inn of the Hills. For something slightly out-of-the-box (or more accurately, inside of a box), River Trail Cottages offers vintage RVs and trailers, as well as cottages. The farmers market, an event most towns reserve for weekend mornings, is Kerrville's Friday night block party. Vendors sell traditional items like produce, soaps, and jams and jellies, yet the market also serves as a hangout where locals socialize over free beer from Pint & Plow Brewing Company. (Those in the know bring their own glasses, but you can also buy a cup at the entrance for $5.) The festive atmosphere, set against the backdrop of the historic A.C. Schreiner House, attracts "farmers, producers, and 5 p.m. happy hour folks," says Graham, who also runs Zanzenberg Farm with his wife, Katye Graham.
6 p.m.
Cool and Casual
The farmers market crowd slowly drifts down the street to Pint & Plow to enjoy more brews and dine on pizza, sandwiches, and salads. While the roasted beet sandwich might sound like a basic vegetarian option, its crisp slices of bacon belie its name, and the addition of creamy local goat cheese adds incredible flavor. Pint & Plow offers flights of its beers, which range from a lager to a brown porter, but the River Shandy—a beer cocktail comprised of Tchoupitoulas American IPA, lemonade, and mint—is the perfect closer to a spring evening.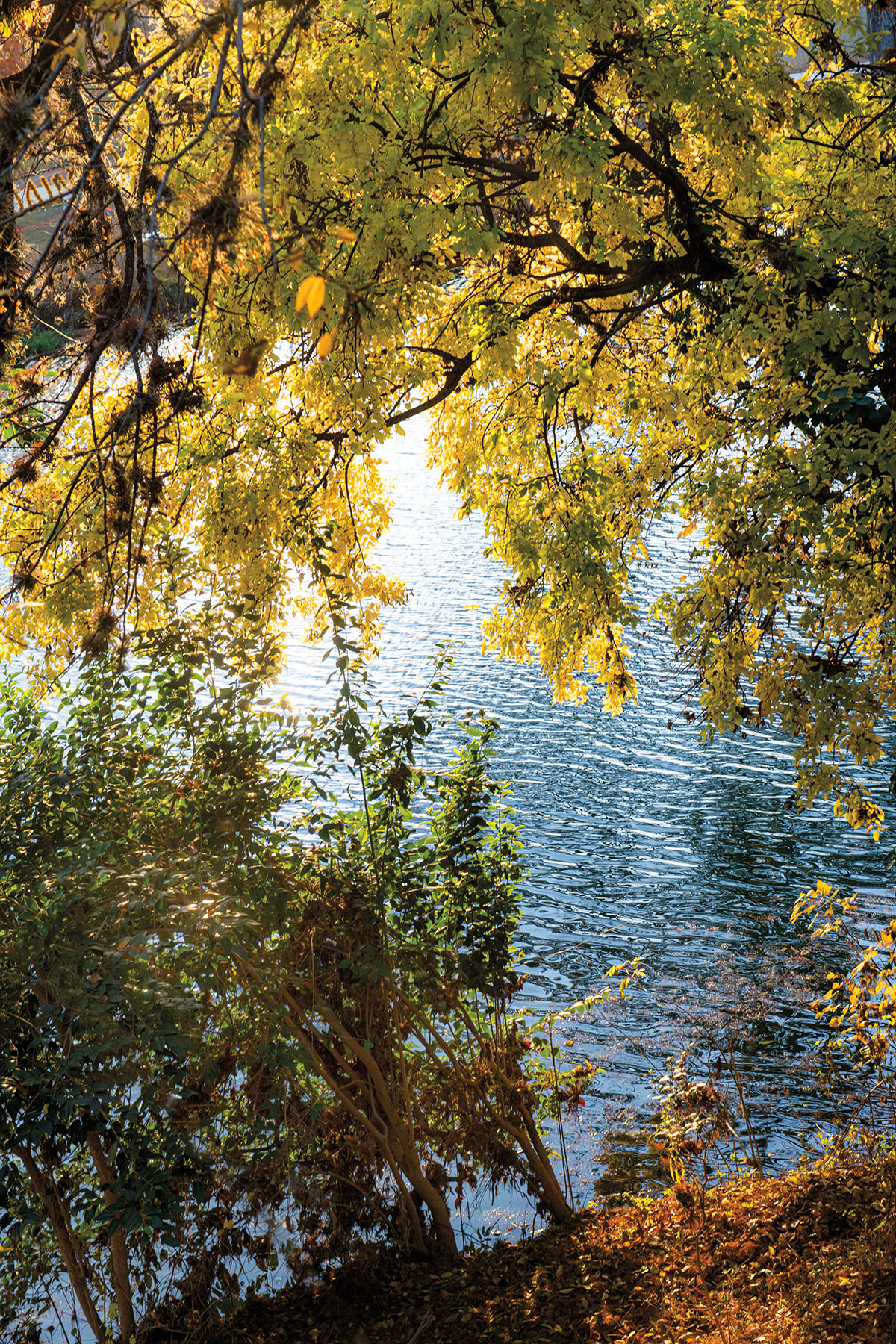 9 a.m.
Walk It Out
PAX Coffee & Goods gets you going for a day of exploring with a selection of espresso drinks, teas, and bagels. A few miles away, Riverside Nature Center provides a helpful primer on the native wildflowers you might find in the area. Its nature path is chock-full of information on more than 200 species of wildflowers, grasses, and ferns—plus it makes for peaceful wandering with a pollinator garden and quiet places to sit and reflect. The nature center is also one of the entry points to the River Trail, a hike-and-bike path that runs 5 miles along the Guadalupe River. The trail connects to a few other parks in the city like kid-friendly Louise Hays Park.
Noon
Garden-to-Table
Bridget Symm became interested in growing organic food when she learned about her son's severe food allergies. The interest grew into action—and now Bridget's Basket is not only a garden where you can pick your own fresh vegetables, but also a vineyard, event venue, and café. The restaurant serves simple, wholesome dishes like a harvest bowl of seasonal veggies, greens, and grains; silky soups; and chalkboard specials like pulled pork tacos. The market next door offers a selection of wine, eggs, lotions, candles, and other assorted goods.
2 p.m.
Legends of the Southwest
The Museum of Western Art is a shrine to all things cowboy culture. It honors the genre with 150 sculptures, 250 paintings, saddles, wagons, and a children's exhibition. The research library provides depth and context to what's on display. For jewelry-lovers, Kerrville is synonymous with James Avery. The pioneering jeweler who died in 2018 at age 96 built his business from the ground up in the Hill Country town starting in the 1950s. There are now more than 80 James Avery stores across the South, but Kerrville holds its headquarters and flagship location. In the back of the store, a mini-museum displays Avery's sketches and tools, photos, and information about designing and crafting jewelry.
6 p.m.
Wine About It
Grape Juice, located in downtown Kerrville, is sophisticated yet unfussy. The restaurant—as its name indicates—excels at wine. The menu divides its wine selections into "fun" and "familiar," with options from all over the world, and its shop encourages guests to buy a bottle of their favorite to-go. Fans laud Grape Juice for its Brussels sprout appetizer (it's featured prominently on some of the merch), a plate of roasted sprouts tossed with bacon, feta, and a sweet soy drizzle. Game meats like venison, antelope, and quail appear in comfort-food dishes like chili, nachos, and sliders.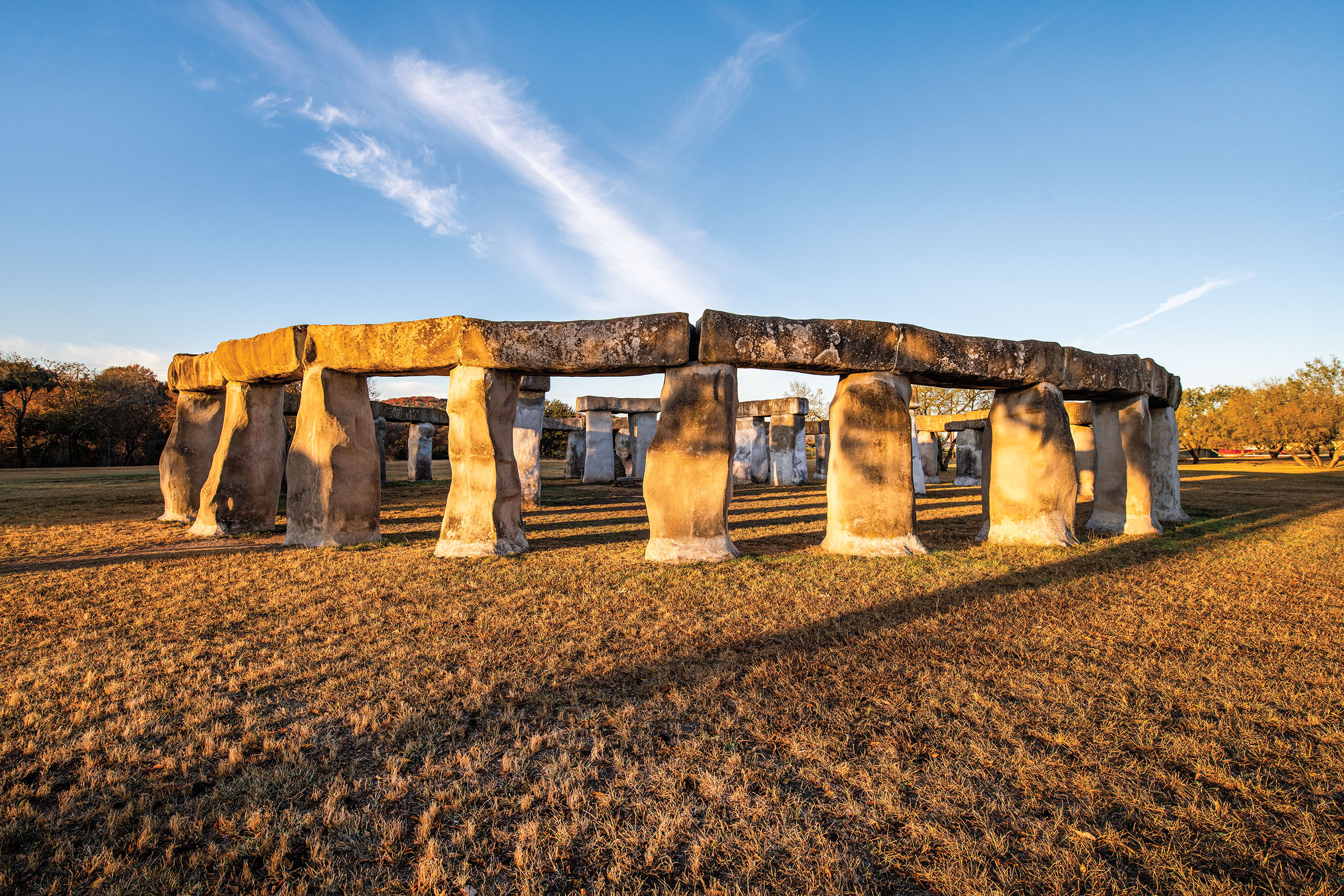 9 a.m.
Blast From the Ancient Past
A replica of Stonehenge—the mysterious ancient rock formation in England—stands at the Hill Country Arts Foundation in Ingram, just outside Kerrville. Simply named Stonehenge II, the roadside attraction was built by Hunt locals Al Shepperd and Doug Hill at 90 percent of the height and 60 percent of the width of the original circle. Adding to the artistic eccentricity are two replica Easter Island statues. While you're there, catch a show at the foundation's Smith-Ritch Pointe Theatre—the 2020 lineup includes Steel Magnolias and Matilda. Kerrville has always been celebrated for its natural beauty and rural charm, but it continues to blossom with vibrant cultural offerings
Park It
Buckhorn Lake Resort offers RV sites and cottages for daily, weekly, and monthly rates. Amenities
include swimming pools, catch-and-release fishing ponds, laundry
facilities, and a tennis court.
2885 Goat Creek Road, Kerrville.
830-895-0007; buckhornlake.com
From the March 2020 issue