Was there ever a better way to see the Texas countryside than from horseback? Even before cowboys became synonymous with the Lone Star State, the great Comanche horsemen of yesteryear discovered the advantages of riding steeds liberated from the herds that arrived in the desert Southwest with Spanish conquistadors.
And how fortunate are we centuries onward to be able to saddle up and experience life from atop a horse?
These were the thoughts that crossed my mind during a trail ride at the Mayan Ranch on the outskirts of Bandera, the western Hill Country town nicknamed the "Cowboy Capital of the World." On a brisk morning, my family and I rode on a Medina River path overhung by post oak and pecan trees, spotting colorful butterflies coming to life in the sun. The experience may have been more mild than wild, but the easygoing wranglers ensured that everybody in our string of riders had a grand old time.
"Just keep your horse in order," cautioned cowboy Ryan Hicks, whose family owns the 350-acre ranch. "Some of them are best friends, but some of the horses don't like each other."
For nearly 100 years, would-be buckaroos have been visiting ranches in Texas and beyond for the chance to play at being a vaquero. Named for the old-timey term for city slickers in fancy duds, dozens of Texas "dude" ranches from the North Texas prairie to Big Bend's red-rock majesty provide a chance to escape the big city and saddle up for trail rides, campfire cooking, fishing, trapshooting, and wildlife viewing. With choices ranging from luxury resorts to budget bunks, I landed upon three ranches for a chance to experience an authentic taste of the Texas frontier.
I was delighted that the Mayan Ranch checked all the boxes with a wide range of activities from breakfast hayrides to trick-roping demonstrations, and country-and-western dinner concerts.
"You had to be more careful back then—Bandera really was the Wild West when we came into it," said Judy Hicks, who in 1951 acquired the Mayan Ranch along with her husband, Don Hicks. Before the Hickses came along, the Mayan was so rowdy that Lackland Air Force Base officers in nearby San Antonio had declared the ranch off-limits for enlisted military. "They had entirely different clientele back then," Judy said. The Hickses raised a brood of 13 children on the Mayan. Today, four generations of the family help run operations, and other than a 21-and-up watering hole in the main lodge, the Mayan offers a kid-friendly experience.
Based in Houston, after nearly two decades in Texas, I don't get to enjoy the state's cowboy heritage nearly enough, unless you count the Houston Livestock Show and Rodeo, which each spring dominates the city's collective calendar. So, I was delighted that the Mayan Ranch—one of about 10 dude ranches in the Bandera area—checked all the boxes with a wide range of activities from breakfast hayrides to trick-roping demonstrations, and country-and-western dinner concerts.
The Mayan offers a motel-type facility to accommodate weddings and conferences, but my family opted for one of the guest cabins hewed from rough timber. Our cabin resembled an old jailhouse, complete with a cell enclosed by metal bars, which my daughter, Ursula, adopted as her office for the weekend. Along with dinner buffets serving barbecue and Tex-Mex in the lodge, another highlight of the Mayan is the hearty hayride breakfast—eggs, bacon, biscuits and gravy, and potatoes served around a fire pit along the Medina River.
Closer to my Houston home, I located the BlissWood Bed and Breakfast Ranch in Cat Spring—a little more genteel than the scene at Mayan Ranch, but still plenty rustic. Set among the low-rolling hills that rise from the Katy Prairie, BlissWood is part of the 600-acre working Lehmann Legacy Ranch, featuring a herd of Angus cattle. The ranch also keeps a menagerie of livestock worthy of a Dr. Dolittle story: Visitors can see miniature donkeys and horses, a few goats, axis deer, a couple of shaggy American bison, and black buck antelope with long, distinctive corkscrew horns.
Within an hour of my arrival, I was taking a horseback tour with BlissWood's owner, Carol Davis, leaving behind the show barn and heading for the picnic pavilion near the catch-and-release fishing lake stocked with bass. Davis, who also owns a court-reporting business in Houston, purchased the ranch in 1990 because it reminded her of her childhood home near La Grange. As we moseyed across the ranch, Davis pointed out the refurbished lodging called the Texas Farm House, which she first spotted in a Fayette County hayfield. "It was falling down," she said. "But I just had to have it. So I went door to door until I found the owner."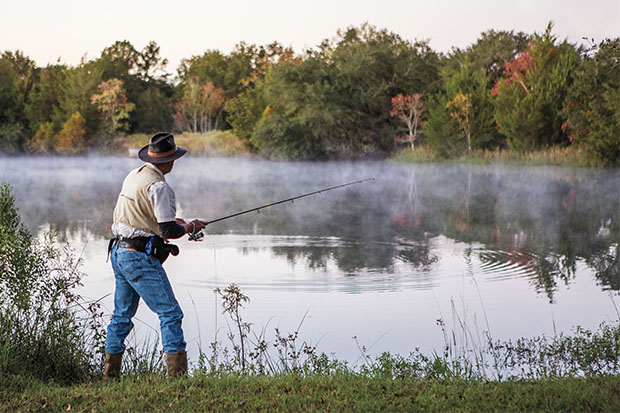 As we enjoyed a box-lunch picnic of sandwiches and chips outdoors, Davis told me about the film crew that had scouted her property the week prior for a German version of the romantic reality TV show, The Bachelor. (They returned in November for seven days to film an episode.) Later, we jumped in Davis' bright yellow Jeep to check out the bison enclosure and the adjacent roomy safari tent, an accommodation with an authentic Out of Africa feel.
Rather than camp out, albeit in luxury, I stayed in the comfy Magnolia Suite, part of BlissWood's Dog Trot House, regretting that I had not convinced my wife to join me for this midweek escape. The suite offered plenty of room to spread out, a Jacuzzi-style bathtub, and a shaded porch tucked into a copse of mature live oak trees. In the morning, I took advantage of the ranch's simple in-room breakfast of baked goods, yogurt, fruit, and juice. Had I visited on a Friday or Saturday, I could've tried Davis' restaurant—Carol's at Cat Spring—which opens for supper with dishes like flat-iron grilled rib-eyes, pork chops, and grilled salmon.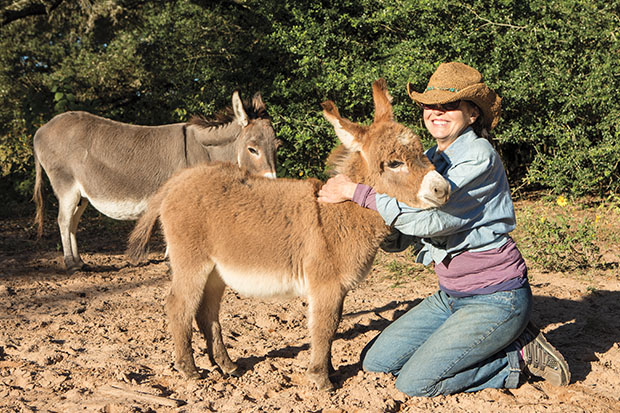 Later, I made my way to the trapshooting center, where I met Skeeter Hagler, BlissWood's activities director, ranch hand, and official photographer. As I embarrassed myself by missing something like two dozen clays in a row, it dawned on me that as infrequently as I handle the reins of a horse, my skills with a shotgun could use even more work. I managed to salvage the afternoon by mastering the tomahawk throw and successfully sticking a few throwing knives in the board. Finally, drawing on nearly forgotten summer camp skills, I nailed a few bull's-eyes at the archery range.
Meanwhile, Hagler entertained with key details of his life story, including not just how he had arrived at BlissWood, but also how he won a Pulitzer Prize. Hagler earned the top journalism honor as a staffer at the now-defunct Dallas Times Herald newspaper for his photos of working cowboys in the Texas Panhandle, including dramatic portraits, shots of cattle drives, and rodeos. Later, about a decade ago, a freelance assignment for Texas Highways took Hagler to Davis' doorstep in Cat Spring. The rest, as they say, is history: Hagler fell hard for the picturesque setting and struck a deal to help take care of the ranch. Guests can now hire a Pulitzer-winner to photograph their vacations and weddings. "There's something about the light," Hagler mused. "I just could not get enough of it, so I decided to move in."
Of course when people think of Texas cowboys, they often think of the arid mountains of West Texas. And as someone who loves every aspect of the Big Bend region, I was excited to learn about the historic Prude Ranch in the Davis Mountains. Last spring, my family visited the area for a Star Party at the McDonald Observatory and to explore The Nature Conservancy's Davis Mountains Preserve. Our host there mentioned we would find a warm welcome at the Prude, which has welcomed greenhorns to West Texas' wide-open spaces since 1921. Workers with the Civilian Conservation Corps were the ranch's first guests, lodging at the Prude during the construction of Davis Mountains State Park, located a couple of miles down Limpia Canyon toward Fort Davis.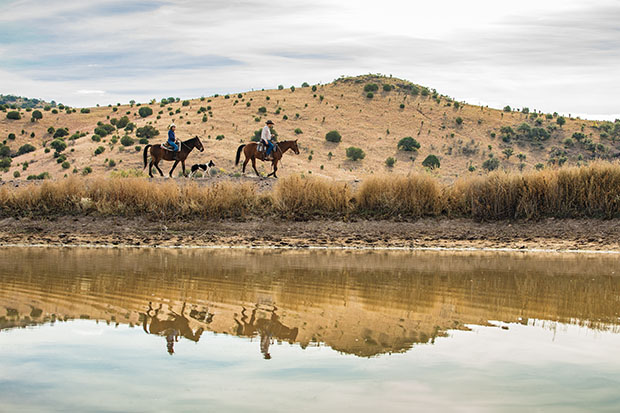 The history of the Prude Ranch parallels the growth of the dude ranch phenomenon nationally, which took off in the wake of World War II. To offset the vagaries of the post-war cattle industry, ranchers across the West started marketing their spreads as throwback resorts for tourists. The Prude family originally settled its ranch in 1897, comprising a mind-blowing 300,000 acres. But by the 1950s they discovered that families from Texas and beyond would happily pay for their children to enjoy horseback riding and outdoor adventure at ranch summer camps.
Prude Ranch remains at the heart of one of Texas' wildest landscapes, where piñon pines dot the desert scrub and tall peaks offer endless opportunities for exploring
Today, summer visitors generally share the ranch with summer campers, but the rest of the year families and individual guests have the run of the place. Lodging choices range from RV spots to family cabins with room for up to six, as well as a bunkhouse row for larger groups and the motel-like rooms of the guest lodge. (The dining hall opens only for groups of at least 12.)
Now comprising 1,300 acres, Prude Ranch remains at the heart of one of Texas' wildest landscapes, where piñon pines dot the desert scrub and tall peaks offer endless opportunities for exploring. As with other favorite ranch getaways, trail rides remain a top attraction—the horse herd runs to 66 head—including a half-day picnic ride to the edge of the Prude property. Beyond horses and hiking, many guests use the Prude as base camp for touring the region.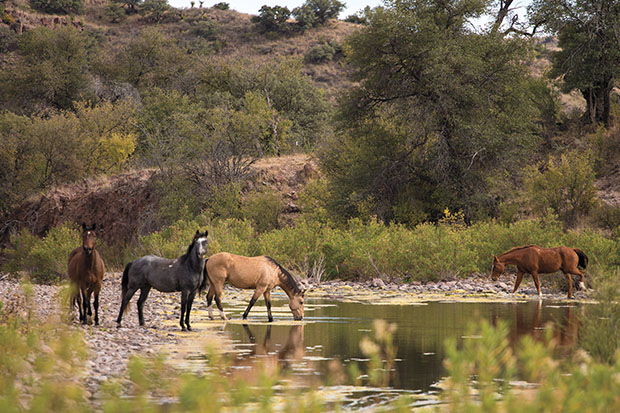 "We're just about a mile high, so the summers aren't too hot and the winters aren't too cold," said Kelly Prude Boultinghouse, who represents the fifth generation of the Prude family to work the ranch. "And there's no cell phone service, which is something we market. What makes us special is you can get away from the real world. Otherwise, there's plenty to take advantage of once you get here."
Indeed, the nearby Davis Mountains State Park offers miles of trails for mountain bikers and hikers, and Balmorhea State Park is famous for its cool spring-fed swimming pool. Travelers can also explore a vintage frontier military post at Fort Davis National Historic Site, and the Chihuahuan Desert Nature Center, which has several miles of trails and a botanical garden of native plants. But, if you ask me, nothing compares to riding through these hills on horseback.
---
Writer Dan Oko first discovered the joys of being a dude nearly 30 years ago at the Diamond J Ranch, outside of Ennis, Montana. Austin-based photographer Kenny Braun's new book of Texas landscapes, As Far As You Can See, is set for publication this spring by The University of Texas Press.
Find the Ranches
Mayan Ranch
350 Mayan Ranch Road, is 1 mile southwest of downtown Bandera.
Accommodations include lodge rooms and private cabins.
Overnight rates for adults are $165; $100 for teenagers; $80 for 12 and younger.
The rate includes three meals, two horseback rides, and daily activities.
Call 830-796-3312
mayanranch.com
BlissWood Bed and Breakfast Ranch
13205 Frantz Road, is 15 miles northwest of Sealy.
Cabins start at $199 per night, breakfast included.
Adventure options available for additional cost, including horseback rides for $69 per guest per hour.
Call 713-301-3235
blisswood.net
Prude Ranch
201 Prude Guest Ranch Road, is 6 miles north of Fort Davis off State Highway 118.
Lodging in motel rooms, bunkhouses, and cabins starts at about $95 with deals for large groups.
Meals available for groups of 12 or more.
Horseback rides cost $30 per person per hour; the half-day picnic ride costs $110 per person.
Call 432-426-3201
prude-ranch.com
From the February 2018 issue