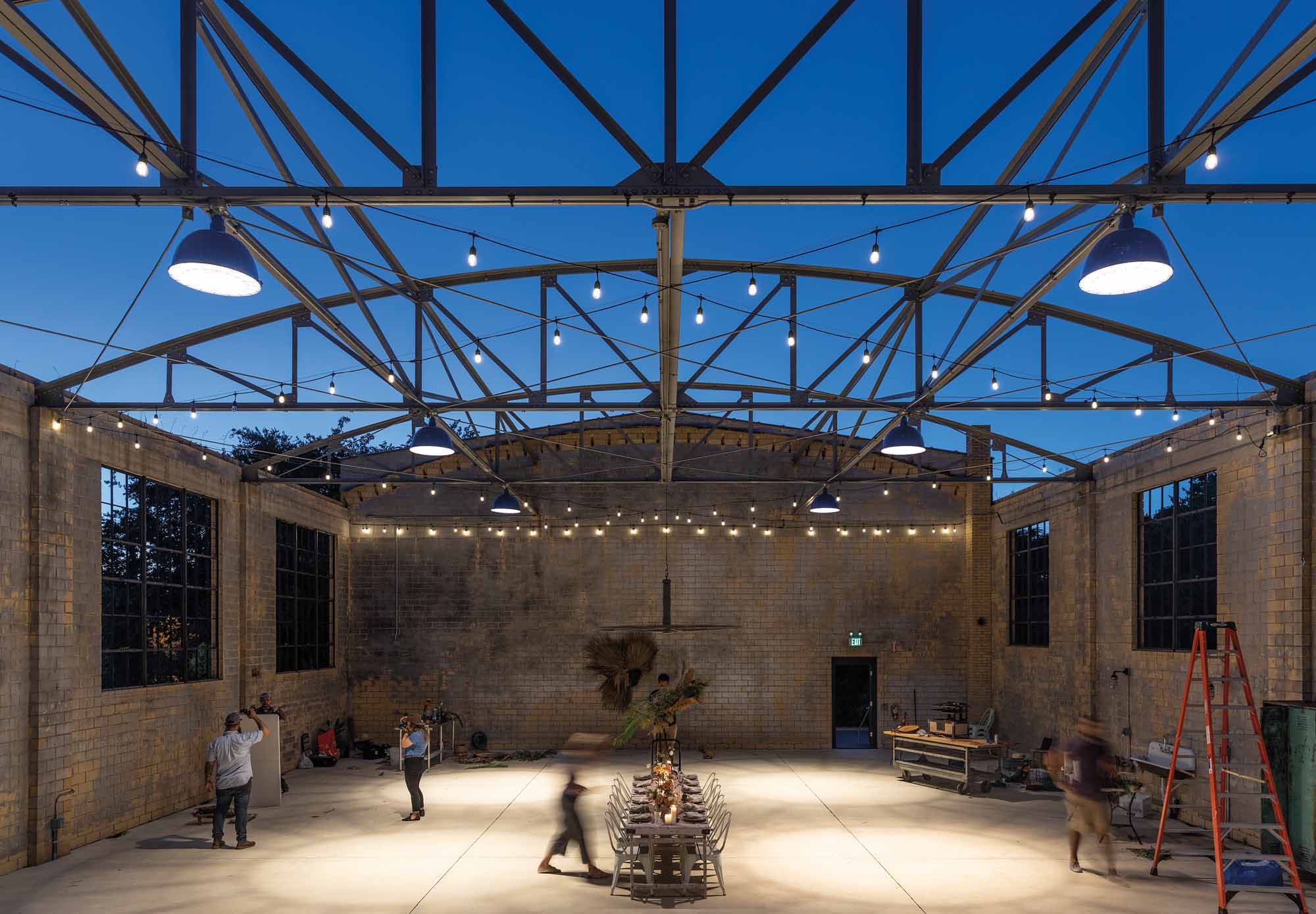 In 2017, Craig and Wendi Foster, a hip empty-nester couple living in Austin and working in marketing and fashion, got tired of the grind and went looking for life at a slower pace. That's when they found and acquired an old schoolhouse in Martindale. The population of this former agricultural town in Central Texas waned in the late 1960s, but the town remains a hot spot among paddlers dipping into the San Marcos River, as well as for filmmakers (Richard Linklater's The Newton Boys and Sundance entry Sister Aimee were shot there).
The Martindale Schoolhouse, designated a Texas Historical Landmark just this year, is one part short-term rental, and with the pairing of the Martindale Social Hall, another part event venue. The combined facility celebrates the history of the town while providing chic accommodations on a street off the banks of the San Marcos River.
Martindale Schoolhouse, 101 Lockhart St., Martindale. 512-656-8896; martindaleschoolhouse.com

Group rentals run $700 and up per night. The schoolhouse sleeps 14.
"You get so busy raising kids and working for a corporation," says Craig, a new member of the town's historic commission. "Austin is very fast-paced. At a certain point in life, some of us start thinking of an escape plan. We wanted a different life and we took a risk, sold our Austin house, and bought the schoolhouse."
The schoolhouse, a Mission Revival-style building with arched windows and doorways, was built in 1921 and designed by C. H. Page Bros. Architects, whose work includes the Travis and Hays county courthouses. The Martindale School, as it was called while in operation until 1968, was the center of Martindale life during the cotton- and corn-seed boom that occurred up until the '60s. During that time, it served as a meeting place as well as a school building.
Then, in the late '60s, rural towns across the country saw a demographic shift as families moved to suburban and urban areas. Martindale was no exception; the town's population began to shrink as nearby San Marcos grew. In 1965, a measure passed to merge the two school districts, and while the Martindale School continued to operate as part of the San Marcos Independent School District, it closed three years later, in '68. Since shuttering, the schoolhouse has gone through various incarnations, including an antiques mall, an auto repair shop, and a private residence.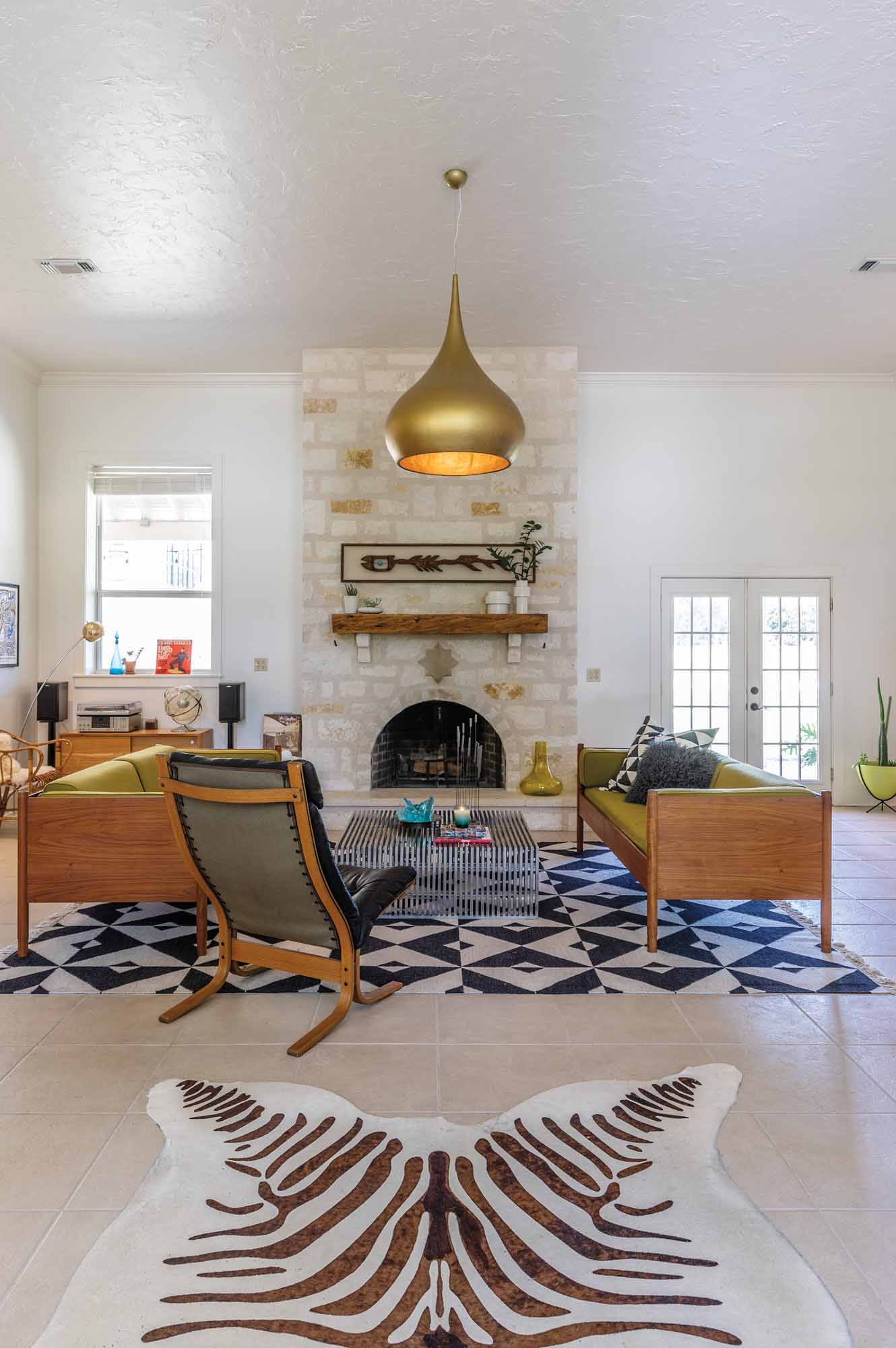 Today, when guests arrive, they can walk past the school's original flag pole and down a front sidewalk—once the site of many a hopscotch session—shaded with pecan trees. Arched double doors await, leading into the expansive front entry and living room. Stylish midcentury modern furniture brought from the former Austin home of the Fosters mingles with international and local art.
There are also design elements that honor the building's history. A seed counter lines one wall, a nod to Martindale's past as the seed capital of Texas, and school photos dot a long hallway leading to five bedrooms, which were once classrooms. After taking it all in, guests can unwind in the living room with an eclectic record collection featuring artists from Johnny Cash to Bob Marley to Blondie.
In Wendi's former job for a fashion brand, she traveled four days a week for 12 years, which proved beneficial for this venture. "I stayed in hotels all the time," she says. "I thought, 'I know that. I know hotels. I know hospitality. I can do that.'"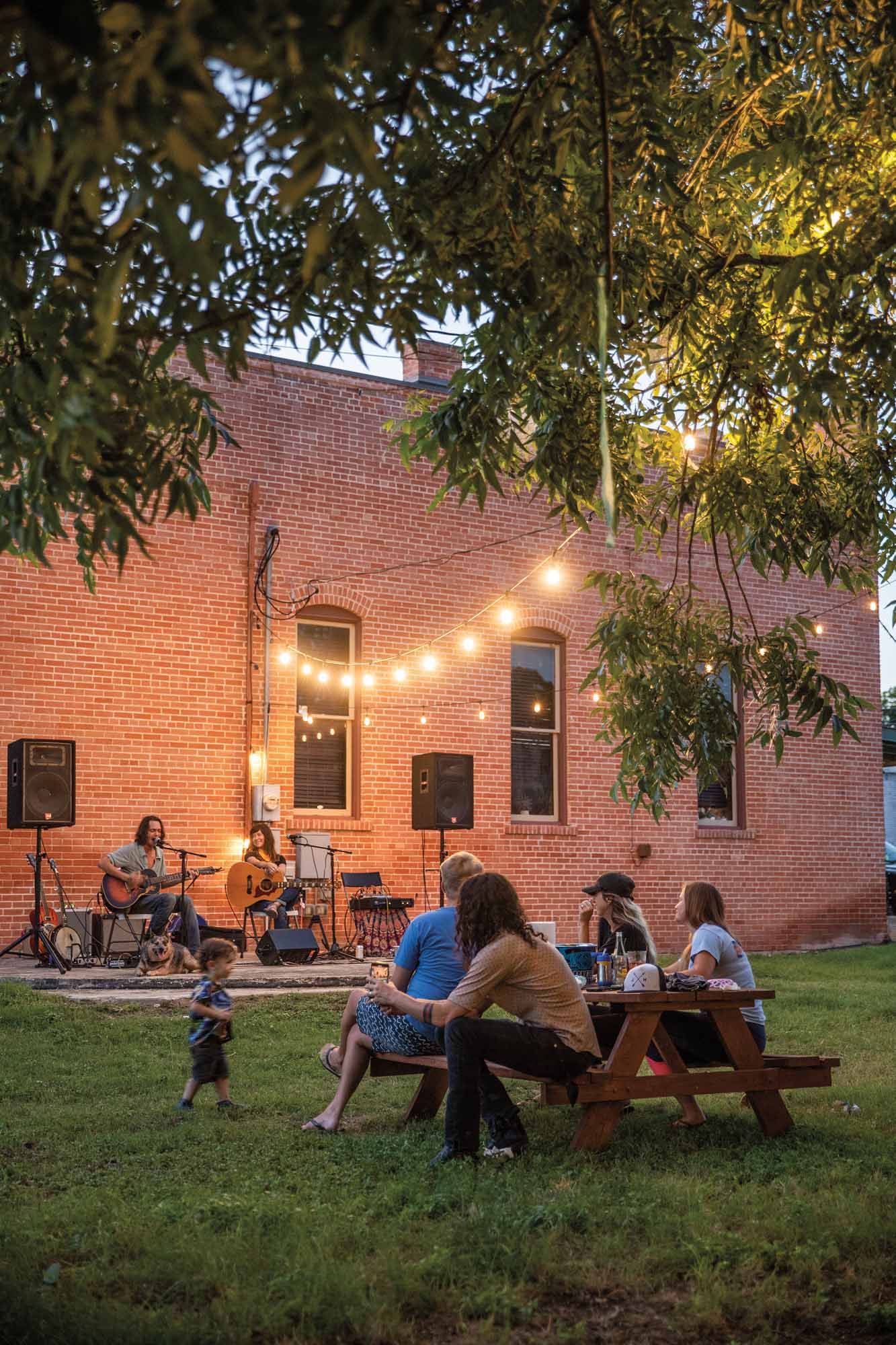 Harper's Hall, a large bedroom with three beds, has creaky, longleaf pine floors and a chalkboard where lessons were once given. Arched windows shine airy light into the Lady Martindale room, with French doors beckoning its guests outside to the front courtyard for one last look at the stars and moon.
More in Martindale

Purchase works by local artists and listen to live music. Breakfast, lunch, and dinner are paired with Texas beers on tap, plus wine and cider. Hours: Wed-Sat 9 a.m.-2 p.m. and Fri-Sat 5-10 p.m. (music from 8-10 p.m.); 415 Main St., Martindale. 512-668-9049; martindalerivercafe.com

El Taco Feliz

This food truck serves hearty tacos with homemade salsa. Breakfast tacos are popular with locals. Open daily, 6 a.m.-2 p.m. 408 Lockhart St., Martindale. 512-357-6710

Book a padling tour on the San Marcos River or rent gear. 512-749-2350; paddlewithstyle.com
The communal spaces—both indoors and out—make the house a destination in itself. The large kitchen allows for cooking, and there's plenty of seating at the table with a banquette, or in the expansive dining room. In the living room, guests can jam out to tunes, and in the front courtyard or on the veranda they can chat over coffee or an adult drink.
Out back, it's quiet and nature is on display. A hawk may fly overhead. A butterfly could grace the vintage wrought-iron patio chair, perfect for lounging. Looking across the bright green lawn that was once the schoolyard, you'll see the Martindale Social Hall, formerly the school's gymnasium. The building was a Public Works Administration project constructed in 1939 and designed by Driscoll & Groos Architects, who also worked on the Deep Eddy and Barton Springs bath houses in Austin. During the heyday of the Martindale School campus, the gym held bake sales, school dances, and even donkey basketball, a variation of basketball in which players ride donkeys.
Now it's an events facility, available along with the Martindale Schoolhouse, for weddings for couples with an edgy, industrial aesthetic. It also hosts concerts, arts markets, and yoga classes. Part of the social hall's roof blew off in a storm a few decades back and hasn't been replaced. The steel trusses remain overhead—better to see sunsets and the night sky.
Though it's easy to settle into the campus for a long weekend, don't miss out on what the town of Martindale has to offer. At the end of the night, return to the schoolhouse and rest comfortably knowing there will be no punishment for sleeping in class this time around.
From the December 2019 issue