Intro to
Campology
Tales and tips for making the most of a Texas camping adventure
Even before the pandemic swelled interest in outdoor activities as never before, a growing number of Texans were heading to our hills, lakes, beaches, and mountains for adventures al fresco. And for many, the experience isn't complete without the simple joy of waking up in a campsite, surrounded by the beauty of nature.
Camping's popularity means demand for sites frequently outpaces supply in Texas. Many federal, state, and county campgrounds are booked months in advance, particularly on the weekends. When making camping plans, flexibility is key, both with your dates and your destinations.
Camping has many interpretations. Some people prefer a busy park with electricity and flushing toilets nearby. Others prefer the solitary backcountry, opting for the company of coyotes over humans. Some hardy souls sleep best under the open sky in a sleeping bag or hammock, with nothing to obstruct the stars. Most, however, appreciate at least a tent for shelter, or perhaps even the cozy confines of a camper or motor home.
Here we explore three types of camping adventures: RV camping, tent camping, and backpacking. Regardless of your preference, don't forget to plan ahead. And then, plan ahead again.
It'll all be worth it once you settle in and bask in the freedom of our wide-open spaces.
The first time I seriously considered buying an RV was in the aftermath of a family tent camping trip to Kerrville-Schreiner Park. Highlights of the weekend included rainstorms, a nauseous 1-year-old, and very little sleep.
My wife and I were accustomed to shrugging off the discomforts of tent camping. But the addition of a baby in diapers presented a new challenge, particularly when it came to sleep. When I found out a second baby was on the way, I knew my tent camping days were numbered.
The first lesson I learned about RVs is you should never attend an RV expo unless you're OK with the idea that you might leave owning one. On a February day in 2012 at the Dallas RV SuperSale, we marveled at the hundreds of gleaming rigs that filled Dallas Market Hall. Dealers displayed everything from 45-foot motor homes with outdoor TV screens to diminutive campers ingeniously designed for compact living. We gravitated to the A-frame pop-up campers, found one that suited us, and signed on the dotted line.
Over the ensuing nine years, we've towed our 19-foot trailer to every corner of Texas and parts of New Mexico and Colorado, adding up to nearly 200 nights. For the most part, they've been restful nights, thanks to the two beds, air conditioner, and heater. One of the best things about an RV is that it extends the camping season. We've dozed comfortably through a 17-degree December night at Lost Maples State Natural Area and napped on a 105-degree July afternoon at Dinosaur Valley State Park.
If there's an upside to the coronavirus pandemic, it's that we've had more excuses than ever to go camping. We camped all over Texas in 2020, keeping to ourselves except for gas station stops.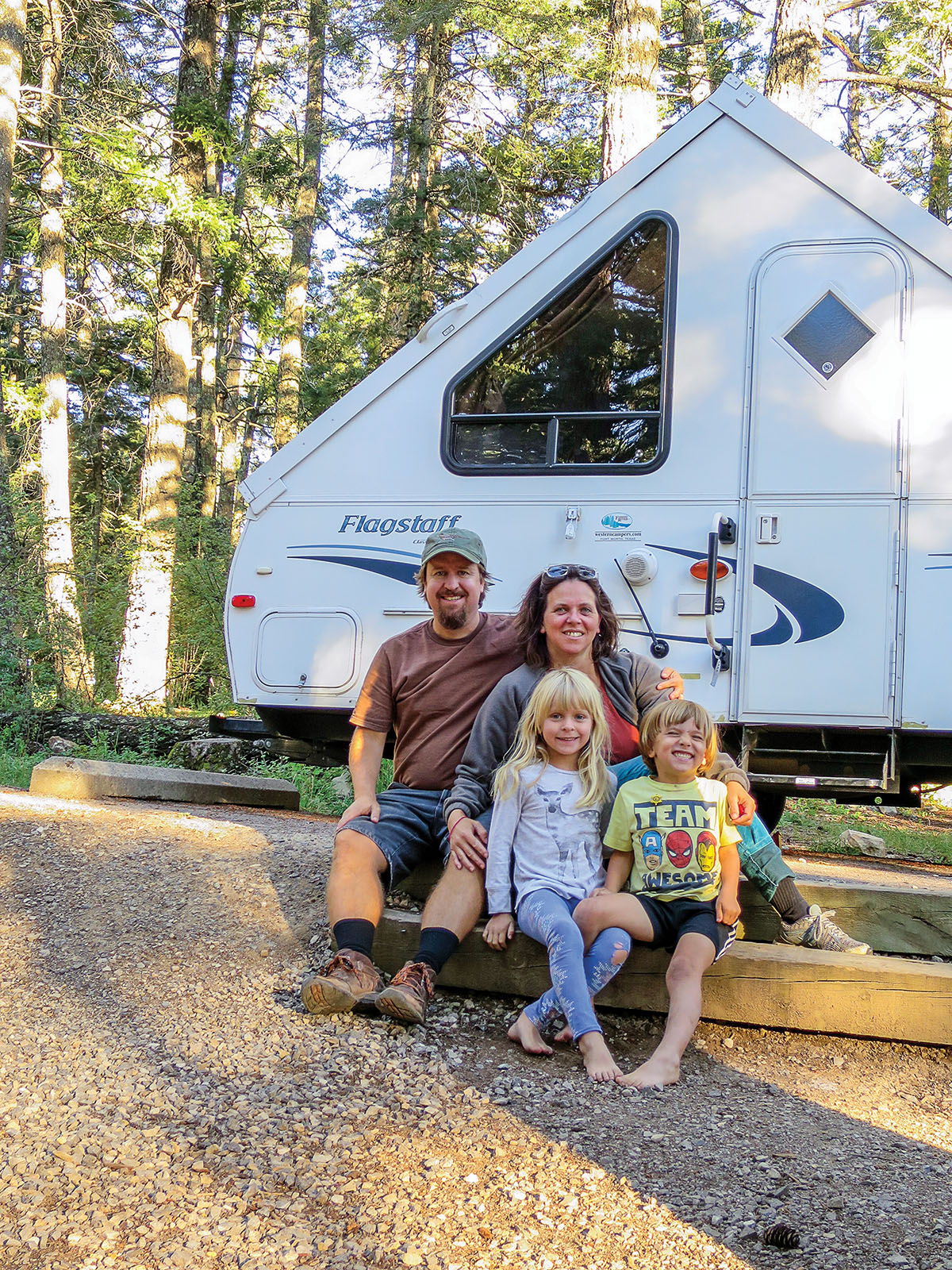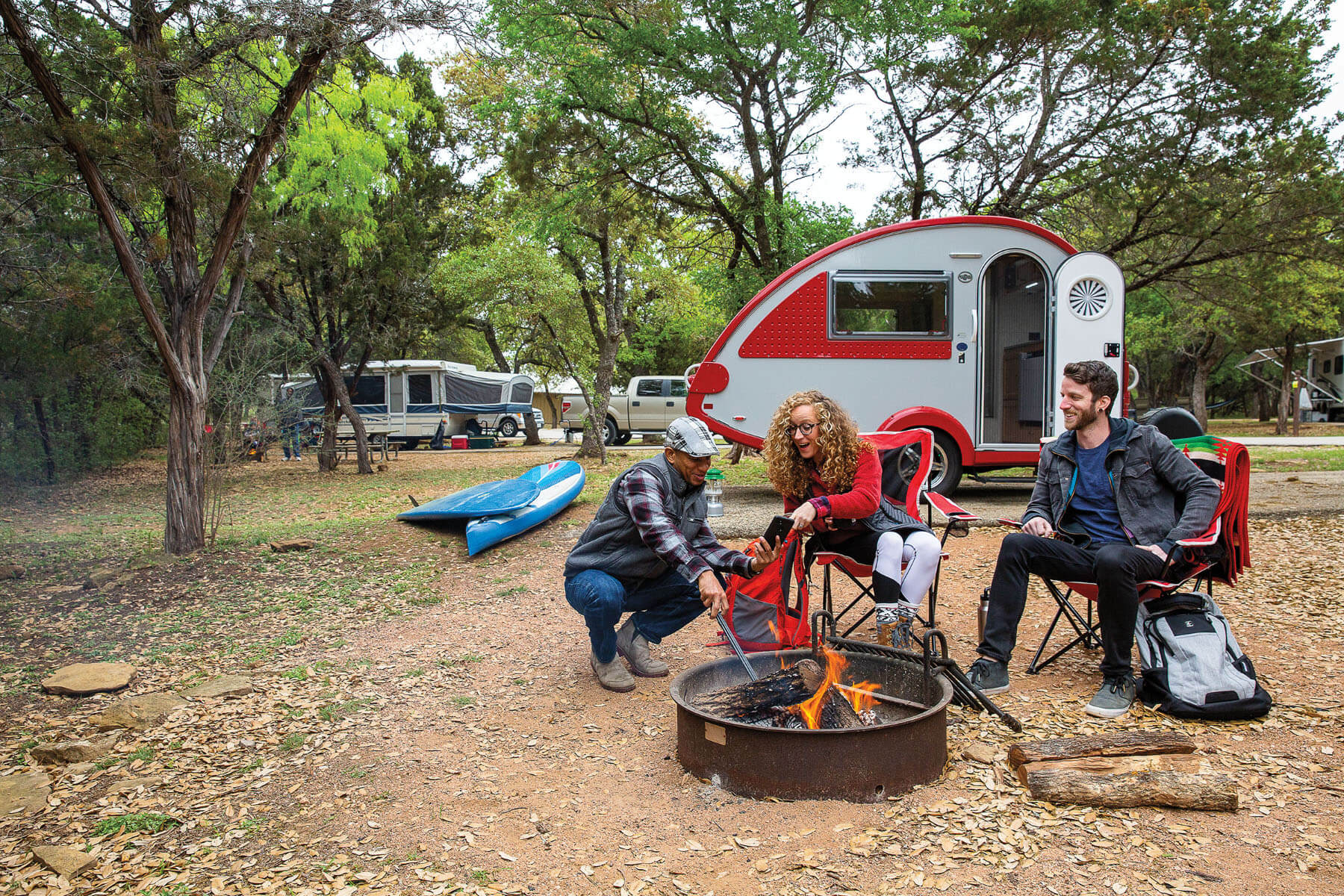 We weren't totally alone, of course. The popularity of camping during the pandemic has been well documented. State park campgrounds routinely book up months in advance. Outdoorsy, an Austin-based RV-sharing website, reports that rental bookings in Texas grew 190% from 2019 to 2020. The company lists more than 200,000 camper vans, trailers, and motor homes for rent in 14 countries. As the pandemic set in, 2020 accounted for 44% of Outdoorsy's rental activity since the company launched in 2015.
"RVing is socially distant by design, and it's the most ideal way to travel for those wanting to control the cleanliness of their environment and camp at a distance and away from crowds," says Jen Young, Outdoorsy co-founder and chief marketing officer.
Renting is a good option for campers who are not ready to commit to buying their own RV or just want to try it for a vacation. Renting also offers immediate gratification that isn't available in the current RV sales market. At present, most dealerships have waiting lists.
"We get a lot of new customers who have a trip planned in a couple of weeks, but they don't realize how long it takes to get an RV right now, and unfortunately they're finding out the hard way," says Chris Barecky, owner of Colonia Del Rey RV in Corpus Christi. "You've got to plan three months out, if not more. You've got to purchase it now and get your name on it, and hopefully it will be here by then."
Barecky says his business jumped more than 25% in 2020, and it would have grown more if suppliers could keep up. The industry expects demand to keep growing in 2021 as more people take vacations but remain wary of public travel.
"Nobody wants to fly or cruise, so they're all doing the RV thing," Barecky says. "They don't want to stay in hotels—they'd rather have their own thing."
There's a learning curve to pulling a trailer or driving a motor home—scrapes and dings come with the territory. I wouldn't be surprised if more than a few divorces can be traced to the exercise of backing a trailer into a tight spot—the wife standing outside signaling wildly while the husband blindly reverses into the trees.
But that's just life on the road. Regardless, my family sleeps better in the camper than we do at home.
One of the best things about an RV is that it extends the camping season. We've dozed comfortably through a 17-degree December night at Lost Maples State Natural area and napped on a 105-degree July afternoon at Dinosaur Valley State Park.
Top Spots for RV Camping
At Fort Clark Springs in Brackettville, immerse yourself in both frontier cavalry history and one of the state's finest spring-fed swimming pools, fortclark.com. At Maverick Ranch RV Park at Lajitas Golf Resort, take advantage of a sparkling swimming pool and easy access to the Big Bend region's outdoor adventures, lajitasgolfresort.com. Kerrville-Schreiner Park in Kerrville offers nicely distanced sites, quiet Hill Country hiking, and Guadalupe River swimming, kerrvilletx.gov.
Tent Camping
by John Nova Lomax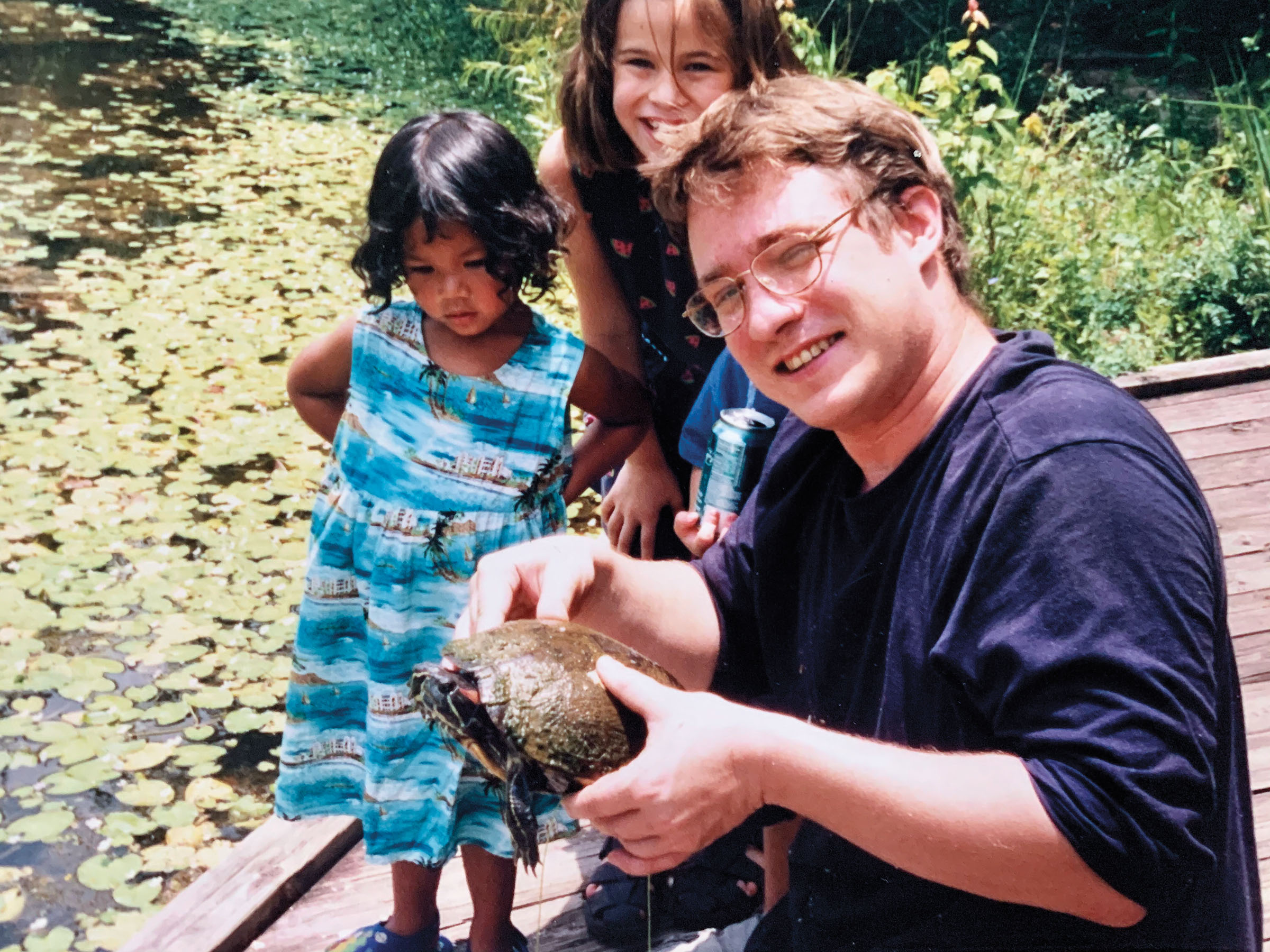 "We're not going on a family vacation this year. We're going camping!"
As the old joke suggests, camping with kids can be stressful. But connecting your children with nature, and the memories made along the way, are worth it. Despite the inevitable hiccups, you'll want to do it year after year—and you'll miss it when your kids are grown.
If anything exemplifies the adage of a penny's worth of prevention being worth a pound of cure, a family camping trip might be it. This is not the sort of scenario you can throw together on a whim, like a college road trip.
Preparation is key, agrees Lisa Henderson, outdoor education specialist with the Texas Parks and Wildlife Department. Simple steps like checking the weather forecast, carrying a map in case there's no cell-phone service, and storing food in the car to protect it from critters can make a big difference. Plus, it helps gets kids in the right mindset.
"Camping connects children to nature and their public lands," says Henderson, who works with TPWD's Texas Outdoor Family, a program that offers camping workshops and equipment rentals. "Camping helps build confidence, communication, and problem-solving skills, and best of all, it creates wonderful memories with family and friends."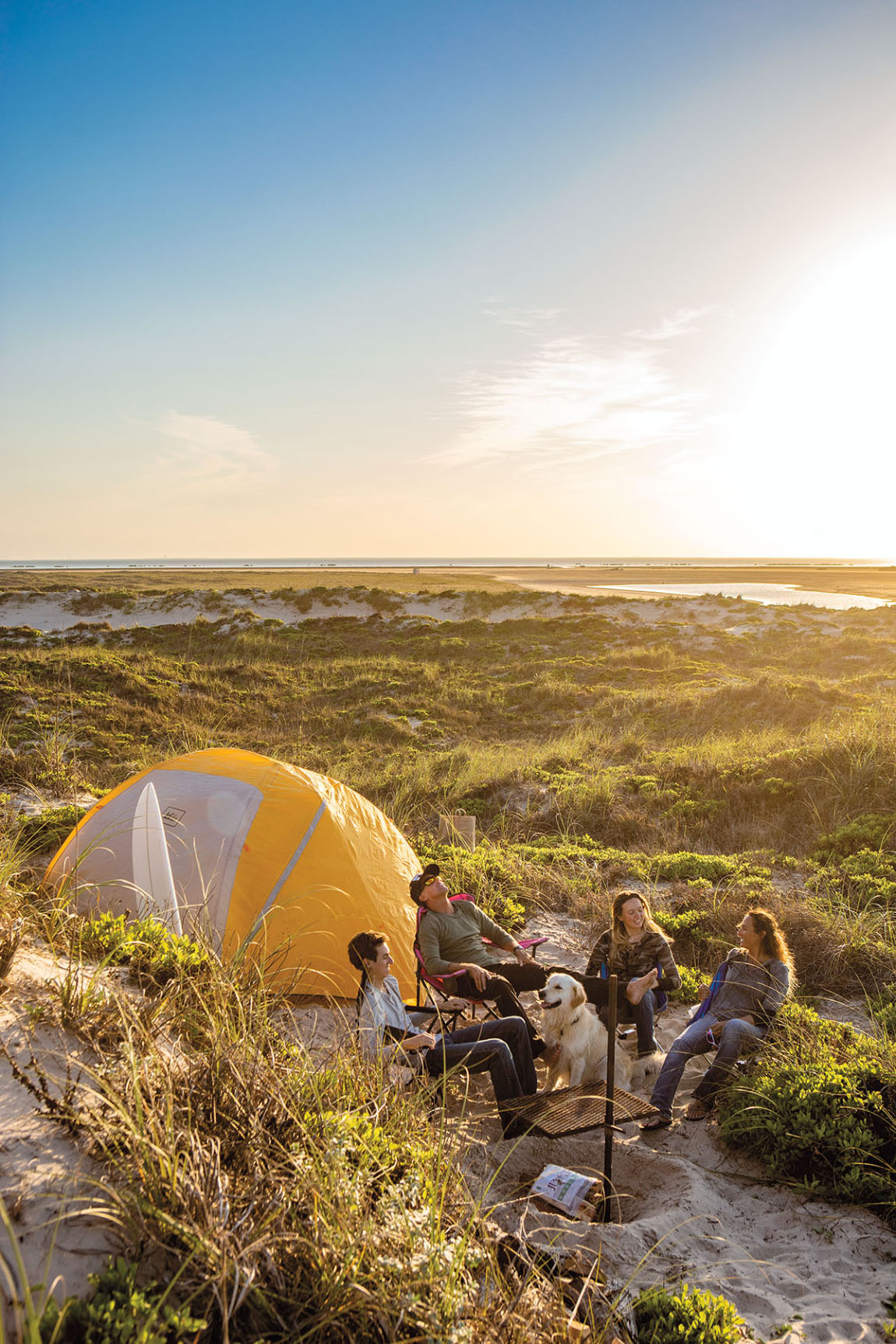 Should things get difficult—an unexpected gully washer, for example—all will not be lost. "We call that Type 2 fun," Henderson says. "It might not seem enjoyable in the moment, but they become treasured memories in the years to come."
Indeed, many years ago on a family campout at Pedernales Falls State Park, an assertive armadillo joined my family for dinner, accepting handout after handout before snuffling in contentment and tottering off into the brush. (Though it's against the rules to feed wildlife, we obviously weren't the first for this persistent critter.)
One aspect of preparation is practice. Be like Ike and wargame the trip. Rehearse pitching a tent in your backyard, and if you have a fire pit, you can practice the rudiments of fire safety. No camping trip is complete without s'mores, but the combination of flames and clumsily-waved-about skewers makes the treat one of America's most dangerous dishes.
Such a controlled experiment also offers an opportunity to prepare for a weekend away from screens. We all agree screens should be banned around the campfire, right? As a transition, provide some old-fashioned activities for backseat amusement—Mad Libs, 20 Questions, out-of-state plate-spotting, etc. This goes for parents, too. What's good for the goslings is good for the geese.
Once arrived, hopefully your little platoon is well-drilled enough to set up camp pretty much on their own. Well, that might be a tad optimistic, but don't be shy about assigning chores, such as gathering firewood or prepping meals.
On the surface, camping is all about the activities—swimming, biking, hiking. But mealtimes should be fun, too. Whether it's hot dogs on a stick, s'mores, fajitas—food always tastes better when it's cooked over an open flame. On a campout, you're taking the bubble wrap off your kids for a few days, the better to let them live and learn.
My old Houston friend Hans Hansen, now a business professor at Texas Tech University in Lubbock, takes his three daughters, all under the age of 13, camping about twice a year at state parks like Palo Duro Canyon and Caprock Canyons.
"Basically, all the things you've been busy protecting your child from for the last few months or years? Now you are going to be not just permitting them, but subjecting your kids to these trials," he says. "Camping with them is the worst idea I insist on doing every year."
Top Spots for Family Camping
Shaded by grandiose pine trees, Daingerfield State Park in East Texas is a peaceful haven rich with birdsong. The refreshing small lake makes you feel a bit like you're in Maine, minus the frigid water. Near Brackettville, Kickapoo Cavern State Park's remote limestone hills offer plenty of hiking trails, dark skies, and a nightly bat flight during summer months. Goose Island State Park near Rockport is one of the only places on the Texas coast where you can enjoy easy access to fishing and a beach while setting up a sandless camp in a shady oak forest. texasstateparks.org.
Camping Forget-Me-Nots
Most people are familiar with basic camping equipment, such as tents and sleeping bags. But years of experience have taught us that a few extra items will help make campouts more fun and comfortable.
Tweezers. Nagging splinters are the worst.
Glow sticks. A toy that also keeps track of kids after dark.
Bicycles. If you can find a way to bring them along, bikes are perfect for campgrounds.
Extra tent. A surplus structure can serve as a playhouse, a circus tent, or a domicile for moody teens.
Newspaper. Perfect for catching up on public affairs and starting campfires.
Dish bucket. Helpful for keeping wet dishes out of the dirt.
Solar-powered lantern and/or string lights. Available from online retailers and some outdoors stores.
Tarp and rope. Extra shelter from the sun and rain.
Solar shower. Let the Texas sun heat your water for outdoor showering.
Fire wood
Lighter fluid
Bug repellent
French press coffee maker or instant coffee
Grill brush
Hammock
Portable speaker or radio
BACKPACKING
by Pam LeBlanc
A few weeks ago, stir-crazy from pacing around the house, I stuffed a change of clothing, food, and a tent into my backpack and drove to Pedernales Falls State Park, near Johnson City in the Hill Country.
The campgrounds were booked solid, even midweek, but plenty of primitive walk-in sites were still available. My husband and I reserved a spot online, printed the forms, and checked in at park headquarters, where a park ranger asked me, "You know it's a 2-mile walk, don't you?"
Absolutely. The hike was just what I needed—45 minutes of crunching across a gravel path, hauling everything I'd need for the night on my back. I like backpacking because it tests my self-reliance. Even at a busy place like Pedernales Falls, I knew I wouldn't see many folks in the primitive camping area.
The sun was sinking as my husband and I hiked down a wide and undulating gravel path. We skirted a creekside bluff and cut through groves of oak and juniper trees, where a white-tailed deer dashed away from us.
When we reached the primitive camping area, no one else was around. We unrolled our sleeping bags and lit a camp stove to heat water for our dehydrated meals. As we sipped wine and ate packets of reconstituted pasta and shepherd's pie, the stars popped out and coyotes yipped.
Texas' backpacking destinations range from rugged Big Bend National Park to more accessible sites such as Pedernales Falls and Lost Maples State Natural Area. Whatever your preference, you'll need to prepare ahead of time.
If you don't want to buy your own gear, outdoor stores rent the basics, including a tent, sleeping bag and pad, and backpack. Load the pack with 30 pounds of books or cans and take a neighborhood stroll. The weight on your shoulders will remind you to bring only what's absolutely necessary.
Depending on your destination, you may need to bury your excrement. Remember to pack out everything that you brought in, including toilet paper and other trash.
Ian Atkinson, a product specialist at Gossamer Gear, an Austin-based company that sells lightweight backpacking equipment, says he's seen a surge of interest in backpacking since the pandemic began. "More people are recreating outdoors than ever due to social distancing rules," he says, which sometimes results in crowded trails, especially near big cities. "On the flip side though, we are incredibly happy to see a bunch of first-time backpackers. We want everyone to be able to reap the benefits of time spent outdoors in nature."
The Outdoor Industry Association also notes that more Americans are heading outdoors. "We know anecdotally from our own experiences and conversations with the public land managers that traffic is way up," says Deborah Williams, a spokeswoman for the Colorado-based organization.
Atkinson advises rookies to keep both their trips and their gear simple. "Buy your backpack last to make sure it fits all of your other gear," he says.
After a chilly night snuggled inside my sleeping bag, I awoke to the chirp of birds. I took a few minutes to stretch out the kinks, heated water for a cup of hot tea, then sat quietly, drinking in the stillness. No news, no computers, no distractions.
Spending just one night out in the woods, my shoulders felt lighter. I reflected on a thought Atkinson had shared: "The trail will provide you exactly what you need."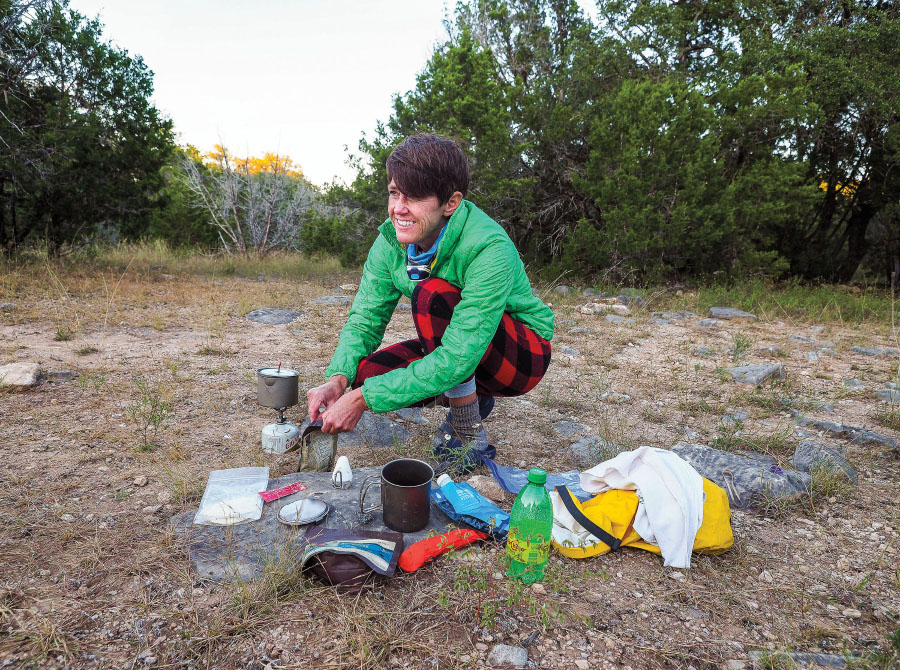 Top Spots for Backpacking
Texas is known for classic backpacking destinations like Big Bend National Park, Guadalupe Mountains National Park, and the 128-mile Lone Star Hiking Trail in Sam Houston National Forest. If you're not ready to commit to a long trip, or just want to test your gear, primitive sites at Enchanted Rock State Natural Area, Palo Duro Canyon State Park, Lake Bob Sandlin State Park, and Lost Maples State Natural Area offer a quick fix.
River camping

The world feels more tranquil from the seat of a boat, especially after a couple of days of drifting down one of Texas' scenic rivers. Like backpacking, camping on a canoe, kayak, or rafting trip offers a remote adventure. The difference is you've got the water close at hand to swim and fish, plus the luxury of carrying more gear for a comfy riverside campsite.
Holly Orr, who offers instruction through her San Marcos-based company Paddle With Style, has guided trips on the Colorado, Guadalupe, and San Marcos rivers. Other popular destinations include the Brazos, Rio Grande, Devils, and Neches rivers. Orr's tips for a good trip? "Do your homework," she says. "Have a float plan. Know where you're getting in and getting out, and what to do in an emergency. Make sure your equipment is ready for the task, along with your abilities."
It's also important to identify safe places to camp on publicly accessible land. Depending on the river's flow, canoe campers can typically cover 10 to 15 miles per day, but why rush?
San Marcos-based Paddle With Style is at 512-749-2350

From the March 2021 issue