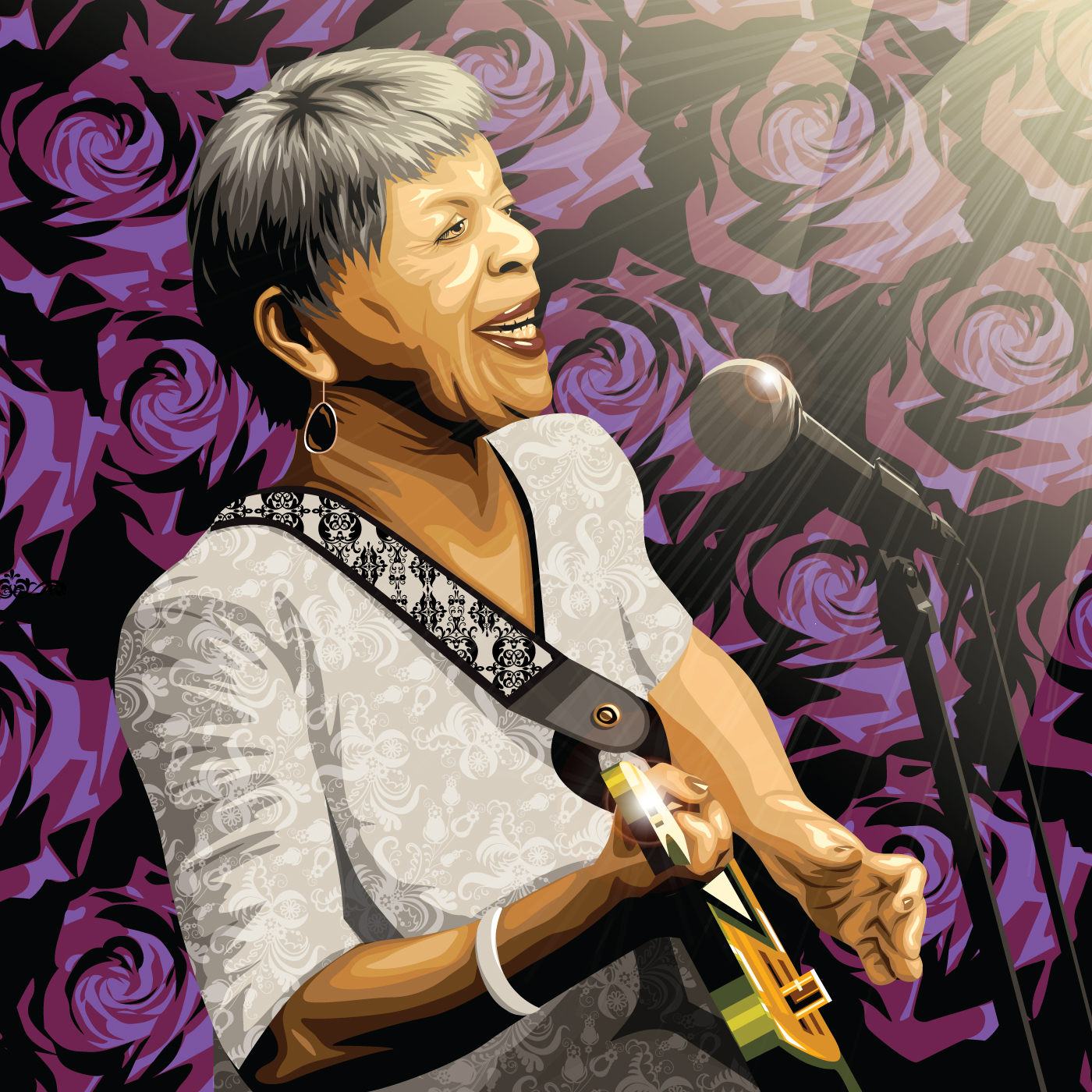 Barbara Lynn was a left-handed young girl in Beaumont when she started sounding out notes and chords on a guitar made for right-handed musicians.
She's always done things her own way. The pioneering sound that grew out of those childhood guitar rhythms—fiery and percussive, complemented by her soulful singing voice and a poet's command of songwriting—took Lynn around the world, from Beaumont to the Apollo Theater in Harlem, and to the top of the charts in 1962.
"I told him if he lost me, he'd lose a good thing, and then I went home and wrote it."
Lynn was just 20 years old when she wrote and recorded "You'll Lose a Good Thing," which became the No. 1 R&B single in America. The song, a heartsick warning from a suspicious lover, crossed over to No. 8 on the pop charts and inspired covers by hit-makers Aretha Franklin and Freddy Fender. Lynn recorded nine more near-hits, including "We've Got a Good Thing Goin'," covered by the Rolling Stones in 1965, but her career slowed when she married, had children, and moved to California. Now 76 years old and back in Beaumont, Lynn has found renewed national acclaim more than half a century after her career began as "the Empress of Gulf Coast Soul."
In September, the National Endowment for the Arts recognized Lynn as a 2018 NEA National Heritage Fellow, the United States' highest honor in the folk and traditional arts. The southpaw's high-energy style was on full display recently when she performed during the Eastside Kings Festival in Austin. Lynn seemed to be having as much fun as ever as she hit those unique percussive rhythms on her shiny, gold-hued guitar. She says she plans to keep touring and performing, and she will possibly record another album soon.
Q: You started taking piano lessons as a child. Why'd you quit?
A: I thought it was very common to see a young lady play a piano, so I said I'd like to play an odd instrument, so I picked the ukulele—and after seeing Elvis on TV, I knew guitar is what I wanted to play.
Q: How did you learn?
A: I taught myself to play. It came easy. I'd hear something on the radio. In fact, the doctor told my mom I was just musically inclined. I could hear something and play it. And I did. I created my own style.
Q: How do you describe that style?
A: I formed my own style by me being left-handed. I play with a thumb pick. A lot of musicians, mostly male, they just use their finger picks, but I have to use a thumb pick. When I was coming up, I noticed the finger pick kept slipping out of my fingers, so I just used my thumb pick. It stays on. It makes me feel like I'm playing the drums. I've got a beat.
Q: Besides Elvis Presley, who else inspired your music?
A: Gatemouth Brown, BB King—there's a lot of them. But I was really inspired mostly by the blues.
Q: When did you start performing in public?
A: I had already formed my own band at Blanchette Elementary School, a girls group called Bobbie Lynn and Her Idols. We went from place to place and started playing and everything, and pretty soon I got into high school, and then I started writing music and writing poems. That's basically how I got started.
Q: How were you discovered?
A: I was discovered by a country-and-western singer by the name of Joe Barry, and Joe Barry went and told Huey Meaux, who ended up being my manager, and from there we took it on. He started recording me.
Q: What inspired "You'll Lose a Good Thing?"
A: Oh, that was a really true story about a young man I was going with in the band named Sylvester. I told him if he lost me, he'd lose a good thing, and then I went home and wrote it.
Q: Following your success in the '60s, why did you stop recording music in the '70s?
A: After I got married and had my kids, I sort of slowed down a little, you know. That's how that happened. But I never left the music scene. A lot of people thought I did, but I never did. I was just slowing down a minute.
Q: How much time do you still spend traveling and performing?
A: I haven't been traveling too much, but I do try to go as much as possible whenever they call me. They're calling me right now to go back to Canada, back to Spain, and then they want me to go to Australia, but that's a bit too far. I can't stay on a plane that long anymore.
Q: What's your favorite venue in Texas?
A: Well, I love Antone's [in Austin]. I love the blues, I love the environment, the people there. They make me feel so warm. In fact, Austin itself, the whole city of Austin, makes me feel so warm.
Q: Has your music changed much as you've aged?
A: A little. Some of the songs I do now are a little different, but that's because I create my own sound. I noticed the people like it, so I will continue to keep doing it.
Q: When you look back at your career, what are you most proud of?
A: Well, the person I loved the most died: my mother. My mother traveled with me, and she kept me from using drugs. Still today I don't drink, I don't smoke, I don't do none of that. She traveled with me in the early '60s, and when I played the Apollo and all those big places, she was right there with me. I miss my mom so much, but I know that she came with me a lot of places, and everybody loved her.
Q: Wasn't she your escort early on, too, when you were a teenager playing in Southeast Texas clubs?
A: Especially in the clubs. I was young, too. She did a lot of protecting. Beaumont was an incredibly small city then. Of course nowadays it has really grown up. But my mom was very protective of me, and a lot of musicians ended up knowing that. They knew just how far to go with Barbara because her mom was right there, man.
Q: How long will you keep performing?
A: I guess as long as I can—as long as God keeps these people calling me and keeps me going.
From the January 2019 issue