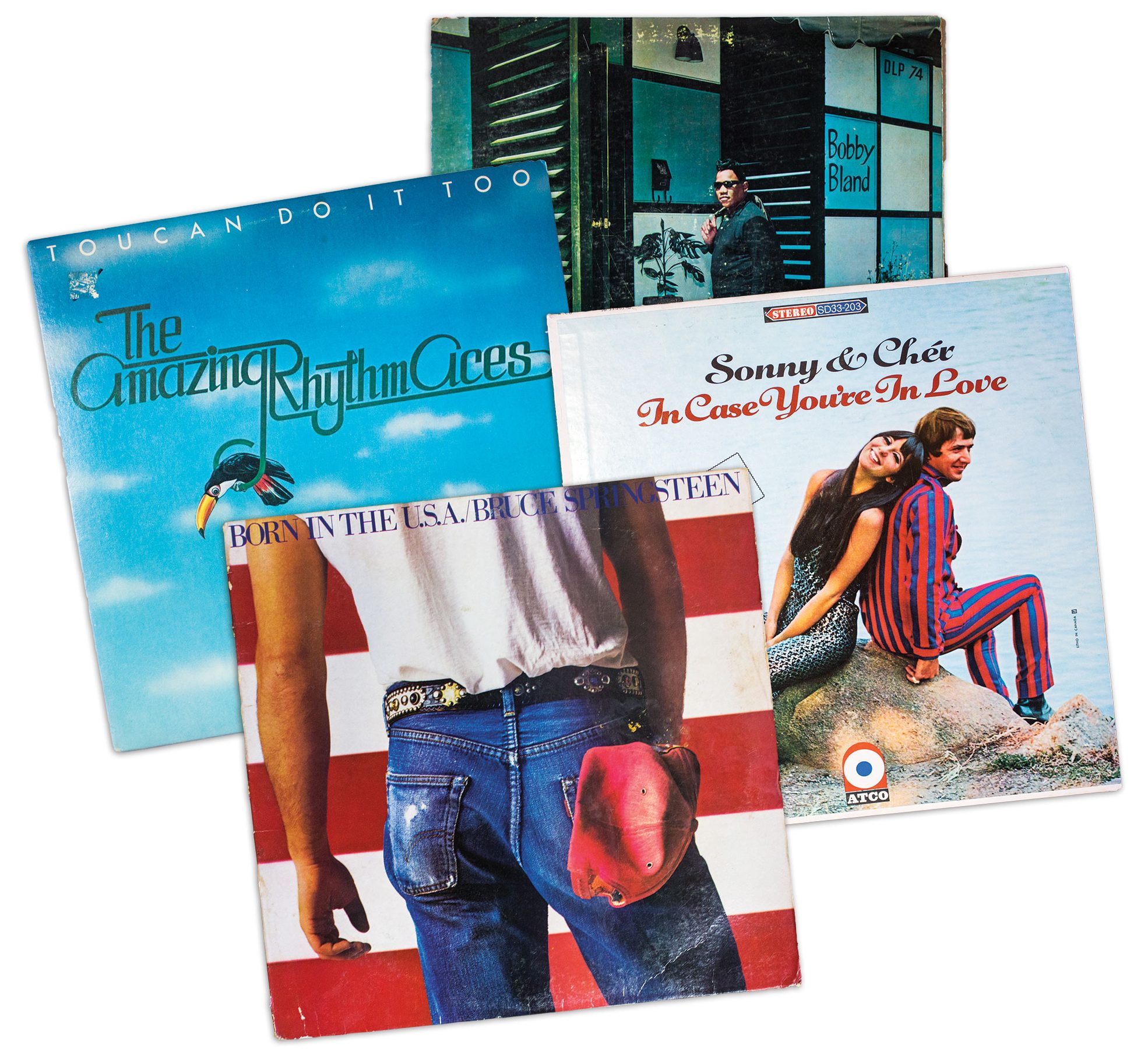 For some time now, prognosticators have been predicting the total demise of records—you know, the old-fashioned discs that play musical sound—as well as the brick-and-mortar establishments that sell them. And yes, it's true that CD sales are down, and more than a few record stores have shut their doors. But there's good news for those of us who can't imagine life without flipping through bins, admiring the physical objects for their creative covers, and listening to the tunes imprinted in their grooves.
Across Texas, vinyl is doing more than spinning. Sales are surging.
"And as stores see their sales flip from CD to LP," says Steve Ray, program specialist for the Texas Music Office, "you're seeing actual record stores making a comeback."
Along with newly opened stores such as Panther City Vinyl in Fort Worth, Spinning Jenny's House of Music in Shamrock, and BLK Vinyl in Austin—all places worth checking out during nationwide Record Store Day on April 13—most of the shops that have held on through the lean times are the independent, one-of-a-kind, mavericky platter emporiums. Of those hardy survivors, few if any are more unique than venerable Record Town of Fort Worth and Records and Things Strange in Llano.
Record Town
120 St. Louis Ave., Ste. 105, Fort Worth
Open Tue-Sat noon-8 p.m.; Sun 1-5 p.m.
817-926-1331
recordtowntx.com

Records and Things Strange
608 Public Square, Llano
Open Fri-Sat 9 a.m.- 5 p.m.
325-247-4296
crazywax.com
Record Town
Big band drummer Sumter Bruton Jr. and his wife, Kathleen, founded Record Town in 1957. The sound shop has educated generations of Fort Worth music royalty since then, from famed producer T Bone Burnett to soul singer Leon Bridges, who used to come by to play guitar when he was still a young nobody named Todd.
But in 2017, after more than six decades in business and more than two decades after Sumter's death, Record Town was in danger of closing. Adjacent to the Texas Christian University campus, its rent was set to triple. Fortunately, Cowtowners refused to let an important part of the city's musical legacy die. Last August, a group of owners that includes the Brutons' son Sumter III and longtime store manager Gerard Daily reopened Record Town in the offbeat Dickson-Jenkins Loft and Plaza Complex in the Near Southside, a 1,400-acre redeveloped district with a mix of music venues, restaurants, theaters, and housing closer to downtown Fort Worth.
The new Record Town includes a Wall of Fame with lots of photos of local personalities, including the musical Bruton family. Sumter III is a leading authority for music in the Fort Worth area, and his brother, Stephen, toured for years as a guitarist in Kris Kristofferson's band. Burnett, a childhood pal, has called Stephen "the soul of Texas music."
Daily is also a musician. In 1971, he stepped off a bus from San Antonio, checked into his dorm at TCU, then walked over to Record Town to buy Charlie Parker records. By 1975, he was working part-time at the shop. "Everyone in the family had a specific kind of music they liked," Daily recalls. "I was able to learn about all kinds of music just by working at the store."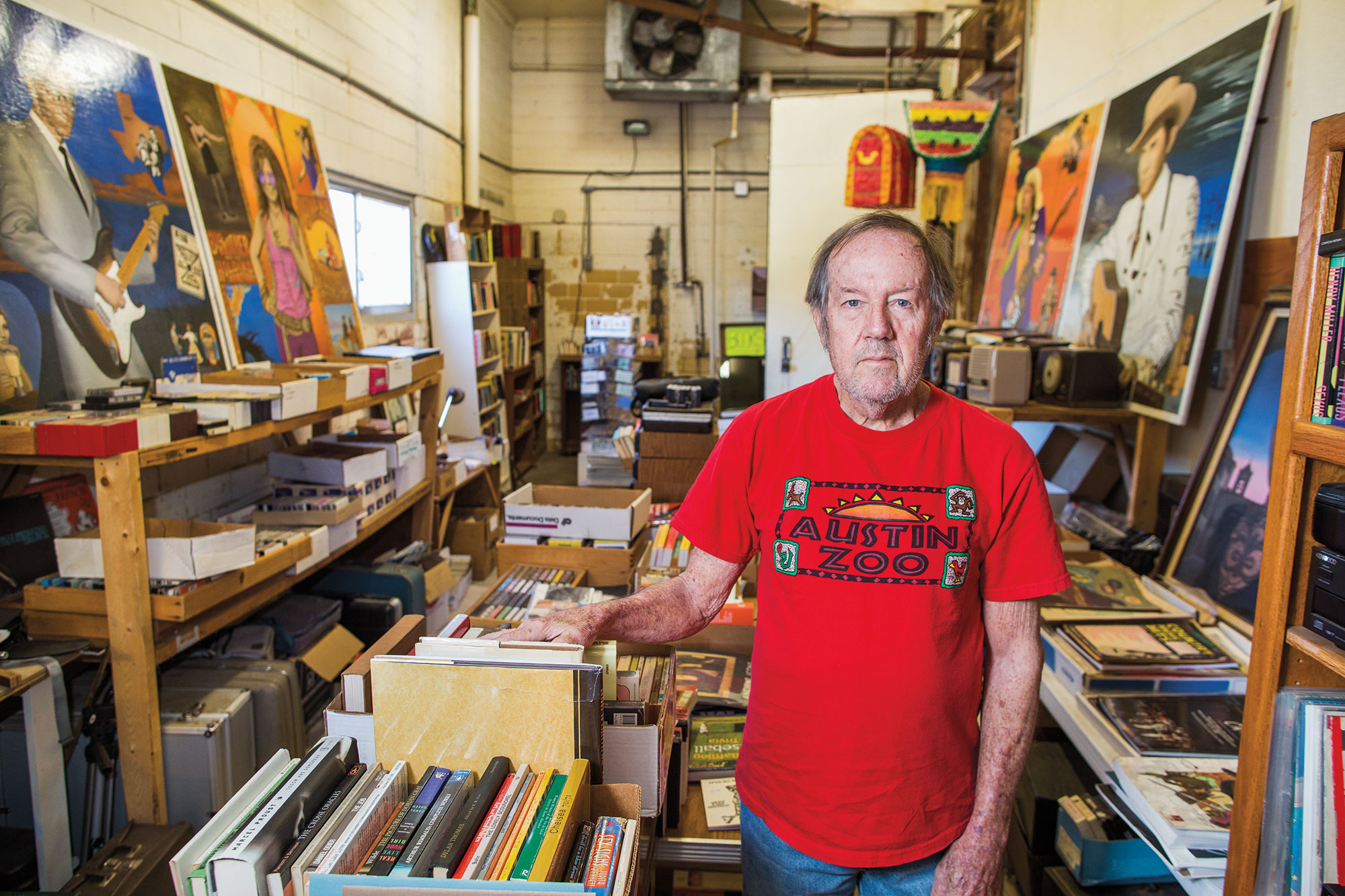 Records and Things Strange
Between the LPs at Records and Things Strange in Llano and the overstock at home, owner Charles Slocumb, 76, reckons he has about 60,000 records, give or take a few thousand. To be more exact, the retired computer programmer from Dallas says, "I have more than I need, but I don't have as many as I want." Most of the records he sells are pre-1990 and go for $5 and up.
Housed in a 125-year-old building that has been a bar and a butcher shop with community meat lockers predating home refrigeration, the inventory at Slocumb's store snakes through a maze of rooms and is well-organized if you're looking for something in particular. Texas country is separated from country, and there's big band, rock, Dixieland, soul, blues, jazz, religious, and more. Records and Things Strange also has 45s, 78s, cassettes, and eight-track tapes. Slocumb can even sell you an eight-track tape player or pretty much any other kind of music-playing device, including antique radios. He also stocks geology specimens and books with a nice Texana section.
Several large paintings by Llano artist Ginger Swope are displayed inside. Once adorning the store's exterior before weather began to damage them, they depict Hank Williams Sr., Janis Joplin, Stevie Ray Vaughan, Buddy Holly, Patsy Cline, and Willie Nelson. "She spent a lot of time on Trigger," says Slocumb, pointing out the detailed autographs and sound board of Nelson's trusty guitar. The store's name comes from the sign outside, which spells the word Rats. "It used to say Meats," Slocumb explains, "but I chiseled off the 'M' and then the 'e.' I figured 'ats' didn't make sense, so I added an 'R,' and that stands for 'Records and Things Strange.'"
What's not so strange? Texas' vinyl revival.
Texas record manufacturers are popping up to supply music shops experiencing the vinyl revival: Hand Drawn Pressing began producing discs in Addison in 2016, and Gold Rush Vinyl opened in Austin last year. Listening to music has never been more convenient, with streaming services like Spotify and Apple Music delivering millions of songs to phones and computers. But many sound purists say that the analog recording method, which captures the complete soundwave, is superior to digital.
From the April 2019 issue